ANARCHITECT – Design Inspiration Directly From Dubai – ANARCHITECT is a multi-award-winning architecture, interior architecture, and design firm with offices in Dubai and London. The studio, which was founded in 2013 by British RIBA architect Jonathan Ashmore with a vision to deliver projects at the intersection of understated luxury and contextually modern architecture, has quickly gained an international following among design-conscious clients and high-end design & lifestyle press. And with this in mind, LUXXU Blog shows you, in today's article, some of their best works!
---
See also: New Arrivals 2022 – Premium Designs That Arrive To Strive By LUXXU
---
Astonishing Projects By ANARCHITECT
Dubai Hills Villa
For a customer and his young family migrating from Geneva, ANARCHITECT recently finished a 3,000 sqm high-end private villa interior and architectural alteration in Dubai Hills.
This mansion redefines Modernist luxury for ANARCHITECT, with exquisite stone, wood, and metalwork detailing and bespoke joinery to create a light-filled abode. The sophisticated yet tranquil interiors are effortlessly integrated into the external and inner courtyard, offering expansive views of the golf course's 18th hole and the iconic Dubai cityscape beyond.
---
Private Beachfront Villa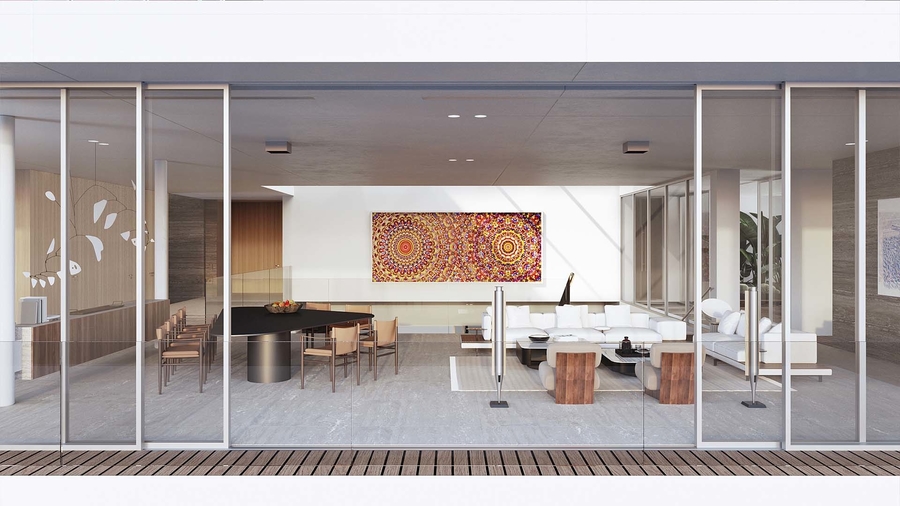 A VIP Private Client commissioned ANARCHITECT to design their family's seaside property in central Kuwait's posh area. The Client is a world traveler and an ardent collector of contemporary art, which they wanted to showcase in their home and enjoy every day.
The ANARCHITEC-designed villa has four levels of accommodation. The solar-responsive property draws natural North light deep into the spaces and offers important overhangs to the East and West to restrict mid-morning and mid-afternoon sunshine. Working areas and a home office, party areas, and more private family areas are all stacked together in the villa, but solitude and sanctuary are never compromised. The furnishings are inspired by the Brazilian modernist movement, with rich woods, stone, and light, soft tones to conjure a peaceful beach setting that allows the family to unwind and feel at ease in their own home.
---
---
Are You Enjoying ANARCHITECT's Works So Far?
Baby Grand Belgravia Residence
A HNW Private Family Client recently commissioned ANARCHITECT to investigate the possibility of combining two adjacent existing houses in London's super-prime Belgravia into a single, contemporary new residence.
The project brief for ANARCHITECT was to design a one-of-a-kind mansion for Belgravia while also maximizing the property value for a family client intending to develop the property for future sale. A 'Loft Style' living, dining, and kitchen room with a private roof terrace are included in the proposed Private Residence. A master suite with two more bedrooms, as well as a guest room with its own bathroom. There is also a private study on the entrance level, and the Wellness rooms on the lower level include a gym, massage, steam, sauna, and swimming pool.
While maintaining a boutique, family-owned, design-driven firm, ANARCHITECT's Team has received multiple awards, including one of the first RIBA certifications outside of the UK.
---
See also: A New Era Set In Stone – LUXXU's Groundbreaking New Collections!
---
If you enjoyed this article regarding Bluehaus Group: Unparalleled And Consistent Excellency then make sure to check out our socials to find news, inspirations, and more interior design ideas: Pinterest | Facebook | Instagram.