David Collins is one of our biggest inspirations in the world of interior design. Each one of his home projects are full of elegance and sophistication and can be a source of inspiration for your own home decor ideas. Today we present you the top 10 David Collins Design Ideas to inspire you!
This London house was inspired by the top interior designer's collection of 20th century design and art, fashion and cinema. With a passion for art deco, David Collins designed this duplex apartment of 176 squares meters featured hand embroidered curtains, bespoke woven fabrics and unique wall finishes.
The Elegant Grade II Listed Villa, London, UK, was another David Collins design project. A five bedroom home that features a collection of eclectic, whimsical and refined twentieth century antiques together with bespoke David Collins Studio furniture and lighting design. The home presents a wide palette of colors and materials including astudded yellow leather chairs and lavender lacquer decor. 
Being an inspiration in interior design home decoration, David Collins has also designed No.1 Kingsway, at London, UK. At 70 squares meters this double-height, marble clad lobby space creates the tone for thismixed use development that includes the delaunay, office space and residential properties. A unique architecture and ambient lighting inspired by the quality of luxury hotels.
This indoor pool design belongs to a contemporary family home, at London, UK. A new build four storied family home is minimal in the sense that it has a very refined architectural language and its palette is simple and neutral. Created for a private client in 2007, the six ensuite bedroom property measures 1790 squares meters. All furniture has been designed by David Collins Studio exclusively for this private home.
Meet the Sky Residence at the Ritz-Carlton Residences, Mahanakhon, Bangkok, Thailand. At 430 square meters, the apartment is a fully furnished home designed for an international audience and inspired by the grandeur of historic Manhattan apartments. The living room design employs a saturated pallete of colors executed in materials selected to infuse the home with a subliminal far east sensibility.
See also: Top 10 Kelly Hoppen Design Ideas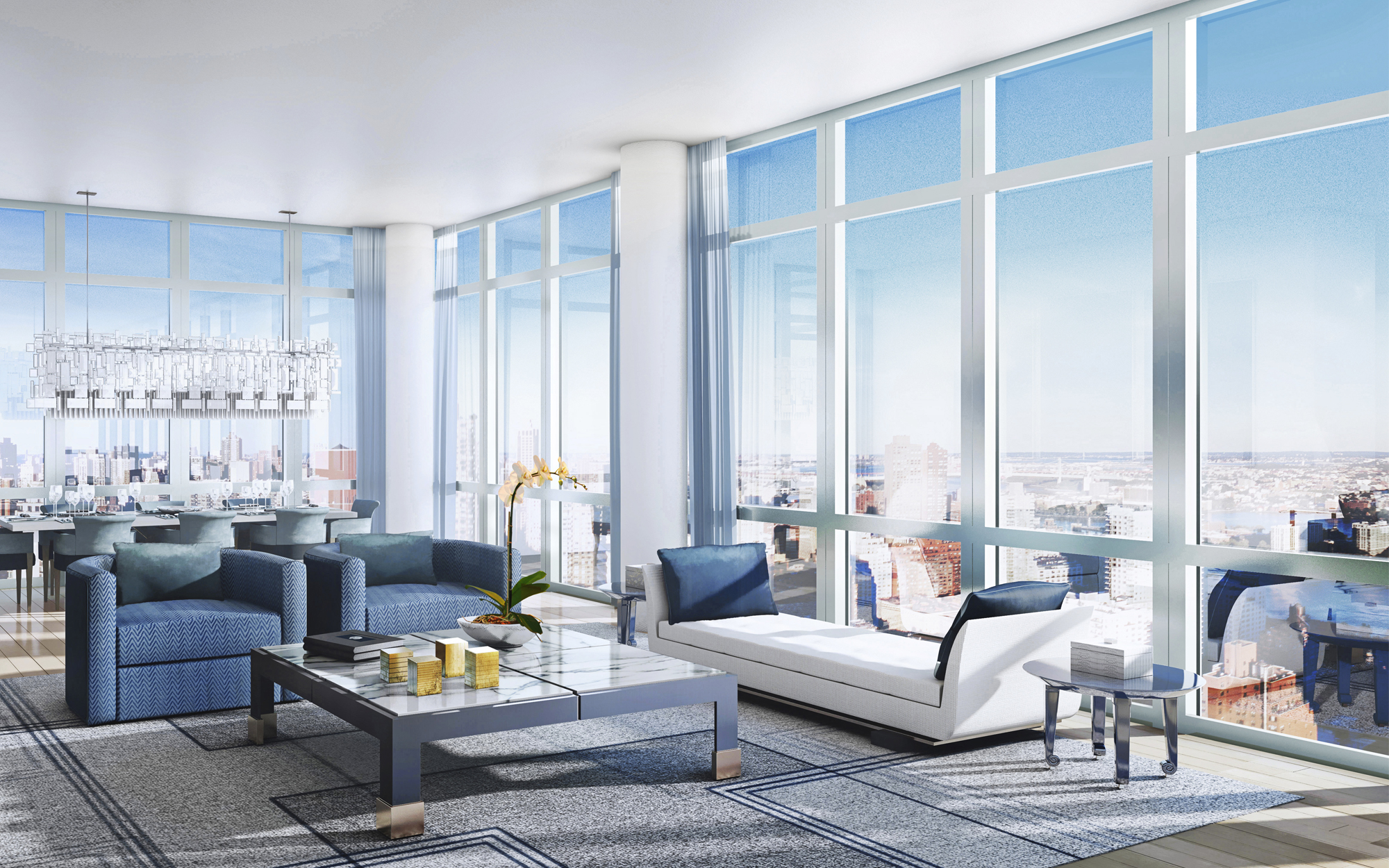 The Charles, in Manhattan, New York City, is a luxurious condominium development consisting of 28 full floor units located on Manhattan's upper east side. Imbued with a european sensibility throughout its interior architecture and interior design, David Collins was engaged to create the public and communal areas, the space planning for the apartments and the concept artwork for the apartments.
The Port Baku Residences, in Azerbaijan, feature public areas designed by David Collins and were launched in 2013. The development sits by the caspian sea and contain over 800 apartments across three towers. The development features a total built up area of 382,000 square meters.
The three bed apartment at the Ritz-Carlton Residences at Mahanakhon is an evolution of the design of the Sky Residence. At 226 square meters, the furnished apartment continues the established signature vocabulary of architectural details and bespoke furniture and lighting. The modern design introduces a natural palette of timbers and textiles. All furniture, lighting and artworks for the project have been designed by David Collins and created locally in Bangkok. The apartment has won Best Condo Development at the South East Asia Property and Thailand Property Awards.
10 Trinity Square at London, UK, was originally created as the headquarters for the Port of London Authority in 1922. David Collins created a series of vignettes representing the 37 residences to be created within the project.
Arts & Crafs Family Home, at London, UK, is a five bedroom private family home that features a formal panelled hallway in dior grey, the quintessential gentleman's study, a navy blue velvet upholstered cinema and a dressing room featuring hand embroiderend walls. At 1260 square meters the interior design, interior architecture and furniture were undertaken by David Collins.
How do you feel about these amazing modern designs? Discover more ideas and inspirations at out Pinterest boards and Instagram page!