Waltz Closet Island: The Ideal Furniture Piece For Fashion Lovers – The Waltz Closet Island was created for fashion lovers. Besides offering great solutions for you to display and store your accessories and jewellery, its clean design brings a breath of fresh air into your closet area. Discover more about this new furniture piece by LUXXU in LUXXU Blog.
---
See also: Inspiring Bedrooms And Closets: The Best Ideas To Help You Decorate!
---
Waltz Closet Island
The Ideal Furniture Piece For Fashion Lovers
Why You Should Invest In A Closet Island
A closet island is a perfect addition to a closet – it's practical, stylish and adds a lot of conveniences. Its main use is as a dresser, giving you plenty of space for all your clothing, jewellery and other items. It's an ideal piece for those who want easy access to their wardrobe staples when getting ready in the morning – just grab your pick from the shelves!
---
See also: LUXXU Home Master Catalogue
---
Plus, many customized island options feature drawer organizers, hanging rods and built-in shelving so it's easy to designate specific areas for different types of clothing. Whether you're looking at customizing an existing piece or going all out building one from scratch, throwing down some money on a closet island will be well worth it in the end!
The Waltz Island Closet
The Waltz island closet is bound to become the centre of attention with its sleek look. Waltz features a glimmering black exterior enhanced in lacquer and walnut root. It is also tufted with leather, and it has a glass top that acts as a perfect display for one's jewellery and accessories.
Get the look:
---
See also: Waltz Collection: Discover Pure Refinement In Furniture Design
---
Complete The Look
It is not only an island that makes a closet, there are other elements that you can add to complete the look and achieve maximum sophistication. And organizing options, of course! The Waltz closet is an elegant modular clothing storage solution. It is the ideal closet for a luxury master bedroom offering a fully customizable organization system featuring shelves, rods and drawers. 
Why not add an elegant pendant to shine a light on your best looks? Everything sparkles under the Waterfall Pendant. An elegant pendant lamp, made with gold-plated brass combined with ribbed fine tubes of crystal glass, made by a master craftsman. It gives the glamorous sensation of waterfalls, having in mind various ambiences.
Get the look:
Waltz Closet and Waterfall Pendant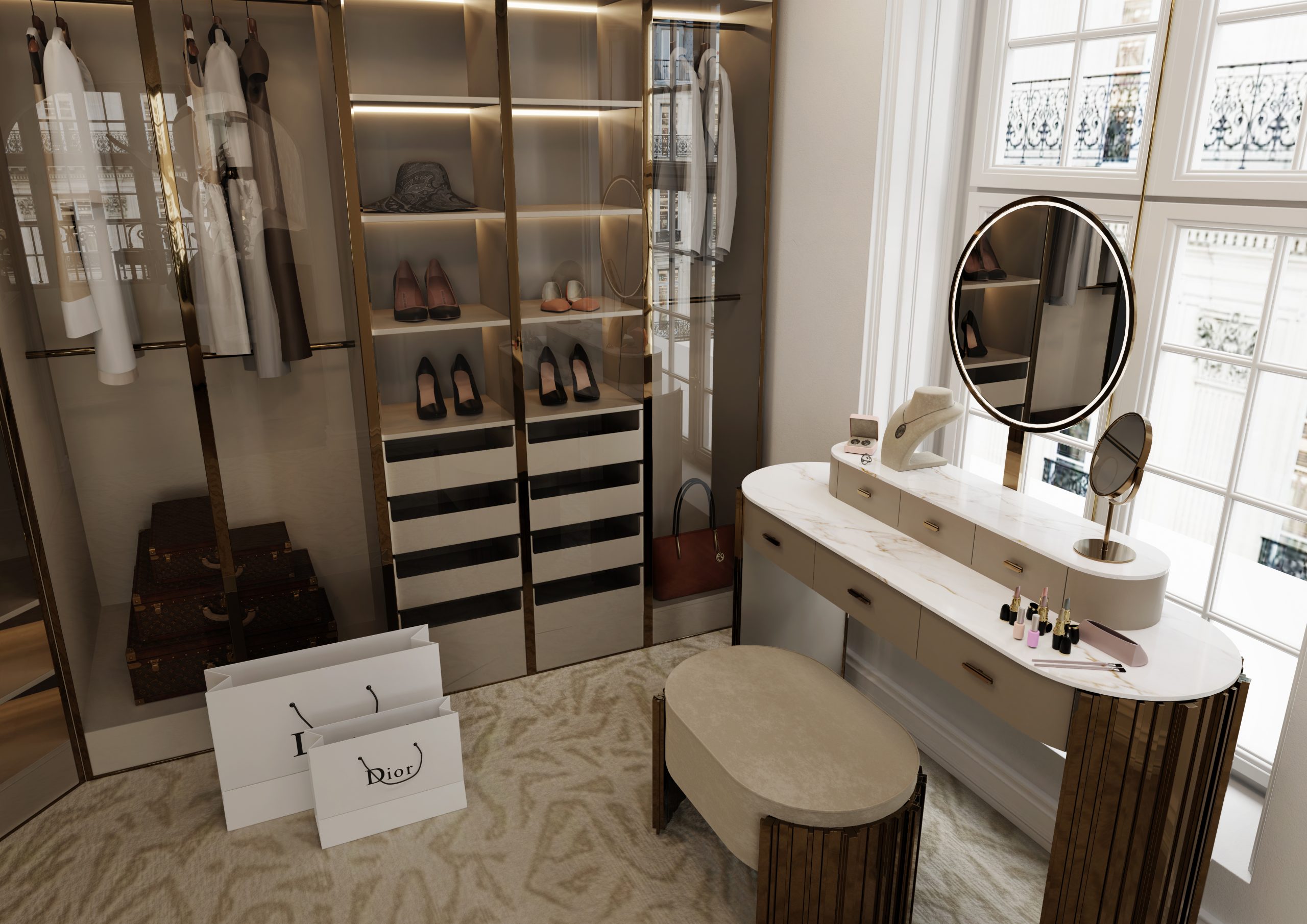 Another great addition to a closet is a vanity table, where you can get ready for a night out or the start of a new day! For the ultimate luxurious bedroom, the Empire dressing table takes the same empowering and passionate aesthetics in its design. It is a luxury item capable of providing a classic yet modern feel to any bedroom with its stunning materials of high quality like brass, Bronze & Nata leather. Perfect for the dream bedroom, the most Luxxu one!
Get the look:
Empire Dressing Table and Empire Bench
Add the final touch with a beautiful ottoman like the Algerone Ottoman, an upholstery piece in neutral and warm tones designed to bring more character into any space. It was meticulously handcrafted and upholstered in brown velvet while also presenting details in brass and & glossy Eucalipto Frise Veneer. A luxury item that is rather adaptable to any ambience or style.
Get the look:
Algerone Ottoman and Shard Suspension
Mirrors and dressers are other elements that can be part of your closet area. Take a look at our modern Charla Dresser, here combined with the Empire Mirror. With its will to keep up with the Empire family's high standards of exquisite and exceptional design, the Empire mirror's powerful lines are the result of the extraordinary precision of handmade techniques. Adequate to transform any space into a luxurious atmosphere.
Get the look:
Charla Dresser and Empire Mirror
---
See also: LUXXU Stocklist
---
If you enjoyed this article regarding 

Waltz Closet Island: The Ideal Furniture Piece For Fashion Lovers

then make sure to check out our socials to find news, inspirations, and more interior design ideas: Pinterest | Facebook | Instagram.