Voque Villa: A Project By Transforma Studio Design – Transforma is an architecture and interior design studio for luxury villas, residences, public spaces, and business apartments. They buck the conventional ideas of exclusivity, luxury, and high style and push their art to the edge of the possible. Transforma Design produces work that is only possible because it has previously been realized. Today, the LUXXU blog is taking a look at one of their projects named Villa Voque. Join us!
---
See also: Qatar: Discover The Hotel Where Cristiano Ronaldo Is Staying
---
Villa Voque
A Project By Transforma Design Studio
Located in iconic Palm Jumeirah, UAE, this Villa is a flawless combination of different styles and aesthetics. As we can see in this living room, the architecture draws inspiration from classical Greek elements, such as columns, and elaborated doorways are a representation of a French-inspired style. At the same time, the interior decor takes a modern and luxurious approach, with pieces made from high-end materials and timeless lines.
Get the look:
---
See also: Le Grand Penthouse In Abu Dhabi
---
The dining room presents itself in warm tones of brown and beige, creating the cozy atmosphere that is required for a space of gathering. The main elements that shape the dining room are of simpler lines, nonetheless, complementary design pieces were carefully chosen and placed in order to elevate them, originating a balanced fusion of aesthetics.
Black and white is a classic combination that promptly gives any room a more polished and avant-garde look. Combining such colours with the finest materials, such as marble, is a clever choice to achieve a luxurious result. This kitchen not only does that but adds small details that, literally, prove to be golden!
Editor's choice:
---
See also: Steven La Fonte: Discover This Interior Designer From New York 
---
Taking inspiration from the living and dining room, this bedroom follows the same colour scheme, creating a timeless ambiance. The matching bed and ottoman are pieces of boundless elegance!
This bathroom is proof that luxury can be achieved through a simpler design. There's no need to add overshadowing elements to a room to make it the most lavish. The circular bathtub is the key element and it's possible to conclude that the bathroom was built around it. The golden elements contrasting with the white marble make a big difference when it comes to upgrading this space.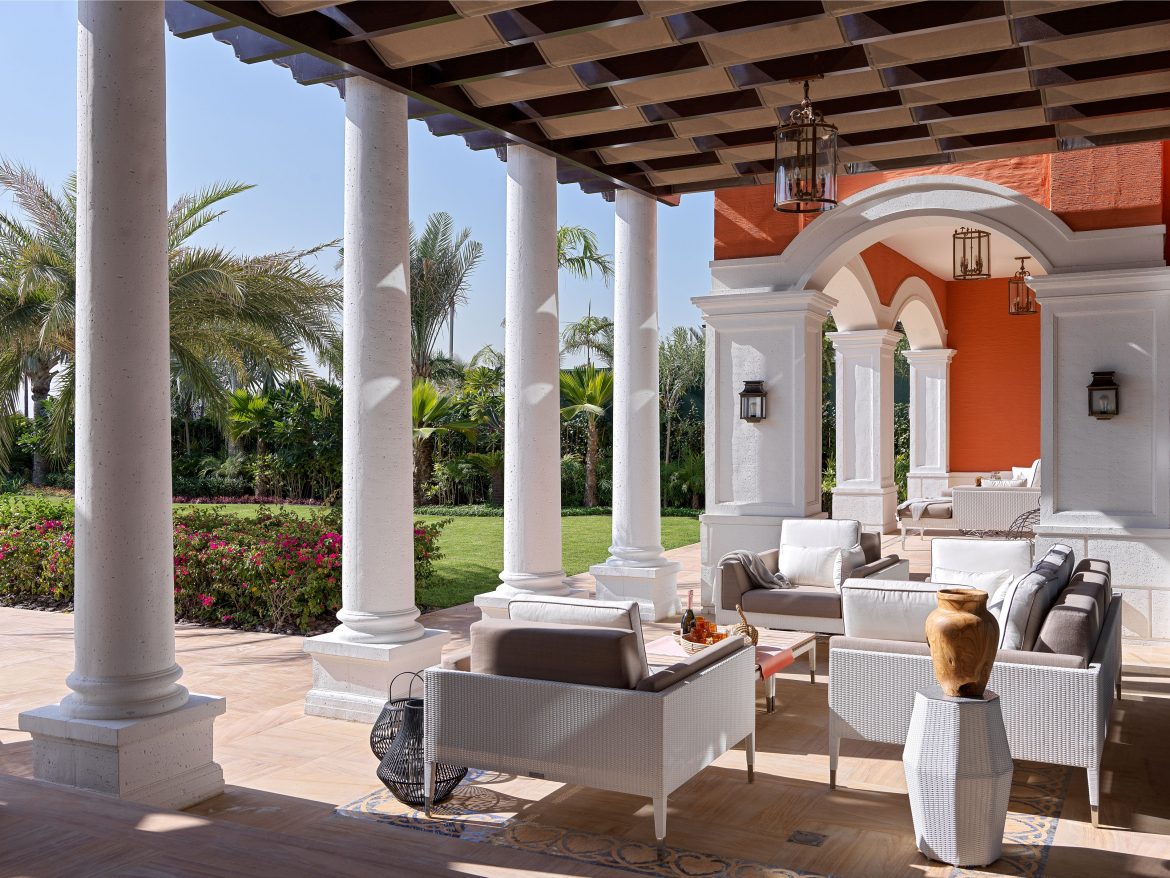 Transforma Design Studio took advantage of the outdoor area and created a relaxing and stylish lounge space. The white tones contrast with the bold orange colour chosen for the wall, and the addition of artisanal pieces of decor gives a touch of uniqueness to the area.
---
See also: LUXXU Home Master Catalogue
---
If you enjoyed this article regarding

Voque Villa: A Project By Transforma Studio Design

 then make sure to check out our socials to find news, inspirations, and more interior design ideas: Pinterest | Facebook | Instagram.