Ultimate Design Guide to Salone del Mobile 2022 by Boca do Lobo! – Salone del Mobile 2022 has yet to begin, but Milan will host the Salone del Mobile at Fiera Milano Rho from June 7th to June 12th, 2022, marking the 60th anniversary of the event and showcasing luxury furniture to the world! If you plan to attend Salone del Mobile 2022, you should start planning your stay as soon as possible: where to eat, what to see, how to get there, and, most importantly, what to expect from this top event. So LUXXU Blog brings you the Ultimate Guide, by Boca do Lobo, to one of the year's most spectacular design events!
---
See also: Salone Del Mobile 2022: Get Ready For Modern Design Living's Novelties!
---
Boca do Lobo's presence at Salone del Mobile 2022 can be summed up in one word: audacious. In an entire residence space by Boca do Lobo, the brand will present new designs, new techniques, and new spaces. A home designed for those who want to live la dolce vita, enjoying life's pleasures and beauty, beginning with their most private space: their home.
Boca do Lobo at Salone del Mobile 2022
Boca do Lobo will take visitors on a sensitive journey in only one space this year, combining ancient, handcrafted techniques with challenging technological innovations, finding beauty and luxury between these two antagonistic concepts. In this immersive space, new remarkable launches and time-honored masterpieces will coexist, demonstrating the timeless nature of Boca do Lobo designs as well as the company's ability to innovate and reinvent itself.
Discover a magnificent contemporary avant-garde living space concept with Boca do Lobo at Salone del Mobile 2022. They will debut 15 new exclusive pieces of furniture at this trade show for the first time!
We will have the largest space we have ever had, with 190m2 and two living rooms, two dining rooms, and, for the first time, a master bedroom!
This living space will represent the brand's ability and versatility to decorate and be present in various areas of a residence, combining comfort and functionality with beauty and art.
This year's Salone del Mobile program is focused on creativity and innovation, with the goal of making Milan a green diplomacy accelerator. Reflecting the ecological transition in the design world, the event's primary mission is to demonstrate that incorporating sustainability in furniture design and production without sacrificing creativity and freedom is both possible and necessary.
---
---
BOCA DO LOBO'S NEW PIECES:
Imperfectio Cream Modular Sofa
The Imperfectio Modular Sofa is the expression of unexpected aesthetic, the appeal of that which is authentic art that is truer to life. 
---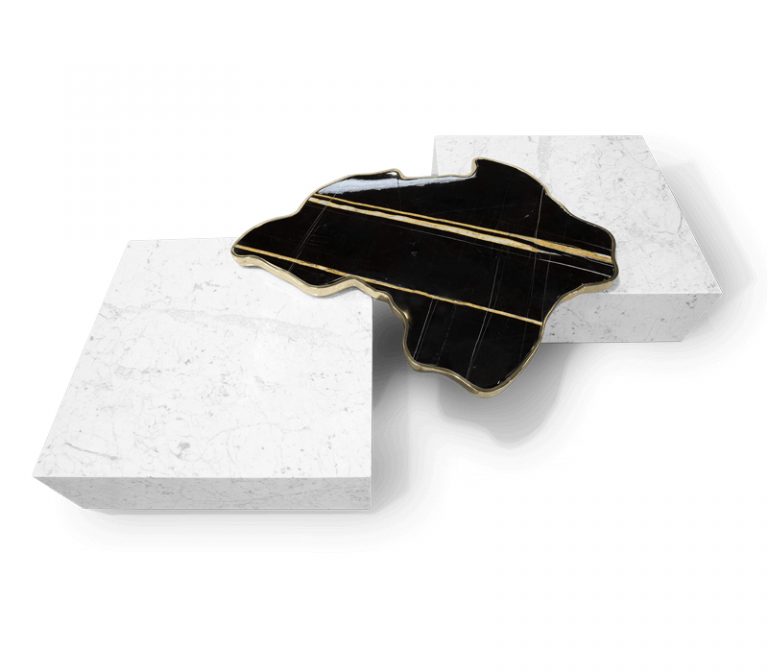 Navarra Black White Center Table
Navarra's modern center table captures the essence of Spanish warmth and fine craftsmanship. The Navarra coffee table, inspired by its homeland, adds an elegant touch to your home decor.
---
Bonsai Faux-Marble Dining Table
Extreme simplicity, modernity, and seductive power are the characteristics reflected in every detail that will have you falling in love at first sight.
---
The Lapiaz headboard elevates exceptional craftsmanship and modern design to new heights.
---
BOCA DO LOBO'S MOST WANTED:
This chandelier, handcrafted from cast brass, has an organic shape and intricate contemporary details to create an adjustable arrangement in a harmonious ensemble.
---
An accent sofa that celebrates artisanal work as the ultimate form of art that is purposefully flawed.
---
This piece bears the dedication and art of those who created it, as well as a variety of traditional production techniques used to create an avant-garde furniture piece that is authentic, joyful, and a perfect match for the digital age.
---
The Empire dining table represents generations of gatherings and decisions, both happy and sad. Its cracks represent difficult times, revealing a gold interior in a manifesto for power.
---
See also: New Arrivals 2022 – Premium Designs That Arrive To Strive By LUXXU
---
If you enjoyed this article regarding Ultimate Design Guide to Salone del Mobile 2022 by Boca do Lobo! then make sure to check out our socials to find news, inspirations, and more interior design ideas: Pinterest | Facebook | Instagram.