The Perfect Inspirations For An Exclusive Dinner => A dinner party is always a stunning excuse to welcome guests into your house and showcase your eye-catching interior decoration. For this fantastic occasion, your kitchen and dining room design must be in a perfect state of harmony and luxury in order to impress everyone and leave an ever-lasting impression. Today Luxxu Blog brings you some awe-inspiring ambiances that will hopefully spark your inspiration and help you create a memorable experience.
See also: Dining Room Inspirations – The Best Products for an Exquisite Interior

Kitchen
Set in the city of lights, paris, this luxury apartment, designed with boca do lobo, comes with this impressive kitchen and dining area! The space is open and perfectly embraces the aesthetic of this glamorous apartment, mixing dark tones and illuminated by the gold present, this interior is not only functional, but it's luxurious as well!
This wonderful kitchen belongs to the 'Éternal' Parisien Apartment. The social space encourages casual interaction, since the kitchen island, with a green Alpi marble countertop and aged brass cabinets and appliances, is located in the center where is easy to interact with anyone who is at the nook or seated at the stunning cotton velvet NAJ Counter Chairs.
Inspired by the American jazz Pianist Dave Brubeck, Brubeck pendant lamp is a great example of when art deco design exceptionally meets music. The result of this outstanding creation is a functional handmade lighting design with a sculptural shape.
The kitchen should be a space where a person feels inspired and comfortable, and our Kelly Bar Chair could not be a better compliment for that. If you style this bar chair alongside mid-century decor, it will provide your room an elegant look.
See also: Babel Pendant
Bar chairs are a central piece as countertops and cabinetry. It can define the tone of the room. Since classic styles are timeless, high chairs can enhance elegance and luxury in your kitchen design. The Nº11 Bar Stool by Boca do Lobo will elevate your interior decor and embellish the decor with its daring design.
---
Most people use their kitchen as a multifunctional space: cooking, eating, hang out, among others. There are simple ways to stylish this area, such as colorful tiles, high-quality furnishings, and of course, decorative hardware. Pullcast provides elegant and sophisticated designs to improve your cabinets with their modern handles.
Dining Room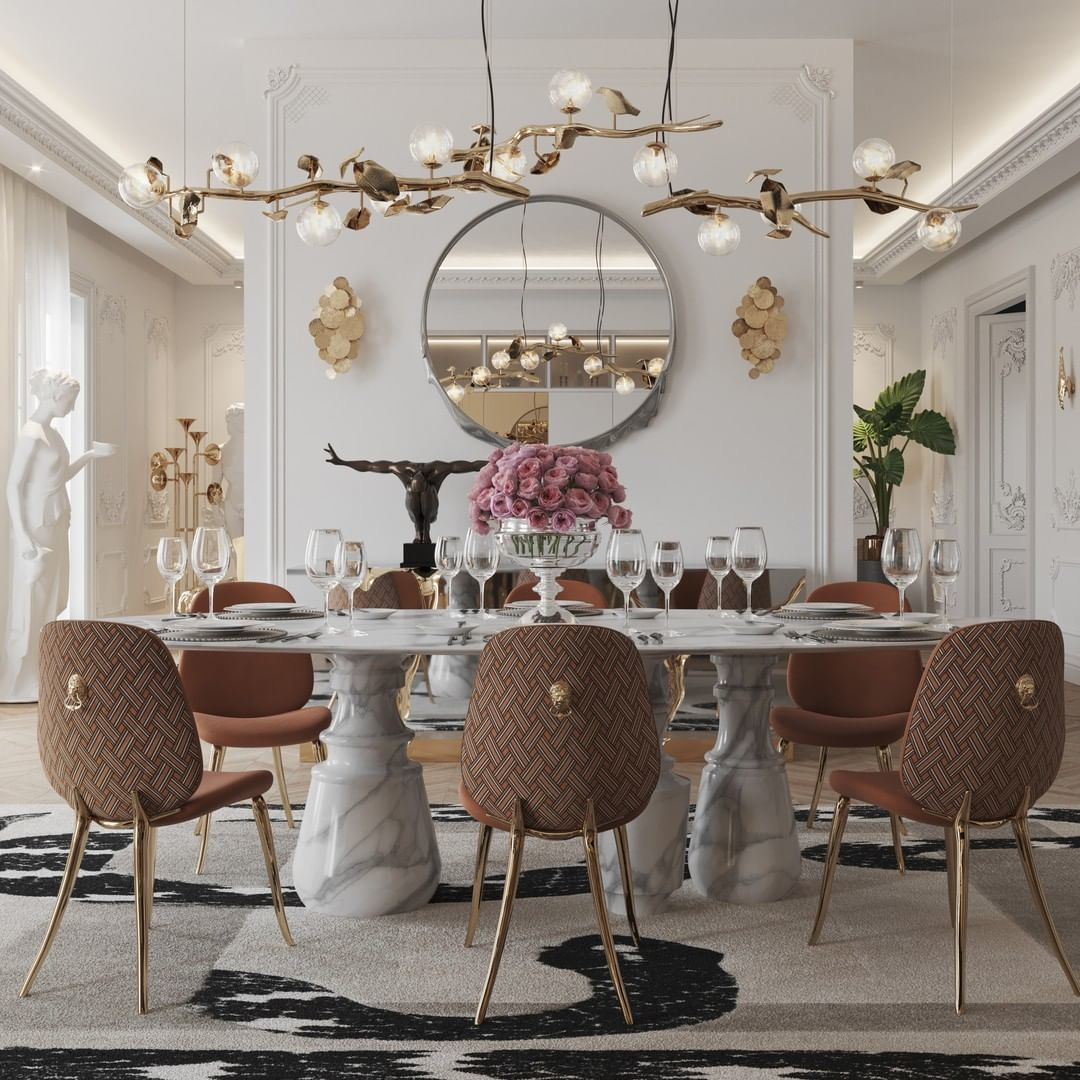 When it comes to a luxury dining room, every detail matters and must carefully be thought out. Gold touches reflect the beauty of the setting, complementing perfectly the Soleil chair by Boca do Lobo and the Pietra dining table.
Marble dining tables are a great way to upgrade any modern dining room, this fine material has been used for centuries as a sign of richness. The Pietra dining table from Boca do Lobo shapes a timeless experience through its classical aura and finest Nero Marquina black marble.
Both minimalism and coziness are easily attainable in this charming dining room area. At the center, we can see the APIS Dining Table, paired with the DALYAN and OKA Dining Chairs. To highlight the entire environment, there is the CALLA Table Light as well as the contemporary KOBEN Suspension Light.
The dining room is an extremely important part of any household, this room is often occupied and is consequently one of the main attractions of your interior design. Bring this ambiance the most exquisite floor décor possible and extend a majestic essence throughout the room.
An accent piece can be the perfect solution to upgrade dining room decor. A modern lamp above the dining table will grab all attention and stylish the room. For mid-century design lovers, the Turner suspension by DelightFULL can be the perfect lighting fixture to embellish a modern interior design project.
Editor´s Choice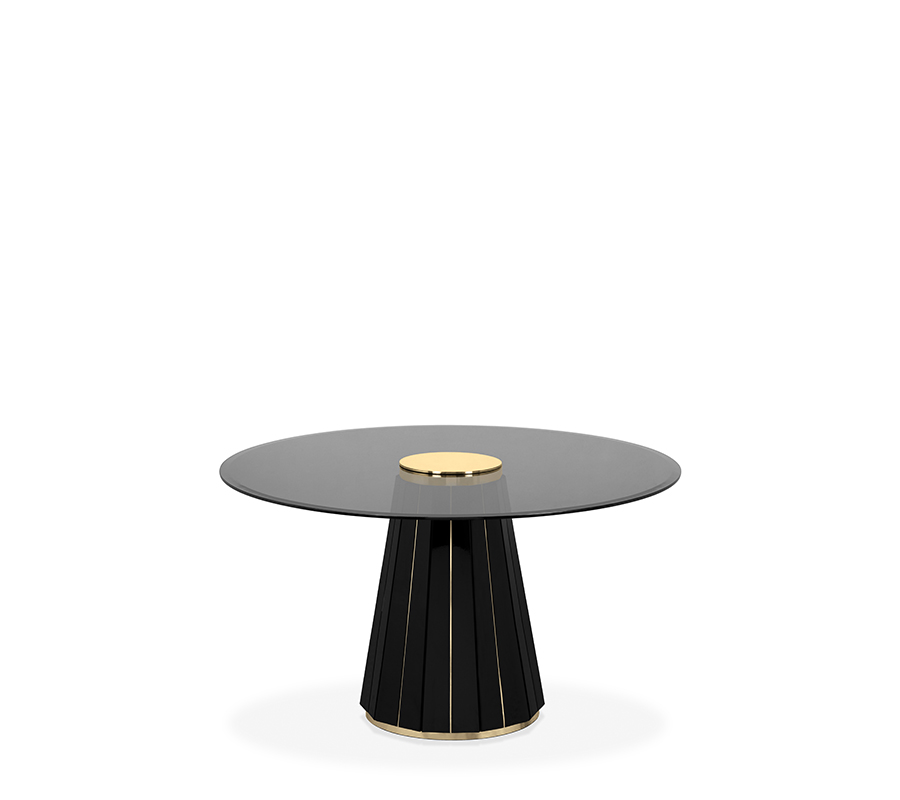 See also: Algerone Dining Table
---
Neutral. With a totally neutral environment, we can add irreverent furniture pieces with strong colors to highlight all the pieces. The golden lamp accompanies the entire dimension of the table in rectangular format, with velvety round chairs that give a special touch to the division of the house. If you have a neutral space in your home, this environment is exactly what you need to add an exquisite touch to your home decor.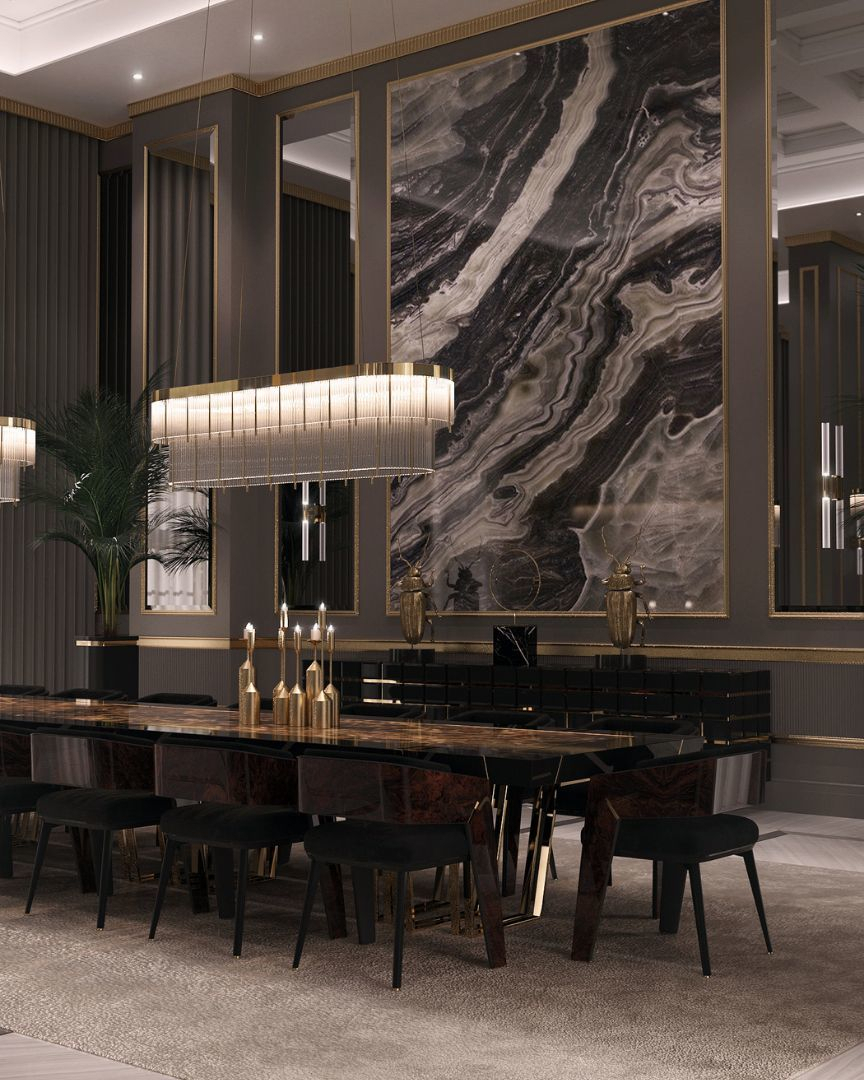 Having dinner parties demands a modern and functional dining room. A powerful dining table and a comfortable dining chair are a must-have in any scenario. The Apotheosis XL Dining Table adds a strong presence to any dining room! As for our Galea Dining Chair, its design embodies the ultimate expression of cozy luxury – the perfect combo for an elegant dining room!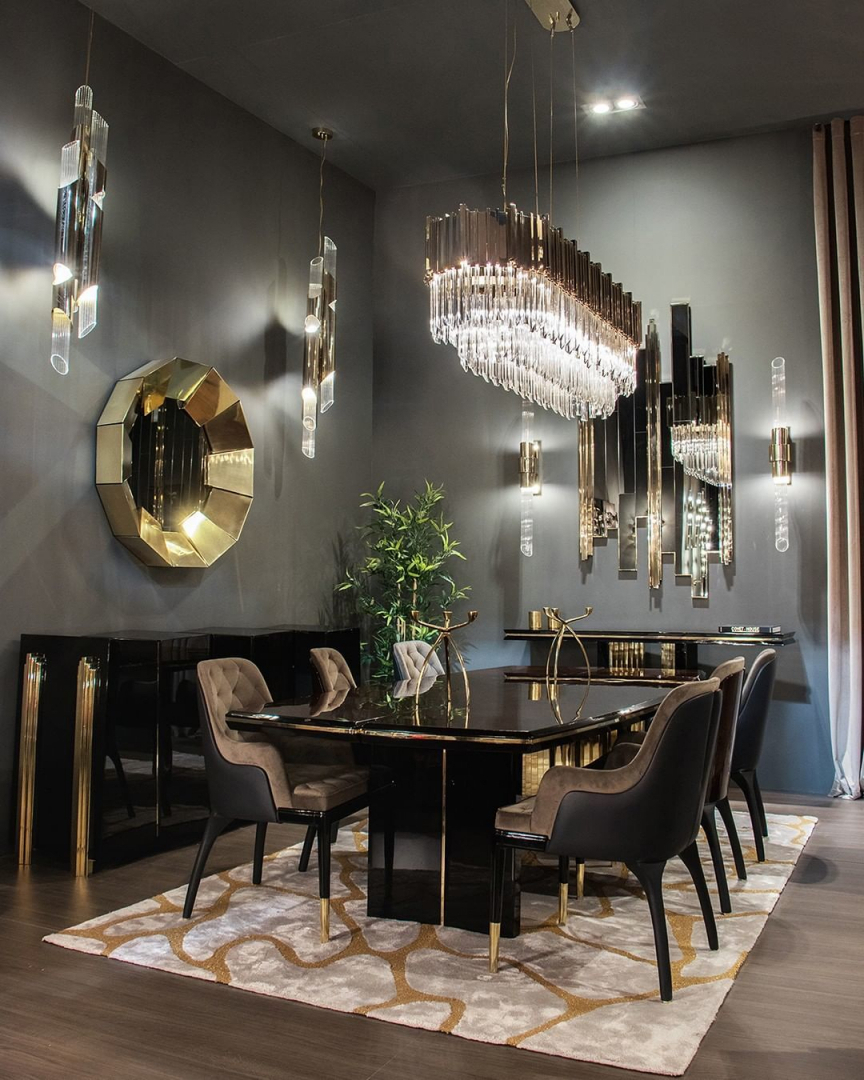 A luxurious dining room decor can impress your guests and will make you the perfect host. Glam your dining room with high-quality furnishings and bold lighting and dazzled them. The Charla dining chair is a splendid object of boundless elegance that upgrades any interior and it pairs perfectly with the Beyond Dining Table, a luxury statement table that makes the perfect center point of any dining setting.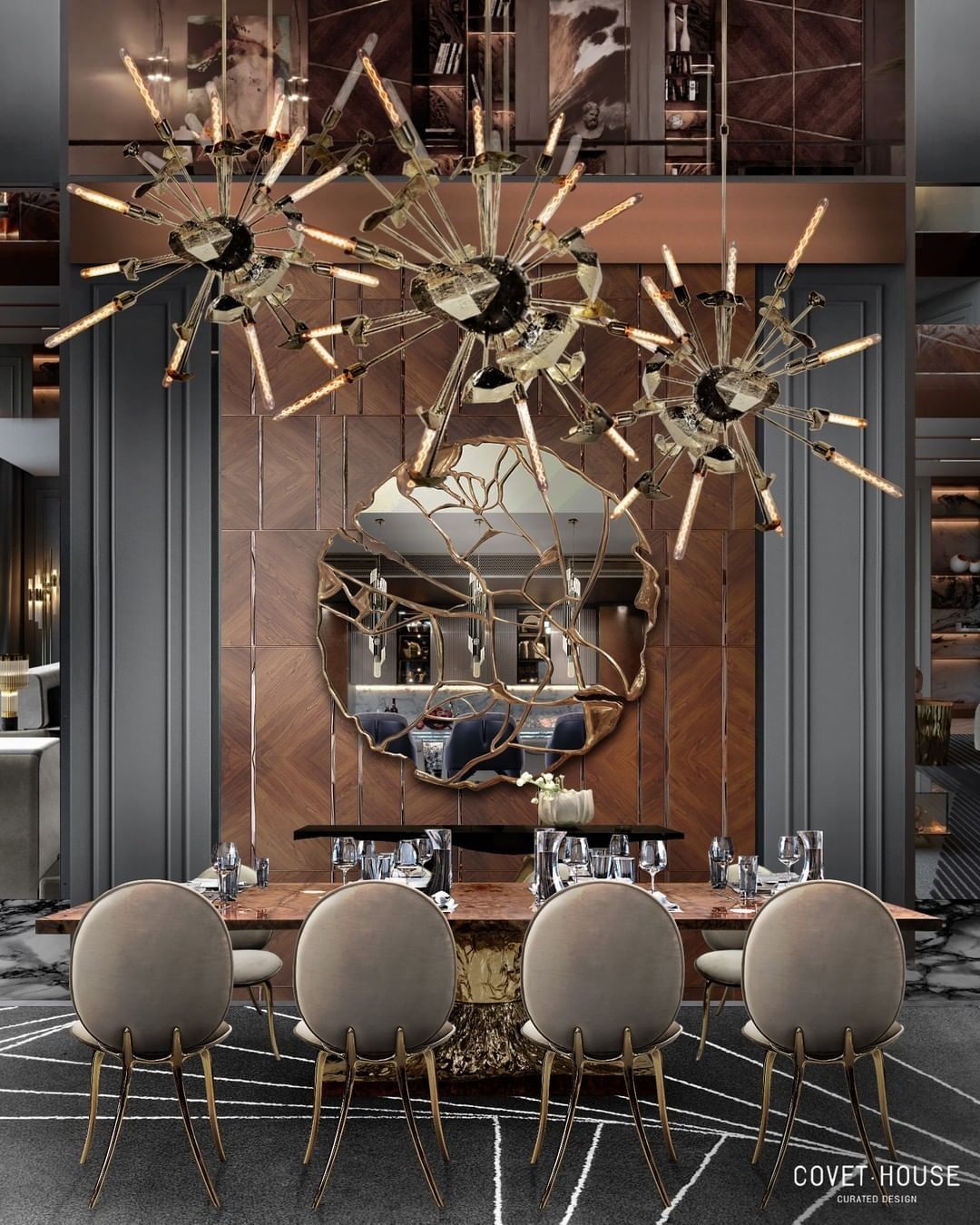 When it comes to dining rooms, dining tables play a crucial role since they are the main piece of this division. For modern and luxury decor, check the Metamorphosis Dining Table by Boca do Lobo, a unique design that will make a statement.
One of the most opulent areas of the house should be the dining room. The decor of this room is only completed by lavish lighting. In this setup, all the furnishing blends perfectly with a neutral color scheme highlighted by statement lighting.
Editor´s Choice
See also: How To Improve Your Kitchen Design
If you enjoyed this article regarding The Perfect Inspirations For An Exclusive Dinner then make sure to check out our socials to find news, inspirations, and more interior design ideas: Pinterest | Facebook | Instagram.