San Francisco is known for its cool summers, fog, steep rolling hills, eclectic mix of architecture and historical landmarks. Also, San Francisco is full of gorgeous homes and awesome living spaces – that's what brings us here today. Today, Vintage Industrial Style Blog will be exploring the best design projects in San Francisco, and in other renowned cities of the US!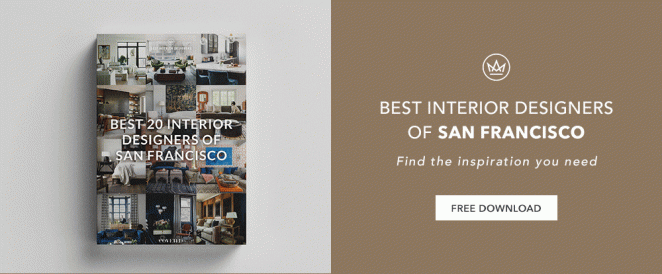 Presidio Heights – Residential Project full of art by Eche Martinez
A San Francisco family enlisted Eche Martinez to lead the redesign of this historic five-bedroom residence to return grandeur to a 1926 Presidio Heights residence which, over time, had been stripped down to a series of 'white box' rooms, devoid of character or architectural interest. The main goal of the project was reinjecting the residence with its lost sense of classical elegance while conveying a visual language that felt current, livable, and inviting, as well as creating a proper showcase for the client's extensive contemporary art collection.
Residential Project by Applegate Tran Interiors
Newton Suspension Lamp | Boca do Lobo
The award-winning team of Vernon Applegate and Gioi Tran, combines over 20 years of residential interior design practice in the Bay Area, Los Angeles, New York City and with international projects in Asia. This particular Interior Design Project in Pacific Heights located on top of a San Francisco hill features such furniture design pieces that our readers will completely fall in love with it.
Uzca Miami Project
📍 Miami
"With ultimate furnishings and accessories, they aim to bring our clients an international level of style and taste, caring brands and products defined as the most exquisite and unique. They are bringing a highly sophisticated shopping experience to all our clientele and we look forward to you to visit and be captivated too!" DelightFULL
THE MODERN LITTLE PRINCESS'S ROOM
📍 Miami
"Magic happens when fantasy becomes real! And this bedroom with playground area really is the ultimate pink fantasy. The suspension lamps were designed to look like real clouds, while the wallpaper features majestic pelicans. The giant mirror was inspired by Snow White's story and magically turns into a movie screen when desired. The iconic Rocky Rocket interactive chair, which parents will recognize from the adventures of Tintin, completes this beautiful bedroom design." Circu
YØDEZEEN Project
They offer a bespoke and multi-disciplinary approach to high-end design. The studio has an extensive international experience in both residential and commercial projects including restaurants, offices, fitness centers as well as private houses and luxury apartments.
Massimo Dutti Store
📍 New York
New York was also the scene of the international Massimo Dutti's latest project, which requested the services of the lighting brand for the central New York store, located in the notorious V avenue. This time, in order to incorporate the sober version of wall lamps Coltrane, whose elegance feeds visitors' eyes.
The Bennet in NYC
📍 New York
The 1,600 square-foot space features a 12-seat marble-topped bar as well as cosy blue velvet banquettes, antique mirrors and gold accents throughout. Take a look at the space, drinks and menu below.
NYC Apartment Project by Elias Associates- 70 Charlton
📍 New York
Their talented and resourceful team of professionals and support staff specializes in all aspects of design and is dedicated to providing the highest level of quality, service, and sustainability. This is why this partnership worked so perfectly. Looking forward to working with them again.
Upper East Side Duplex by Vanessa Rome Interiors
📍 New York
With a fondness for coupling neutral palettes and clean lines with eye-catching art and sculptures, Vanessa brings an original aesthetic to each space she conceives. Classic simplicity, with an unexpected eclectic modern flair, Vanessa Rome Interiors specializes in translating client's visions into reality by creating functional and timeless interiors. For everything mentioned, this project went so good and we look forward to working with Vanessa Rome again in the future.
Simone Wall Hotel Project by The Jane Hotel
📍 New York
Simone wall lamp was the perfect choice for the lobby of The Jane Hotel. A mid-century touch that is brightening this area, even when the wall lamps are switched off!
Paramount Hotel
📍 New York
The Paramount Hotel is an excellent option for people who wants to visit New York , oferring a trendy athmosphere and various amenies that will make your stay more special.
< ?php get_footer(); ?>
READ ALSO:
DO YOU NEED INSPIRATION? CHECK OUT THE BEST DESIGN PROJECTS IN DUBAI – and DISCOVER THE TOP 10 BEST INTERIOR DESIGNERS IN Beijing
If you enjoyed this article THE BEST DESIGN PROJECTS IN SAN FRANCISCO then make sure to check out our socials to find news, inspirations, and more interior design trends and ideas: Pinterest | Facebook | Instagram.