Take a Look at Dallas Best Interior Designers => Dallas, located in the heart of Texas, offers both stunning urban views and oozes the charm of a big-city lifestyle. Dallas is indeed a fabulous city, with beautiful art, design, cuisine, and music. Today, Luxxu Blog will take you on an inspiring trip with the best interior designers Dallas has to offer.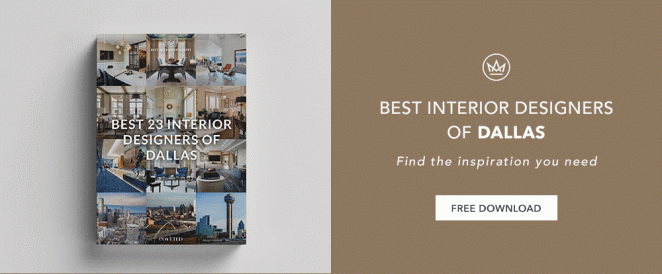 1. Sherry Hayslip Interiors
Sherry Hayslip founded her award-winning interior design practice in 1974. Known for her innovative designs and sophisticated eye, she leads her company in the design of residential and commercial spaces. Her signature style encases beautiful designs with moments of surprise and spontaneity, blending a wide array of styles in a delicate manner. Her work has attracted A-list clientele including major sports team owners, celebrities, and art dealers. She has crafted unique interiors from Texas to California and Cape Cod, as well as abroad in Europe, Mexico, the Caribbean Islands, and beyond. She and her work have garnered many prominent awards, including being named Interior Designer of the Year at the 26th annual ARTS Awards, being included on D-Home's list of the best designers in Dallas many times, and over 100 other international and national design awards. She has also been featured in Andrew Martin, Elle Décor, Modern Luxury, Luxe Interiors, D Home, Texas Home and Living, Better Homes and Garden, and more.
2. Emily Summers Design Associates
With the ability to blend unexpected materials, craft one-of-a-kind pieces for clients, and mix together 20-century furniture and decorative objects, it is fitting that Dallas-based designer Emily Summers has risen to the top of the country's interior design field. She has earned the trust of the most discerning clientele and is works alongside top architects, such as Lake|Flato Architects. Emily Summers has been named to Architectural Digest's prestigious AD100, an annual list of the best designers in the world, numerous times and earned spots on D Home's list of the Best Designers in Dallas and Western Interiors' Gold List. Her work is regularly featured in national publications, including Architectural Digest, Modern Luxury Interiors, D Home, Veranda, Vogue, and Town & Country.
3. Jan Showers & Associates Inc.
From glamorous estates in rural Texas to high-end homes in London, the work of Dallas-based designer Jan Showers has earned worldwide acclaim. Looking at her exquisite home designs, it is no wonder that Showers has earned many of the profession's highest honors over her 3-decade career, including placement on the AD100 and Luxe Interiors + Design Gold List numerous times over. Her work can be found within the pages of respected industry publications, including Architectural Digest, Elle Décor, Veranda (where she appeared in their "Best of the Best" issue), House Beautiful, InStyle Home, Traditional Home, British Home and Garden, Harper's Bazaar, and Luxe. Showers has written two books: Glamorous Rooms and Glamorous Retreats.
4. Nina Magon
Nina is a TV personality and an award-winning interior designer, her work is very well known for its modern aesthetic, which perfectly balances bold high design with a luxurious appeal. She has been recognized as one of the top designers and most creative in the world by Hospitality Design Magazine, Interior Design Magazine, Architectural Digest, The Wall Street Journal, among others.
5. Rachel Horn
Rachel Horn was always an admirer of the classic stone buildings and churches in her town. She is a native Spanish so it's worth to say that she represents the Spanish Colonial style very well in her designs. She has cultivated many manufacturing and sourcing relationships in Mexico and around the world. Describing her style as nomadic, her design is inspired by the places she has been and is integrated by her roots.
See also: The Best Luxury Showrooms In Denver
6. Kathy Adams Interiors
For more than 25 years, the creative designers at Kathy Adams have produced inspiring looks that set the standard for sophistication in Dallas, TX. To have a Kathy Adams room is to have an iconic look that speaks to your lasting style and culture. We design beautiful rooms, it's really that simple.
7. Barbara Gilbert Interiors
We are Barbara Gilbert Interiors, a nationally known award-winning Dallas-based interior design firm. We understand that your home is the backdrop of your life. Every last detail that is well-conceived and perfectly executed reflects your good taste, passion for comfortable living, and joy in life. So, relax and let us handle the process of designing and executing your perfect retreat. You can rest assured that you will always be treated with the utmost integrity and professionalism.
8. Colby Interior Designs
Colby Interior Designs and Custom Draperies is a full-service residential design firm with a passion for creating distinctive and functional interiors. With over 25 years of experience in fashion and interior design, I understand that each customer is unique and that their home reflects their personal style.
Whether it's a traditional, transitional, or eclectic style, I strive to create the best interior design solutions for each client in a collaborative and fun process. With a meticulous eye for detail and strong knowledge of lifestyle trends, my clients have found that my unique personality and creative approach assures the inspired realization of their grand vision.
From the ground up, complete remodel or a single room, no job is too large or too small for Colby Interior Designs. I am passionate about creating distinctive and unique home interiors for you.
9. Nicole Arnold Interiors
Nicole Arnold Interiors is the premier interior design firm in Dallas. For more than two decades, Nicole Arnold and her team of interior designers have created stylish and sophisticated spaces for residential and commercial clients throughout the Dallas and North Texas metro area. The interior design of each space is timeless, intriguing, and softly polished, with just the right amount of modern sophistication. As experienced residential interior decorators, we are well-versed in a variety of aesthetics that bring style, value, and functionality to every project.
As a full-service Dallas interior design firm, we offer a personal commitment to our design clients in each aspect of a project's completion; from space planning, budget definition, and design concepts to construction documents and final installation. Read more about our interior design services here.
10. Futurism Designs
We are a lifestyle Improvement company inspired to change the lives of others. We believe that your environment impacts everything that surrounds you and helps create your perception. Our design firm is available to design from state to state, however, our main focus is Dallas-Fort worth Texas. We have been serving our clients with excellent service for years.
11. Beyond Interior Design
We live to give you more than you expected. The look is modern, rooted in international influence, and shaped by the details of your taste, lifestyle, and home's architecture.
Whether it's a full home renovation or a guest bedroom design… the magic is in the process. We handle literally everything. Our relationship is built on complete transparency and excellent communication.
12. Tracy Connell Interiors
Traci Connell is an expert in delivering unique designs with ease of mind. The award-winning entrepreneur creates gorgeous interiors that also offer a livable style. Traci says: "What good is a luxurious home if you can't actually live in it?" That philosophy drives her to provide a high-end interior design that really lasts for every one of her clients.
Her impeccable eye for space planning and design combined with her in-depth knowledge of project management differentiates her from other interior designers. From initial to final details, each project is outlined through a state-of-the-art project management system, streamlining the process and enhancing the client experience.
Traci specializes in materials and furnishings that stand up to everyday life, giving her clients a "bulletproof" home for kids, pets, entertaining, and more.
13. Design By Keti
Design By Keti is a Dallas firm specializing in profit-driven design for home staging, design, and renovations. Since 2012, we've paired timeless design concepts with unparalleled business savvy, optimizing our clients' time, investment, and bottom lines.
14. Arveaux Interiors
Our unique design approach draws inspiration from our client's individual personality and lifestyle. We pride ourselves in designing exclusive and premier quality residences, both domestically and around the world. We offer a variety of design aesthetics, implemented through interior architectural detailing, construction documentation, and complete custom furniture installations. Our talented and experienced team provides an enjoyable client-designer partnership with a personal focus and commitment to every detail of the creative design process. Our retail boutique continues to offer vignettes featuring artisan furnishings, lighting, and accessories from around the world. Whether you're looking for a single piece or a full design service, we welcome you to Arveaux Interiors.
15. Smith & Ragsdale
To design interiors to be a reflection of our clients and their unique lifestyle. We aim to deliver well-designed spaces in which they function, materials, and client-experience converge.  This is achieved through careful investigation, thoughtful collaboration with our clients and trades, and keen attention to detail from project inception through completion.
16. Baker Design Group
From simple makeovers to complete renovations of large and small spaces, skilled Interior Designers at Baker Design Group can cover your Interior Decorating Service and Design needs quickly and affordably. Changing and upgrading your home or receiving corporate space design services can have a dramatic impact on your environment and state of mind!
Dallas Interior Designers at Baker Design Group has spent years developing relationships with the top resources in the industry, ensuring our professionals have the ability to deliver cost-effective solutions for your home, office, or retail space. This extensive time in the industry has afforded clients of our design team with a deep reservoir of selection and excellent pricing.
17. Laura Lee Clark
Interior Designer Laura Lee Clark Falconer understands that a truly successful design blends a collection of high-quality pieces from various periods and styles, while also using tasteful restraint. "I find that careful editing is essential to good design," Falconer says. "I like to create unexpected combinations of finishes, fabrics, and custom-designed furnishings while integrating antique elements, all the while striving for a sophisticated look."
By listening to each client's needs and desires, she earns their trust in order to establish the foundation and principles for successful design. This designer's staff is as dedicated as she is to the firm's valued clientele and they maintain a high level of organization and consistent contact with suppliers.
18. Total 360 Interiors
With earlier professional backgrounds in the Graphic Arts, Design Industry, and the Financial Sector, Nancy Black & Brent Willmott respectively gained valuable knowledge that has contributed to the success of their Interior Design firm. Both were engaged in industries that gave them broad skills in design balance, color theory, budget planning, and project management. Brent and Nancy merged their creative efforts to establish Total 360 Interiors in 2002 and have since enjoyed a solid partnership. They now have a long history of comprehensive renovations from the blueprint to complete finish out and furnishings in residential and commercial design.
See also: The Top Furniture Shops & Showrooms In Seattle
19. Interior Architects
IA is a global firm of architects, designers, strategists, and specialists. We focus exclusively on environments through the lens of interior architecture—a radical idea in 1984 when IA was founded. We are highly connected agents of change, committed to creativity, innovation, growth, & our communities.
Through innovation, research, and building on smart, highly creative solutions that embody our clients' brands, we advance the field. As an employee-owned firm, our diverse and multi-talented professionals are passionate, intense, and deeply client-focused.
We're inspired by working alongside our clients to resolve complex issues and design highly energized environments where people thrive. Through our work, we strive to share our passion with our clients.
20. ML Interiors Group
Our brand, Michelle Lynne Interiors, began as a one-woman show and has evolved into a team of talented interior designers who collaborate, challenge, and inspire each other to create personality-filled and luxuriously livable spaces you'll love- guaranteed.
We treasure our client's trust and believe each job is significant. We aren't fussy and we don't take ourselves too seriously. We are a group of creatives who take pride in our portfolio and look forward to making your home happier and more efficient.
Who would want their house to look impersonal- like a Restoration Hardware (or Pottery Barn, or Crate & Barrel) catalog?
You want your kitchen to be the center of your home, where your kids do their homework after school and your family sits down to warm meals together.
21. Coeval Studio
Coeval is an award-winning studio based in Dallas. We believe in the transformative power of simplicity.
Our approach to design takes inspiration from real people and has its goal in clarity of purpose and communication — out in the world and in business. By focusing on clear, strategic concepts, we create environments and brands that stand out and connect with people. Our work spans industries and disciplines and is experienced across every channel.
22. SJL Design Group
Since being founded in 1996, SJL Design Group (SJL) has been nationally recognized with awards and publications and has completed over 600 projects. Our team is comprised of highly qualified and experienced senior-level designers, architects, and support staff.
SJL offers full interior architecture services from inception to installation.
SJL is a member of both the American Society of Interior Designers (ASID) and the International Interior Design Association (IIDA). In addition, SJL staff members are licensed and registered by the National Council for Interior Design Qualification (NCIDQ), the National Council of Architectural Registration Boards (NCARB), and the Texas Board of Architectural Examiners (TBAE).
As a female-owned company, SJL Design Group is HUB-certified by the state of Texas. SJL is also a member of the U.S. Green Building Council (USGBC) with several LEED-Accredited Professionals on staff.
23. Faulkner Design Group
Our combined knowledge of development, interior design, architecture, property management, technology, and marketing manifests into a reliable, unmatched quality of services at the highest levels, regardless of project scope or budget.
24. Spruced
We listen and beautiful happens. From transitional, traditional, contemporary, or anything in between, we do it all. We partner with an extensive assortment of top name brands to deliver designs in your personal style. Our unique approach to interior design provides you with a worry-free and hassle-free experience all beginning with a complimentary in-home consultation. Contact us today to learn more about how we can make your dream home a reality.
25. Kim Armstrong Interiors
Award-winning interior designer Kim Armstrong has recognized for her colorfully eclectic spaces and thoughtfully designed renovations. Her thirst and drive for excellence stem from deep-rooted family values and a life long career as a competitive athlete.
Kim's strong sense of intuition guides her to create the perfect interior design solutions for her clients primarily focused in Highland Park, Preston Hollow, or older East Dallas neighborhoods. She has also worked on projects all over the great state of Texas and designed second homes across state lines.
If you enjoyed this article regarding Take a Look at Dallas Best Interior Designers then make sure to check out our socials to find news, inspirations, and more interior design ideas: Pinterest | Facebook | Instagram.
< ?php get_footer(); ?>