How To Style A Modern Console Table – While dining and coffee tables may get all the attention, the modern console table functions like a design hero. It's one of your home's first impressions when new guests take their first step inside, but this piece can play like a buffet in a dining room, extra storage in a hallway, or a desk when you need to work from home without an office. It's like a bookcase, a shelf, or a media unit. Are you getting the idea? LUXXU Blog will bring you a selection of modern console tables showing that this design piece is more than just another table.
---
See also: Memphis Design: These 8 Pieces Prove That Memphis Design Is Alive And Well
---
FIND THE MODERN CONSOLE TABLE
YOU'RE LOOKING FOR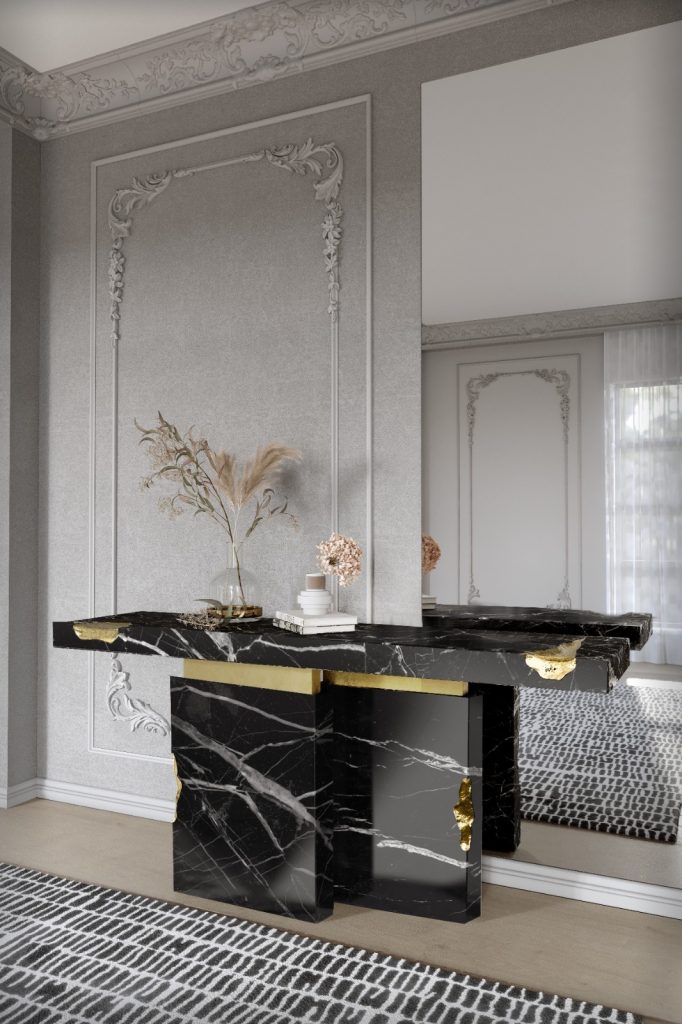 The entryway introduces the aesthetic of your home and console table styling plays a big role in setting the mood. More than a spot to hang jackets and put away your shoes, a thoughtful entrance is a hug that welcomes you home. It's easy to style a console table like Empire Console giving more function and personality to your space!
Get the look:
HOW TO STYLE
Lapiaz Console is easy to fit in any room, between two windows, in the living room, or along the wall in a narrow hallway. Ideal perches for a pretty bowl or tray to hold your keys and mobile phone, or as a base for a vase of seasonal flowers or branches throughout the year.
Decorating and styling a modern console table, whether in your entryway, living room or even bedroom, can make or break a room. After all, this is a prominent piece of furniture. Curate it elegantly and it will instantly lift a room. Leaving its surface empty is a missed opportunity.
Get the look:
DECORATE WITH A CURATED DISPLAY
Every great console display needs a picture or mirror set just behind it – and not so high up that it feels disconnected from it. Lumiere Console is an unexpected piece that blows our minds with its artistic vibe.
Get the look:
---
See also: World-Class Design Inspirations
---
CREATE A COHESIVE LOOK
Consider working with a theme for the objects on a modern console table for a cohesive look. Here, paint on the wall with a range of objects displayed casually, but deliberately. Newton Console takes the center stage with an exquisite design that leaves no one indifferent.
Get the look:
---
See also: Taylor Swift: Inside Her Cornelia Street Home
---
CHANGE THE LINES
Entryways tend to be the spaces we give little thought to. If interesting architecture is lacking, choose a modern console table with curved lines to up the style quotient, and echo its shapes and materials with sculptural finds on top.
Get the look:
ELEVATE THE TOP
Above entryway consoles, we like to hang or lean a larger piece to pull it all together. We love using artwork to set the mood for the rest of the home or incorporating a mirror perfect for checking yourself on the way out the door. Styling a large piece above a console table creates a focal point and draws the eye in, balancing the rest of the look.
Get the look:
OPT FOR A VASE OF FLOWERS
How to style a modern console table and give it classic credentials? Selecting a vase of flowers to create an interior design that's perfect for many rooms, and a classic amongst entryway ideas.
Get the look:
MAKE IT MINIMAL
In a contemporary room scheme, make it minimal when it concerns what's on the console table – this can be the best tactic. What's crucial if that's the case is selecting decorative pieces of sufficient scale to appear considered. On this Lapiaz Tiles this sculpture it's simple enough.
Get the look:
Like a good friend, a console table gives you what you need, wherever you need it. It changes with us as we grow into new spaces. You might not know what your future home looks like, but you can depend on the versatility of your console table.
YOU MAY ALSO LOVE THIS:
NEWTON WHITE FAUX-MARBLE & GOLD CONSOLE
---
See also: LUXXU Stocklist
---
If you enjoyed this article regarding How To Style A Modern Console Table then make sure to check out our socials to find news, inspirations, and more interior design ideas: Pinterest | Facebook | Instagram.