Rediscover LUXXU: Welcome To A New Era Set In Stone – LUXXU's New Era Set In Stone marks the beginning of a new design concept. Introducing new materials, finishes and geometric lines, but maintaining the same sense of luxury, the New Era Set In Stone reshapes your interiors and transforms them to achieve maximum elegance. Rediscover this in LUXXU Blog's new article!  
---
See also: LUXXU's Sofa Collection: Discover Our Premium Upholstery Items
---
Rediscover LUXXU
Welcome To A New Era Set In Stone
Magna Chandelier
Magna Chandelier is a masterpiece that was inspired by the organic shapes of nature, the beauty, and the elevation of mountains. A piece that reunites the modern with craftsmanship techniques. Each part is made with alabaster details in the centre and the glimmering metallic frame is made of brass. Magna Chandelier will add a poetic beauty and will change the atmosphere of any room.
Algerone Long Side Table
Made of the finest materials that exude sophistication and distinction, the Algerone long side table upholds the classical appeal of the Algerone family. Its marbleized top and leathery contours draw the attention of its beholders, easily becoming the detailed piece that any living space needs.
Magna Pendant
Magna presents a highly dimensional nature with a pendulum-like aesthetic and an elongated trapezium form. Inside its gleaming brass frame, the Magna Pendant has embellished in alabaster details that are evocative of highlands and skylines. This pendant's natural textures are set to offer depth and a sense of rarity to any space in which it is installed.
Algerone Mirror
Divided into three asymmetrical frames, the fragmented form of the Algerone mirror was designed to convey a more peculiar aesthetic that adds depth and interest to any space it bestows. Each frame is boarded with Eucalipto Frise veneer and brass details that further complement the mirror's ornamental appeal.
Get the look:
---
See also: Unique Floor Lighting
---
Algerone Sofa
The Algerone sofa was created to express the ultimate expression of comfort and luxury in a singular piece. Upholstered in smooth brown velvet, this linear sofa emphasizes the classical lines and geometric features that the Algerone family is best known for. The Algerone sofa is bound to become the enviable centrepiece of any living room style.
Magna I Floor Lamp & Magna II Floor Lamp
A Floor Lamp as you have never seen before. Magna Floor I is part of our Magna family, which was created inspired by our fascination for raw materials, semi-precious stones, and natural textures. A piece that brings the best of both worlds: the finest materials such as brass and alabaster and distinct beauty that will not pass unnoticed.
The Magna Floor II is a piece that features precisely geometric features and brings an exclusive aesthetic, inspired by the beauty of the mountains, with a glow metallic frame made of brass and a mountain-like centre made of alabaster. This extraordinary piece will fill your eyes and will awaken your best senses.
Algerone Rectangular Dining Table
Algerone is an imposing rectangular dining table, inspired by sleek architectural elements. This classic piece showcases the strength and classic nature of Statuario marble that is further enhanced by the presence of meticulously placed brass lines. The intertwinement of these materials makes for quite an alluring decor statement.
Algerone Bar Cabinet
The Algerone bar cabinet is a sleek and opulent design solution with architectural features. Its main component is Statuario Marble hence its strong and durable character. Algerone also highlights an interior handcrafted in smoked glass, polished brass, and glossy Eucalipto Frise Veneer. Ideal for an open-concept space or a contemporary living room, the Algerone bar cabinet is set to create a stunning visual effect.
Get the look:
---
See also: The White Lotus: Inside The Hotel Where Season 2 Was Filmed
---
Algerone Bed
The Algerone bed is the epitome of modern design, combining noble materials such as polished brass, grey leather, and Statuario marble with sleek lines. The architectural inspirations of the collection are reflected in this design, making it quite an alluring decor statement while ensuring the ultimate comfort.
Magna Table Lamp
Magna I was the result of our fascination for raw materials, semi-precious stones, and natural textures, hence its sculptural scheme with a fiery character. This exclusive table lamp features an ambiguously geometric frame in brass and a centre made of alabaster that is almost reminiscent of lava flows but with a more crystalized nature. The Magna I table lamp is bound to add immense beauty to any style of interior.
Algerone Dressing Table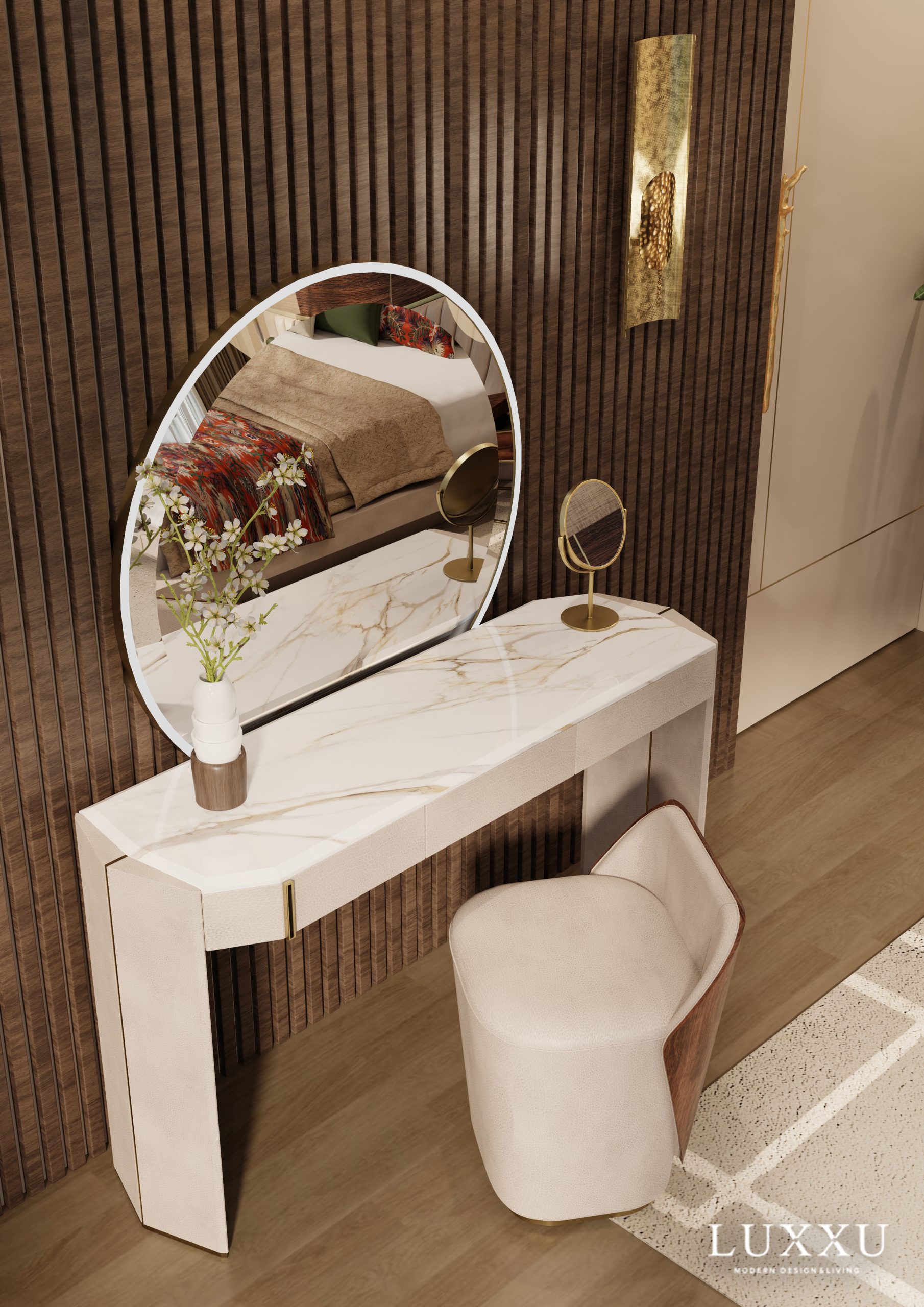 Incorporate a new sense of modernity that only marble can provide into a bedroom, closet, or vanity area with the Algerone dressing table. A luxury item made with the most premium materials such as polished brass, Eucalipto Frise Veneer, mirror, and Statuario marble, that has a powerful presence in any ambience.
Magna Suspension
Designed as an empowering piece, the Magna suspension was inspired by the awe-inspiring beauty and elevation of mountains. This ornamental lighting design highlights three unique fixtures with a trapezium-like form. A sleek material like alabaster was used to offer a conspicuous snow-like display to each composition as well as details of rocky surfaces. The glossy outer frames are highlighted in brass. Magna's pendular structure will offer interest and drama to any style of interior.
Get the look:
Magna Wall
Featuring precise geometric features, Magna Wall Lamp takes the shape of a lengthy yet truncated pyramid with a set of robust characteristics. The glimmering metallic frame is made of brass while alabaster was used to sculpt its mountain-like centre. The Magna wall lamp will evoke feelings of contemplation as if you were staring at the horizon.
---
See also: LUXXU Home Master Catalogue
---
If you enjoyed this article regarding Rediscover LUXXU: Welcome To A New Era Set In Stone then make sure to check out our socials to find news, inspirations, and more interior design ideas: Pinterest | Facebook | Instagram.