Office and Reading Corner: Discover The Most Luxurious Inspirations =>Upgrade your office and reading corner design with luxury and create a stunning space with the best furniture pieces and lighting. Redecor these places of your house with elegance and with the most exquisite decor pieces. Today's article Luxxu Blog will show you marvelous ideas to create unique interior designs to get an exclusive statement in your house.

Reading Corner
A welcoming, well-lit living space in bland and clean tones. Isn't that the perfect situation? Fantasising is just no longer an option, thanks to the ESSEX Mid-Century Armchair. This sumptuous and velvet-upholstered armchair, coupled with the LURAY Side Table and the fluffy KOTTA Rug from Rug'Society, will meet all of your expectations.
This bright white interior exemplifies international and modern style. The magnificent GEORGE Sofa in cotton velvet, combined with the otherworldly AGRA Coffee table, will provide the ultimate decoration combination for any occupation.
See also: Where To Shop – The Best Luxury Showrooms In Basel
Every book worm needs a high-end reading corner to relax and dive into another world. The floor décor in this part of the house is vitally important and an option such as the Air Geometric Rug will definitely be a great addition to a stylish reading area.
Combine artwork with a stunning floor décor for a unique reading corner design. The contemporary feel that the Eye Rug presents is nothing short of sensational and this piece will provide an always welcomed reading corner inspiration.
See also: Mayer Black Center Table
Office
This charming office creates a conducive environment in which you may tour the globe without leaving your home. The reading area is equipped with two swivel velvet ESSEX Armchairs which really allows you to rest or recharge your energies. A KOI side table in aged brass with a bright green marble surface and a CYRUS floor lamp in aged brass. To complete the workspace, a custom-made built-in open bookshelf inspired by the BARAKA series was installed, providing storage and organizing.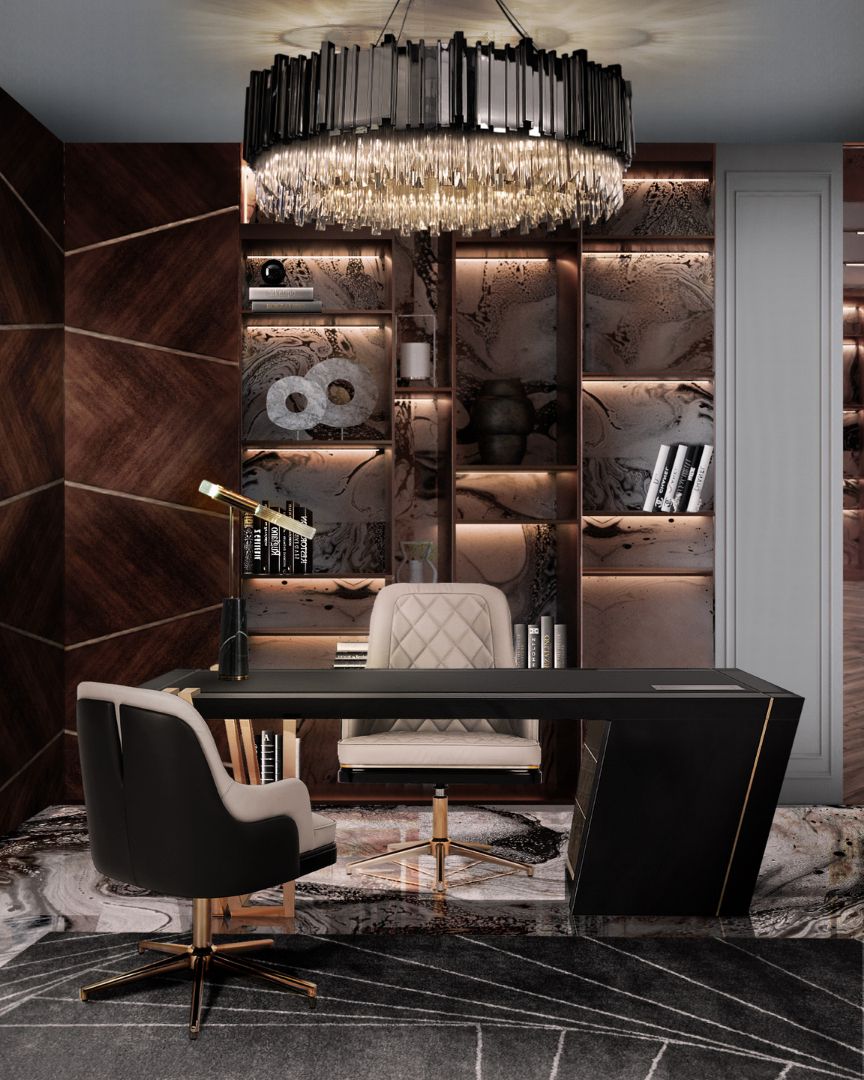 Be at your best with the perfect home office decoration. The interior design selection for this part of the house deserves a careful approach where comfort and exquisiteness must go together perfectly. Set the tone for a luxurious work environment with Luxxu´s Charla Office Chair, a fantastic option to work incredibly agnd in style.
Get The Look:
An exclusive desk that conveys an unmatched sense of style and aesthetics is the key to boosts productivity. The Apotheosis Desk is the anchor point of this interior and makes quite a luxury statement. And as the perfect fusion of function and beautiful design is the culmination that every home office room should aim for, the Charla Office Chair provides comfort and Tycho Rectangular Suspension the functionality required for the complex tasks of modern business culture. All of this is combined with an attractive factor to make you feel rewarded and fulfilled while working.
Get The Look:
⇨ APOTHEOSIS DESK ⇦
See also: Best Interior Design Projects In Basel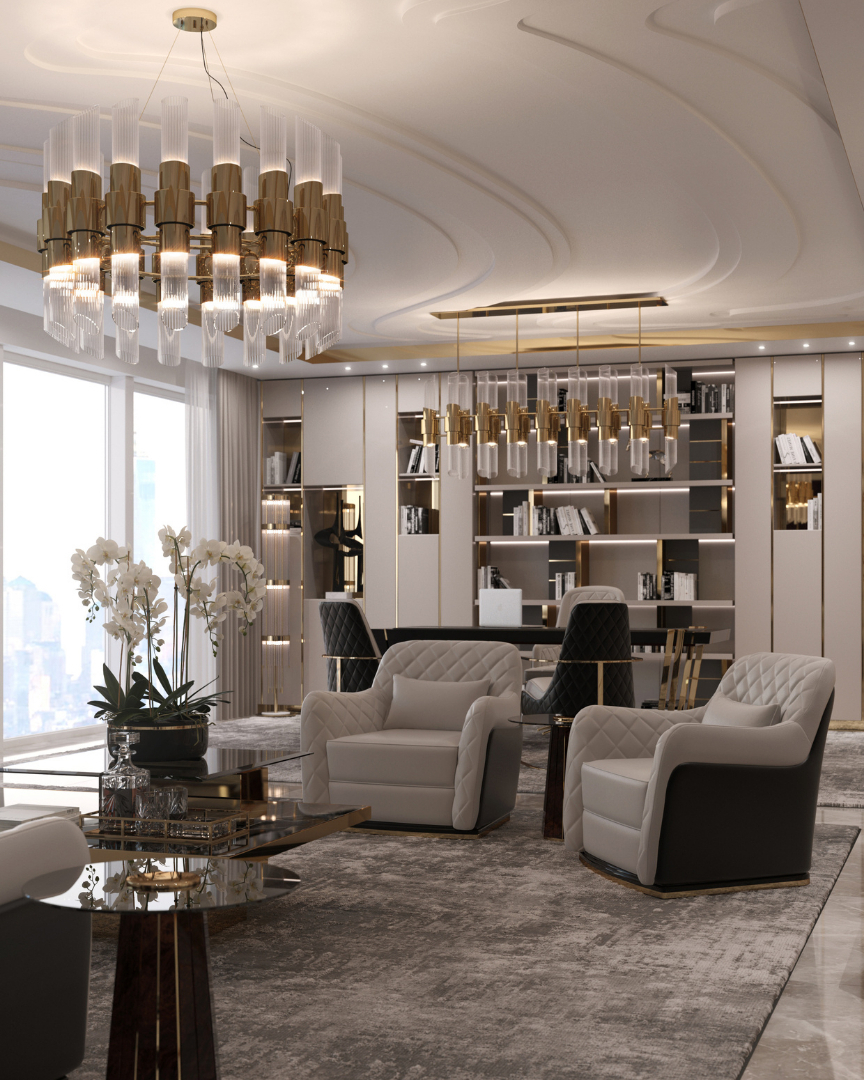 A perfect match for a home office zone is the Thor Center Table combined with Darian Side Table. This combination allows dividing the room into two zones, bringing into life an elegant laser place. To complete this set couldn't miss the Tycho Round Suspension to give light to this place and giving the luxurious touch that cannot be missing.
Get The Look:
If you enjoyed this article regarding Office and Reading Corner: Discover The Most Luxurious Inspirations then make sure to check out our socials to find news, inspirations, and more interior design ideas: Pinterest | Facebook | Instagram.