Modern Office Design – Contemplate This Office Statement Design By Luxxu => Working from home is more than ever a reality. Either because the Covid-19 pandemic dictated, or just as a result of the modern lifestyle many people have with remote jobs and own companies. This is why functional and appealing offices are a must. The daily tasks will become more pleasant, and the user will be in his best version to strive, every day, towards his goal. Everyone needs to feel accomplished and rewarded for their hard work, and this need was seen and solved with LUXXU's selection of dazzling design pieces created to inspire.
---
See Also: Marvel At This Exclusive Miami Property By Luxxu
---
modern office design
Be Aquainted With This Luxurious Space
This modern office design is filled with luxurious features and this workspace was a part of Luxxu´s deluxe apartment in Moscow. This area follows the rest of the apartment´s style and design approach, conveying opulence and richness in every element and dazzling even the most distracted with stunning statement pieces.
Discover the charm and character behind the most dazzling attributes this office has to offer and admire the brand´s exquisite product lines that compose the gorgeous décor that turned this environment into the ultimate luxurious workplace.
modern office design
The Entrance To A Luxurious Workspace
modern office design
As soon as you enter this space one thing is obvious, this is a place that oozes inspiration and where every distraction can be left out of the room, the space planning was simple yet incredibly well done, as you can find all the must-haves you could wish for your own office design.
The first thing that can catch your attention as soon as you enter this room is the Apotheosis Desk, it all begins and ends with a desk like this. A key item of any office where clients or business partners are received, deals are closed, and above all people spend time. So, having an exclusive and comfortable desk will boost productivity and create a statement. Equipped with a USB port for maximum accessibility, this office desk is the ultimate display of luxury, sophistication, and functionality coming together as one in a marvelous encounter of talented craftsmanship and innovative design.
Speaking of comfort which is undeniably a daily need for everyone. People immediately think about the bed, the clothes or the sofa, but a comfortable office chair is a must. And this is because humans spend a considerable amount of time seated, focused on work, and, sometimes, forget to stretch a bit.
When it comes to refined office chairs Luxxu does not disappoint and the iconic Charla Office Chair was the staple seating solution chosen for this workspace design. Its ergonomic shape ensures the right posture, which allows working comfortably for hours. The best materials, such as velvet, brass, and lacquered wood ensure high quality. All combined into one office chair, that ties comfort and luxury together. Timeless with a modern twist, this is undeniably an item of boundless elegance. Furthermore, one or two armchairs for clients and visitors are always welcome and create a feeling of hospitality that every business needs. Provide a warm reception to all guests and have small meetings in a luxurious setting with the Ocadia Armchair.
---
See Also: Otto Armchair
---
modern office design
Artwork Can Always Provide The Best Inspiration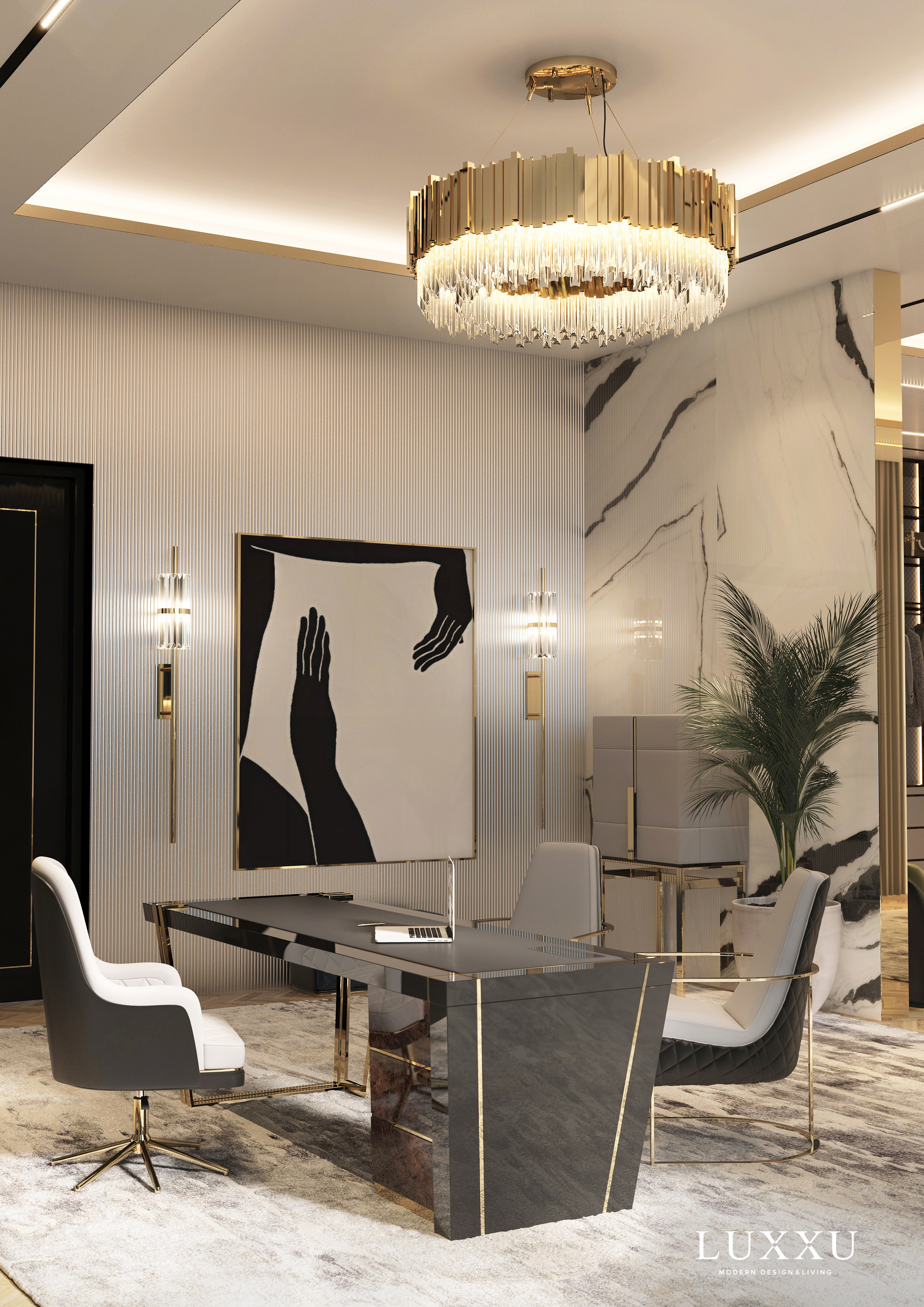 Paired with the fabulous interior décor selection for this area, Luxxu decided to bring another inspiration source to this office and a masterful painting was the appropriate work of art for this room as it does not take up any large amount of space and creates a more artistic and appealing aesthetic for the whole ambiance.
To highlight this terrific artwork the Liberty Torch Wall Lamp was considered an optimal choice, due to its eye-catching design and uniqueness Luxxu integrated two of these masterpieces on both sides of the painting to achieve the perfect combination of luxurious lighting and beautiful inspiration.
modern office design
Get The Look
Store Any Knowledge Luxuriously
Every modern office needs a luxurious bookcase, be it for functionality or decoration purposes. This super convenient piece can work both for storage and to add that extra glamor touch to the space, matching it with the desk will increase harmony and the sense of luxury needed for such an exquisite workplace.
modern office design
Speaking of exquisite workplaces, Luxxu opted for the Apotheosis Bookcase, a true anthem to sophistication and design. With sleek and straight lines that make her a magnificent creation and an exclusive design piece, this is the ultimate product for office spaces, perfect if combined with another member of the Apotheosis collection.
---
See Also: Lloyd Bookcase
---
modern office design
An Exquisite Break Without Leaving The Office
Every now and then there will obviously be the need to take a break to rest and relax from the hard work that was put in and Luxxu equipped this workspace with the perfect resting corner. A simplistic yet luxurious décor with an attractive subtlety about it is how we can perfectly describe this area of the office.
modern office design
The refinement that is demanded regarding a fabulous resting place such as this one was brought by the Charla Chaise Longue, its iconic lines provide the right amount of luxury and comfort. This piece was paired with the Pharo Floor Lamp to bring this corner more clarity where one can unwind and enjoy a drink or even read a book.
Get The Look
---
See Also: Master Bedroom Design – A Closer Look At Luxxu´s Mont Blanc Chamber
---
modern office design
If you enjoyed this article regarding Modern Office Design – Contemplate This Office Statement Design By Luxxu then make sure to check out our socials to find news, inspirations, and more interior design ideas: Pinterest | Facebook | Instagram.
< ?php get_footer(); ?>
Modern Office Design – Contemplate This Statement Office Design By Luxxu
Modern Office Design – Contemplate This Statement Office Design By Luxxu