Modern Kitchen Design Of 2023 – Have A Taste Of Luxury With Luxxu => The kitchen is often one of the most popular rooms of any household, and as you cook up all of your best dishes you should be surrounded by an inspiring and luxurious interior design at all times. In hopes to inspire you, Luxxu Blog brings you in this article a collection of stunning modern kitchen designs that you can use as the recipe to cook up your next kitchen interiors gracefully. For now, just take your time to enjoy these gorgeous ambiances, along with a masterpiece kitchen that you simply need to behold.
---
See also: Admire Luxxu´s Newest Deluxe Apartment in the Heart of Moscow
---
Contemplate These Exquisite Modern Designs
Luxurious And Modern – The Perfect Mixture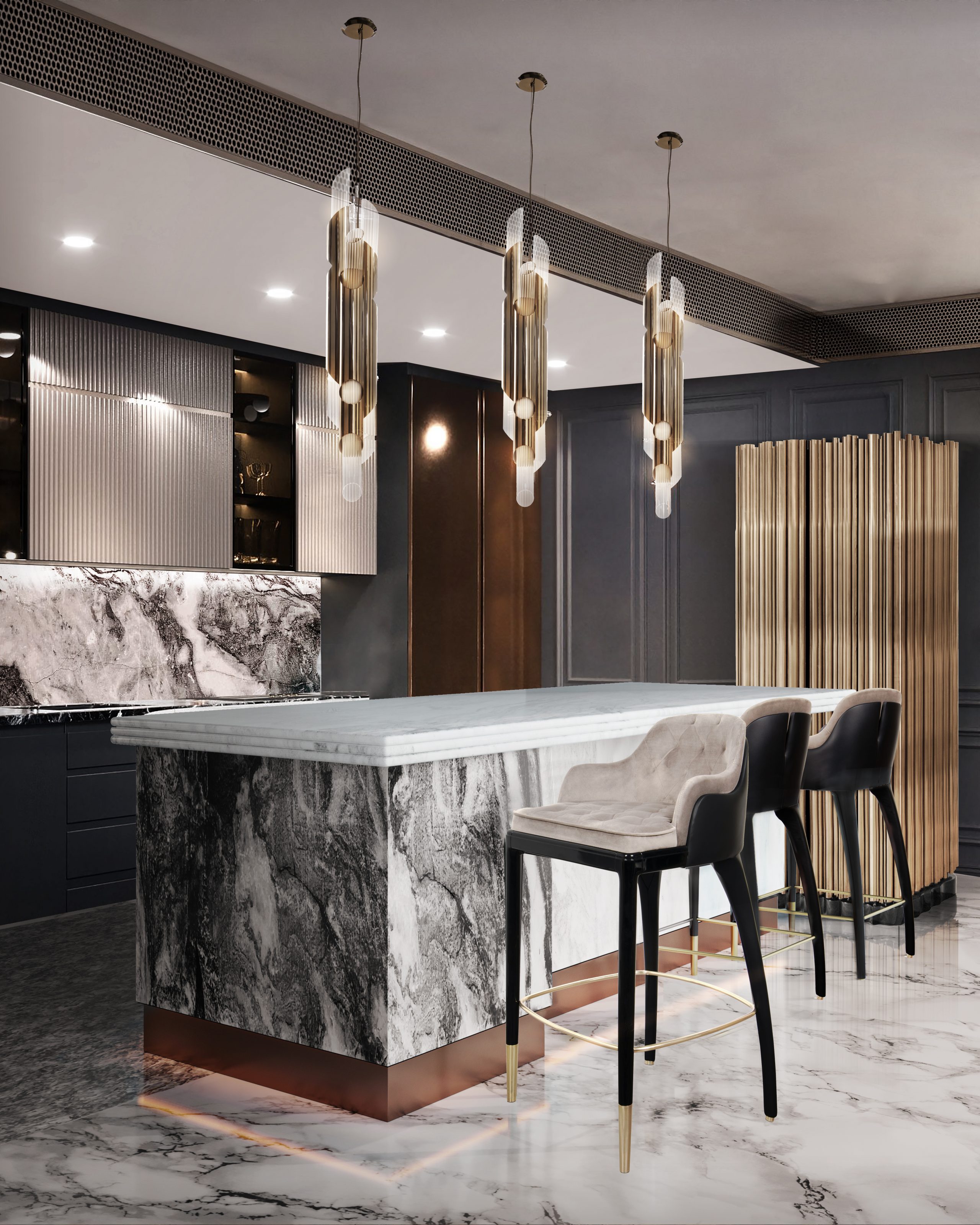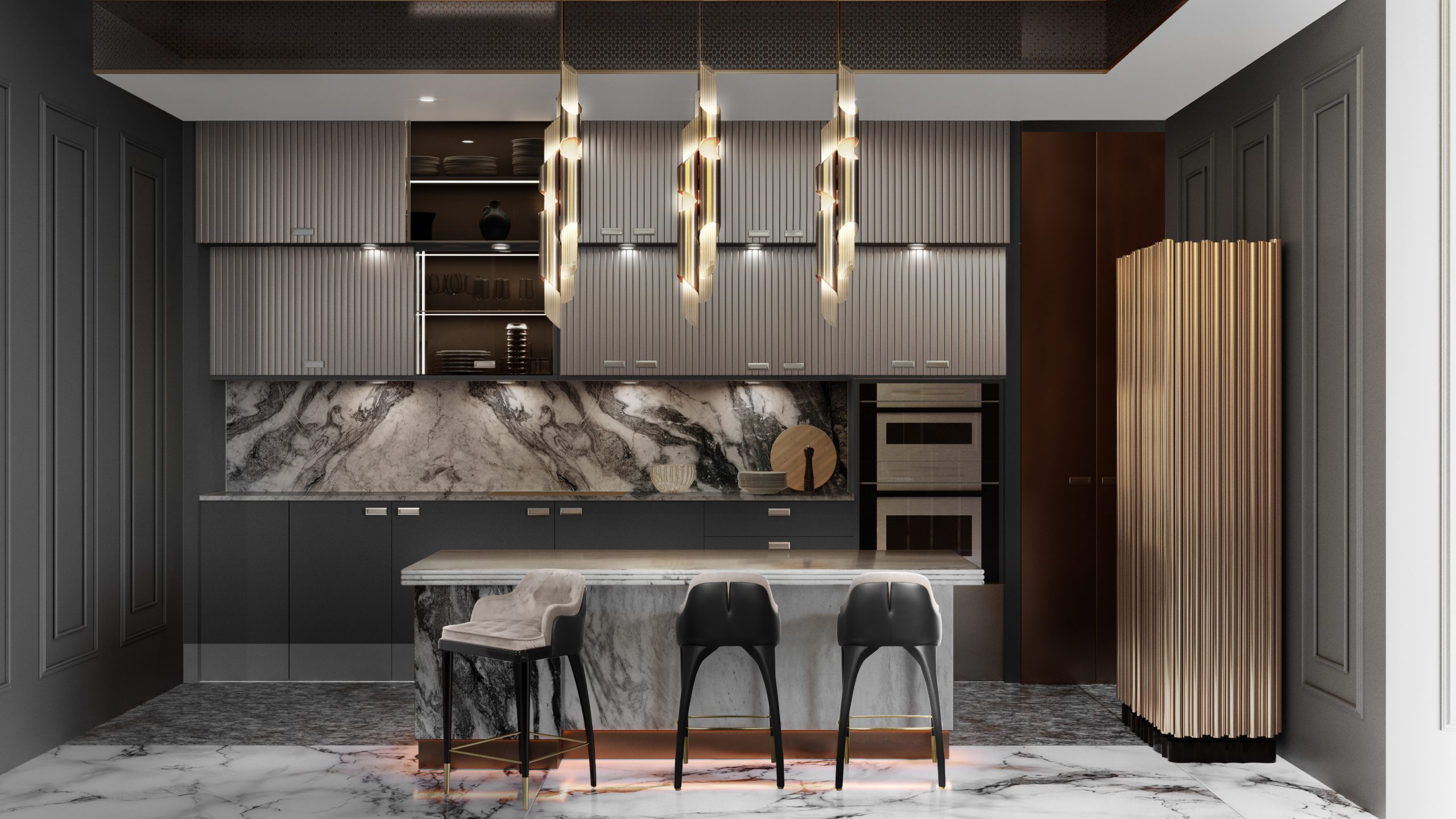 A modern kitchen and luxurious elements go hand-in-hand when it comes to creating a stunning interior décor for this part of your household. Especially with kitchen designs, the combination of various features is of the utmost importance and must not be overlooked. Just like when cooking the perfect dish, every element is a delicious ingredient that you can masterfully blend with others in order to create the best and most tasteful outcome.
Get The Look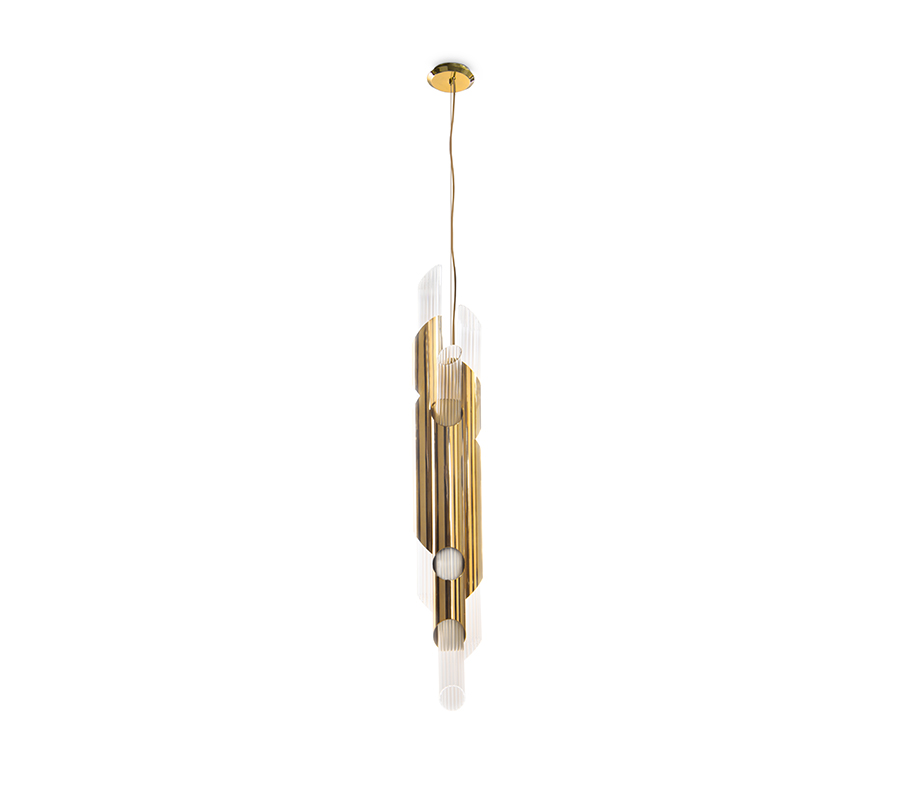 ---
See also: Charla Bar Chair
---
An Encounter Between Lighting And Creativity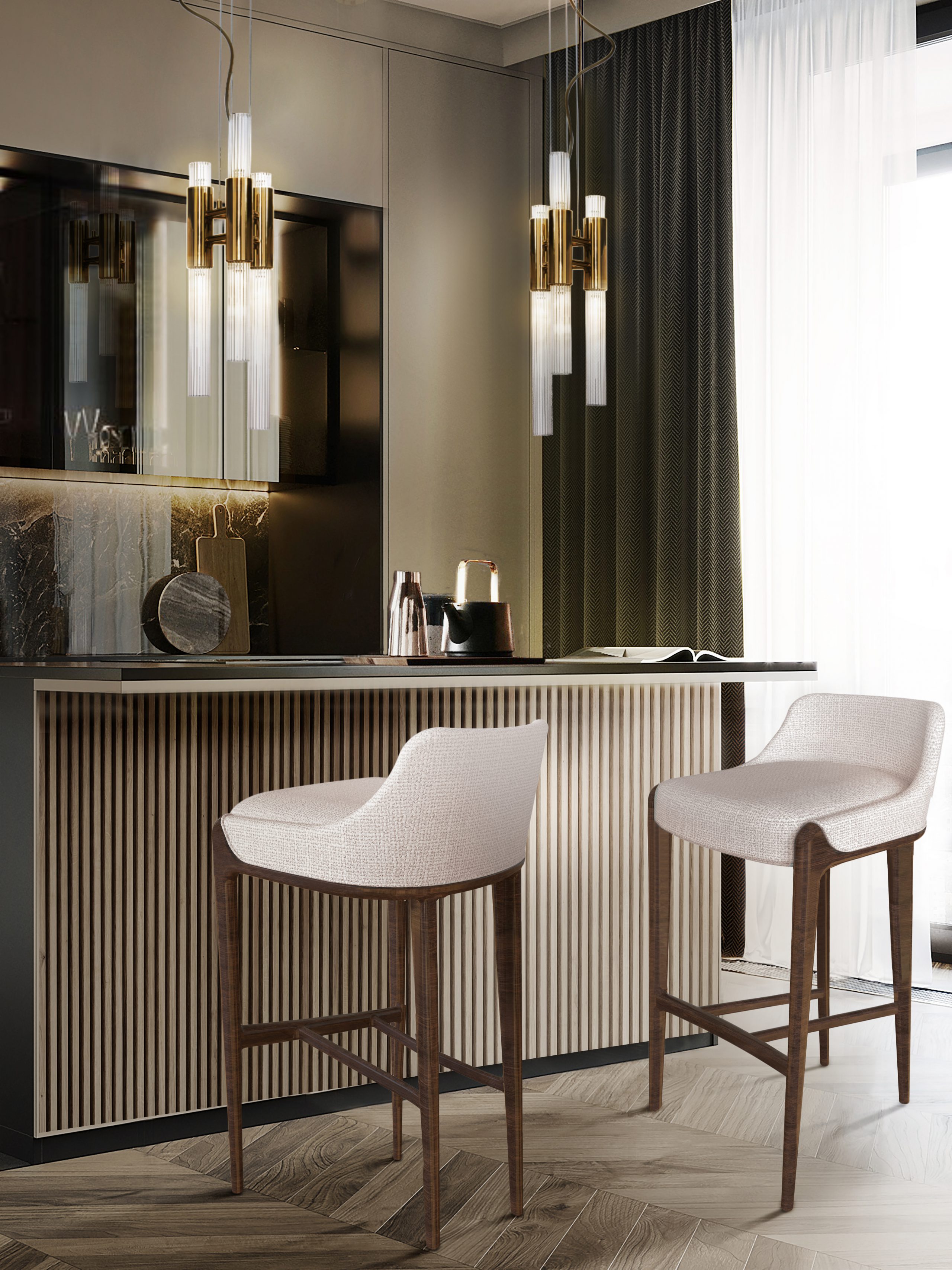 Fabulous lighting is a huge part of the essence of any room and for a kitchen design, we can say that functionality is just as important as style. The better your illumination is on your kitchen space the better you can use all its features and portray a truly luxurious lifestyle.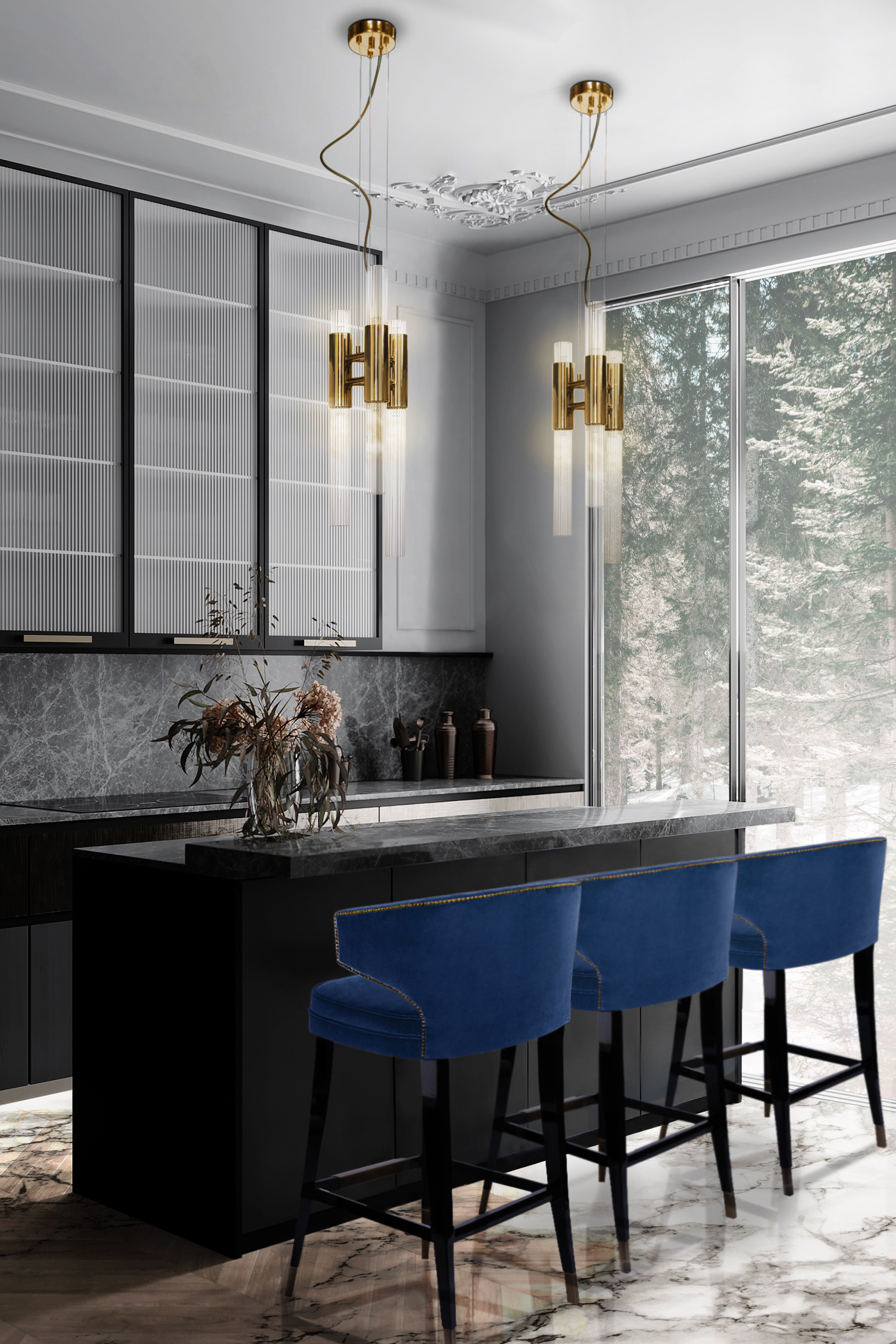 As we said, high-quality lighting is a must-have, however, style is just as important. Following the Luxxu approach is to strive for nothing less than perfection and when it comes to the perfect lighting style for your kitchen pendant lighting takes the cake due to its luxurious subtlety and aesthetic. Among some of the most lavish pendant lamps, you will ever behold is the Waterfall Pendant, a lighting solution that will guarantee that you unlock the full potential of your kitchen´s interior décor.
It is no coincidence that Luxxu is a brand that oozes luxury and exquisiteness. We always strive to innovate in every piece and create a plethora of distinctive styles to offer our clients, because we know, every house is different and so is every kitchen. For a more bold yet elegant lighting design, the Liberty Small Pendant will never be regarded as a bad choice.

Comfort Is Essential In The Kitchen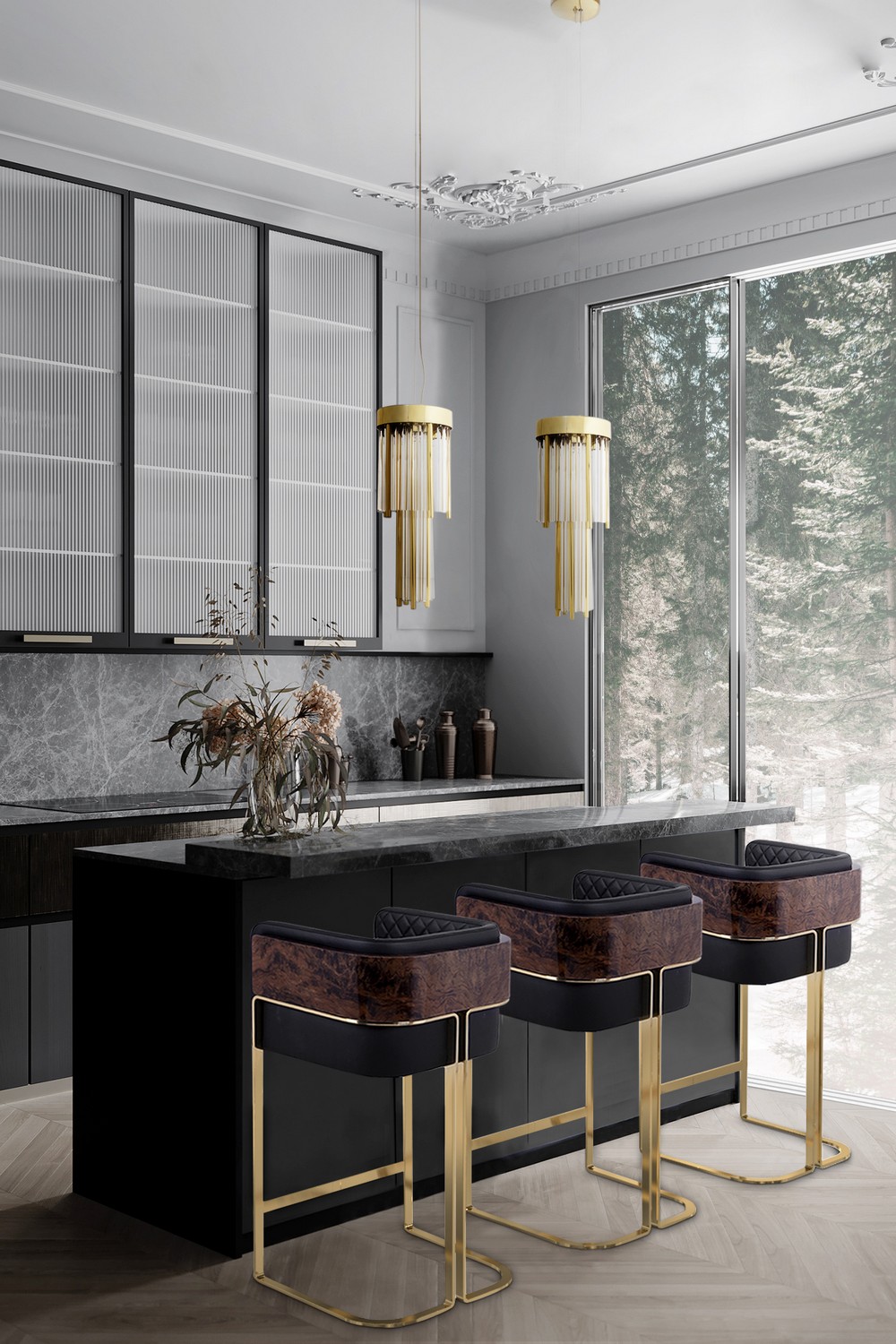 A part of the appeal of any interior design is how well and comfortably do you feel in any given area or room. Although we are not talking about a dining or living room where that sense of coziness is imperial, your kitchen space should not be forgotten in terms of this comfort, after all, this is still a really coveted part of any home and you want that both you and your guests to feel comfortable in every location. For this kitchen design, the modern Nura Bar Chair was the obvious selection, a refined piece of upholstery with a sublime design that is excellently complemented by the Pharo Pendant.
---
See also: Pharo Small Pendant
---
Make A Statement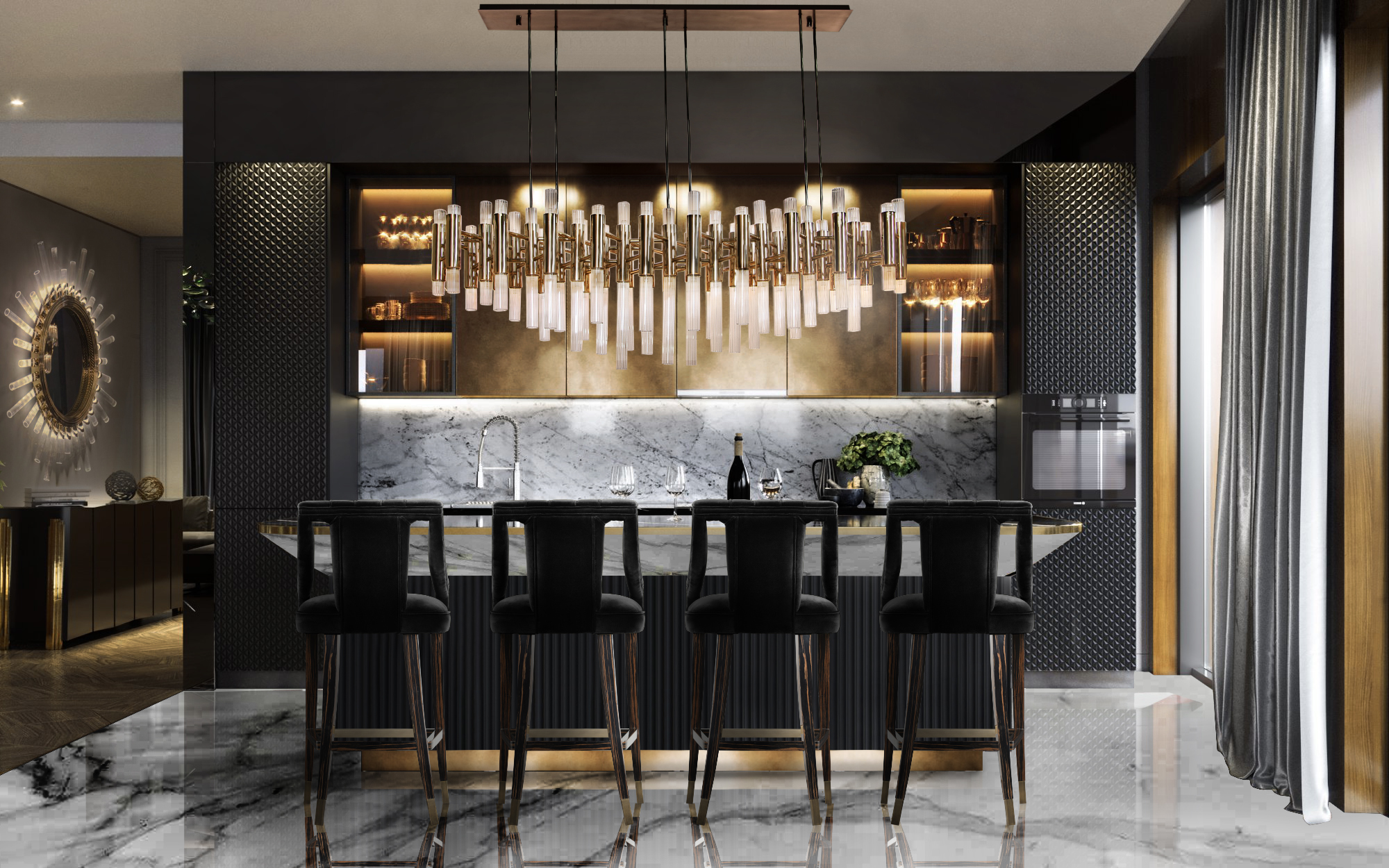 A luxurious and modern design cannot be considered a true masterpiece without the grandeur of a statement piece. Luxxu is absolutely outstanding in crafting these signature pieces that can catch any eye at a mere glimpse and for a kitchen design, you may have this statement in the form of the Waterfall Rectangular Suspension, inspired by the fluidity and majesty of waterfalls this piece brings a natural feeling to any space.
The Masterpiece Kitchen To Inspire
Marvel At Luxxu´s Awe-Inspiring Modern Kitchen In Miami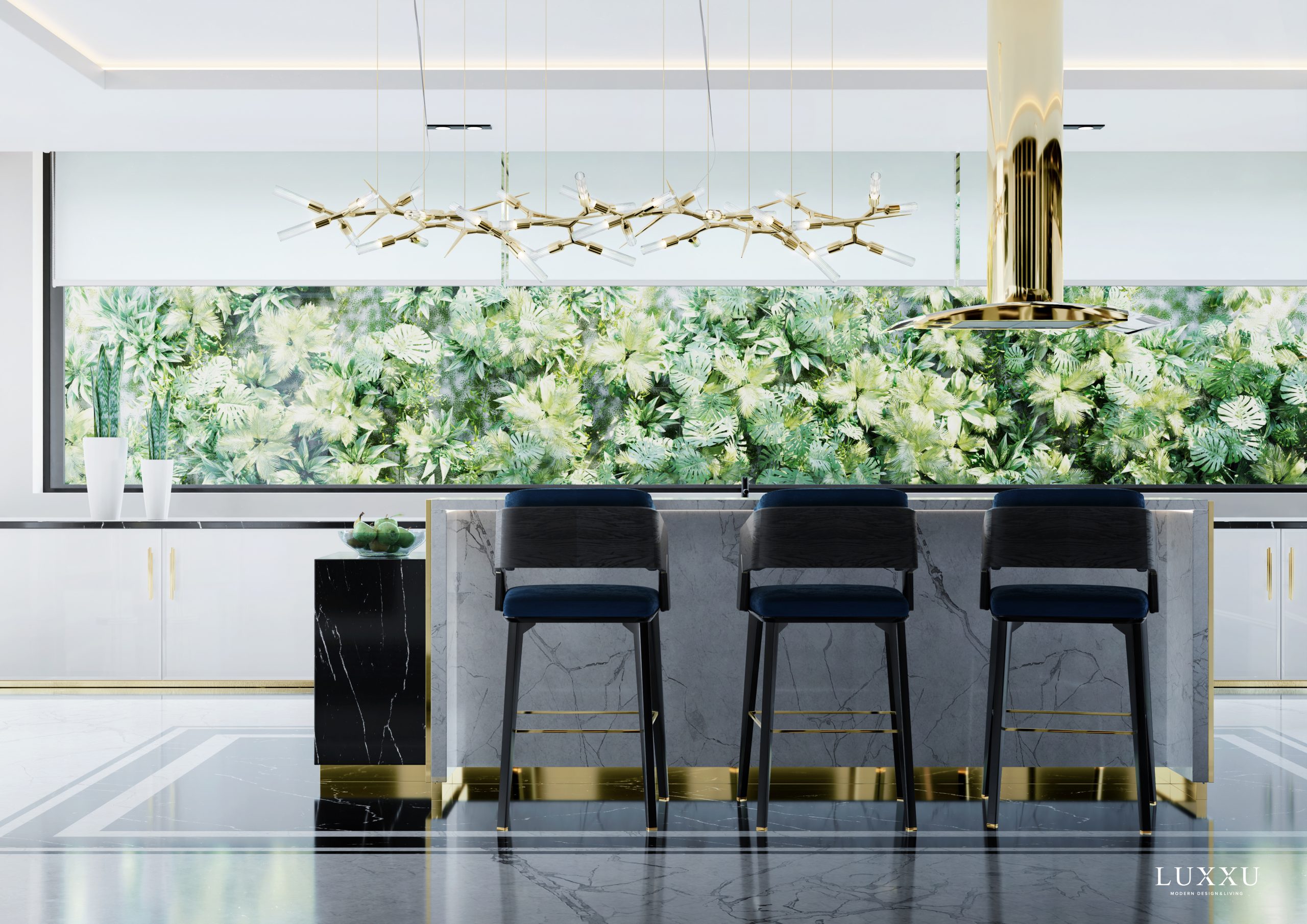 This exclusive kitchen is a part of Luxxu´s luxurious multi-million dollar project in Miami and has one of the cleanest designs you will ever see, from the bright color palette that brings that Vice-City appeal to the wonderful interior design selection, this one is simply a dream to look at.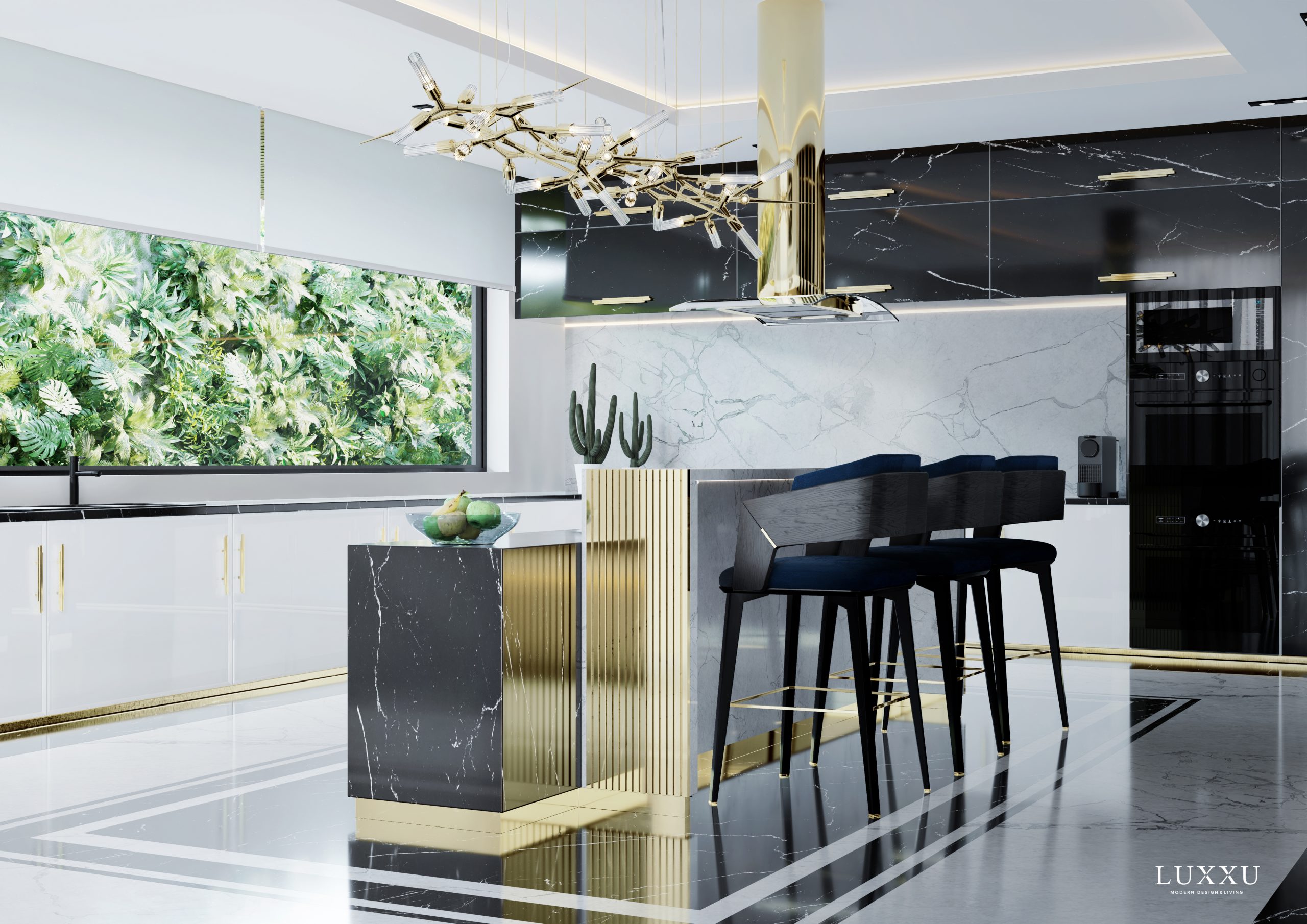 With the kitchen counters being composed of high-quality materials and astonishing details, the boldness of the Shard Suspension acts as the center of attention in this ambiance and its unique shape and golden accents give this space the richness you would demand of an exclusive property such as this one.
Get The Look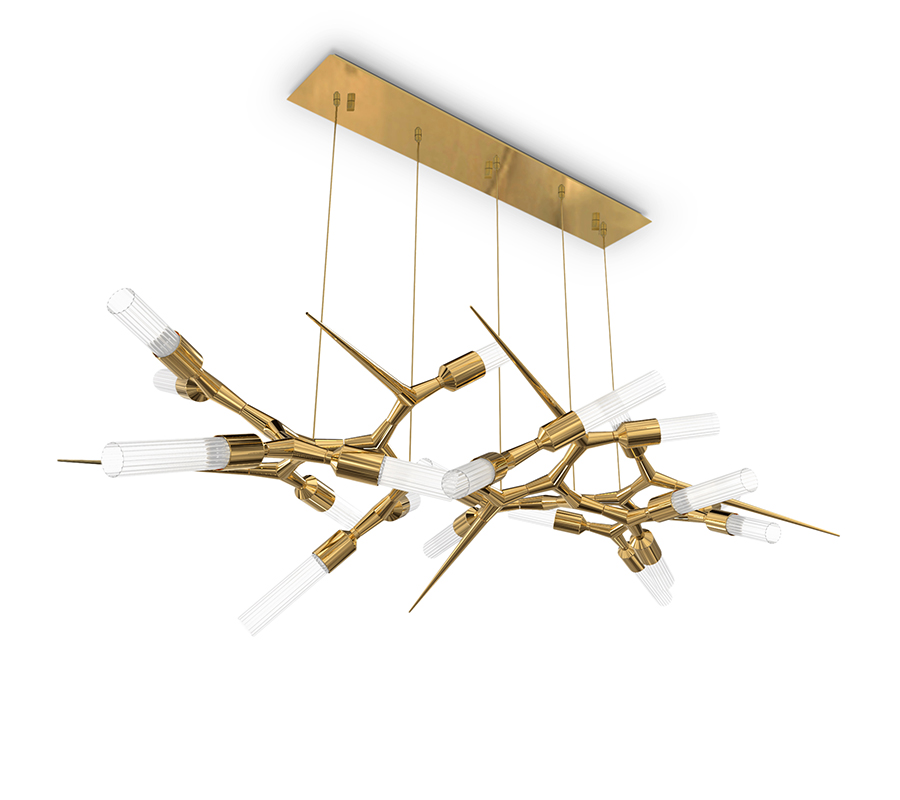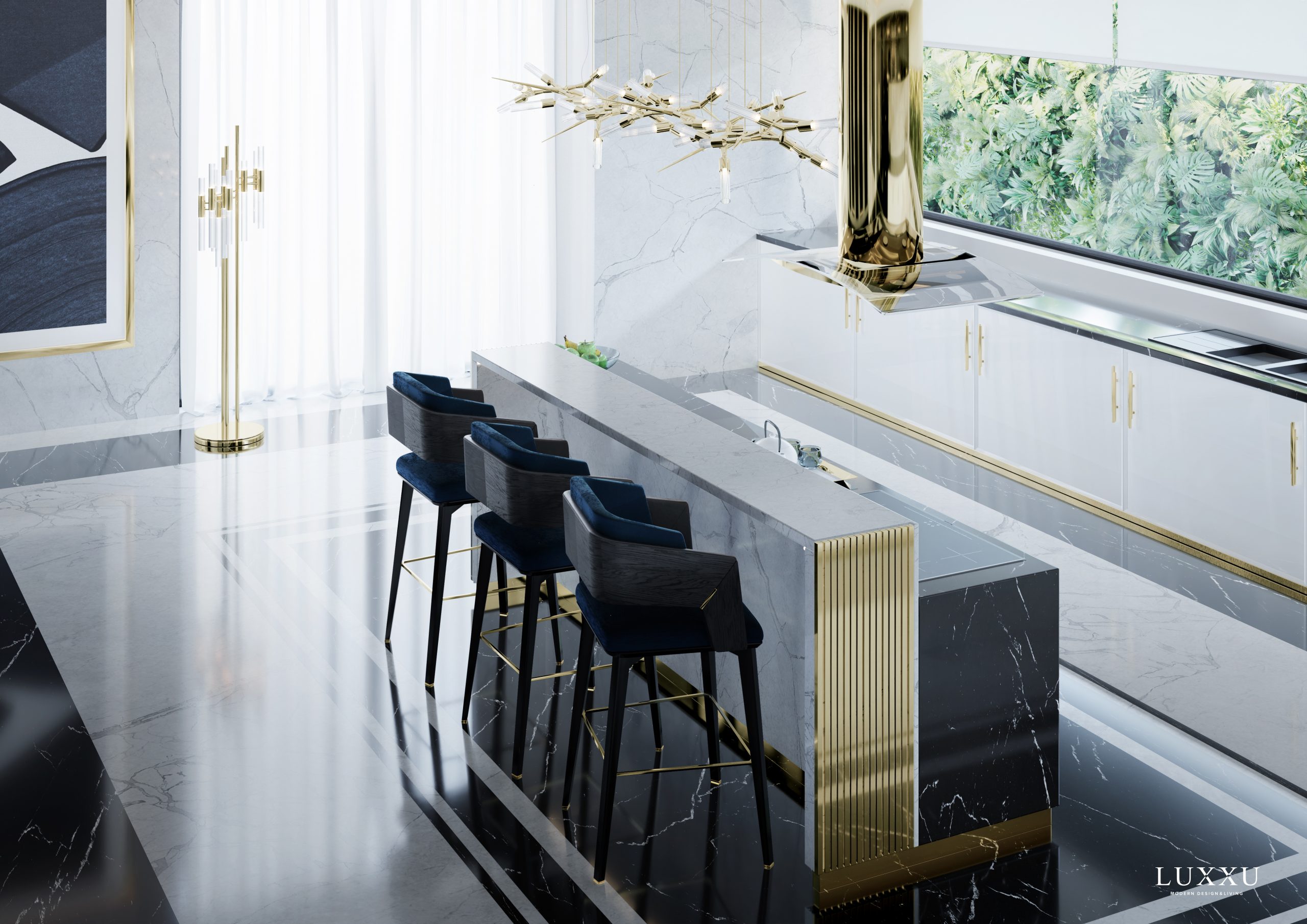 For Luxxu there is no such thing as too luxurious, and in addition to all of this kitchen´s marvelous features we just showed you, there is still more. This is more than just a kitchen, it is also a fabulous area where artwork was brilliantly implemented and it can be highlighted by the Waterfall Floor Lamp. To complement this wonderful setting with distinguished and detailed hardware the kitchen cabinet were decorated with the iconic Skyline Cabinet Handle by PullCast, the perfect piece to top off a one-of-a-kind modern kitchen.
---
See also: The Waterfall Collection – A Wave Of Elegance And Uniqueness
---
If you enjoyed this article regarding Modern Kitchen Design Of 2023 – Have A Taste Of Luxury With Luxxu then make sure to check out our socials to find news, inspirations, and more interior design ideas: Pinterest | Facebook | Instagram.
< ?php get_footer(); ?>