LUXURY RUSSIAN ROOFTOP PENTHOUSE by DS CILIEGIO  => In the top two stories of a building in Moscow's South area, with stunning views over the Vorontsovsky Park, this rooftop penthouse is what dreams are made of.
DS Ciliegio is a team of professionals working in the Italian furniture and design market since 2000. 
LUXURY RUSSIAN ROOFTOP PENTHOUSE
 According to Malika Desultanova, the interior design of an apartment or house should fully express the individual style of an apartment, a house, where every smallest detail of the interior project and each object forms its unique image, combining beauty, functionality, and comfort. LUXURY RUSSIAN ROOFTOP PENTHOUSE
SEE ALSO: Erase Every Distraction In This Mont Blanc Luxurious Retreat By Luxxu
DS Ciliegio works to fit in every design venture the overall concept and style of their clients, your house or apartment, culminating in amazing creations. LUXURY RUSSIAN ROOFTOP PENTHOUSE
LUXURY RUSSIAN ROOFTOP PENTHOUSE by DS CILIEGIO
Designed by Ciliegio Interior, this house counts with an area of 700 square meters and is the epitome of luxury, with an indoor pool, high ceilings, and large panoramic windows uniquely decorated by this interior design firm.
Art Deco, Luxury, and Modern are the styles that describe this penthouse the best, together with ensuring not only a gorgeous but also practical and functional design, taking into account the owner's preferences and needs. LUXXU's sophisticated pieces are seen throughout the home, such as the powerful Empire Center Table, whose top beautifully reflects the outside views.    LUXURY RUSSIAN ROOFTOP PENTHOUSE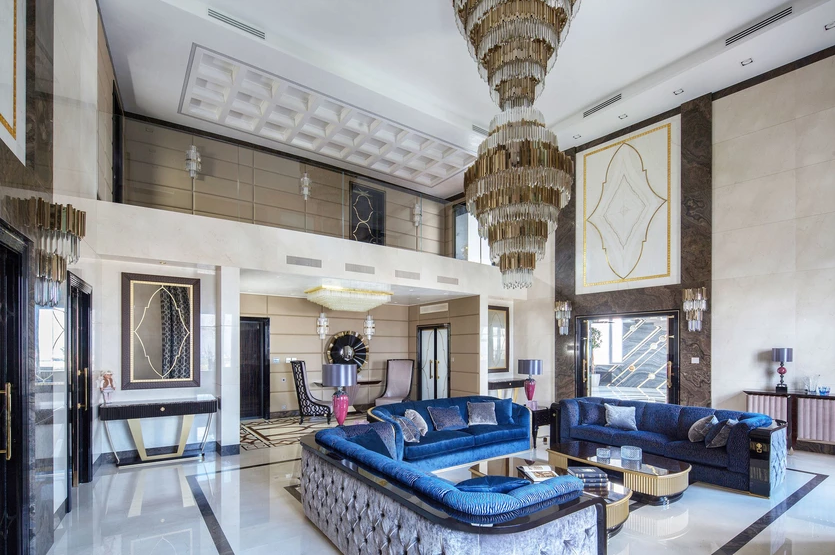 The first floor of the penthouse features a spacious living room that includes the marvelous Empire XL Chandelier, granting character and impudence to an already grand space. The golden hues of the chandelier match seamlessly with the details of the living room and the accent dark blue shade of the couches and curtains.
The kitchen and dining space also on the first floor are decorated in beige shades and golden accents, such as the Waterfall Rectangular chandelier and the Burj chandelier, both of which act as the center of the room pieces and uphold the bold and eccentric ambiance throughout the penthouse.    LUXURY RUSSIAN ROOFTOP PENTHOUSE
The private rooms, such as the bedrooms and bathrooms, are located on the second floor of the penthouse and maintain a sleek, understated yet luxurious look with the help of LUXXU's lighting fixtures, such as the Empire Suspension lamp which accentuates the colder shades of the bedroom.      LUXURY RUSSIAN ROOFTOP PENTHOUSE
If you enjoyed this article regarding LUXURY RUSSIAN ROOFTOP PENTHOUSE by DS CILIEGIO  then make sure to check out our socials to find news, inspirations, and more interior design ideas: Pinterest | Facebook | Instagram.
LUXURY RUSSIAN ROOFTOP PENTHOUSE
LUXURY RUSSIAN ROOFTOP PENTHOUSE