Luxury Interior Design – The Most Exquisite Console Selection => Consoles are an extremely functional type of furniture that can be integrated into a variety of different ambiances and bring a diversity of elements that can astonish even the most distracted. Functionality is definitely appealing, however, for Luxxu, that is simply not enough. We believe in portraying the ultimate luxury in your interior design, therefore, exquisiteness and functionality must be one and the same for us. We bring that excellence-driven approach to our pieces and consoles are no exception. Come with Luxxu Blog as we show you our stunning console selection that will surely amaze you.
See also: The Consoles vs Side Tables – What makes an accent table a must
Apotheosis
The Apotheosis Console brings a mixture of sophistication and design, this console transpires luxury and creates a strong and impactful presence that can be felt in any design project. The golden lines you can find throughout this piece are the embodiment of exclusiveness, plus the high-quality materials used to craft the Apotheosis are perfectly used in order to achieve a daring and elegant balance between each and every one of them.
Beyond
Achieve an impressive sense of elegance with the Beyond Console. This beautiful piece of furniture shows you the exquisite capacity to fill a variety of ambiances with a luxurious presence. Find the perfect balance in the careful and detailed work in wood softened with touches of brass that will help you create an awe-inspiring environment.
Myllo
Meet the combination of solitude and innovation, the Myllo is one of Luxxu´s most recent consoles and it displays the rawness and perfection worthy of an engineer's masterpiece. Despite possessing a fragile appearance the Myllo Console is a statement piece that will live up to any room's highest expectations.
See also: Liberty I Wall Lamp
Nubian
Inspired by the glorious geometrical frame of the Nubian pyramids, the Nubian Console takes on a truly refined shape and it is characterized by the complexity and sticking beauty of its noble materials such as glass, walnut root veneer, and brass. This console is a gorgeous creation that can act as the center of attention or a simple yet luxurious compliment.
Scarp
An outstanding merger between boldness and luxury. Luxxu´s Scarp Console can be a daring solution when it comes to your interior design. Composed of gold-plated brass legs and Nero Marquina marble, this piece will leave a modern and powerful presence in any design project.
Suspicion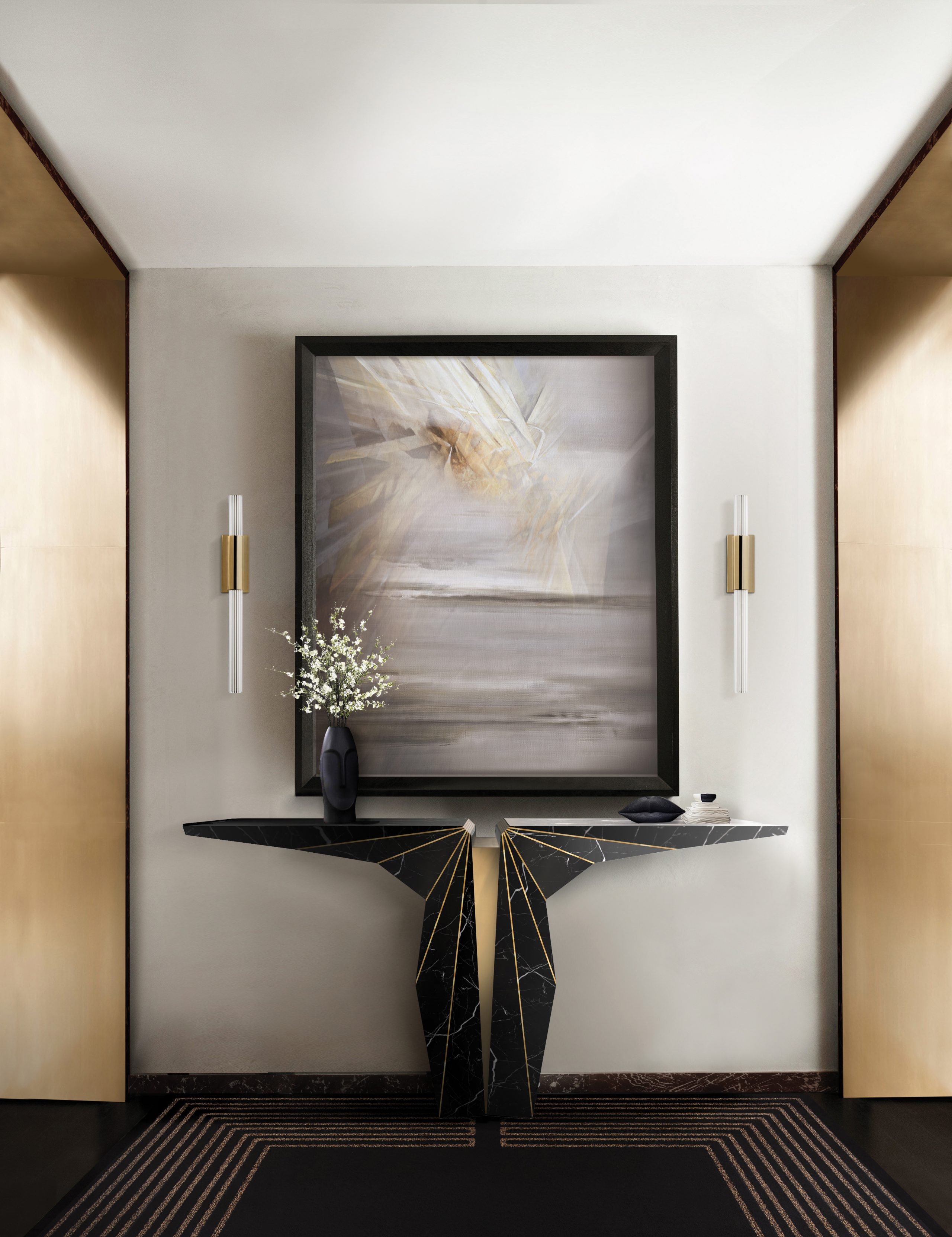 Bring a lavishing and luxurious presence to your interior design in the form of the wonderful Suspicion Console. A harmonious blend of elegance and balance with a daring design sculpted in stone is the epitome of an intricate equilibrium that creates an awe-inspiring ambiance.
See also: Suspicion Wood Console
Spear
Fill any room with a timeless design with this absolute art piece, the Spear Console is a symbol of toughness and elegance that can blend perfectly with the most luxurious ambiances and act as a source of inspiration for your interiors.
Vertigo
Marvel at the striking dynamic design that Luxxu´s Vertigo Console provides, this piece offers numerous possibilities for a variety of styles, whether for a classic design or a more modern approach the Vertigo will leave everyone speechless due to the manner in which it blends harmoniously when the rest of your interior design selection without losing that perfect zenith between elegance and functionality.
See also: Living Room Design – A Simple Yet Luxurious Setup
If you enjoyed this article regarding Luxury Interior Design – The Most Exquisite Console Selection then make sure to check out our socials to find news, inspirations, and more interior design ideas: Pinterest | Facebook | Instagram.
< ?php get_footer(); ?>