Luxury Bedroom In Five Steps: How To Create A Sophisticated Ambience ⇒ The bedroom is an intimate room in the home destined to relax and take a break from our busy lifestyles, which means special care must be taken to make sure it looks as luxurious as it can be in order to boost your mood. With these five steps, you're sure to upgrade your bedroom without doing a major makeover.
⇒ See Also: K5 Tokyo: A Japanese Bank Turned Boutique Hotel ⇐

Incorporate A Rug
Rugs are a simple solution to section your bedroom in a sophisticated way and adding texture to the room to make it more visually appealing. A chic rug will instantly make your room seem bigger, brighter and tidier.
Have Art On Your Walls
Art not only showcases your personal taste and refinement, but it also creates more visual appeal and ties the overall theme of the room together. Whether you prefer abstract, modern or classical, add one or two paintings for an instant upgrade.
Golden Accents
Gold is a noble shade, reflecting wealth and taste, which is why it belongs in your bedroom. A Luxury Bedroom needs a few golden accents, whether in your lighting fixtures, decor items or bedsheets and pillows. LUXXU's Nubian Ottoman has a stunning gold-plated structure which fits this theme perfectly.
NUBIAN | OTTOMAN
Plush Decorative Pillows
Most of us don't keep more than one pillow in our beds, but the truth is that decorative pillows offer more texture, diversity and are a chance to include fun pops of color in your bedroom. The plushier, the better, as plushier pillows mimic the environment of hotels.
Keep Clutter Away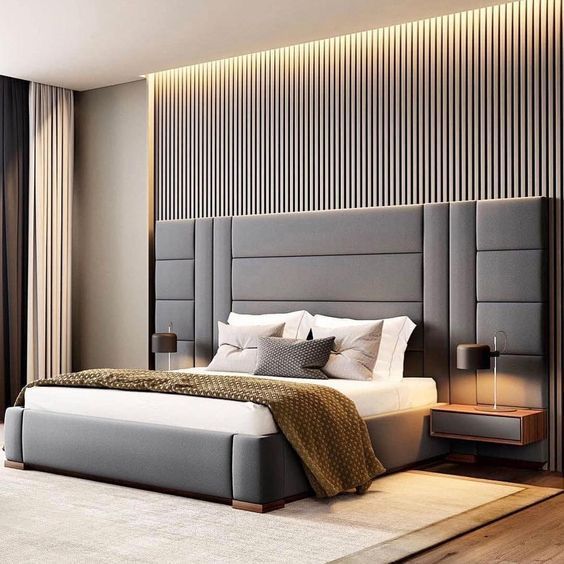 Last but not least, the simplest tip is to keep your Luxury Bedroom clutter-free, especially when it comes to flooring. An organized, clean bedroom looks far more luxurious and classy than an unorganized one!