Take a look at this luxury apartment in the center of Budapest, the capital of Hungary, designed by Studio Dash Design.

Studio Dash Design is an interior design company based in Kiev, Ukraine. The studio has been in business for more than 15 years in not only the interior design market but also in architecture and landscape. The studio is the author of many projects, for both public spaces and private residences.
Thanks to an ever-growing portfolio, the studio has been nominated three times for "The Best Architect-Designer of the Year". The portfolio also includes "The Best New Restaurant of the Year".
Take a look at one of their latest projects below, a gorgeous apartment right at the center of Budapest.
Located in the center of Budapest, this high-end apartment is one of the units in a historical building that offers arched windows and high 4-meter ceilings. As it's right in the center it also features incredible views over Budapest.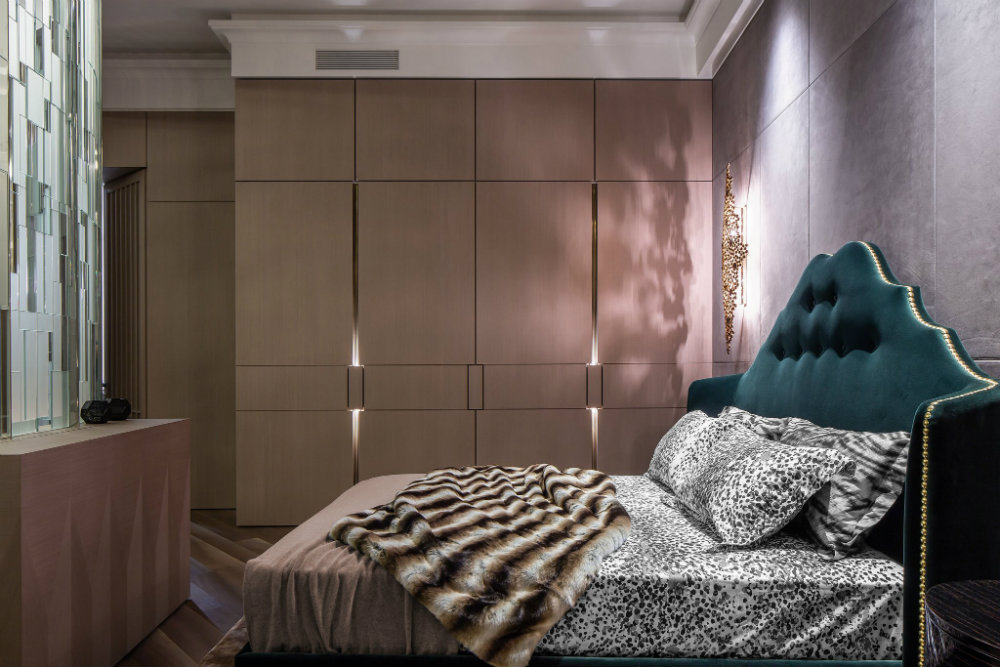 The project is a very refined and elegant one. Dash Design's client is a well-traveled person who regularly stops at the best design hotel all over the world so the design had to be a very refined one. The customer also pinpoints, details, ergonomic and tactile sensations as some of the most important aspects of the furniture and overall design.
Luxury brands were the key to creating a luxury design that would fulfill the client's desires for a refined and elegant design. Brands such as Fendi, LUXXU, Tom Dixon, Roberto Cavalli, and Koket were the chosen ones.
The glass wall that separates the living space from the bedroom was to aid in the creation of more space in both the rooms. To provide privacy to the bedroom, mirrored elements were added to the details on the glass wall.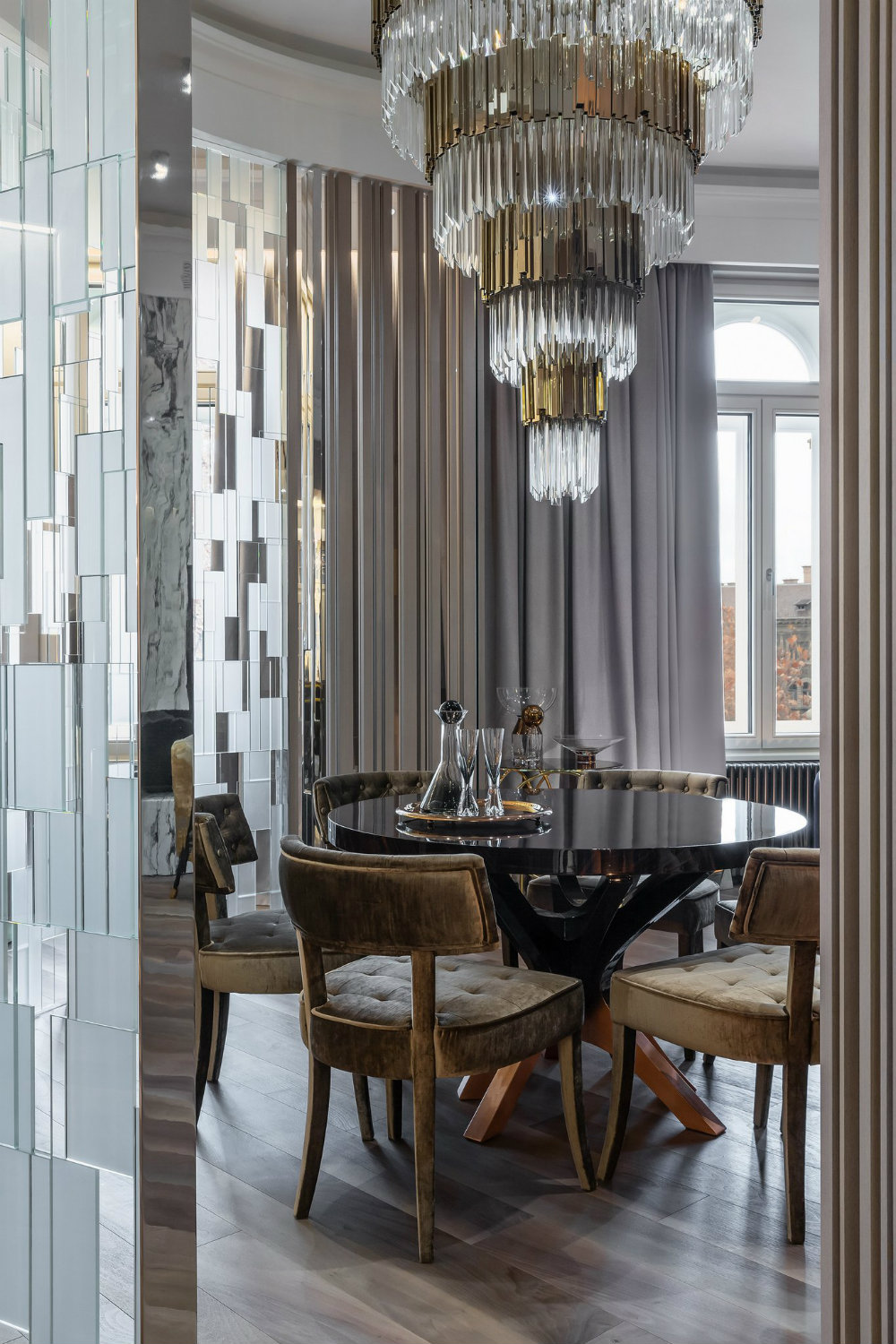 And how beautiful does that glass wall match with our Empire chandelier? Our most iconic piece –  a layered brass and crystal chandelier, which looks stunning in this area, bringing glam and contrast to this space. Lighting can definitely make or break a room!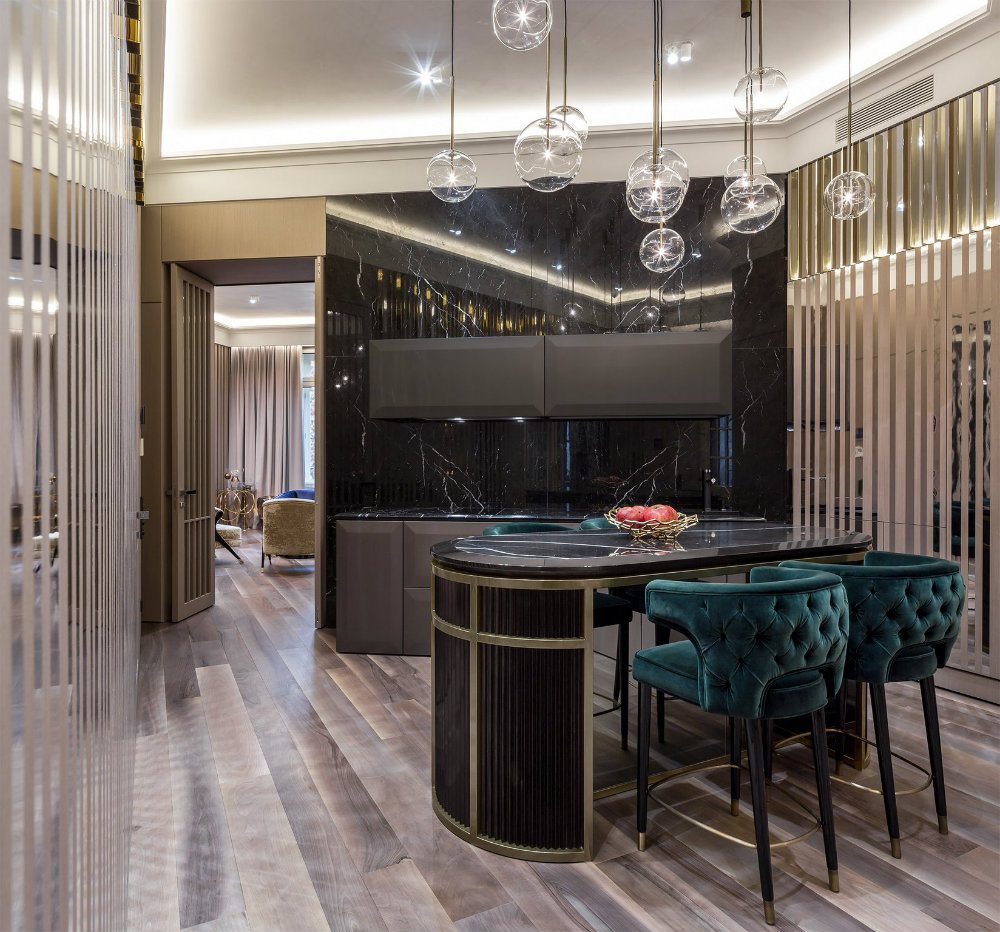 The apartment was decorated with a lot of contrasting shapes and textures with high attention to detail. Round shapes, gold elements and reflective surfaces take the design to the next level, especially the reflective surfaces that offer a different perspective of the room from every point of view.
The interior of this stunning luxury apartment in the center of Budapest turned out to be functional, inviting and especially charming. The mood is very elegant and even enchanting.
You Might Also Like
Best Interior Designer From Lithuania 
Discover The Amazing Grace Kelly Suite At The Ritz-Carlton Geneva
Get The Look