Living Room Ideas for You → LUXXU reunited remarkable living room ideas for your to upgrade your home decor. Here, you can find luxurious and elegant ambiances that will inspire impressive interiors, undoubtedly.
See also: The Perfect Home Bar – A Guide To A Luxurious Toast
EXQUISITE LIGHTING FIXTURES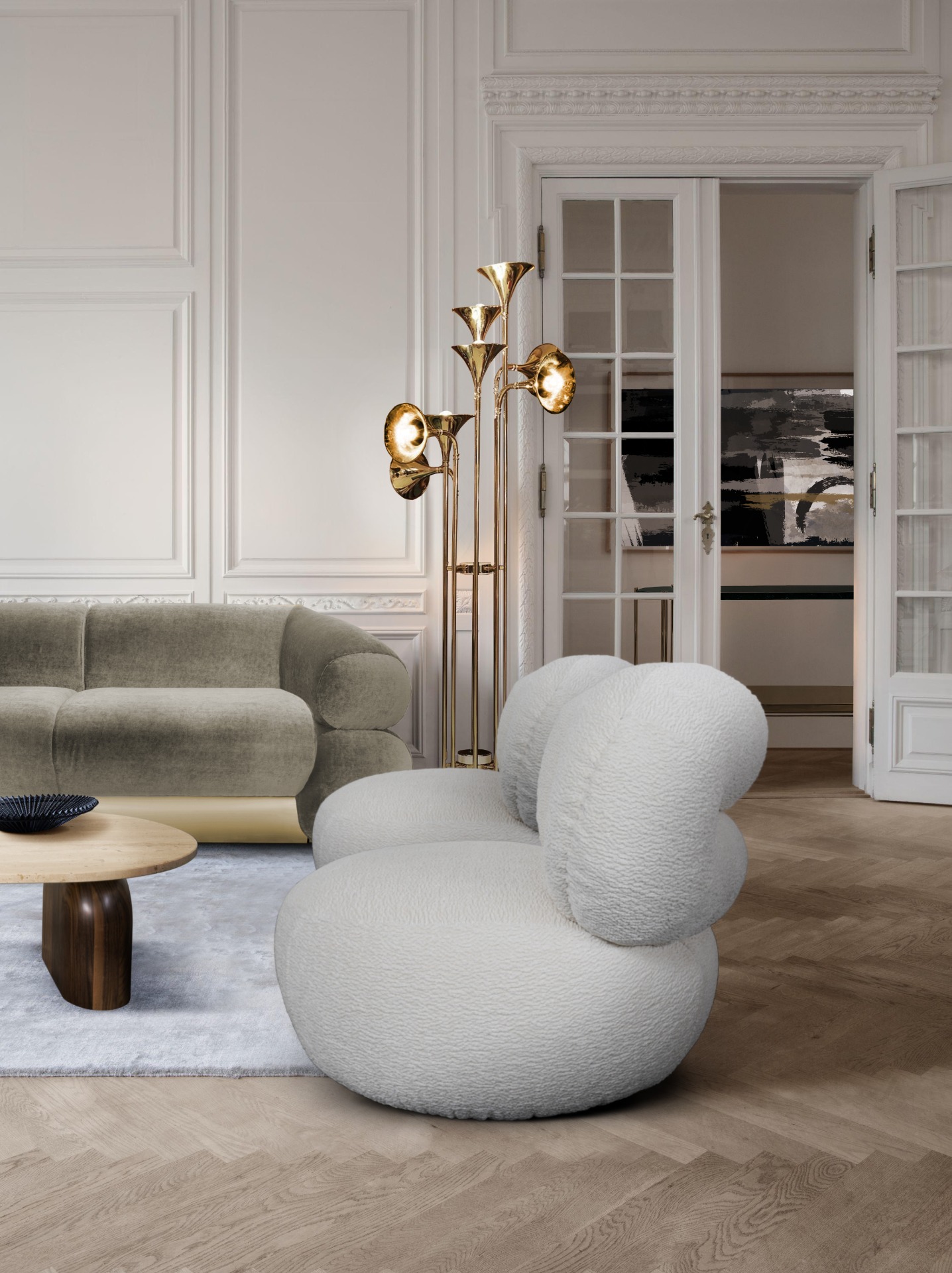 Floor lamps can be an easy way to decor your living room while brightening the area. The Botti Floor Lamp by Delightfull is ideal for Mid-Century lovers and, of course, music lovers. It will elevate your decor. Living room ideas
Run out of living room ideas? Add an iconic floor lamp! The art deco floor lamp represents in every single detail the way the jazz pianist musician blended very demanding rhythmic structures with improvisation in expressive and accessible ways. Therefore, in this Luxury Furniture design, you can find asymmetrical gold plated tubes in order to attribute a contemporary lighting effect.
DelightFULL's designers created Laine, a Luxury Furniture piece with a mid-century vibe in mind. Inspired by the iconic era that brought so much culture to the world, this set of spotlights arranged like magic is in your home, this modern ceiling light comes to redefine what mid-century lighting is all about.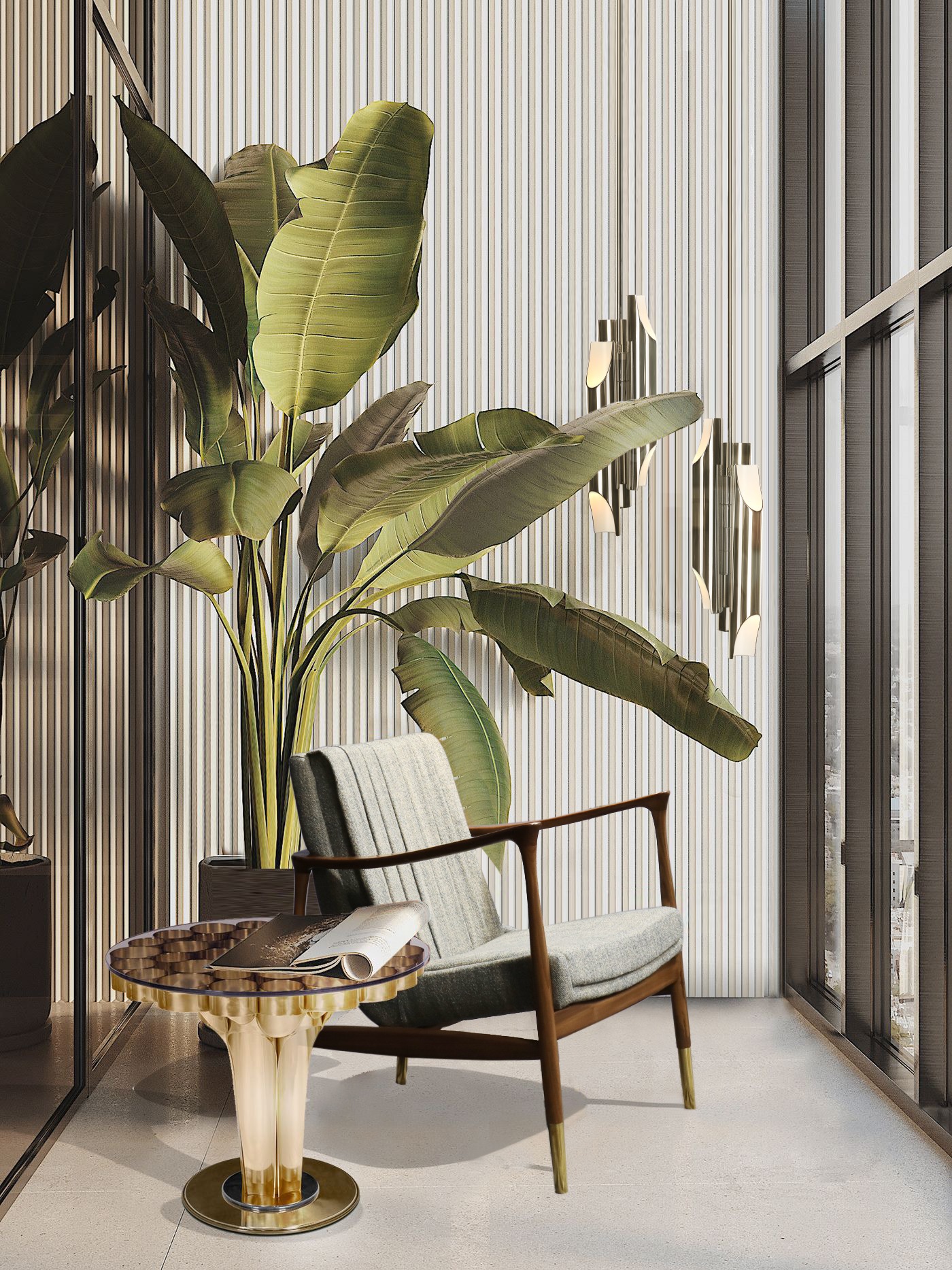 A space to relax Through a glass window, we can enjoy the landscape as well as enjoy reading a book. As a way to create a pleasant environment, we can add an indirect light so that you can read or meditate at night. Plants are important because they purify the air and give a subtle touch to the space, making it very comfortable. We can take advantage of every corner of the house to provide the rest time you deserve.
HIGH-QUALITY UPHOLSTERY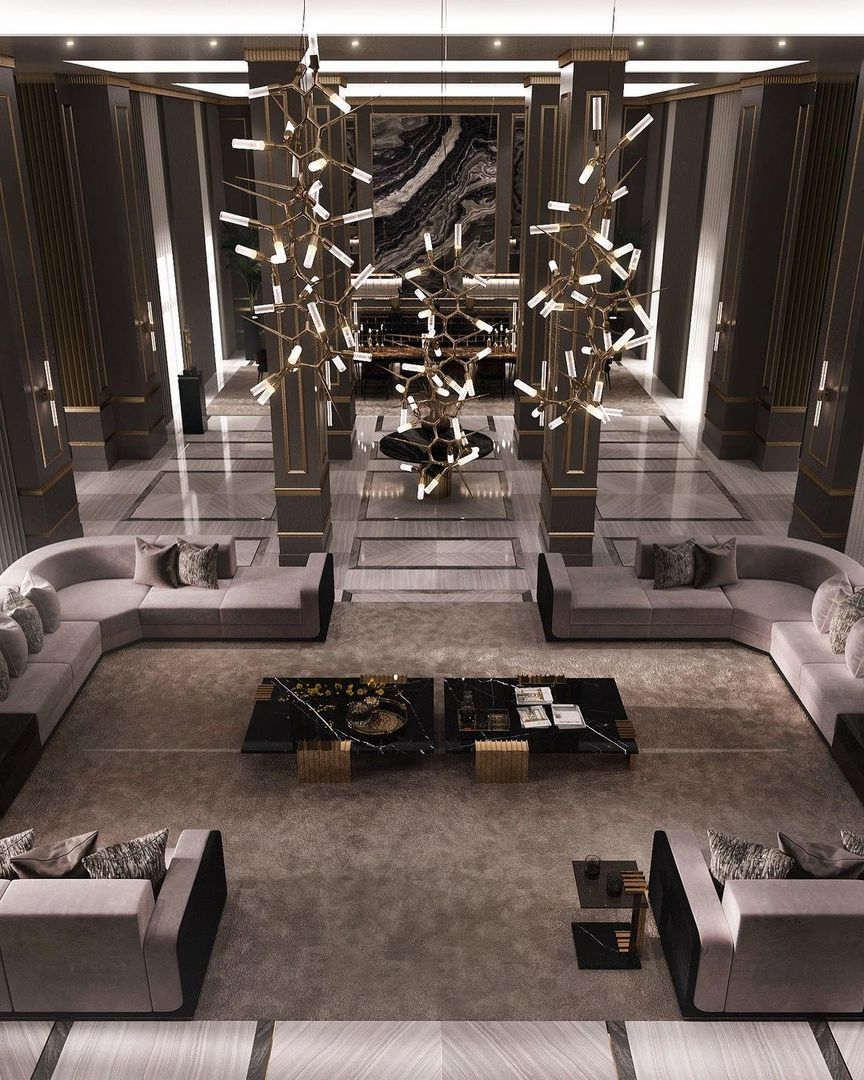 The sofa is the main piece of any living room design and the most used furnishing. It sets the tone of the room. The Thomson Sofa by Luxxu is a sophisticated design, with refreshing details that will embellish your interior decor with a luxurious and sensual atmosphere.
Elegantly put together and symmetrically organized, this living room is proof that bold colors match together. However, neutrality is always welcome and we can find it with the Versailles Sofa from Boca do Lobo. Exuding elegance, this soft-toned sofa will be suitable and fit for any room in the house and aesthetic.
DARING COLOR SCHEMES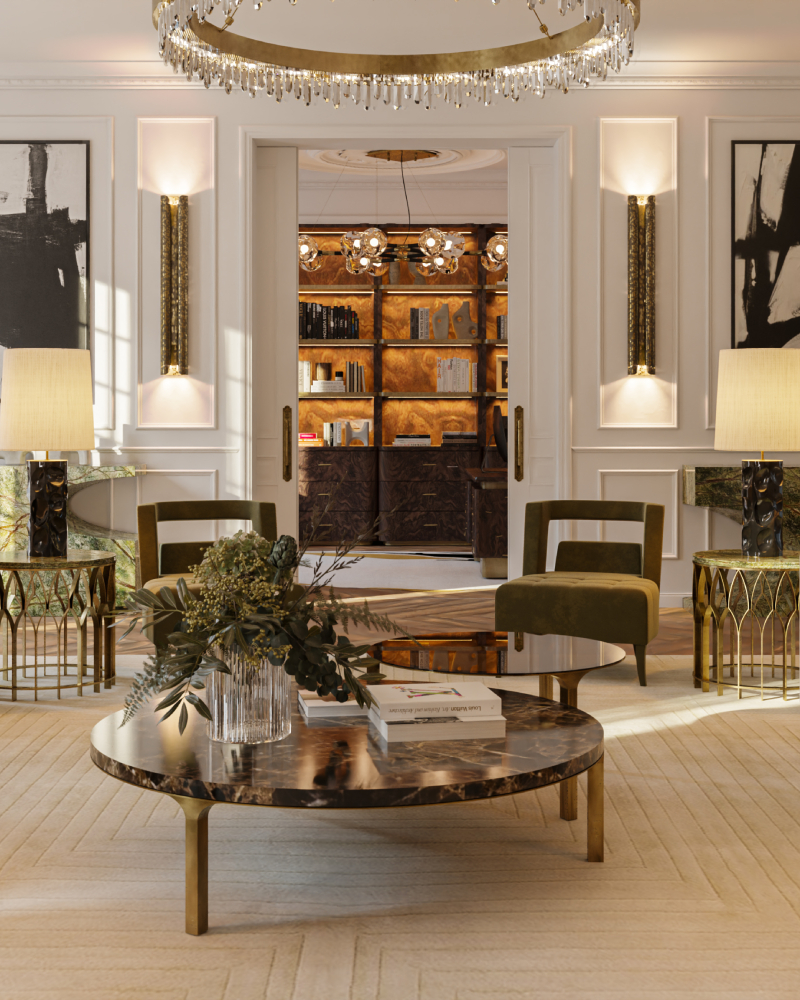 The perfect color scheme can be found in this modern living room furnished with Brabbu pieces. Filled with white and gold, this room is completed with two NAJ Armchairs, a LURAY Center Table alongside four MECCA II Side Tables and, to highlight the lower level we have the AMIK Table lights. To complete the entire room, we can find the WHITE Garden Rug by Rug Society and the stunning NAICA Suspension Light by Brabbu.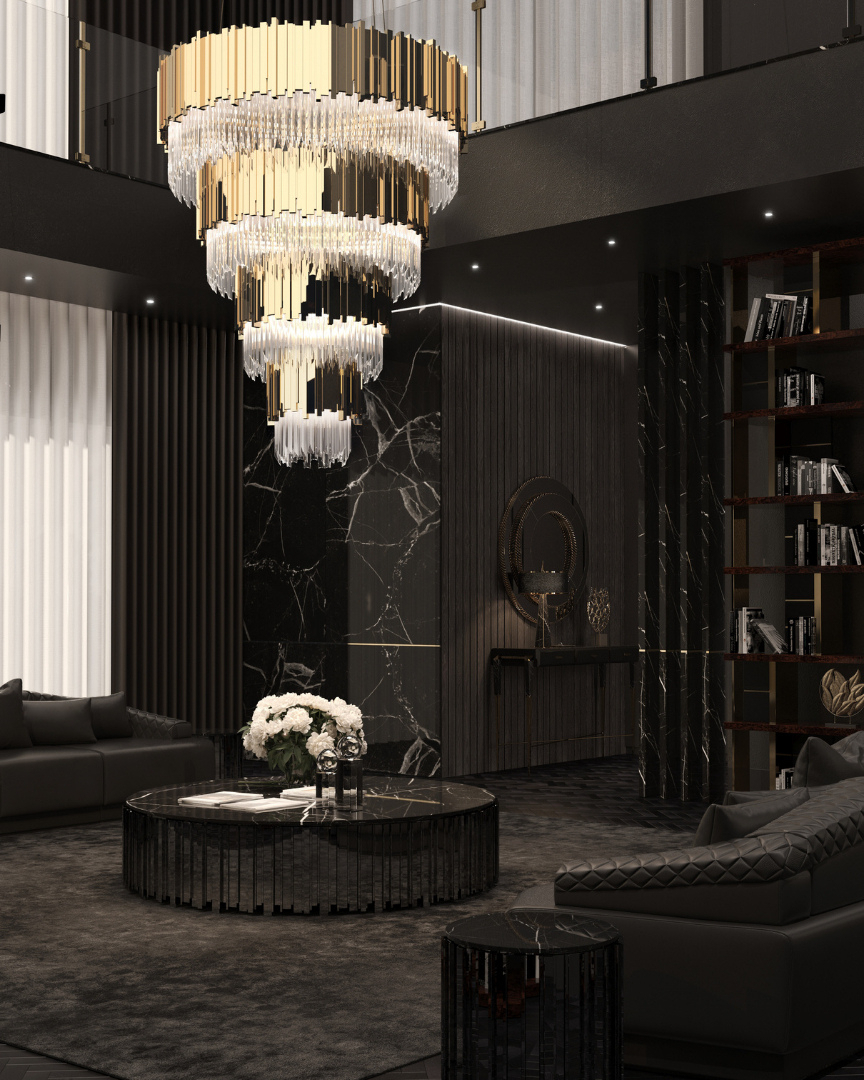 A modern living room must be a showcase of luxury and design brilliance. Bringing dazzling elements to the mix is what will make your living room set itself apart from any other. A dark color palette will transmit exclusiveness and contrast with golden elements can add a special flair that will catch eyes at a simple glimpse. The Empire Chandelier by Luxxu transforms the room with its iconic lines!
A neutral color palette brings exquisiteness and classy flair to any living room. A gorgeous and elegant and symmetrical atmosphere fills this room and gives it a strong identity characteristic of a modern lifestyle. The White Garden Rug by Rug Society can uplift the aesthetic of this part of your house without compromising its signature neutrality. Rugs are a simple yet aesthetic living room idea!
DECORATIVE HARDWARE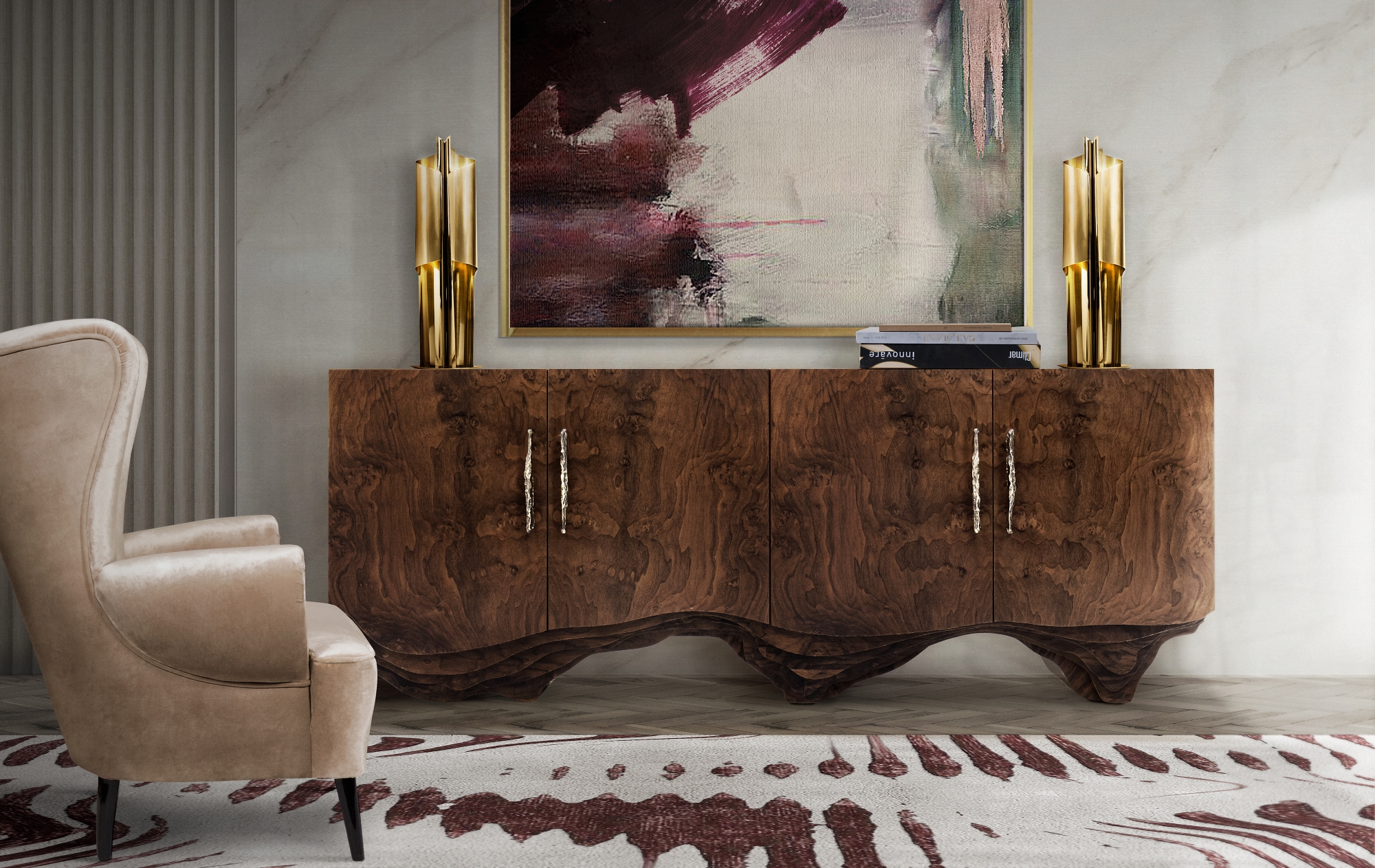 A living room can be embellished with high-quality upholstery, impressive lighting, and unique details. Decorative hardware is a great way to upgrade your decor effortless. Check Pullcast collection!
ACCESSORIZE YOUR LIVING ROOM
Luxury living room design with Denis Big Mirror by Boca do Lobo, enhancing a romantic and daring form perfectly able to adapt itself to any ambiance or style!
Let us know your favorite idea from our article

Living Room Ideas for You

in the comments!
See also: The Burj Collection – A Symbol Of Modern Age And Luxury Combined
If you enjoyed this article regarding Living Room Ideas for You then make sure to check out our socials to find news, inspirations, and more interior design ideas: Pinterest | Facebook | Instagram.