Living Room Design – An Undeniable Exclusivity Feel By Luxxu – The living room design is the perfect place to relax and take some time for yourself and your leisure activities.
You can do that in any living room but the one we will showcase to you today will marvel you with a one-of-a-kind aesthetic and feel of exclusivity that you could only get from Luxxu's mountain retreat in Mont Blanc is simply mesmerizing.
Do you wish to contemplate this room for yourself? Follow us along here at Luxxu Blog.
---
See also: Opulent Living Rooms To Admire With Studia 54
---

Contemplate this Living Room Design
The Perfect Leisure Retreat
As you open the door of this luxurious residence, you are instantly greeted by luxury as the living room makes a seamless and harmonious blend with the entryway.
The first hint of refinement that catches your eye inside these precious schist walls is the Saboteur Swivel Single Sofa, a sumptuous piece perfectly paired with the unique Imperium Side Table, a fabulous pairing that composes an exquisite reading corner where noise and distractions won't be a problem.

Get The Look
---
See also: Darian Side Table
---
Behold this Luxury Living Room Design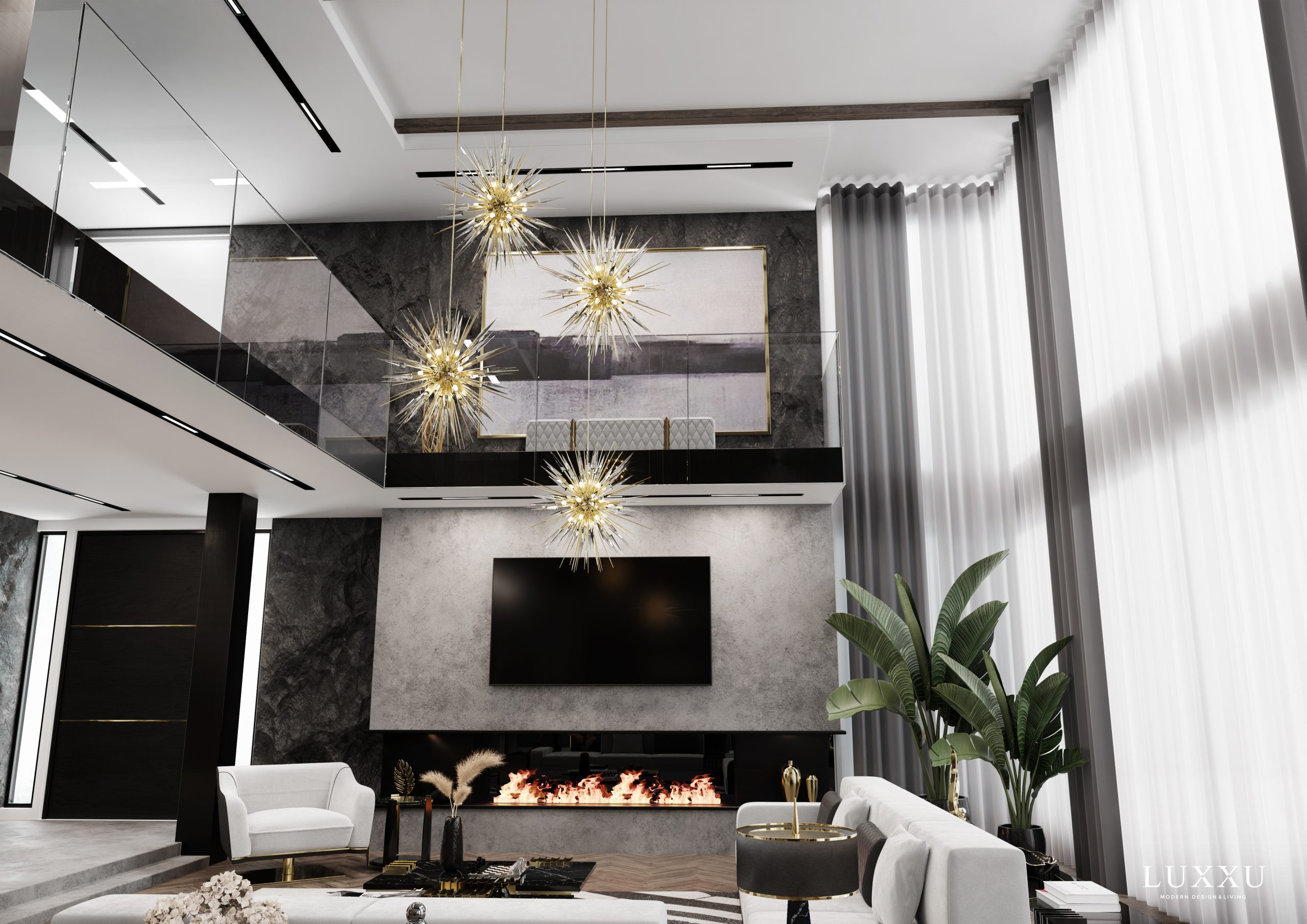 Of course such an exclusive place in a tremendous location where privacy reigns excellently had to have a typical Luxxu touch, a touch of luxury, a touch of irreverent and modern design, a touch of high-quality lighting.
No pieces fit these descriptions quite like this stunning 4 set of Explosion Suspensions, a piece you would certainly agree that catches even the most unattentive eye, with a stylish and unique design, it is impossible that you won't find yourself just occasionally admiring the beauty and splendor of this living room's lighting wonders
Coming to the center of this gorgeous area you will witness sophistication all around you, courtesy of the Thomson Sofa, this multifunctional masterpiece can be set up in a multitude of ways but in this living room, every form you choose will work brilliantly due to the natural wide dimensions of this space.
Not discarding amazing luxury furniture, of course, the Vertigo collection made an abundant presence in the interior décor selection for this living space. From a pair of Vertigo Center Tables to a delightful trio of Vertigo Long Side Tables, the flawlessness was imminent and the trademark golden accents beautifully merged with the most neutral color palette of the whole area.
Get The Look
---
See also: Thor Center Table
---
This is nothing short of an awe-inspiring design, that combines a multitude of elements that when put together create the ultimate end result, a jubilant décor setting where a juxtaposition of dark and light tones both in the architecture and the decoration make this space transcend exclusivity to a whole new level.
---
See also: Living Rooms To Astonish You With Applegate Tran Interiors
---
If you enjoyed this article regarding Living Room Design – An Undeniable Exclusivity Feel By Luxxu then make sure to check out our socials to find news, inspirations, and more interior design ideas: Pinterest | Facebook | Instagram.