Interior design trends are constantly evolving according to seasons and what is the hit thing in the industry, however, these trends will forever be in style due to their timeless allure!

Some interior design trends are truly timeless. They are often used by interior designers and homeowners alike because they keep it fresh and exude an unrivaled sense of classiness. In today's article, LUXXU Blog will showcase seven interior design trends that allow you to revamp their home interiors without much effort while still giving that natural and elegant touch one seeks for.
Neutrals
Neutral colors, otherwise known as earthy tones, such as grey, beige, light brown, white and even sometimes black are regarded as classic and serene tones. For instance, in this bedroom design, the grey tones of the curtains and bed contrast perfectly with the light brown accents of the Charla chair and while the bedroom is predominantly decorated in neutral tones, adding a bit of exuberance will do no wrong as you can see by the Tycho pendant with brass and crystal finishes.
Velvet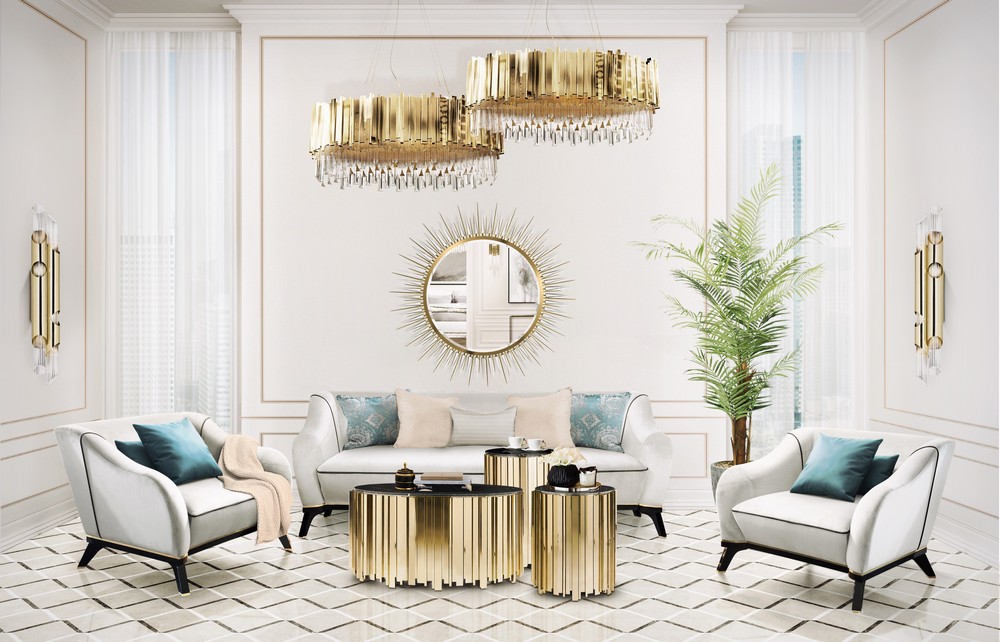 A great to introduce a sumptuous touch to your home interiors is by placing velvety designs throughout a room as they are the perfect combination of luxury and comfort. When it comes to velvet sofas or armchairs, one has a lot of possibilities, especially in color options. In the depicted suggestions, you can find the Saboteur armchairs and sofa in a lighter shade while in the other you can see the Otto armchair in softer golden tones.
⇒ Related Article: Interior Design Trends – Improve Your Decoration with Marvelous Lighting ⇐
Black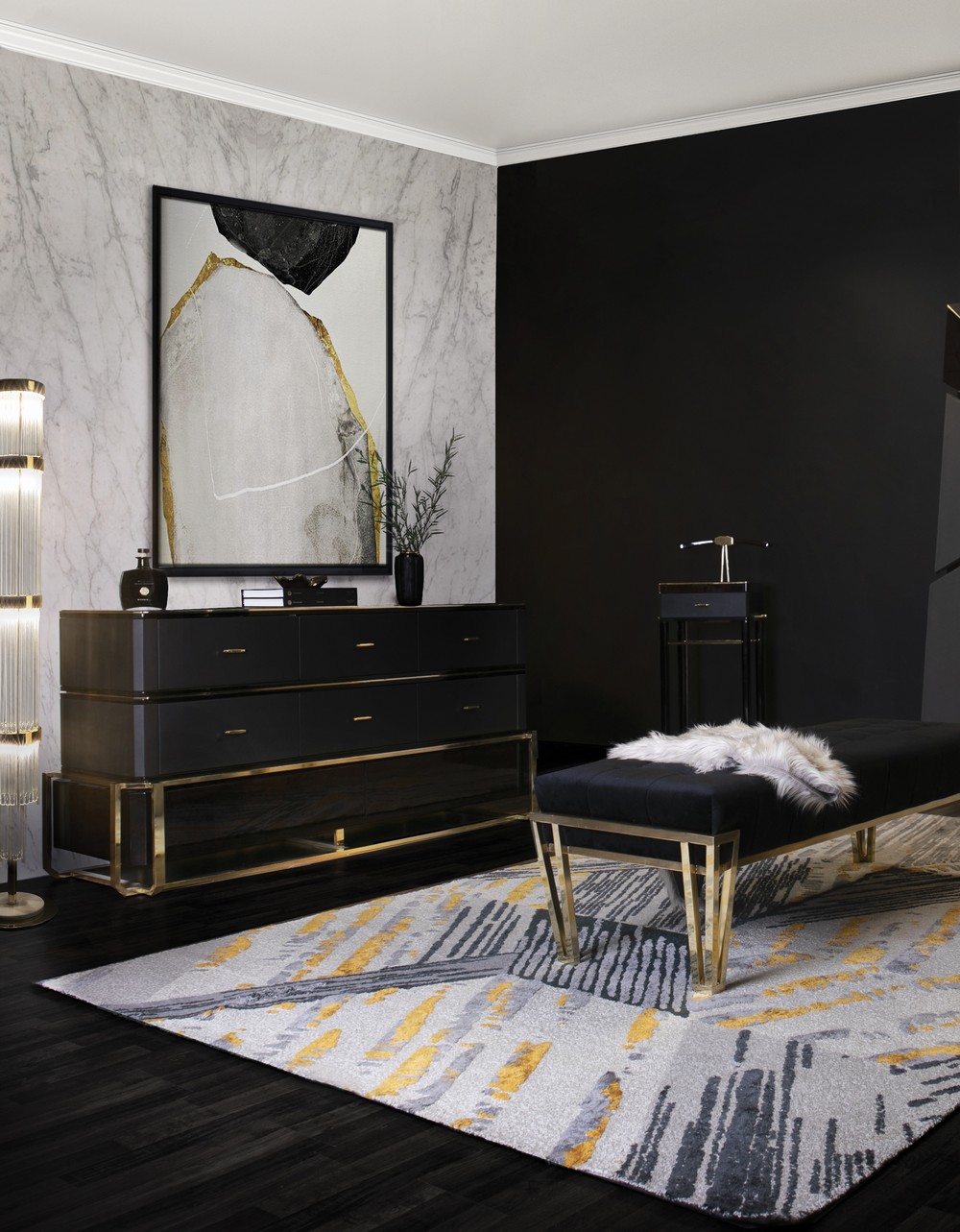 When it comes to interior design trends, Black will always be one of the most predominant tones to use. Contrary to the popular belief, that black reduces spaces and absorbs light, using furnishings and lighting, or even flooring in darker tones actually allows for a strong visual effect and offers a timeless character to any interior. Gold and white are other hues you ought to mix and match with various shades of black.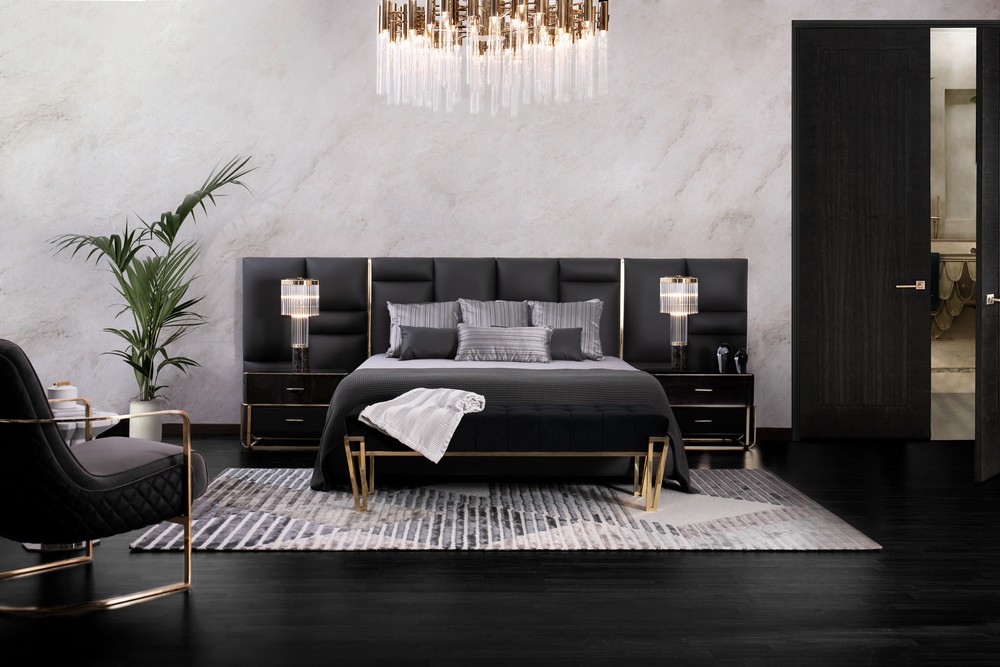 Geometric Designs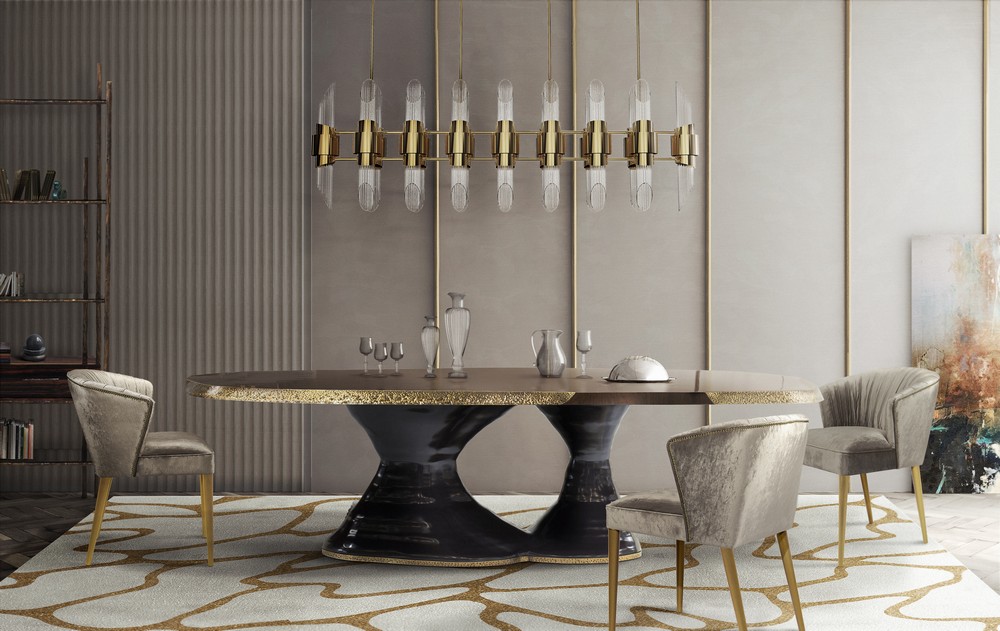 Geometry and design go hand in hand. Designers and decorators always opt for geometric designs because they can easily be adapted to a room, no matter what the style is. In regards to lighting, the most common aspect is that geometric products benefit from clean lines and sleek materials and sometimes can have a more minimal aesthetic, take, for example, the Tycho rectangular suspension.
Feminine Tones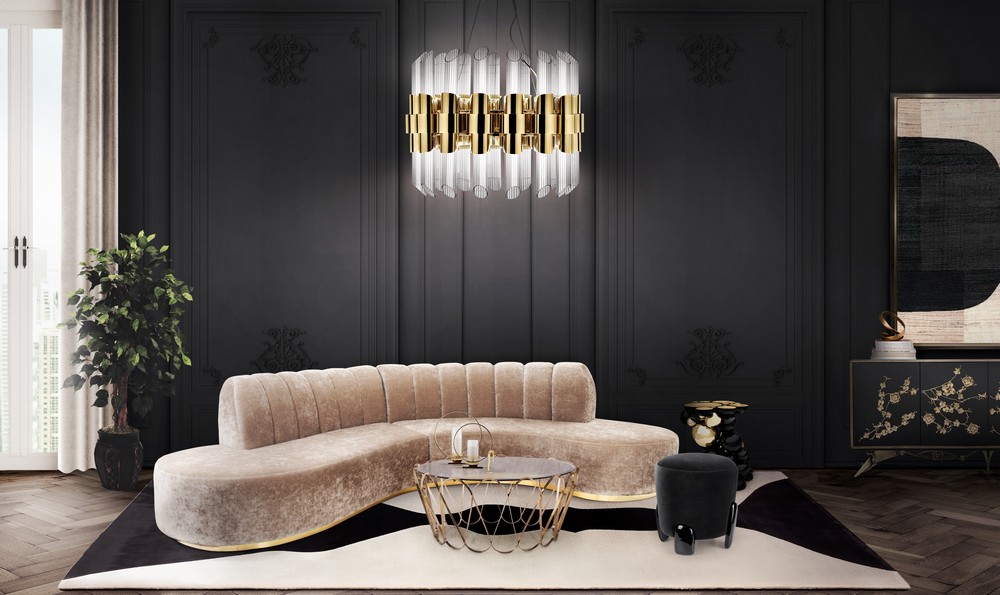 When speaking about feminine designs one often associates it with pink, taupe or bronze tones, but you can certainly go beyond that. Adding greenery elements, gold accents, decorative hardware, and other elements, as well as shapely furnishings, are great ways to add a sense of femininity to a room, as you can see by this office design.
Floral-Inspired Designs
Floral elements tend to work better in wallpapers or fabrics, however, that doesn't mean you can't explore your options. We suggest that you try to expand it to furnishings or lighting designs whose concept was inspired by the beauty of nature. We show you the example of the McQueen pendant, a bold and sculpture-like light with Swarvoski crystals that highlights handmade butterflies and majestic flowers.
Mixed Metals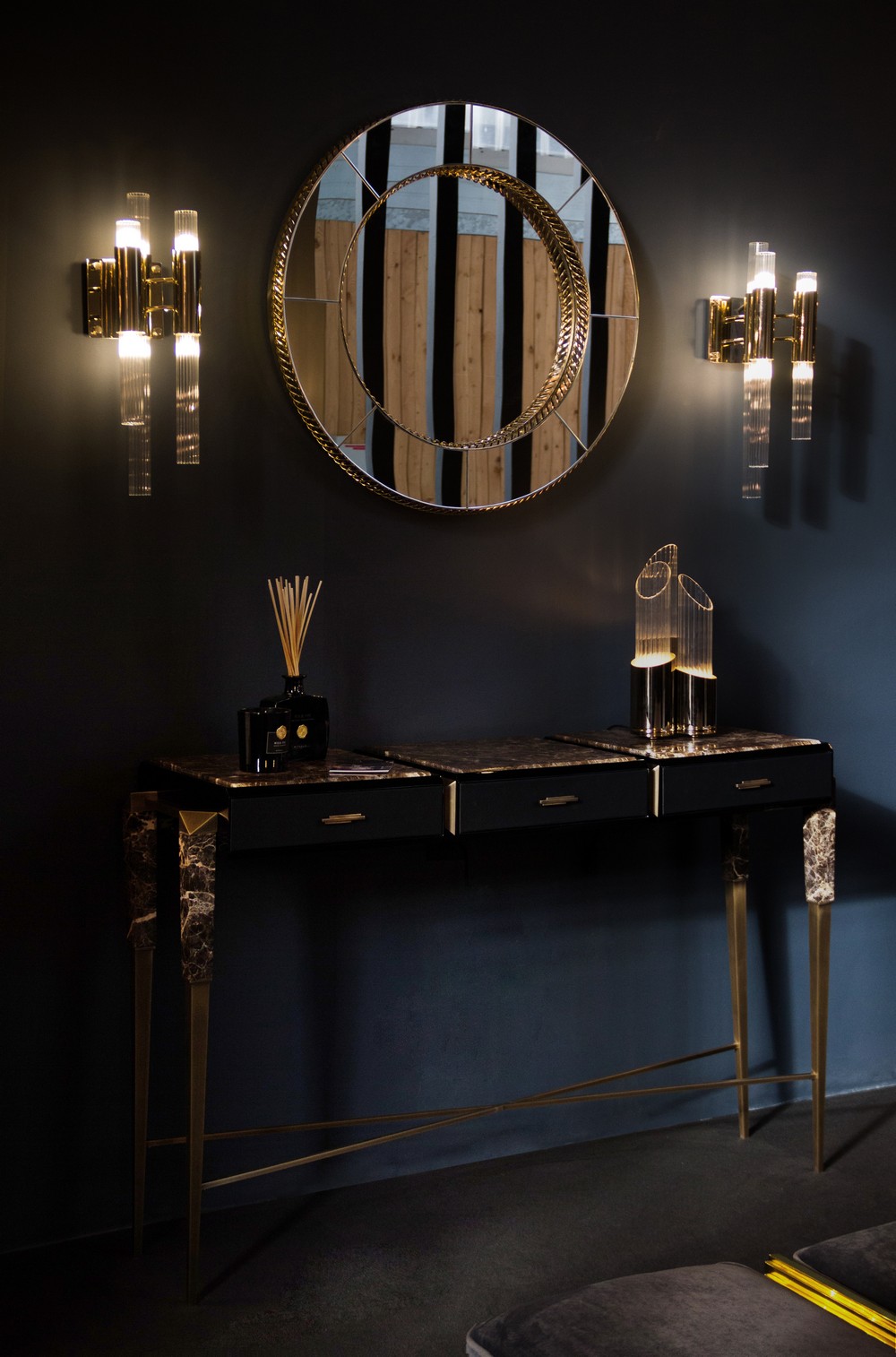 When it comes to mixed metals, it is important that a particular material takes the dominant role, while the remaining ones further enhance the aesthetic. Mixed metals is one of the most popular interior design trends in recent years. Silver, gold and brown metals are the best to combine, all of which grant a classic touch to any type of interior.
In this segment, you can find more design inspirations based on the interior design trends showcased above, from matte black designs to the highly popular mixing metals trend!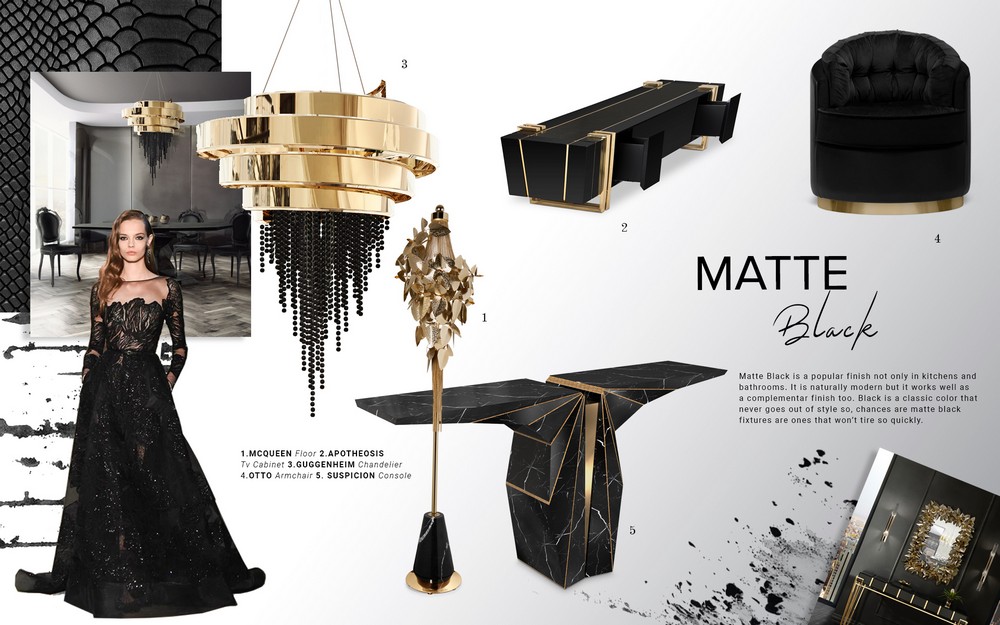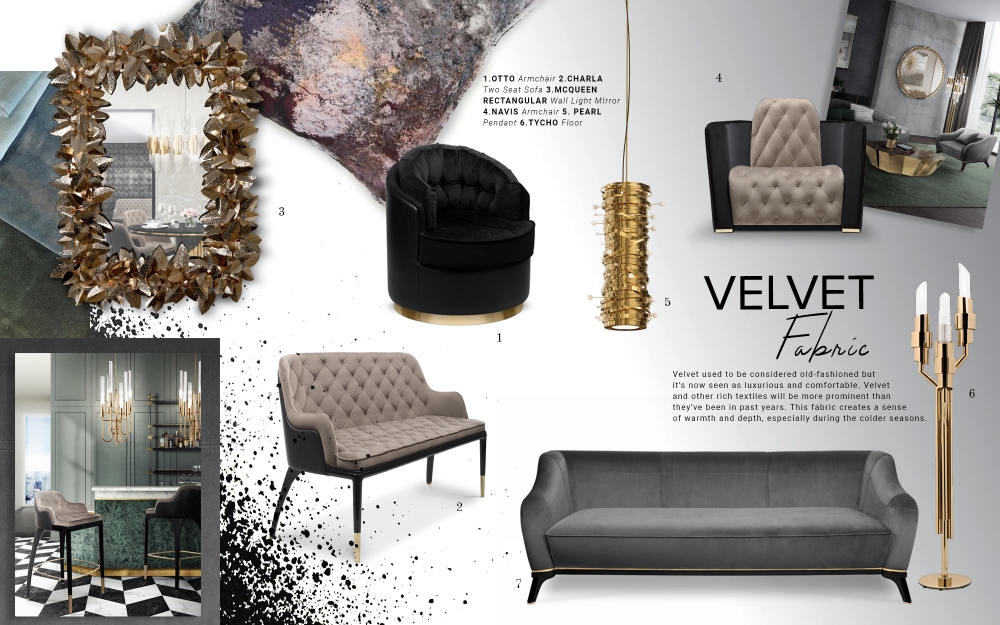 ⇒ See Also: Interior Design Trends – Ingenious Bathroom Ideas to Create a Stylish Interior ⇐

If you enjoyed this article about timeless interior design trends, then make sure to check out our socials to find more interior design inspiration and ideas: Pinterest | Facebook | Instagram