Hotel Interior Design: The Vibrant Moxy East Village by Rockwell Group

 ⇒  Get to know a bit more about one of the most vibrant hospitality projects, located in the renowned music venue Webster Hall.

The prestigious architecture and design studio, Rockwell Group has recently just unveiled the interior design of its newest hospitality project, the Moxy East Village. This project becomes the third collaboration between the Rockwell Group and Moxy Hotels, being the previous ones, the Moxy Times Square and Moxy Chelsea.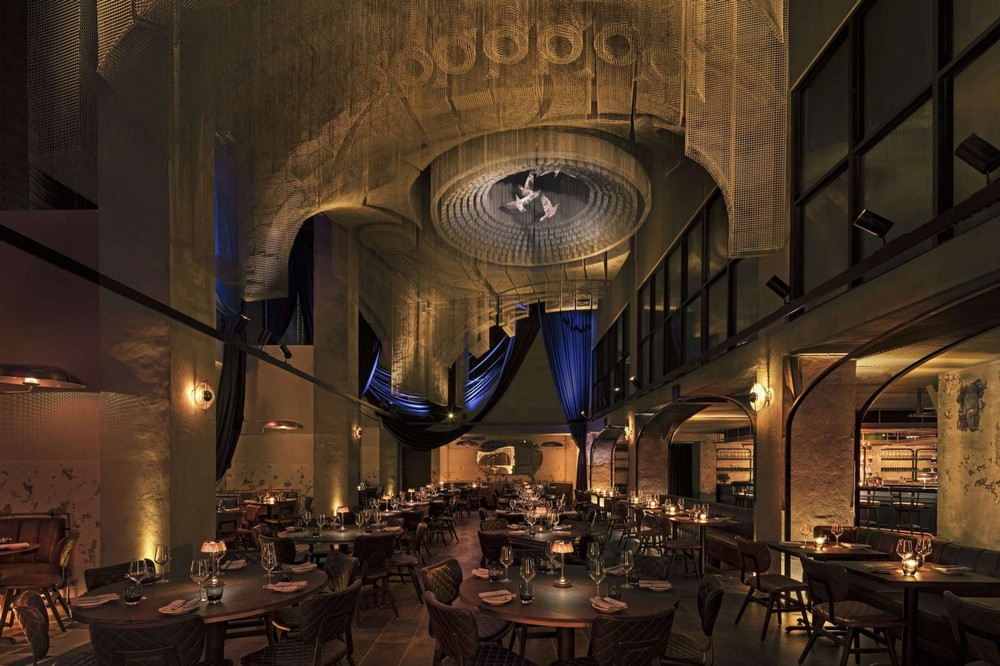 The interior design of the hotel is mostly influenced by the vibrant and ever-transforming neighborhood, and as such, represents the city's past, present, and even its future. Rockwell Group opted for a more edgier design in order to celebration urban New York's rich patina. In addition, throughout the hotel, guests are able to see bespoke art installations by contemporary artists
⇒ Related Article: Bank Hotel – Luxury in The Heart of Stockholm ⇐
Moxy East Village is comprised of a series of floors, each representative of a certain narrative related to the neighborhood's essence. For example, the lobby best reflects the industrial nature of the area, nevertheless, most of the hotel's public spaces also pay homage to the music and art scene of New York, especially in reference to the '70s and '80s.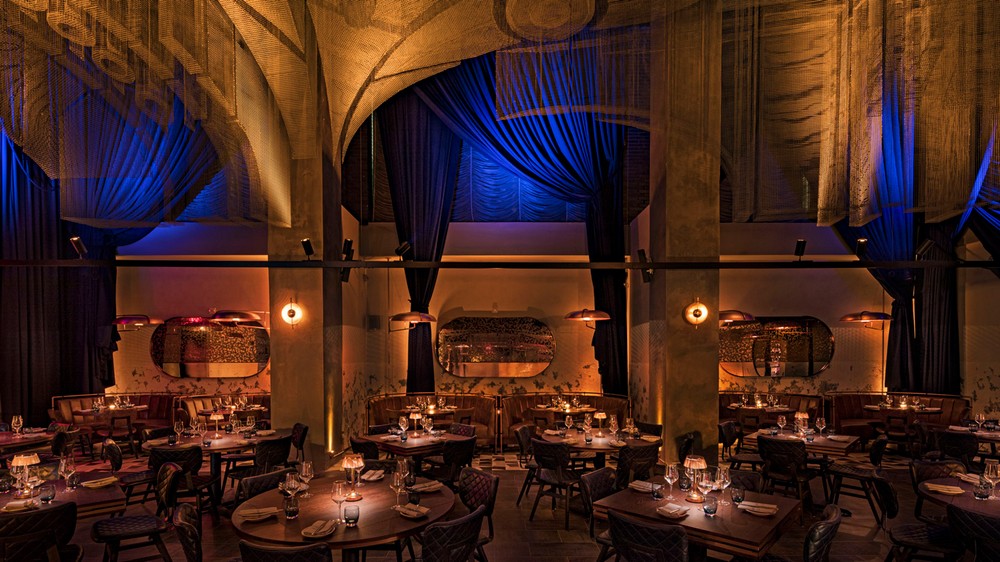 Inspired by the Fillmore East building, the Cathédrale restaurant features a series of enticing design elements, such as a long metal staircase, marque lighting, a triple-height space dining room with layered plaster walls and art pieces, among others. Rockwell Group actually contacted renowned Italian artist Edoardo Tresoldi (who also created Fillmore) to conceive a floating metal mesh ceiling sculptures that ultimately creates a dialogue with the architecture. Furthermore, the restaurant's cloakroom and bathrooms featured exposed copper pipe and interactive neon installations.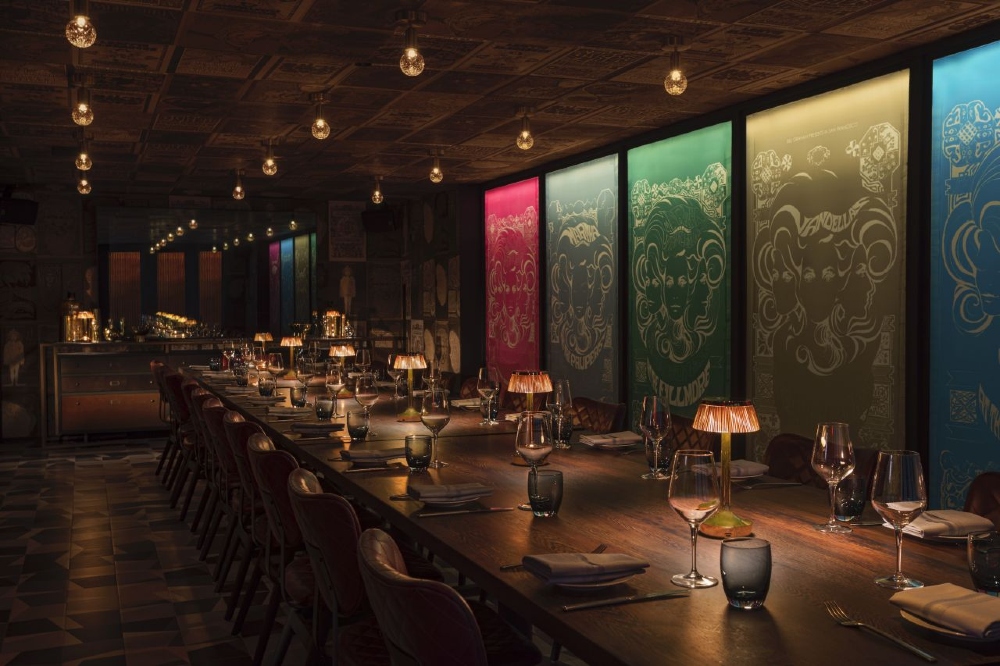 Another major attraction of the hotel is the Little Sister bar and lounge. The intimate space is hugged by a wood-clad barrel-vaulted ceiling while strips of LEDs emphasize niches and the bar area, changing color to accommodate mood and events. In the bar area, one can be marveled by vintage light fixtures, jewel-toned banquettes and pastoral wallcovering that give a nod to the bucolic past of New York.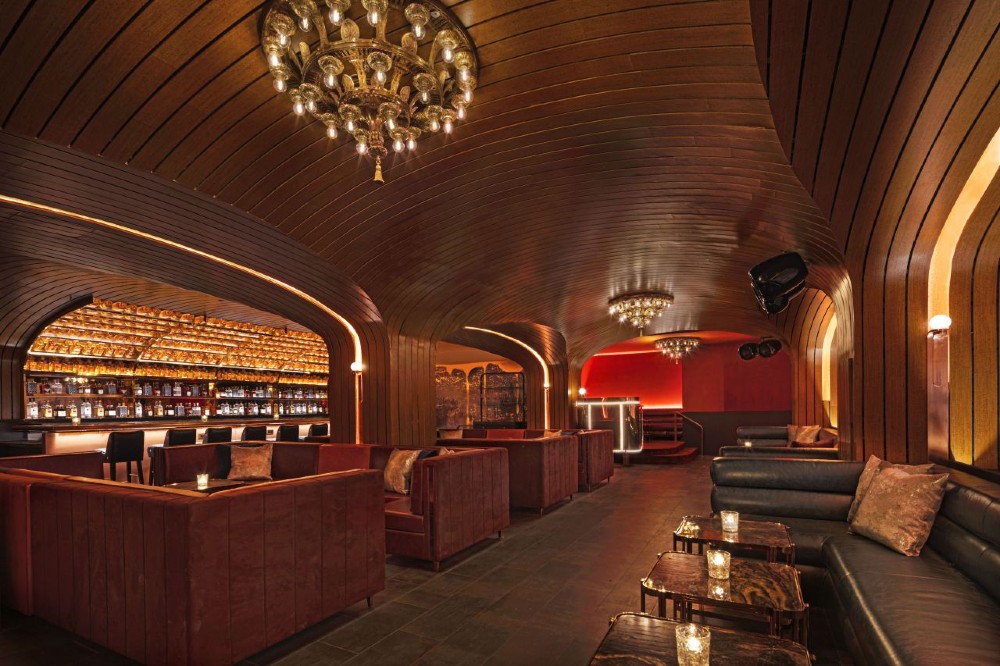 If you are a fan of punk music, then the Alphabet Bar & Café is the place to go. The design studio granted a moody and rebellious character to this space by adding dramatic blue velvet drapes and vintage mirrors spray painted by Apex with music lyrics.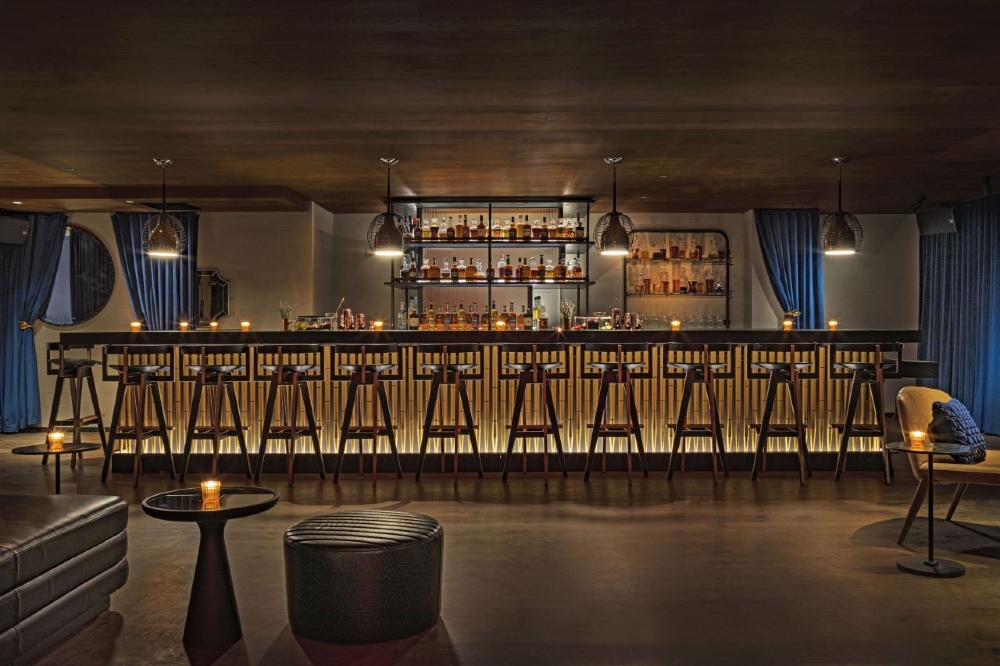 The lounge area highlights a communal seating cluster, swings, pops of neon and pastels that offer an electric touch. In addition, contemporary and traditional elements come together beautifully, such a counter with a classical side made with blocks of solid wood and a more modern side made of veneered multilayer wood. Guests also have the opportunity to make their own art and graffiti through an interactive iPad.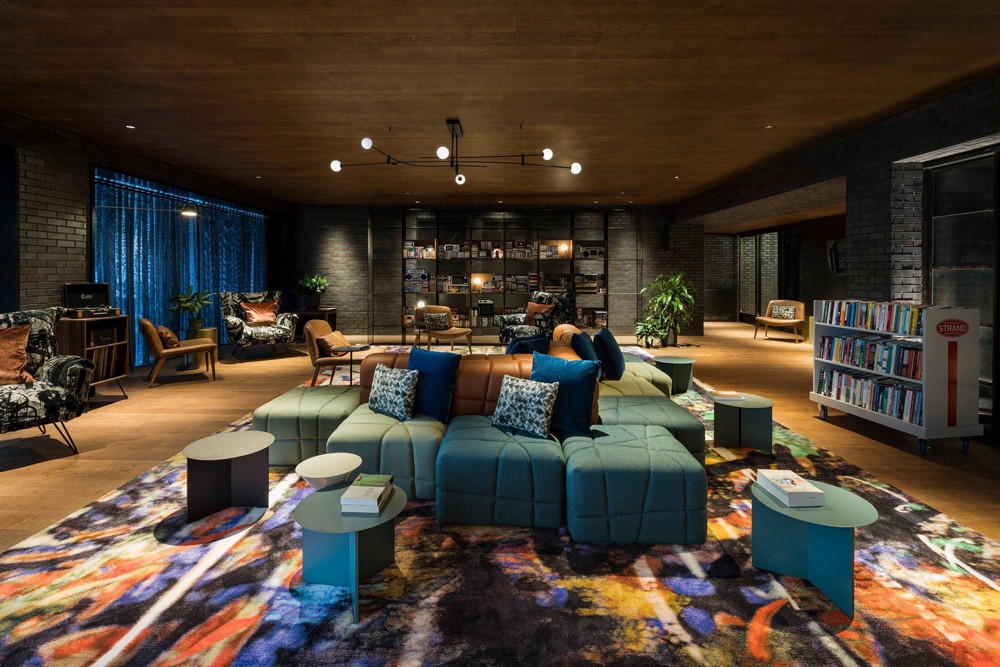 In regards to guestrooms, once again new and old are blended in a timeless manner. The interior design is best described as eclectic. Pieces of glass with graffiti graphics, woven fabrics, vanity sconces, and canvas upholstery set the mood for a comfortable stay. Each room highlights artwork by Spanish photographer, Xan Padrón.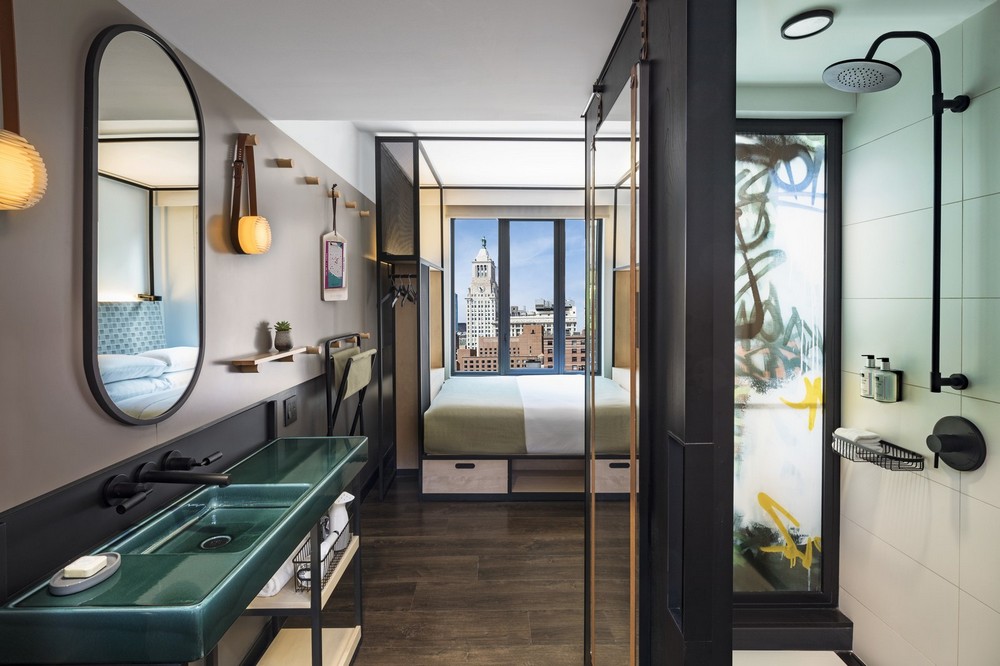 ⇒ See Also: Most Beautiful Hotel Lobbies In The World ⇐
If you enjoyed this article about the

Hotel Interior Design: The Vibrant Moxy East Village by Rockwell Group

, you can also find more interior design inspirations in our Pinterest boards, Facebook and Instagram pages.
Source: Moxy East Village