Top 25 Mirrors That Will Leave You Speechless⇒ Mirrors are always a strong point in a design project. They are always seen by others and appreciated too. We intend to always look good in front of a mirror, so we can't just have a bad-looking mirror and try to look good. Discover the mirror ideas that Luxxu and other brands have to offer and be amazed with its beauty and class.
Excellence. That's what Luxxu is all about.
Athos Mirror
Athos is a modern mirror beautifully crafted with a leather and brass frame. In Greek mythology Athos was a giant, LUXXU brought it to life in the shape of a mirror. It's a strong design and despite its dimensions it looks elegant in any setting, stealing all the attention. Ideal for walk-in closets or master bedrooms.
Crown XL Mirror
A larger version of the Crown mirror, which is more than just a simple mirror, it's a tribute to beauty. A functional piece of art ready to bring endless elegance to any room. Made of gold plated brass and smoked black mirror, the detailed frame turns a simple piece into a head-turner that will lift your interiors.
Crackle Round Mirror
Made with the finest gold plated brass, the Crackle mirror was designed to resemble a shattered mirror that been glued back together with gold, reminding us of the ancient Japonese art Kintsugi. This intricate mirror with a gold frame is the perfect statement piece to adorn any wall.
L'Oreille Qui Voit by Philippe Starck/XO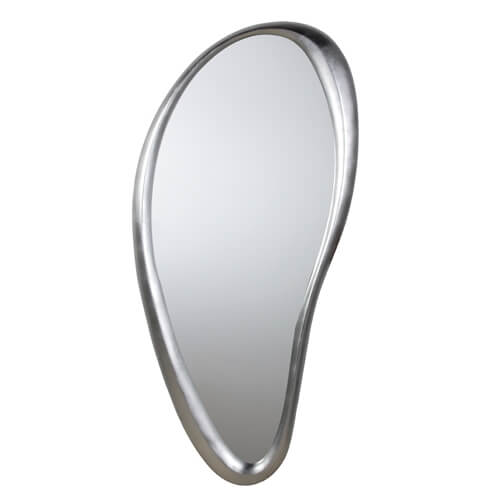 XO introduces a large number of new models, all of them created by Philippe Starck and organized along several lines that embody the spirit and philosophy of the most famous and multifaceted designer – a unique mixture of humor and surrealism.
Petal by Jonathan Adler
Sought after for its iridescent surface, mother of pearl offers a unique collage of colors often used in fine jewelry. Cut in thin pieces and set in polished brass petals, the mother of pearl in the Petal mirror radiates a warm natural glow. It's twinkly-chic jewelry for your home.
Eileen Gray Satellite by Aram
The nickel plated Satellite mirror – designed in 1927 for the house E1027 – incorporates a convex magnifying mirror on an adjustable arm which Eileen said "makes it possible to shave the back of one's neck: a lamp is set in the centre of the illuminating mirror so that everything is lighted equally, without shadows".
Roses by Lalique
The Roses wall mirror by Lalique is a numbered edition, made of clear crystal and blue eucalyptus.
Vertigo Mirror
Simple, yet very elegant, Vertigo is a round mirror with a gold-plated brass frame. With a sleek design, the details on the framing grant Vertigo a classy appeal. It looks perfect when placed in a bedroom, over a vanity or in a living room.
Shimmer by Patricia Urquiola
The Shimmer mirror by Patricia Urquiola is aptly named for the iridescent multi-chromatic finish applied to the extra-light glass. Patricia Urquiola was inspired by the nuances of reflection, which change depending on the angle and intensity of the light source as well as the vantage point of the viewer. The production technique yields a unique finish for each piece, resulting in one-of-a-kind variations in texture and color. Ethereal and almost intangible, this delicate mirror imbues any interior space with a sense of magic.
Orbis Mirror
The Orbis mirror was inspired by ancient times in history, adopting the same simplicity of the golden era. Creates an atmosphere of irresistible exposure and exclusivity, this creation aims to total immersion in sumptuously glamorous interiors and the gold colour enhances the luxurious details present in its design.
Pacific Floor Mirror by Kelly Wearstler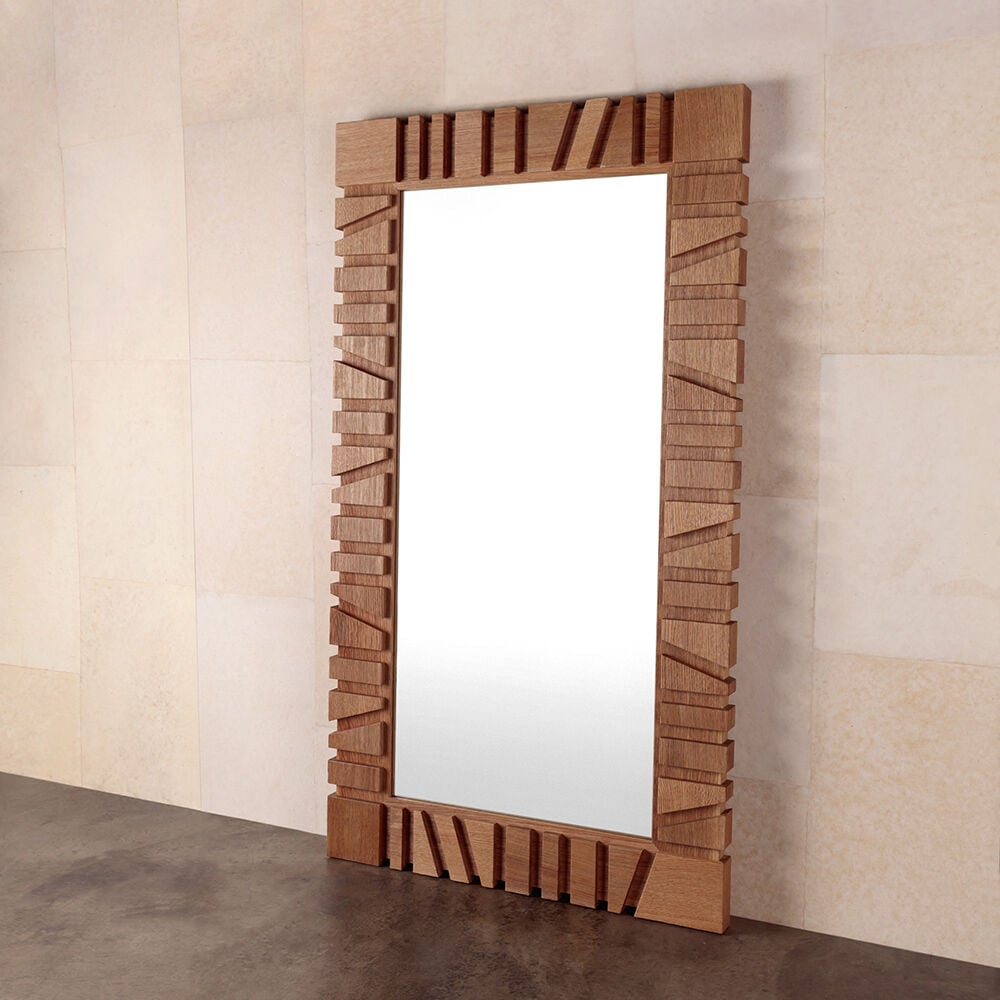 With its textural frame and monolithic size, the Pacific Floor mirror has a presence that's both architectural and sculptural. This large floor mirror features a hand-carved oak frame with a wire-brushed texture and comes in either a Natural or an Ebonized finish.
Explosion Mirror
The recreation of the Explosion achieves a luxurious level. The perfect solution to highlight any ambience with its prestigious and revivalist attitude. A strong attention to mighty and luxury detail are reflected in the numerous slim gold plated brass and crystal arms which orbit around a smoked black mirror glass. This decorative mirror lives to burst interiors with its traditional craftsmanship and luxurious details.
Chamcha by Phillips Collection
Natural wood surrounds this interesting mirror by Phillips Collection. Wonderful on its on, and striking as part of a wood and mirror statement wall composition.
Puzzle by Jonathan Adler
Inspired by a house of cards, the Puzzle mirror by Jonathan Adler is made of sheets of solid brass layered in a dynamic composition. Add intrigue to your foyer, bring moody glamour to your powder room, or bestow major majesty on your mantle. The structural geometry is tempered by the warm brass glow.
Crown Mirror
More than just a simple piece of art, the Crown mirror represents a living tribute to the beauty. The breathtaking combination of smoked black mirror and gold plated brass, challenges the notion of exquisiteness and breaks all the creative boundaries.
Lapiaz Mirror
Lapiaz round mirror takes exceptional craftsmanship and design to a new realm. Finding beauty in the most unexpected places, this contemporary design piece is inspired by authentic karst formations created by surface dissolution, freezing, or thawing of limestone or dolomite rocks.
Darian Black Mirror
Materials like black lacquer and brass are combined into a perfect harmony in order to create a masterpiece like the Darian Black. A simple yet unique luxury item that captures both the functionality of a mirror and the splendour of an art piece. Decorative, practical and divine.
Kayan Mirror by Brabbu
Kayan women are known for using neck rings with the intention of lengthening them. All the way from Myanmar, KAYAN Round Mirror is made of a unique aged brushed brass structure. This decorative mirror will surely spice up a boring wall.
Scala Mirror
Surrender to the beauty of crown jewels forms, a gold round mirror that embodies a living tribute to ancient art and craftsmanship. Poetically made in gold plated brass, Scala mirror is combined with a black smoked glass, expanding the boundaries of creativity and sophistication.
Tonelli Gerundio Oval by Nella Vitrina
This modern wall mirror is handmade in and shown in the inclined frame. You can choose between  floor mirror or wall mirror version.
Crackle Mirror
The luxurious Crackle mirror is made of the finest gold plated brass and smoked black mirror. Inspired by the opulence of golden nuggets it is graced with the ability to create exclusive and refined ambiances. This geometric design resembles a shattered mirror and promises to create the most glamorous interiors.
Majestic XL Wall Light Mirror
The emancipation of lighting reflects a fascinating design of the craftsmen, giving Majestic a whole new dimension. The glow takes the form of a golden plated brass circle and each of its ribbed crystal glass cylinders evoke a petrifying effect in any setting. A mirror to desire.
Maverick by Kelly Wearstler
This delicately hand-shaped, antique bronze framed mirror comes with a finished steel back panel and includes hanging hardware for a secure mounting. The frame finish is applied by hand and is un-coated, which allows for the bronze to oxidize slowly over time. The mirror frame will develop a rich antiqued luster as you enjoy it.
McQueen Wall Light Mirror
A meticulously designed beauty object. The approach to the epitome of contemporary luxury is kept in the tradition of the jewelry artisans. Like a savage beauty, this elegant mirror brings the powerful evocation of the sublime. The magnificent foliage is made of hammered brass with gold plated finish and a rhythmic luminosity of the Swarovski crystals.
McQueen Rectangular Wall Light Mirror
In line with the entire McQueen family, this McQueen Rectangular Light Mirror is a meticulously designed beauty object. The tradition of the jewellery artisans is kept in this approach to contemporary luxury. A sublime and powerful evocation of savage beauty. The magnificent foliage is made of hammered brass with gold plated finish and a rhythmic luminosity of the Swarovski crystals.
< ?php get_footer(); ?>
⇒ Check our article  Top 5 Dining Chairs for a Luxurious and Comfortable Dinner⇐
If you enjoyed this article regarding Top 25 Mirrors That Will Leave You Speechless then make sure to check out our socials to find news, inspirations, and more interior design trends and ideas:Pinterest | Facebook | Instagram.