Get Comfortable With Us: The Best Solutions To Transform Your Living Room – A well-designed living room can enhance the comfort and aesthetic appeal of any home. When it comes to living room decor, LUXXU has the best solutions for a luxurious and sophisticated setting. Discover a selection of living room furniture and lighting options to transform your living room into the most welcoming and stylish area of your house with the help of LUXXU Blog! Discover more in our new article.
---
See also: From Storage to Style: New Sideboards For Your Dining Room
---
Get Comfortable With Us
The Best Solutions To Transform Your Living Room
The living room serves as the focal point of the house and is where we unwind, host visitors, and spend quality time with our loved ones. As a result, it's crucial to design a space that is both cozy and stylish. Let's explore the things that LUXXU has to offer so you can design the ideal living room!
Lighting Is Crucial
Lighting is one of the most important components of any living area. A variety of beautiful lighting alternatives from LUXXU may make your living area feel warm and inviting. Whether you choose stylish pendant lights, contemporary chandeliers, or opulent floor lamps, LUXXU has a lighting solution to fit your tastes and requirements.
Tycho Chandelier
Drawing inspiration from the most unusual planetarium in the world, the Tycho Chandelier is a layered lighting fixture made of high-quality brass rings and crystal glass tubes. Highly decorative and elegant, the Tycho fits perfectly into modern lounges and dining areas.
Get the look:
Tycho Chandelier and Tycho Floor Lamp
Harpia Suspension
The Harpia Suspension Lamp evokes the power and majesty of ancient Greece. With its vigorous eagle design and razor-sharp crystal glass, it exudes a sense of strength. The gold-plated brass adds a touch of elegance and steals the attention of any room. Use multiple compositions to create a harmonious lighting installation and elevate your space with the beauty of this suspended light, ideal for residential or hospitality projects.
Get the look:
Harpia Suspension and Gala Floor Lamp
Babel Wall Lamp
An original and exquisite décor fixture with an unmistakable presence, the Babel wall lamp adds a classical appeal to any environment. The craftsman's crystal work singularity shines back in the circular surfaces where smooth, glamorous shades are reflected and held by a gold-plated brass ring. A sublime item for a perfect ambiance.
Get the look:
Babel Wall Lamp and Needle Table Lamp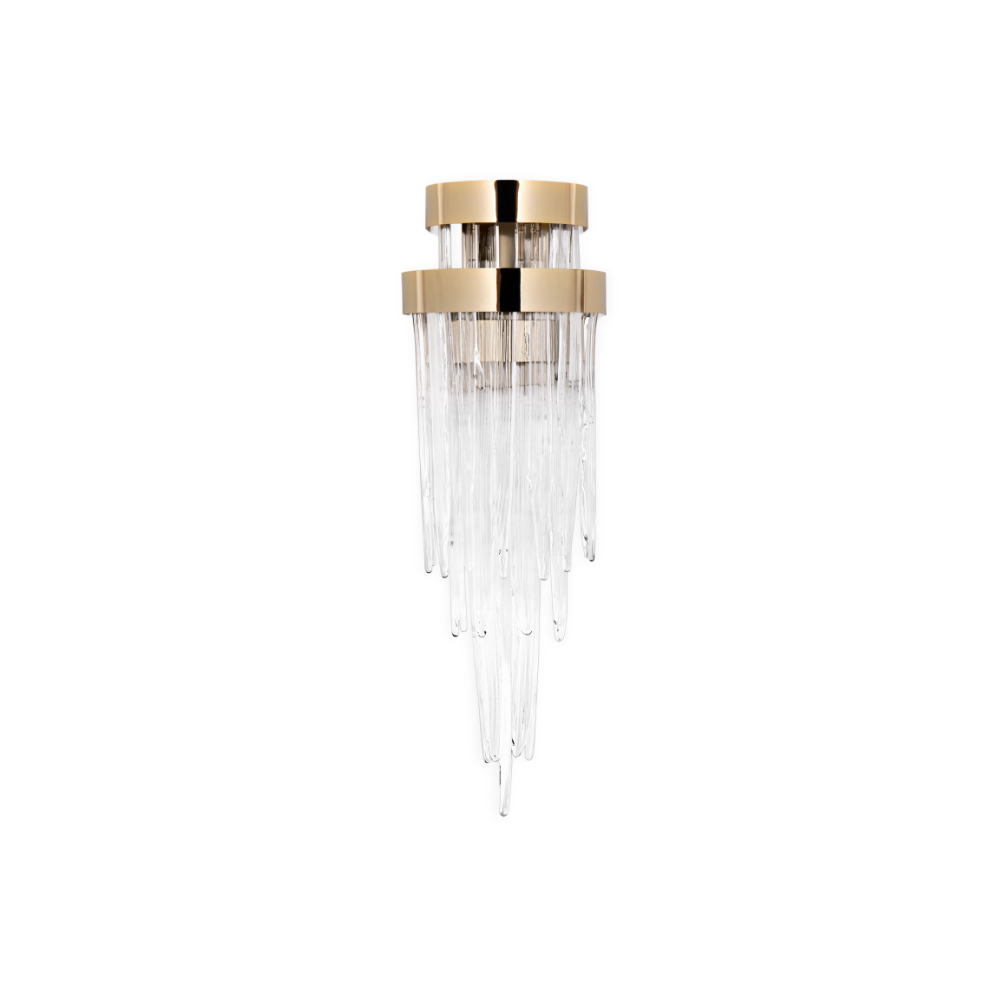 ---
See also: Luxury Houses Premium Collection
---
Furniture And Upholstery Are The Foundation
Furniture is a crucial component of living room decor. LUXXU's furniture and upholstery pieces are created with both comfort and aesthetics in mind. These collections, which include modular sofas and armchairs as well as chic center tables and side tables, are the ideal way to furnish an opulent living space.
Otto Sofa
The Otto Sofa has a unique organic shape that provides impeccable comfort and style. The new member of the Otto family exudes a mid-century vibe and luxury design, as it's made with the most precious materials, Brass, Leather & Velvet, and great design, produced with amazing craftsmanship.
Get the look:
Otto Sofa and Empire Set I Center Table
Algerone Sofa
The Algerone sofa was created to express the ultimate expression of comfort and luxury in a singular piece. Upholstered in smooth brown velvet, this linear sofa emphasizes the classical lines and geometric features that the Algerone family is best known for. The Algerone sofa is bound to become the enviable centerpiece of any living room style.
Get the look:
Algerone Sofa and Algerone Set Center Table
Galea Armchair
Galea is a glamorous armchair that blends the ancient with the modern. It draws inspiration from a helmet worn by warriors in the Roman Empire and is brought to life through traditional production techniques. The result is a brass, wood, and velvet modern armchair, whose elegant silhouette ensures it's perfect for luxury residences or any hospitality project.
Get the look:
Galea Armchair and Shard Suspension
Thomson Sofa
The Thomson Sofa represents Luxxu's sophisticated design, with refreshing details and above all a luxurious and sensual touch to any living room. The mix of standard materials chosen for Thomson Sofa makes this ultimate luxury sofa a unique option for any design project.
Get the look:
Thomson Sofa and Algerone Big Side Table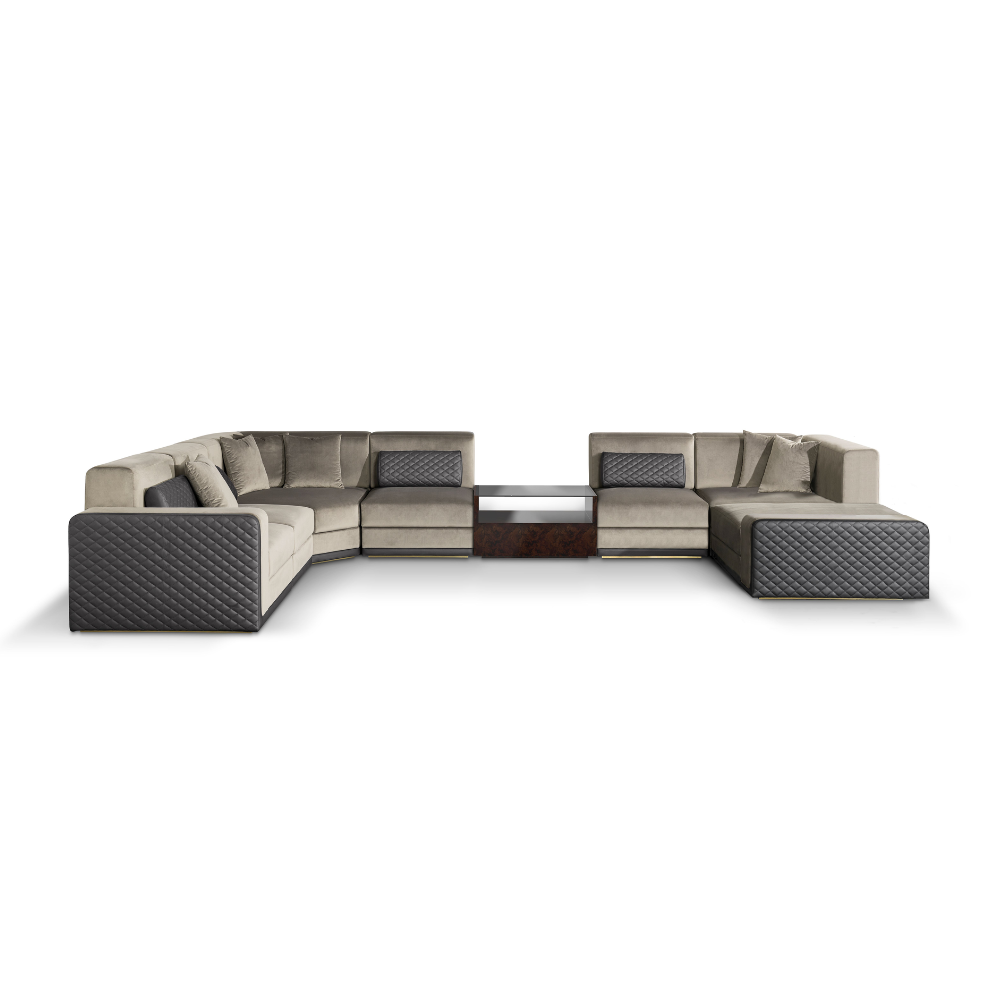 ---
See also: Create Your Dream Dining Room With LUXXU
---
To Complete The Look
LUXXU offers a variety of accessories in addition to lighting and furniture, which can help you complete the look of your living space. LUXXU has the most beautiful mirrors everything you need to design a room that is both attractive and functional, including beautiful rugs, and opulent mirrors.
Vertigo Mirror
Simple, yet very elegant, Vertigo is a round mirror with a gold-plated brass frame. With a sleek design, the details on the framing grant Vertigo a classy appeal. It looks perfect when placed in a bedroom, over a vanity, or in a living room.
Get the look:
Vertigo Mirror and Saboteur Swivel Sofa
Tempus Rug
Tempus is a modern rug with irregular lines that reflect the eternal nature of time. Made with Bamboo, this hand-tufted rug fits into any project, residential or hospitality, with its unique design. It is available in seven different sizes, and you may request a custom size to fit in any room.
Get the look:
---
See also: New Era Set In Stone
---
If you enjoyed this article regarding 

Get Comfortable With Us: The Best Solutions To Transform Your Living Room

 then make sure to check out our socials to find news, inspirations, and more interior design ideas: Pinterest | Facebook | Instagram.