Freestandings that will leave your bathroom a super luxurious and glamorous place ⇒ Luxury lifestyle is all about the details and the right freestanding can really upgrade your bathroom in a luxurious way. So, Luxxu's Blog will show you the most breathtaking freestandings you could ever see, ready to give a twist to your bathroom decor?
Inspired by the City of Petra where buildings are carved directly in the stone cliffs, this freestanding is freshly new, fantastically luxurious and unique in every single way. Owning it would imbue your bathroom with incredible glamour and luxury.
Inspired by the aquatic world and all its surrounding mythology, the Leto freestanding is a tribute to the goddess Leto, and one of the most beautiful freestandings in the market right now. Its pure cone shape emphasizes the delicacy of its edges and it would give your bathroom a luxurious and fantastic look.
This is one of the freestandings that was conceived with precise knowledge of production techniques and materials, inspired by the great Persian king, who ruled the empire at its peak in 5th century BC. Incredible, Glamorous and unique, this freestanding would turn your private oasis into a luxurious bathroom without a doubt.
The permano freestanding embodies the vanity of the bathroom, with its carrara white marble, it will surely amaze anyone who enters your bathroom. This unique item and its beautiful stonework bring the utmost luxury to any bathroom.
Cape Cod a tranquil design by Phillipe Starck. Inspired by the calm waters and endless coast of Cape Cod, New England, US. The Cape Cod range boasts 5mm thick edged Basins and ergonomic baths that will envelop you in luxury and wellness.
Sola Solid Surface by Aquatica
Meet Sola Solid, a masterpiece that it's meant for upgrading bathrooms. A practical and beautiful solution for saving space.
This is one freestanding that, unlike other freestandings, owes its conception to the church organ tubes, as well as the curves of a violin. Luxurious, unique and extremely modern, this item would fit incredibly well in a luxurious environment.
Revolutionary in every way, this freestanding will fulfill the needs of those who are looking for the best in contemporary furniture design mixed up with exquisite details and high-quality materials. Its luxurious law-defying look makes it one of the most beautiful freestandings in the world.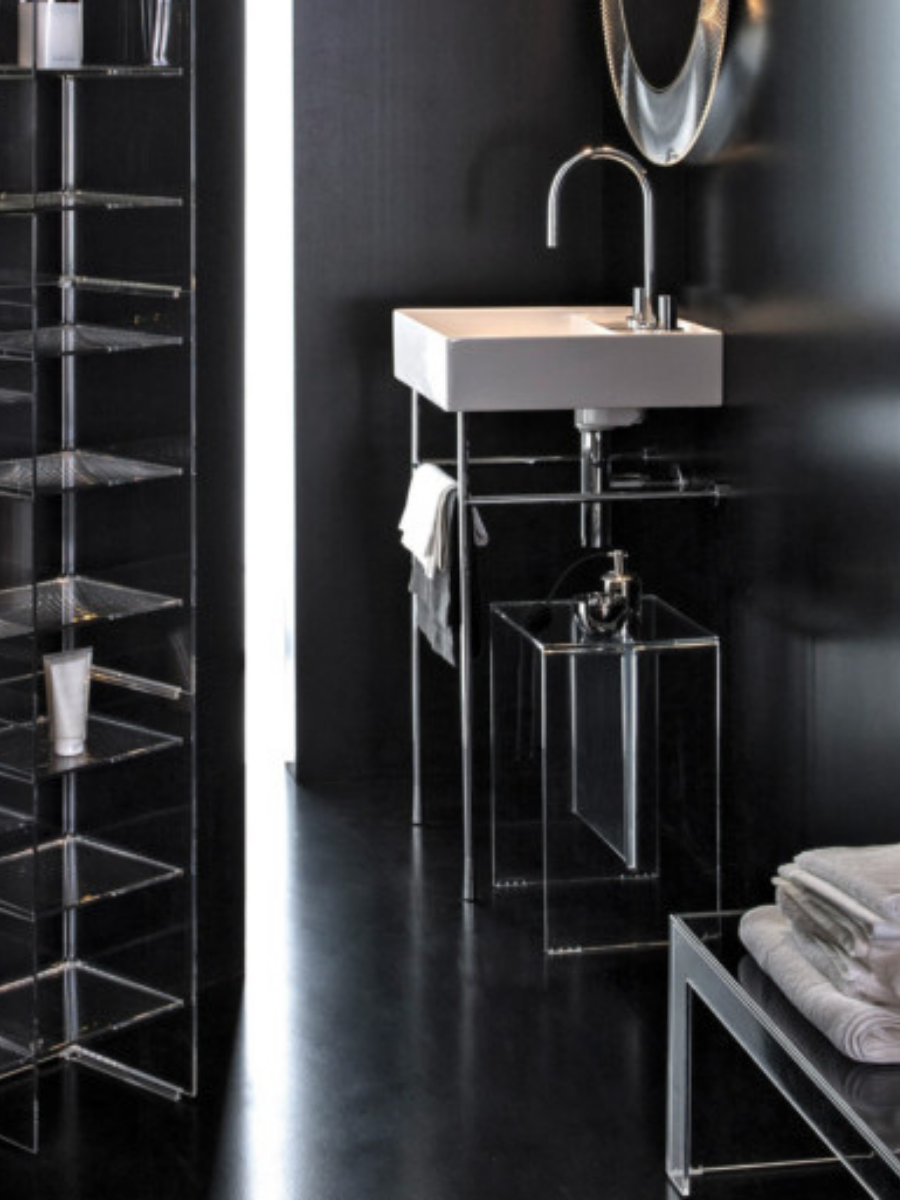 A codesign between Kartell and LAUFEN, this is one of the most intense freestandings in the market, reinventing the concept of the bathroom with its bold lines and unique design. This choice of freestanding would surely bring magnificence to your private oasis.
Vetrofreddo Modern Pedestal by MaestroBath
This modern freestanding sink brings elegance to your bathroom and will elevate your designs in a perfect way. An elegant and glamorous piece that will make you fall in love instantly.
Eden Stone by Maison Valentina
Inspired by the shape of a tree stump, and carved from the finest marble selection around, this freestanding would dazzle all human eyes. Uniquely luxurious and seriously beautiful in every way, this item would elevate your bathroom above all the others.
Inclinio is the king of the space in the bathroom. A clean and elegant freestanding, available in black and in marble. This masterpiece promises to enhance your bathroom at the highest level.
Lapiaz Marble by Maison Valentina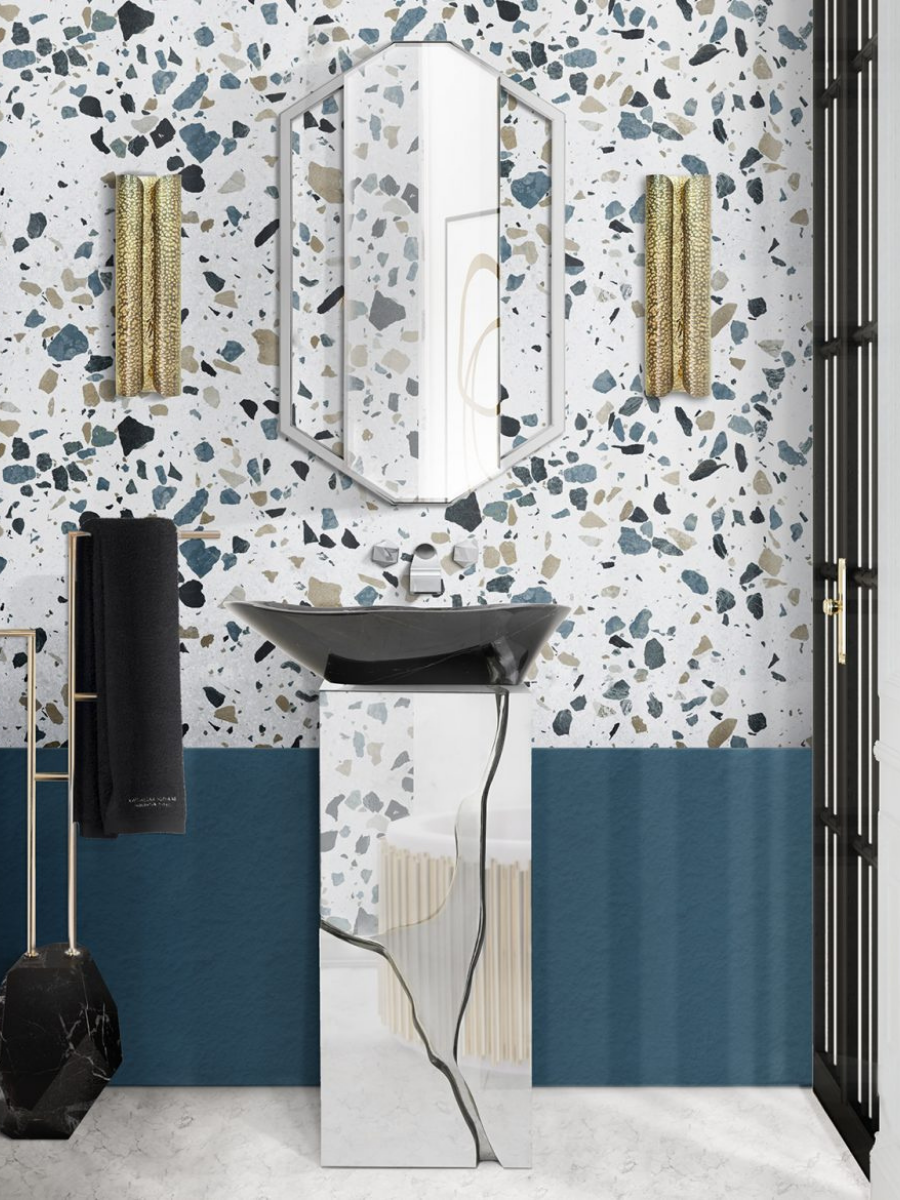 This freestanding is inspired by the typical karst formations produced by the dissolution of limestone rocks. Beautiful, unique, and standing tall among other freestandings, this item is going to amaze anyone who sees it and gets to feel its fine Marquina marble.
Calla Lily Pedestal by MaestroBath
The Calla Lilly has the perfect shape and feels like a dance. This beauty is uniquely captivating with master crafted Italian design and will hold all the attention, Let yourself be fascinated by this work of art in form of freestanding.
Millennium-Block Stone & Oak by Aquatica
This lovely freestanding is the perfect addition to your unique bathing experience. A design that reflects all the purity and simplicity in a piece. Add this lasting piece to your design and upgrade your bathroom in a perfect way.
Inspired by the Japanese carp, this unique freestanding has a dazzling pattern that distinguishes it from the rest. Its aged brushed brass structure will take anyone's breath away. It features a countertop sink made of Nero Marquina marble.
Inspired by a tree stump, this amazing organically shaped freestanding is made of casted aluminum, and its luxurious features make it stand out among other freestandings, reminding us of growth rings.
Blue Stone by BlubathWorks
Check out this round decorative pedestal sink, part of the Blu Stone collection by Blubathworks. It's simple, yet striking. A perfect decorative sink for your contemporary bathroom.
This freestanding is inspired by natural stone cracks. It boasts an incredible fissure handcrafted in polished brass, producing an organic finish. Surely, with a freestanding such as this one in your house, you could not deny the luxury and glamour that would be present in your bathroom.
Alumix Tom Tom Black Silver by MaestroBath
Unique, attractive and revolutionary, this freestanding is light in weight and made of durable aluminum alloy. Its contemporary features would make it stand out as a unique item in your luxurious bathroom.
This is one of those freestandings that will leave people breathless, featuring a wooden structure finished in a high gloss black varnish, it will certainly become the centerpiece of your private bathroom.
⇒ Check our article 10 Best Luxury Bar Tables ⇐
If you enjoyed this article regarding Freestandings that will leave your bathroom a super luxurious place then make sure to check out our socials to find news, inspirations, and more interior design trends and ideas: Pinterest | Facebook | Instagram.