Discover The Most Iconic Interior Design Projects in New Jersey that is known for many great things, including its incredible interior design! Today, we present you with Interior Design Projects in New Jersey that will spark some inspiration in you! Enjoy our selection.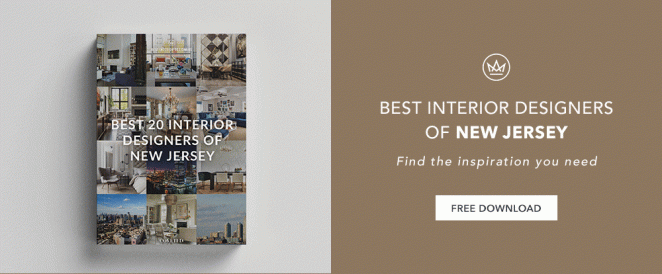 See Also: Best Interior Design Projects in Bucharest
Bay Head Beach House
AJ Margulis Interiors
Originally a builder's house, the architectural style of this home was very traditional and formal. In order to make it more "beachy", AJ Margulis Interiors created a story that the house was owned by a successful ship captain who had travelled the world and brought back furniture and artefacts for his home. The furniture choices were mainly based on English style pieces with accessories added from Asia and Africa. The beachy style was incorporated into the home through the artwork, fabric, and wallcoverings.
Contemporary City House
Alto Studio Design
Since 2011, Alto Studio Design has worked to provide exceptional workmanship and top-quality service to the people of New Jersey. This colourful contemporary house in the city's downtown is an example of how bold colours and textures combine while providing a cosy and warm feeling to the space.
Serene + Cozy Bedroom
AMA Designs & Interior
Amanda Amato is focused on enhancing well-being through functionality and aesthetics. This serene and cosy bedroom surely combines intentionality with purpose to better clients' lives.
Somerset Project Design
Cooper Interiors
Cooper Interiors by Pam Cooper, focuses primarily on residential design in New Jersey, the Shore, Pennsylvania, and New York. Just like her design style, this living room is "effortlessly elegant" yet "casual enough to function well"!
Urban Modern Living Room
Creative Interiors & Designs
Industrial elements can become a sophisticated piece of Urban Modern design. Opaque floor to ceiling drapes, navy wall and highly textured floor covering define the space. The exposed ductwork becomes a beautiful accessory. Clear glass pendant lighting, clear acrylic side table and reflective metal coffee table facilitate an unobstructed view. Comfortable low profile modern sofa and barrel chairs do the same.
Main Street, Lawrenceville
Deborah Leamann
Deborah Leamann is an award-winning interior designer in New Jersey. Her design sensibility transfers to a polished signature work. This neutral living room incorporates delicate traditional taste to elevate the residential interior design to a whole new level.
Colourful Apartment
Décor Aid
With a team of world-class interior designers, Décor Aid has developed projects from New York City lofts to New Jersey country estates, always focused on luxurious and high-end interiors. This room is full of bright yet warm colours, which brings a sense of cosiness and relaxation to this beautiful apartment.
Modern Living Room Interior Design
Decorilla
Decorilla is a company with a team of renowned top interior designers, that combines traditional in-home interior design and technology in their projects. This sophisticated apartment combines elegance, modern design and functionality to provide the greatest living experience in the city.
Cosmopolitan Glamour
House of Style & Design
House of Style & Design is an award-winning, full-service interior design firm based in New Jersey. This bedroom incorporates high style and function into everyday luxury living.
GET PRICE
Mahwah Drama
Jennifer Pacca
Since 1992, Jennifer Pacca has been creating beautiful spaces all over New Jersey, New York, and Connecticut. Numerous popular publications have featured her work and we can see why. This wide family room is certainly prepared for those colder months while providing a good sense of warmness and elegance.
River Street Penthouse
J. Patryce Design
Joan Enger – J. Patryce Design, is a successful interior design firm and she has completed a wide range of interior design projects across New Jersey. In a palette of neutral tones and blue details, this elegant project is born, with a comfortable atmosphere and stressless view.
Westfield Modern
KBK Interiors
KBK Interiors provides interior design solutions to residential and commercial projects. For this Westfield Modern living room design, KBK designed the Wenge veneer gas fireplace surround, provided furniture layout and drawings, furniture selections, and a custom one-arm sofa design.
Tinton Falls Residence
Lori Dubrow Design
Lori Dubrow Design is a full-service interior design company that takes special attention to every detail of all projects. The use of molding transforms this Tinton Falls Residence space and gives it a smart and stylish look. The clean lines of the furnishings add to the elegant overall aesthetic.
Long Branch Penthouse
Manning Design Group
With a reputation for "elevating common spaces into extraordinary environments," Manning Design Group surely keeps up with it. This modern Long Branch Penthouse is full of light and neutral colours that help to elevate its greatness.
Modern Beach House
Nicole Forina Home
Nicole Forina Home draws influence and inspiration from a variety of sources. It can be witnessed in this gorgeous living room full of earthy colours and mid-century details.
Playful Yet Sophisticated 
Stephanie Tamayo
Stephanie Tamayo is in the industry spotlight as one of the top New Jersey interior designers and decorators. This playful yet sophisticated living room is ideal to entertain friends during the evenings. The playful curved sofa and round tufted ottomans give extra easy to move around seating. A burst of colours was introduced in the patterned pillow fabrics, abstract art, geometric rug and bright accessories.
Grace House 
Swati Goorha Designs
Swati Goorha Designs is an award-winning full-service interior design firm serving New Jersey, New York, and Pennsylvania with several accolades for residential and commercial projects. This Grace House project speaks for itself. The mix of earthy colours and materials combine so smoothly, creating a peaceful environment.
The Mix of Eclectic and Elegance
Uma Stewart
Uma Stewart Interiors & Lifestyle is a boutique design studio, led by designer Uma Stewart. Just like the studio, this living room style is eclectic, edgy, and always elegant, blending different styles like old and new, East and West, current and classic, with skilful ease.
Family Focused Renovation
Valerie Grant Interiors
Valerie Grant spent over fifteen years in the fashion industry working for renowned brands as Prada, Ralph Lauren, Coach, and J Crew. For this project, Valerie immersed herself in the project's aesthetics, selecting everything from the furniture to plumbing fixtures and window treatments.
Short Hill NJ Residence III
YZDA | Yoshida + Zanon Design Atrium
YZDA's design philosophy speaks to international sophistication that transcends regional borders. Satomi Yoshida-Katz's goal is to create sophisticated and inspirational environments that reflect the clients' lifestyle. This residence is full of colours and stories with a super elegant eclectic look.
See Also: The Most Desired Interior Designers In Bucharest
< ?php get_footer(); ?>
What did you think about this article on The Most Iconic Interior Design Projects in New Jersey? Stay updated with the best news about trends, interior design trends, and furniture high-end brands, you must sign up for our Newsletter and receive it in your email – free of charges, the latest and the most exclusive content from Luxxu Blog. Follow us on Pinterest | Facebook | Instagram.