Discover The Most Exquisite Room By Room Inspirations With Luxxu ⇒ No interior can be beautifully created without masterful inspiration and passion for interior design. Luxxu Blog recognizes the value and importance of sharing different ideas and ambiances and in this article, we will showcase a compilation of luxurious inspiration formed and developed by some of the most exquisite brands in the world of interior decoration. For now, all we need is for you to lay back and absorb the full splendor that these beautiful ambiances have to offer.
---
See also: A Breath Of Fresh Air – Delight Yourself With Luxxu´s Outdoor Solutions
---

Entryway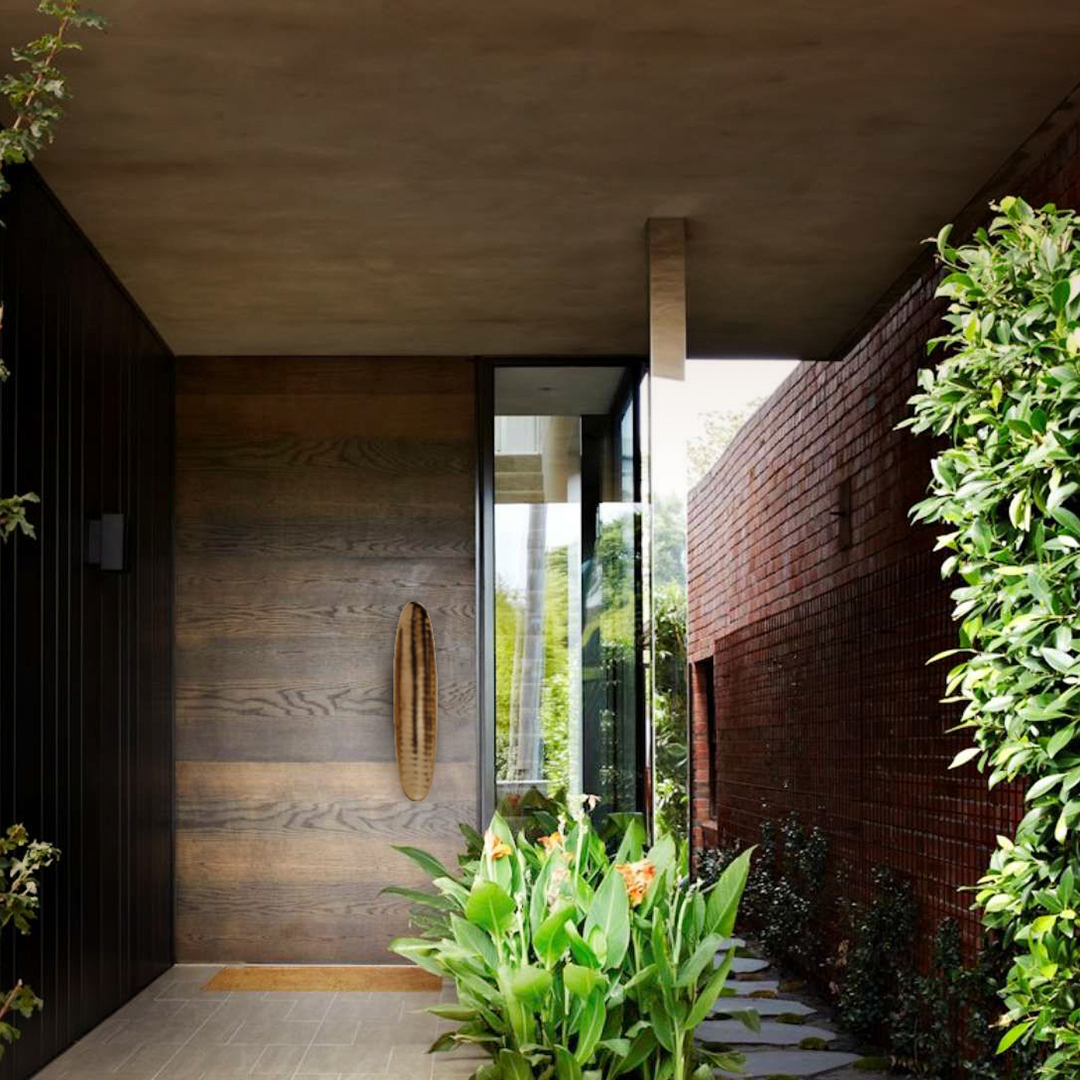 Display the powerfulness of your interior decor even before you enter the main areas of your house. The Kano Door Pull is a signature piece perfectly fitting for an impactful entryway design.
Hallway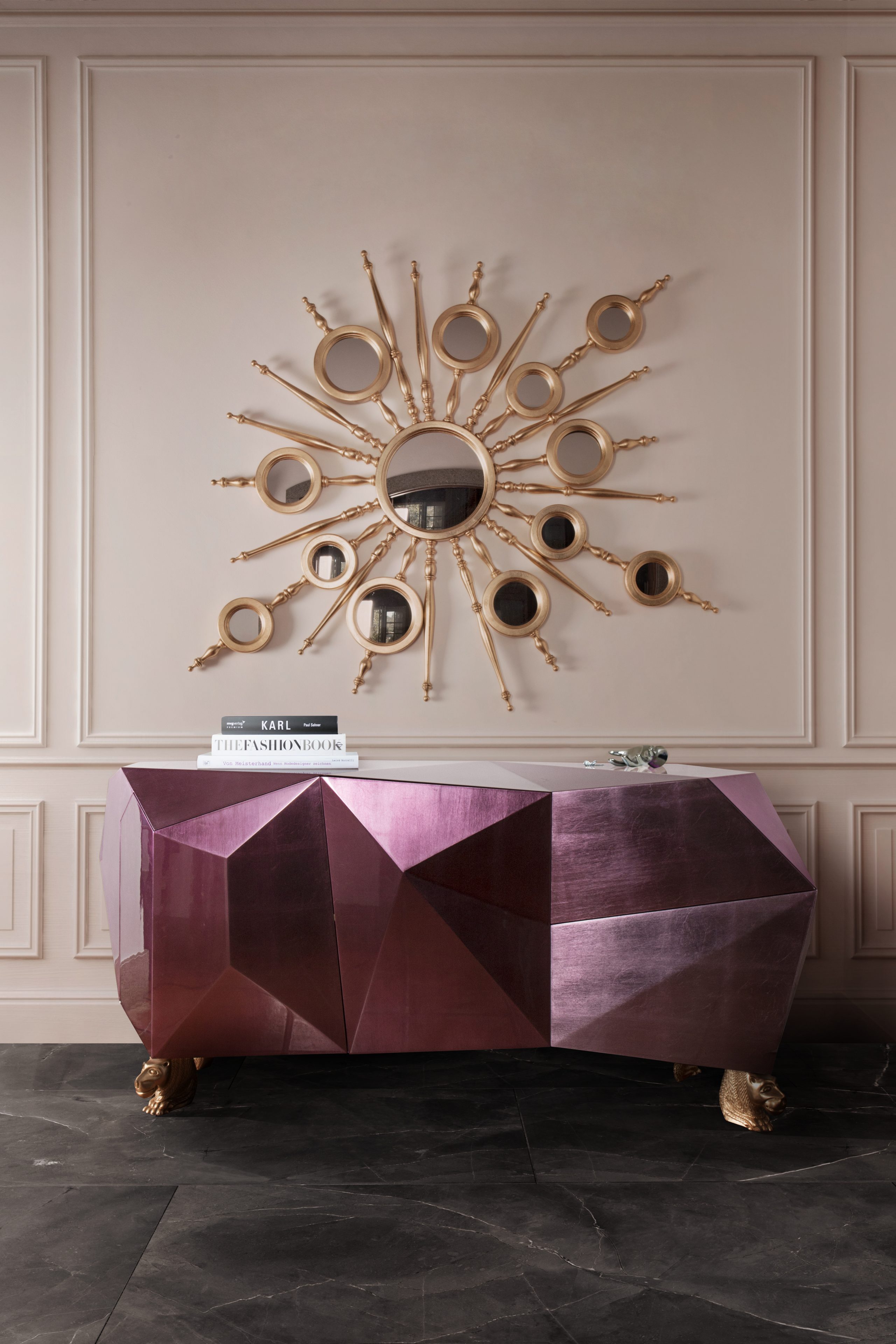 The hallway to a one-of-a-kind ambiance requires geometrically shaped that can provide a memorable singularity and display true luxury.
Every room should have its own statement piece in order to fulfill the complete potential that any ambiance can reach. A masterpiece of a mirror is a fascinating way to give this ambiance a center stage-taking piece all while reflecting every luxurious element around it.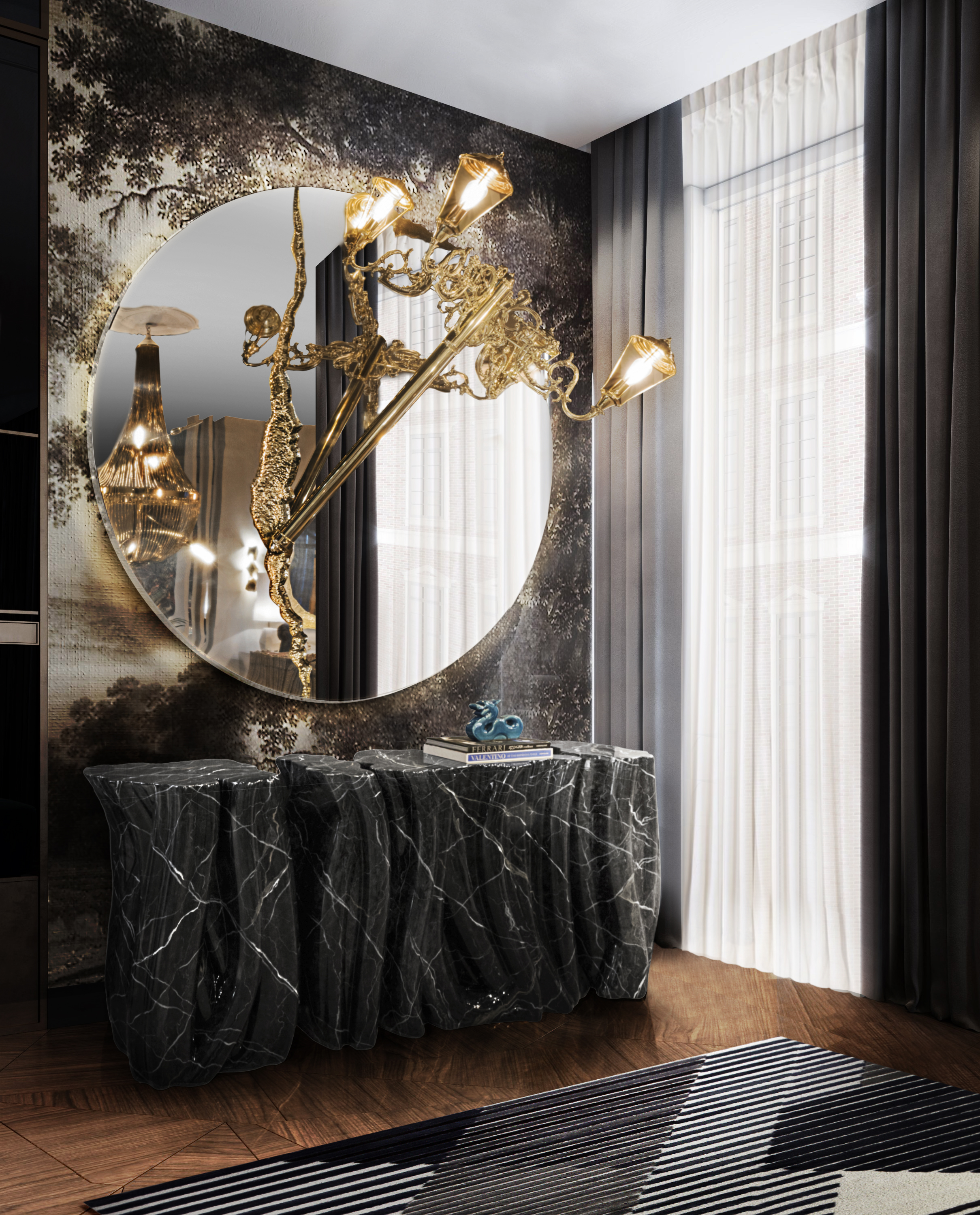 A darker color palette is absolutely perfect when it comes to conveying exclusiveness and luxury. The manner in which this stunning sideboard blends with the room´s atmosphere is completely brilliant and harmonious.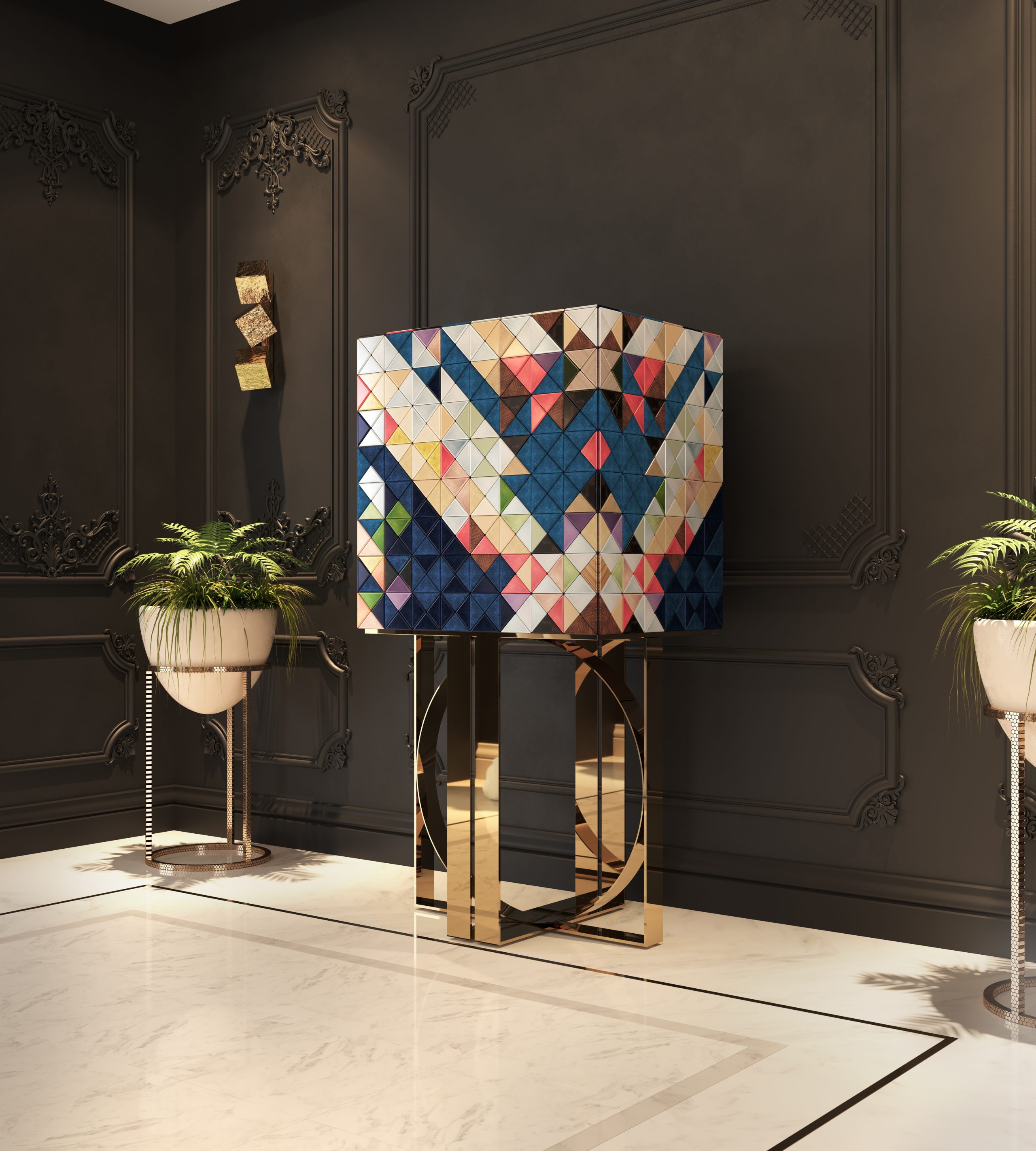 A home bar piece of furniture is a staple of exclusiveness and richness. Every household deserves to have the utmost quality in its interior decor and being able to count on the iconic and unparalleled design of the Pixel cabinet will do wonders for any bar ambiance.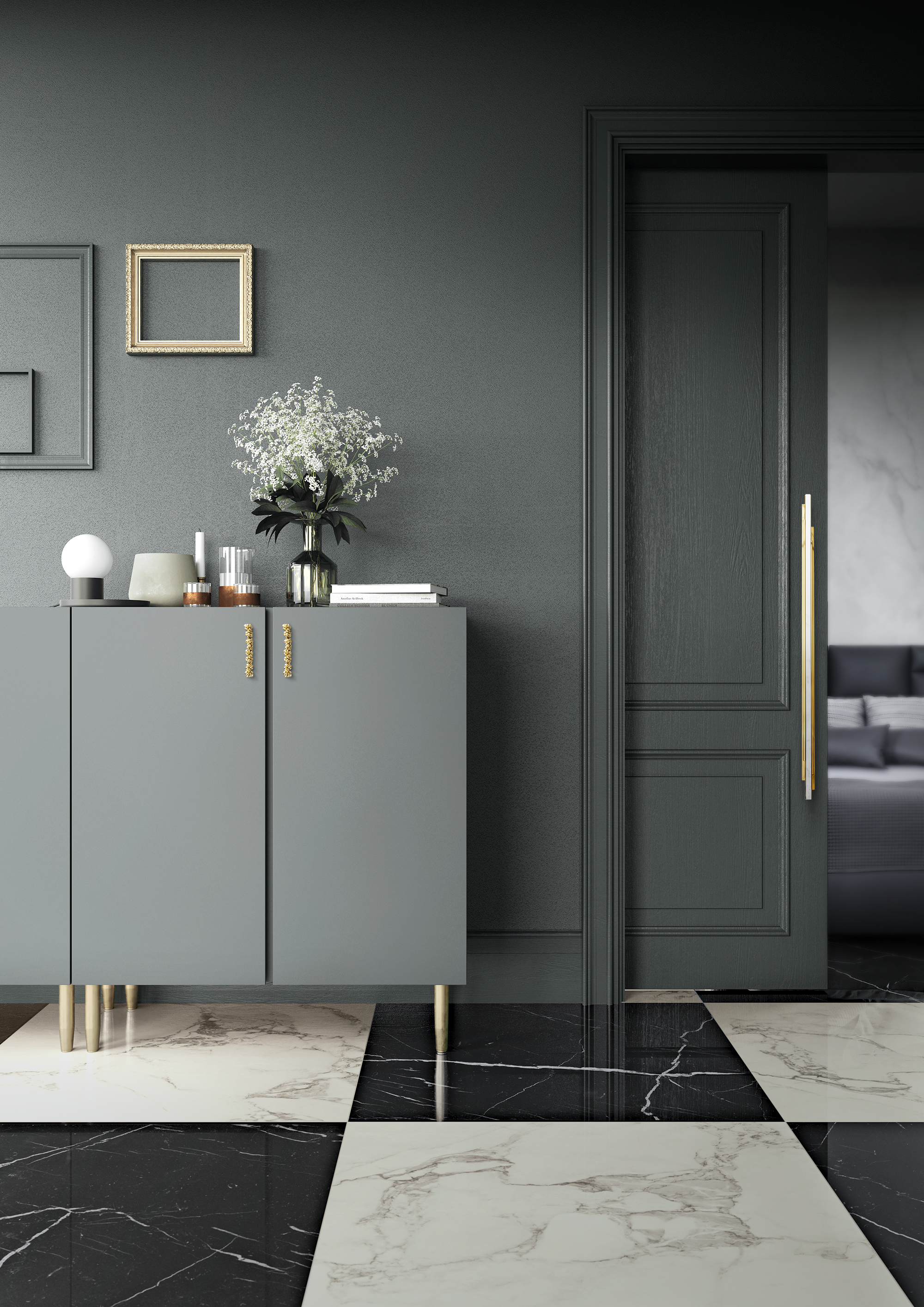 A majestic hallway to a luxurious lifestyle must be nothing short of brilliant. On this path to excellence, one of the things that simply can´t miss is jubilant hardware and the Belize Cabinet Handle as well the Skyline Door Pull are two outstanding pieces that allow this ambiance the possibility to achieve absolute perfection.
Living Room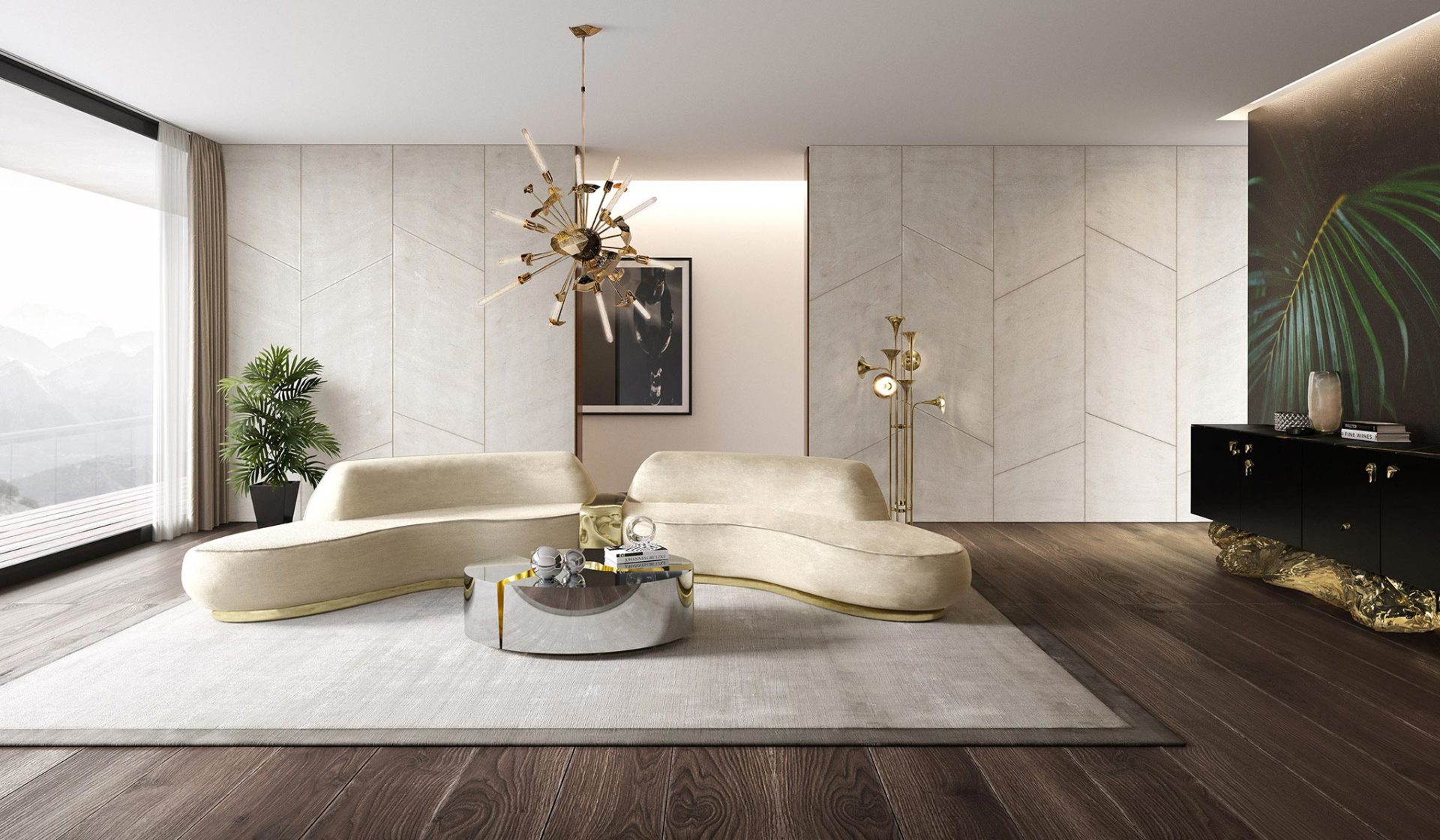 A stunning living room design is a must in any interior design project. This luxurious ambiance is gifted with a clean and modern look that can take anyone´s breath away all while showcasing unique lighting pieces that can catch any eye at a mere glimpse.
A contemporary living room with a delightful décor, both literally and figuratively. The Coltrane collection is beautifully represented all throughout this room while highlighting the fabulous statement sofa that takes the center stage.
---
See also: Senzu Sofa
---
The living room can be more than a place to relax and have some quality time with your guests. This is an area that allows you to showcase the full splendor of your interior design and the spectacular Empire Round Suspension will greatly help when it comes to highlighting this space´s best fixtures.
Precious and exclusive hardware for a TV cabinet is certainly a bold approach in regards to a living room design. In order to make this bold move go as smoothly as possible, the Hendrix Cabinet Handle is the ideal piece to transmit luxury and appeal.
Home Theather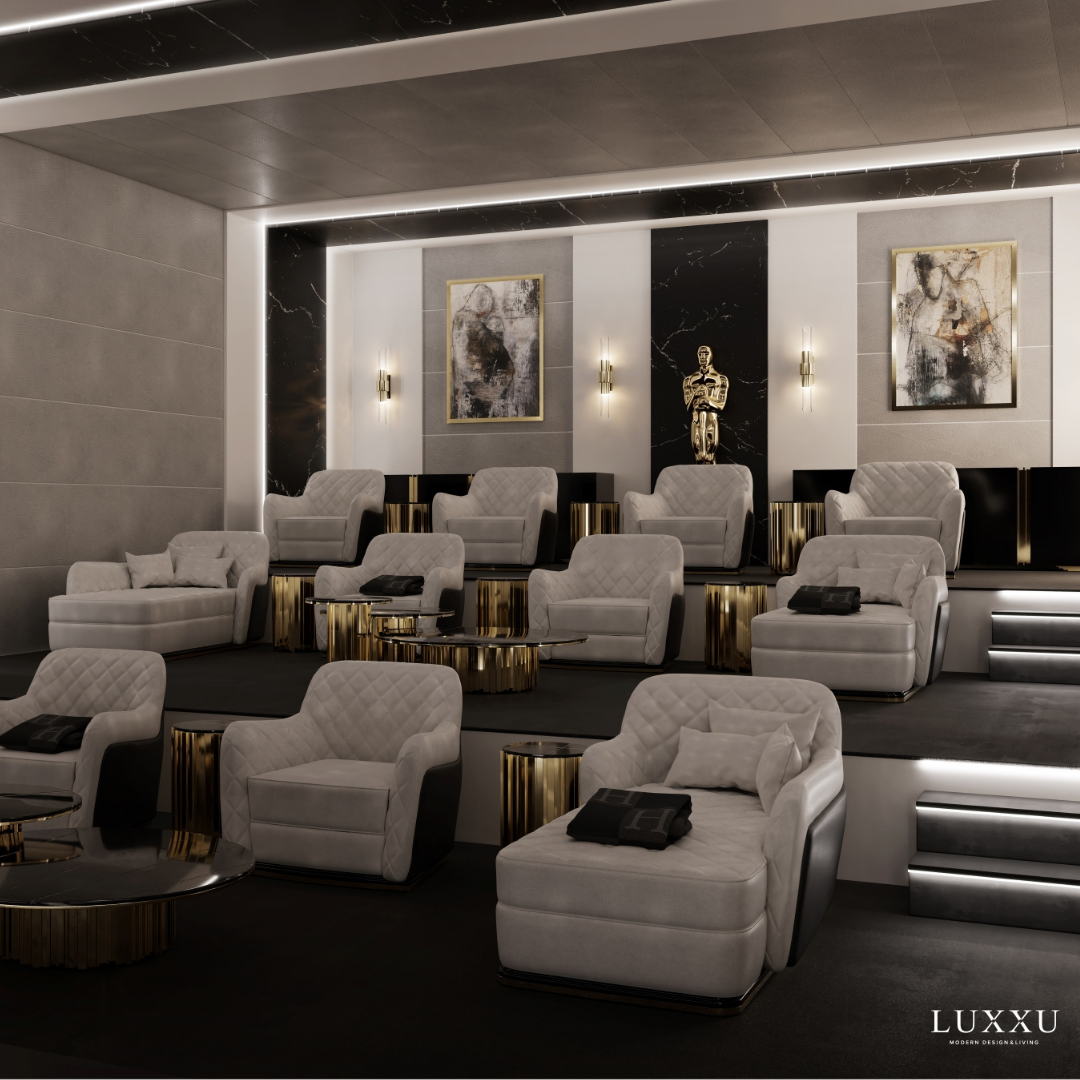 Home theaters have become quite representative of the contemporary lifestyle. The Charla Armchairs were the chosen upholsteries to guarantee that theater is packed with boundless elegance and above all comfort.
Home Bar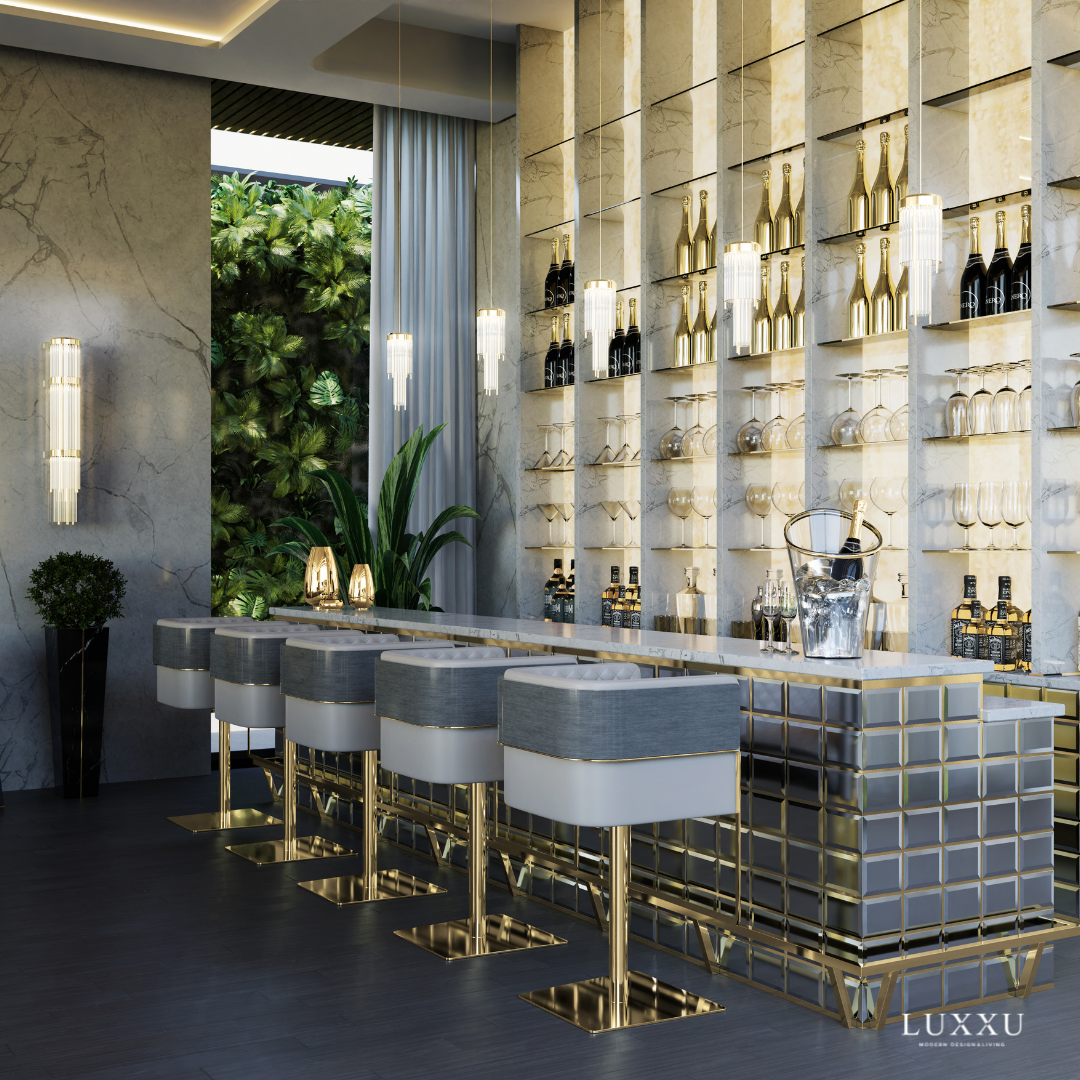 This home bar is equipped with the most refined upholstery in the form of the Nura Swivel Bar Chair where one can sit comfortably and enjoy some quality time to relax, unwind and have a drink.
Kitchen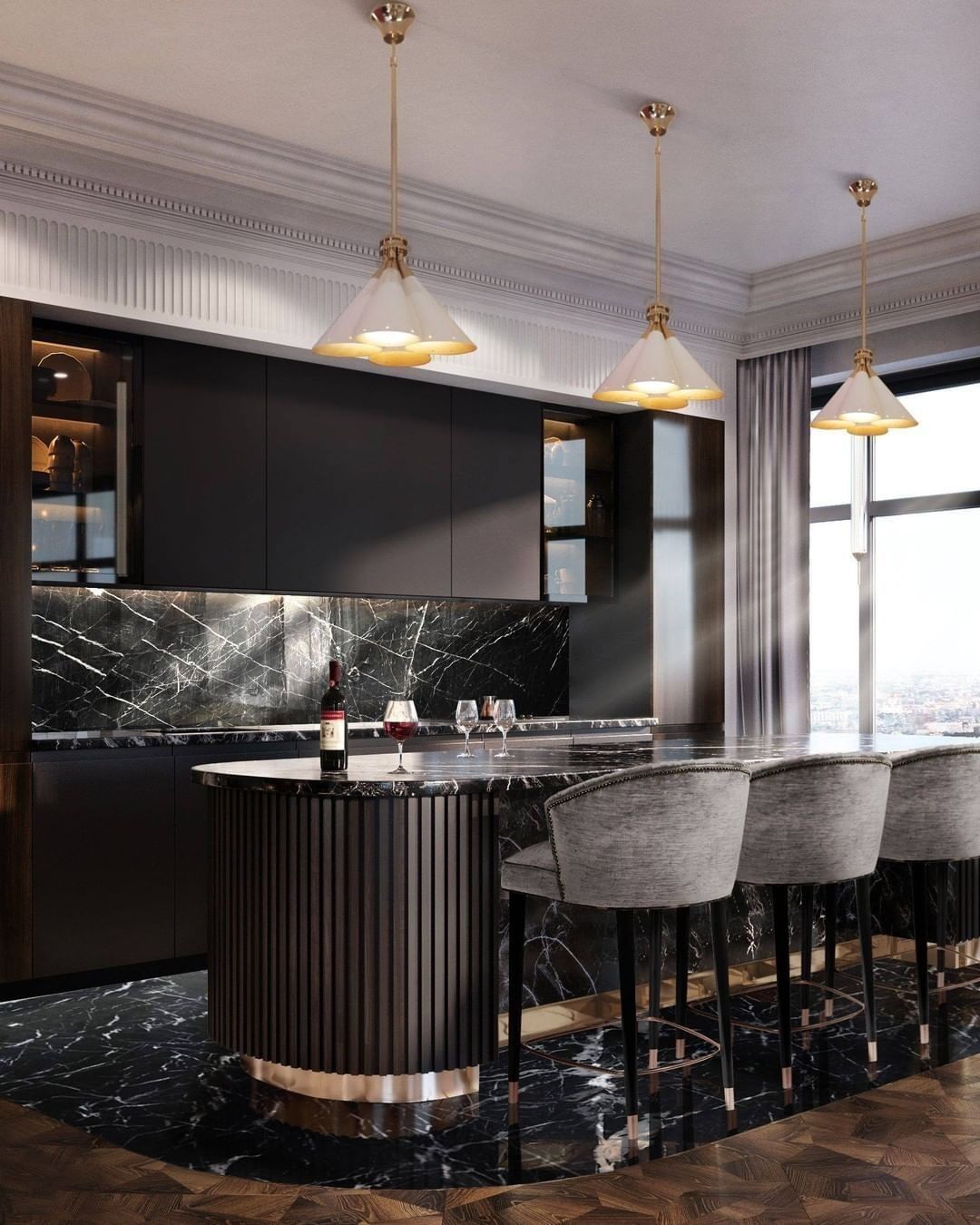 Cook up the most glamorous and distinctive kitchen design you have available. With the help of golden and dark elements and nothing but high-end materials all across this room, this kitchen is a true embodiment of modernism and attention to detail.
Closet
Dress up accompanied by the finest decor with mesmerizing patterns. Complement your closet design with a contemporary hardware style in the form of the Hendrix Door Pull, a perfect item to create an architectural silhouette in your door designs.
Bathroom
This bathroom design is nothing short of glamourous and breathtaking. The subtle pendant lighting pieces make a big difference in this room´s shining details and overall ambiance. A luxurious bathroom that overflows with opulence.
Bedroom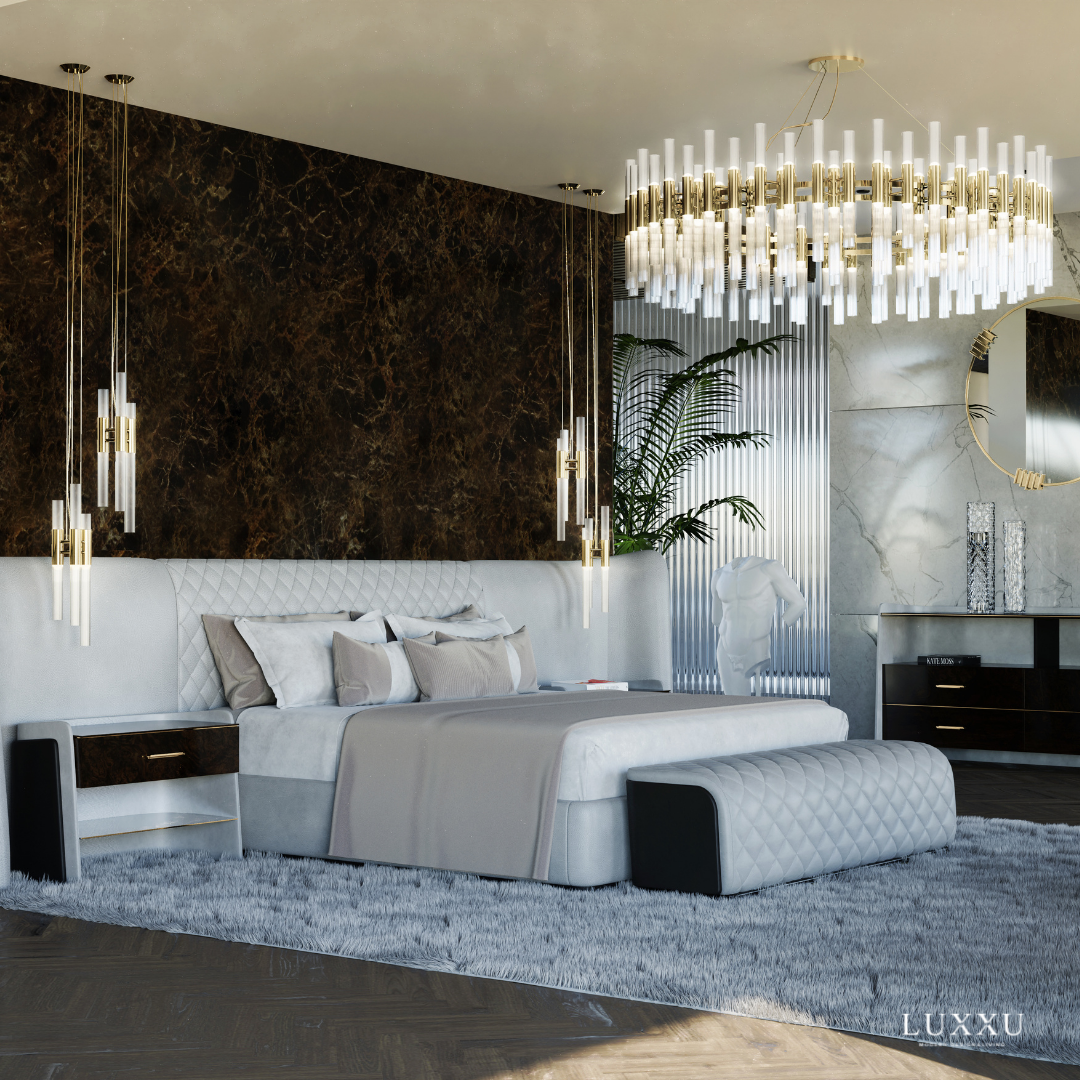 One of the most essential rooms in the house is the bedroom. Decorate yours with luxury furnishings such as this and combine some magnificent lights to create a much more spectacular ambiance while maintaining comfort.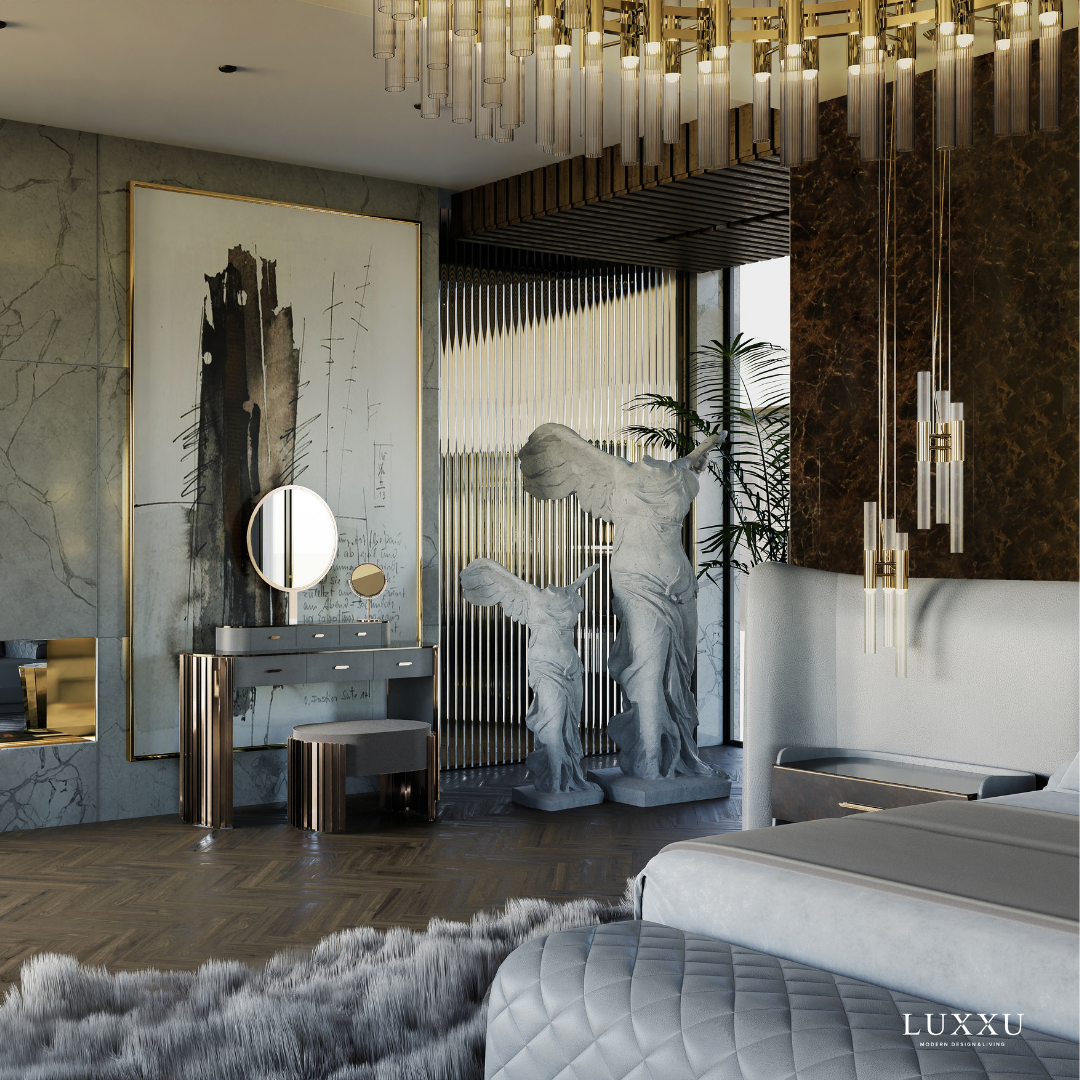 Ascertain that the design of your bedroom contains all you require. Creating an area where you have the opportunity to start your day with luxury and exquisiteness is simply fantastic. With the magnificent Empire Dressing Table and the subtle yet luxurious Waterfall Pendant, you will be able to possess an incredible ambiance and excellent commodities simultaneously.
---
See also: Empire Bench
---
The interior decoration of this bedroom provides a seductive yet classy atmosphere. The neutral color palette chosen for this space brings a distinctive appeal and a sense of simplicity that can dazzle everyone at a mere glimpse.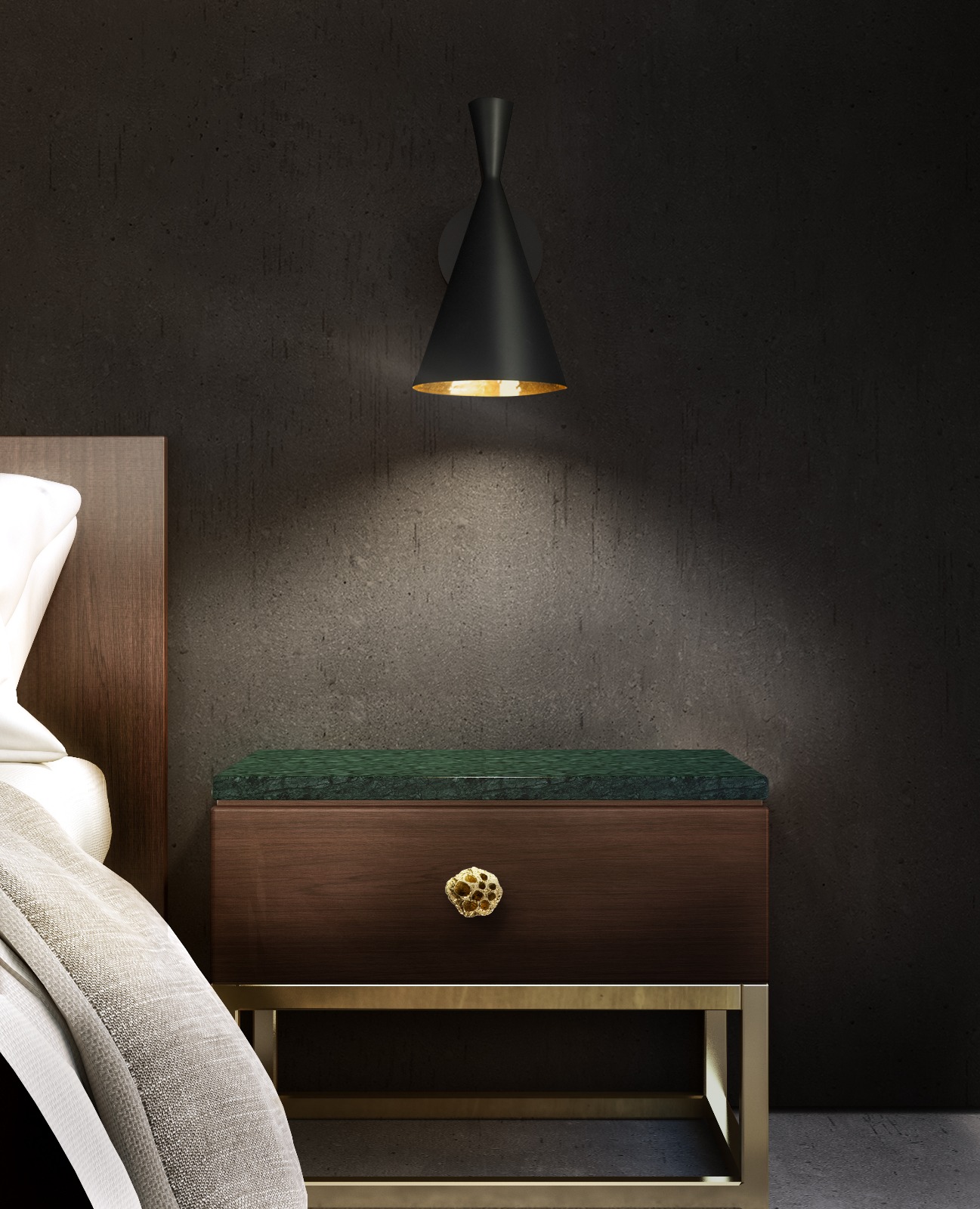 Gaze at excellence in the smallest details as this bedroom ambiance creates a space that surely leaves everyone speechless. The perfection in design of this wonderful nightstand deserves nothing less than an equally wonderful hardware piece, the Comb Handle can bring aesthetically pleasing sights in nature all while integrating any style masterfully.
Kid´s Bedroom
A child´s bedroom demands a dreamy ambiance where a kid can feel safety and fun all around him/her. The Bunny Bed is a statement bed that is characterized by its distinctive design and character and will surely make a positive everlasting impression on any child.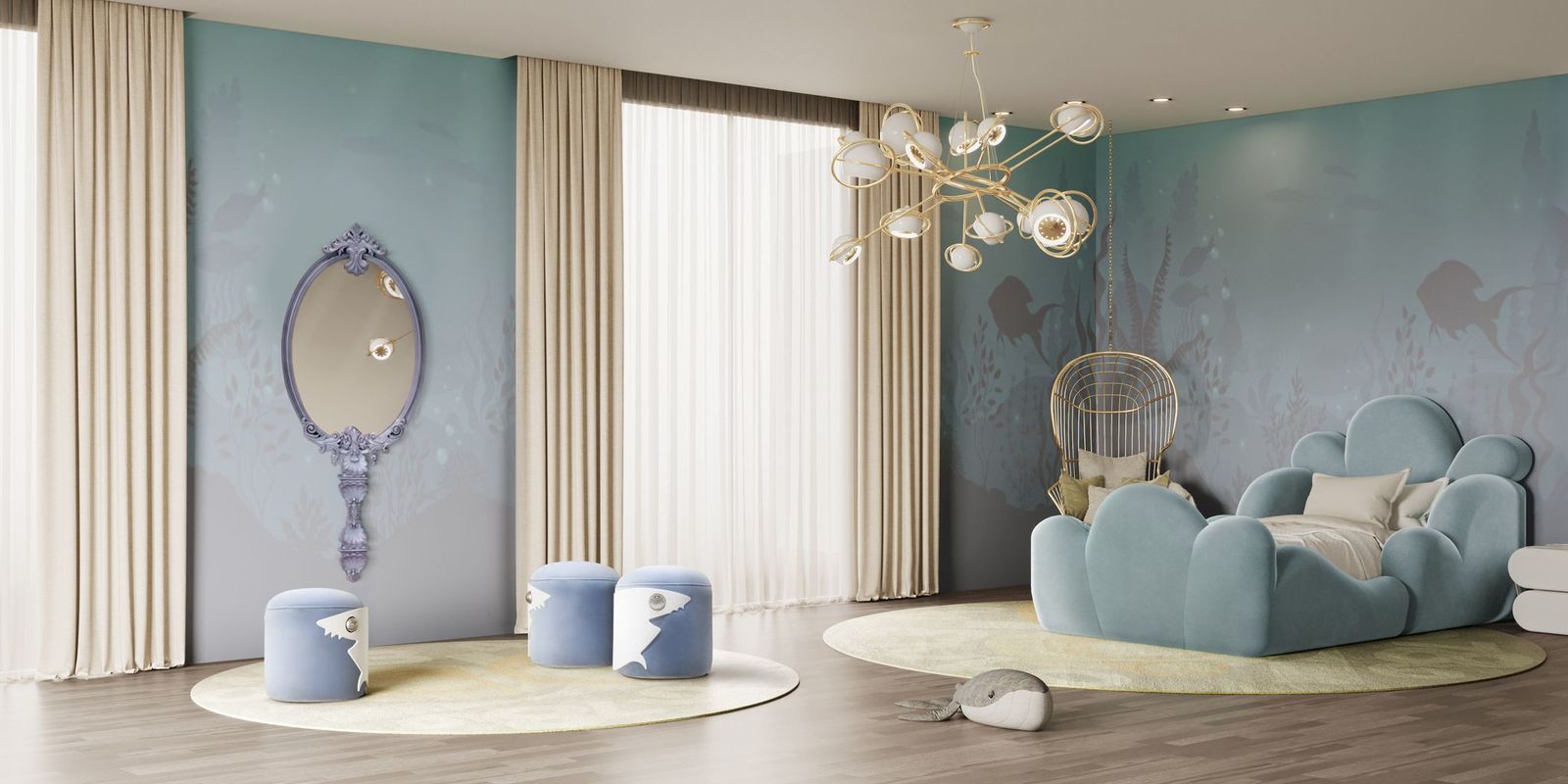 This beautiful and clean-looking bedroom deserves to have its beauty reflected in the most fantastic manner possible. The mirroring of this ambiance is brought to us by the Cameleon Mirror, a piece that embodies purity and fantasy.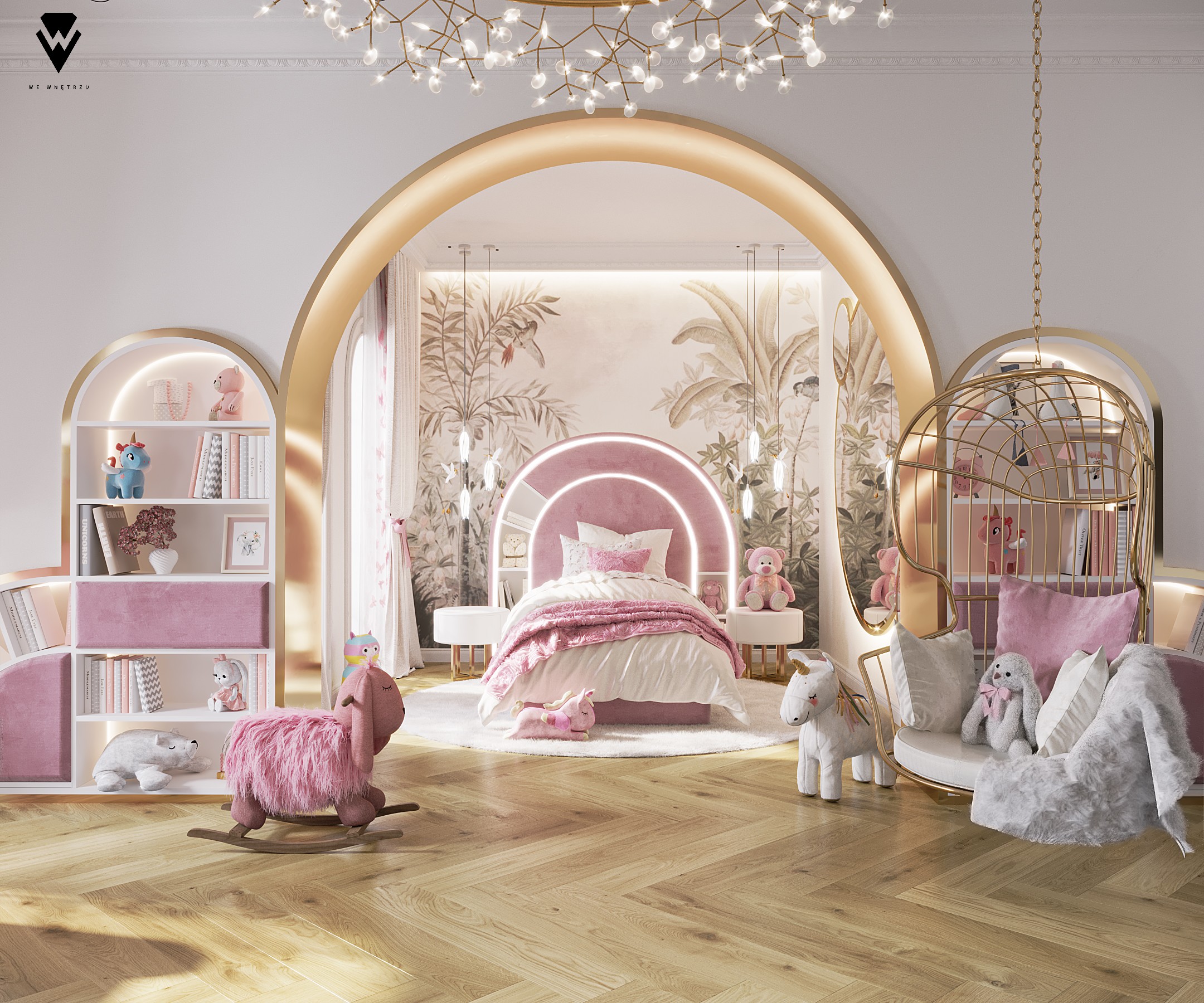 The striking beauty of this girl´s bedroom is simply awe-inspiring. The vivid colors are showcased in a dazzling way and the emphasis on pink tones really gives this room a lively feel and a dreamy ambiance.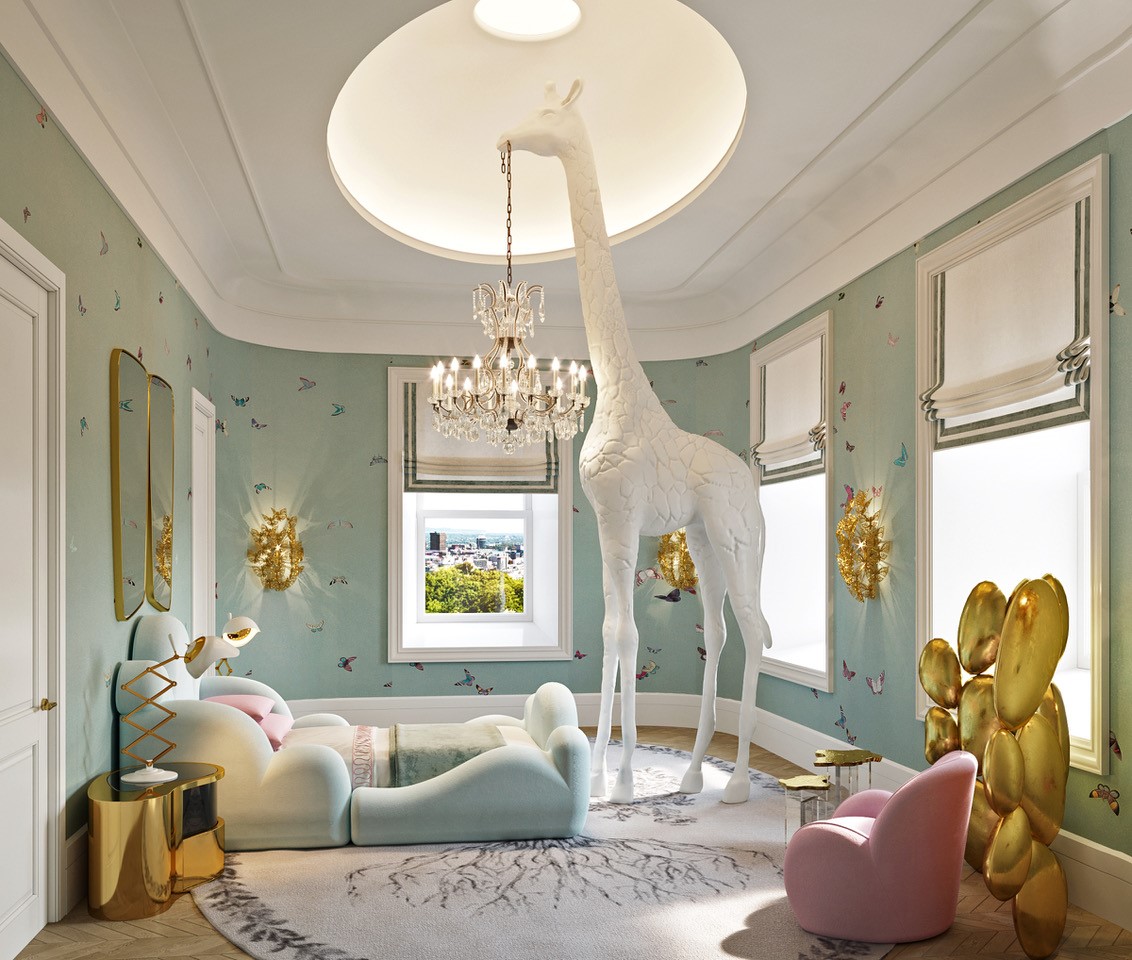 Creativity and innovation are the two components that cause the bloom of sophistication in this bedroom design. Every single piece in this ambiance brings its own identity with the giraffe statue taking center stage and catching eyes in an instant.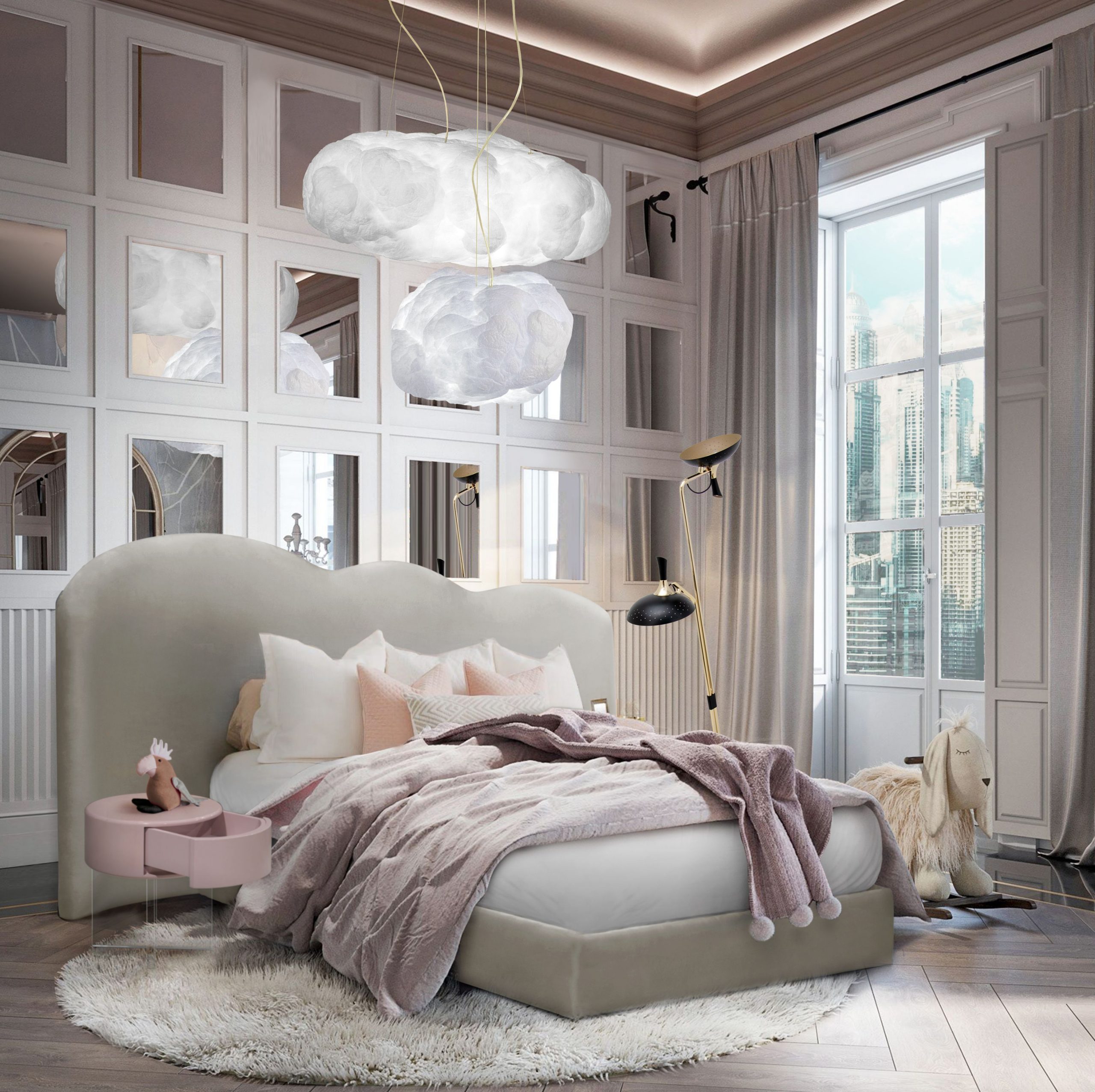 The complete transformation of this kid´s bedroom environment was brought to us by the combined grandeur of the cloud collection, both the furniture and lighting designs are greatly designed to provide any child with a lovely experience.
---
See also: Entertainment Room Design – A Game Of Luxury And Sophistication
---
If you enjoyed this article regarding Discover The Most Exquisite Room By Room Inspirations With Luxxu then make sure to check out our socials to find news, inspirations, and more interior design ideas: Pinterest | Facebook | Instagram.
< ?php get_footer(); ?>