Dior's Exclusive Pop-Up Store Has Stunning Mediterranean Views ⇒ In the idyllic island of Capri, Dior set up a new pop-up store for their newest summer collection. Meet their capsule pieces in a tour around the store!
⇒ Color Schemes For A Luxurious Dining Room⇐

Overlooking the Mediterranean Sea, Dior's new pop-up store features bamboo and cane details reminiscent of island life, plant-filled ceilings and amazing views, perfectly blending in with the calm and relaxing nature of Capri. All the materials were locally sourced from the island's artisans, allowing the brand to showcase and highlight Capri's history and craftsmanship.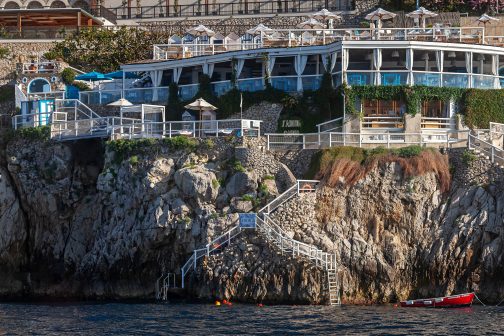 The store is set on a small cave protruding from a rocky wall that has been transformed into a luxurious bazaar. Dior's resort collection, toile de Jouy, is everywhere on the store, providing a tropical accent to the space.
Inside, you can discover the Dioriviera 2020 capsule collection, designed by Maria Grazia Chiuri and which includes fun prints on tops and dresses, sailor tops, summer accessories and iconic bags with the brand's staple design style.

If you enjoyed this article about Dior, then make sure to check out our socials to find more interior design trends and ideas: