Dining Tables That Will Make You Fall In Love – Get your house ready for Valentine's Day with LUXXU Blog's suggestions. For today's article, we selected only the finest dining tables to match our lovely dining chairs. Continue reading to discover this love story!
---
See also: At Every Table, We'll Save You A Seat: Dining Chairs Fit For Valentine's Day
---
Dining Tables That Will Make You Fall In Love
Algerone Round Dining Table By LUXXU
Algerone is an opulent round dining table, inspired by architectural elements, it was designed to remind us of the unique strength and class that only marble has. The Carrara marble circular top is supported by a sleek base adorned with black leather and polished brass detailing. A design that will redefine the way you perceive dining tables.
Get the look:
Algerone Rectangular Dining Table
Algerone is an imposing rectangular dining table, inspired by sleek architectural elements. This classic piece showcases the strength and classic nature of Statuario marble that is further enhanced by the presence of meticulously placed brass lines. The intertwinement of these materials makes for quite an alluring decor statement.
Get the look:
Algerone Rectangular Dining Table
Bertoia Oval Dining Table By Essential Home
A modern dining table with a capacity for 8 people, Bertoia is a majestic statement piece for any dining room. It is a versatile dining accessory that fits many different styles.
Get the look:
AGRA I and II Dining Tables By Brabbu
Agra is the modest setting of one of the most famous monuments in the world, the Taj Mahal, also known as the marble mausoleum. Just like it, AGRA I Dining Table and AGRA II Dining Table are impressive displays of craftsmanship and elegance. Made of Estremoz marble with polished gold details, these round marble dining tables will add refined grace.
Get the look:
AGRA I Dining Table and AGRA II Dining Table
---
See also: LUXXU Stocklist
---
KOI I Dining Table By Brabbu
Koi carp is a recurring symbol of Japanese culture. Its natural colour mutations reveal their capacity to adapt, just like KOI Dining Table. Featuring a base in brushed brass matte and a top in acrylic, this brass round dining table will add refined elegance to any dining room design.
Get the look:
Plateau I and II Dining Table By Brabbu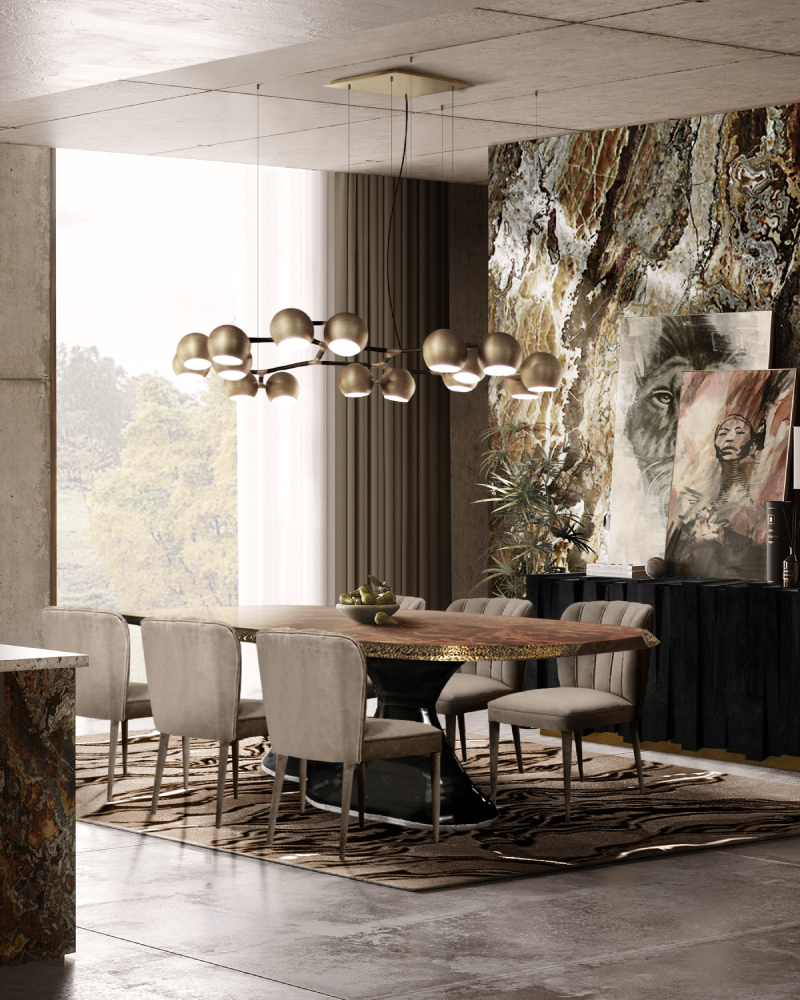 Monument Valley, in Arizona, is one of the greatest icons of the North American West landscape. It inspired the creation of the PLATEAU I Dining Table and PLATEAU II. Both feature a top in walnut root veneer with a matte varnish and details in matte hammered brushed aged brass, adding a special touch. The base is in matte black lacquer, making it an intriguing contemporary rectangular dining table.
Get the look:
Plateau I Dining Table and Plateau II Dining Table
---
See also: Last Call: Products You Will Want In Your Home 
---
Patagon Round Dining Table By Covet Collection
The round dining table culminates the inspiration for the overall Patagonian collection. The interesting and unique foot of the Patagon Dining Table, with little globes representing each archipelago, glacier, landmass, and city in the Patagonian region. A circular Patagonian marble top is the culmination of this homage, while the champagne lacquered foot represents the region's individuality and natural beauty.
Get the look:
Empire Round Dining Table Table By Boca Do Lobo
Great Empires take centuries to build, and those who rise after taking a fall find their true strength. It goes without saying that great decisions are taken around powerful tables among determined minds. The Empire dining table symbolizes generations of gatherings and decisions, both in times of celebration and tension. Its cracks reflect tough times, revealing a gold interior in a manifesto towards power. Flawless and bright, the remaining surface points towards a thriving future, reminding one to toast to prosperity.
Get the look:
Pietra Oval Dining Table By Boca Do Lobo
Playing with function and sculptural form, the Pietra dining table shapes a timeless experience through its classical aura and finest Estremoz white marble. Reminding of the renaissance era, its oval top gently lies in three robust marble columns, each one conceived from solid blocks hand-sculpted and turned to create different details for additional texture. A noble material carved in Boca do Lobo workshops, conceives a soulful statement dining table ideal for elegant and refined dining rooms. Designed for eight seats, the contemporary feel of Pietra is effortlessly stylish and it is suitable for indoor or outdoor use.
Get the look:
---
See also: LUXXU Home Master Catalogue
---
If you enjoyed this article regarding 

Dining Tables That Will Make You Fall In Love

 then make sure to check out our socials to find news, inspirations, and more interior design ideas: Pinterest | Facebook | Instagram.