Design Showrooms in New York are always popping up! Discover here 5 of the best ones that you need to visit.
New York is a city with a great interior design scene. Showrooms, stores, galleries and some of the best tradeshows in the world, as for example the AD Design Show.
If you're going to be in New York City for said event do not miss the chance to visit these incredible showrooms as all the best high-end brands are either on the event or showcasing somewhere around the city! Lighting, furniture, textiles, home accessories, whatever you are looking for you are bound to find a great showroom in New York.
Flair Home Collection

We're starting off the list with Flair, a brand that presents a unique offer of furniture, decor pieces, and gifts. A curated ambiance of selected European and North-American vintage pieces mixed with their own exclusive designs grants this showroom a highly individual style that portrays the brand's image.
Lladró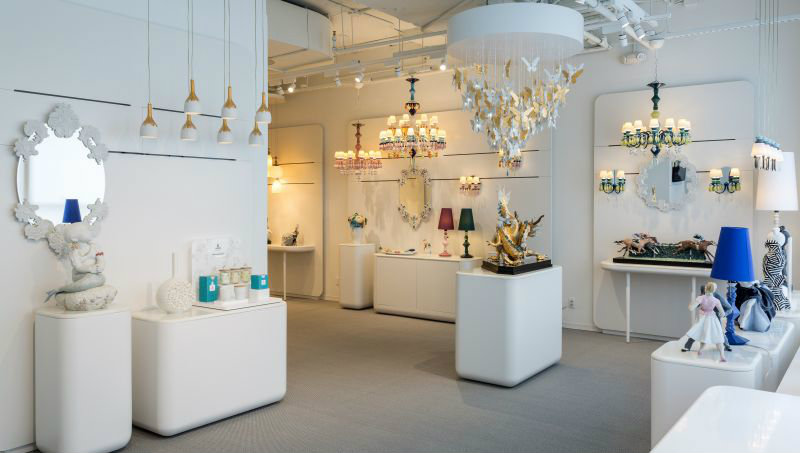 As for Lladró's showroom, which has recently opened at the D&D Building – a building that features over 130 showrooms, it's one of a kind! Featuring their iconic handmade porcelain, which is displayed as if the whole space is a gallery of art.
Ralph Pucci
Ralph Pucci is a luxury furniture and lighting brand based in New York City. It all began in the 1950s as a mannequin producing family business and nowadays is regarded as one of the best showrooms. Nowadays the brand not only has this New York showroom but also one in Miami ad one in L.A.
Minotti

As one of the interior design giants of contemporary furniture design, Minotti is of course represented in New York. The brand designs lighting, furniture, and accessories, with styles ranging from classic to modern, create one of the best design showrooms in New York is an incredible place to find interior design inspiration.
Covet New York
Last but not least we present Covet New York, which is more than a showroom, it's a staged apartment where the best European lighting and furniture brands came together and created a curated luxury apartment! LUXXU has a few pieces in this stunning apartment located right at the heart of New York, on Madison Avenue.
Discover more here.
You Might Also Like
Luxury Designs To See At AD Design Show 2019
Get To Know the Brand New Playboy Club New York
Also, here's all you need to know about New York
3 Designs To See in Covet New York