Create Your Dream Dining Room With LUXXU – Creating your dream dining room with LUXXU is a luxurious experience that will leave you astonished. We are experts in elegant lighting and furnishings, and providers of a wide range of items to make your dining area look glamorous. LUXXU has everything you need to furnish a beautiful dining area, from gorgeous chandeliers to stylish dining tables! Learn how to design your ideal dining area in this article from LUXXU Blog!
---
See also: Stylish Dressing Room Furniture: The Charm Of Modern Design

---
Create Your Dream Dining Room With LUXXU
A Complete Guide On How To Design Your Dining Room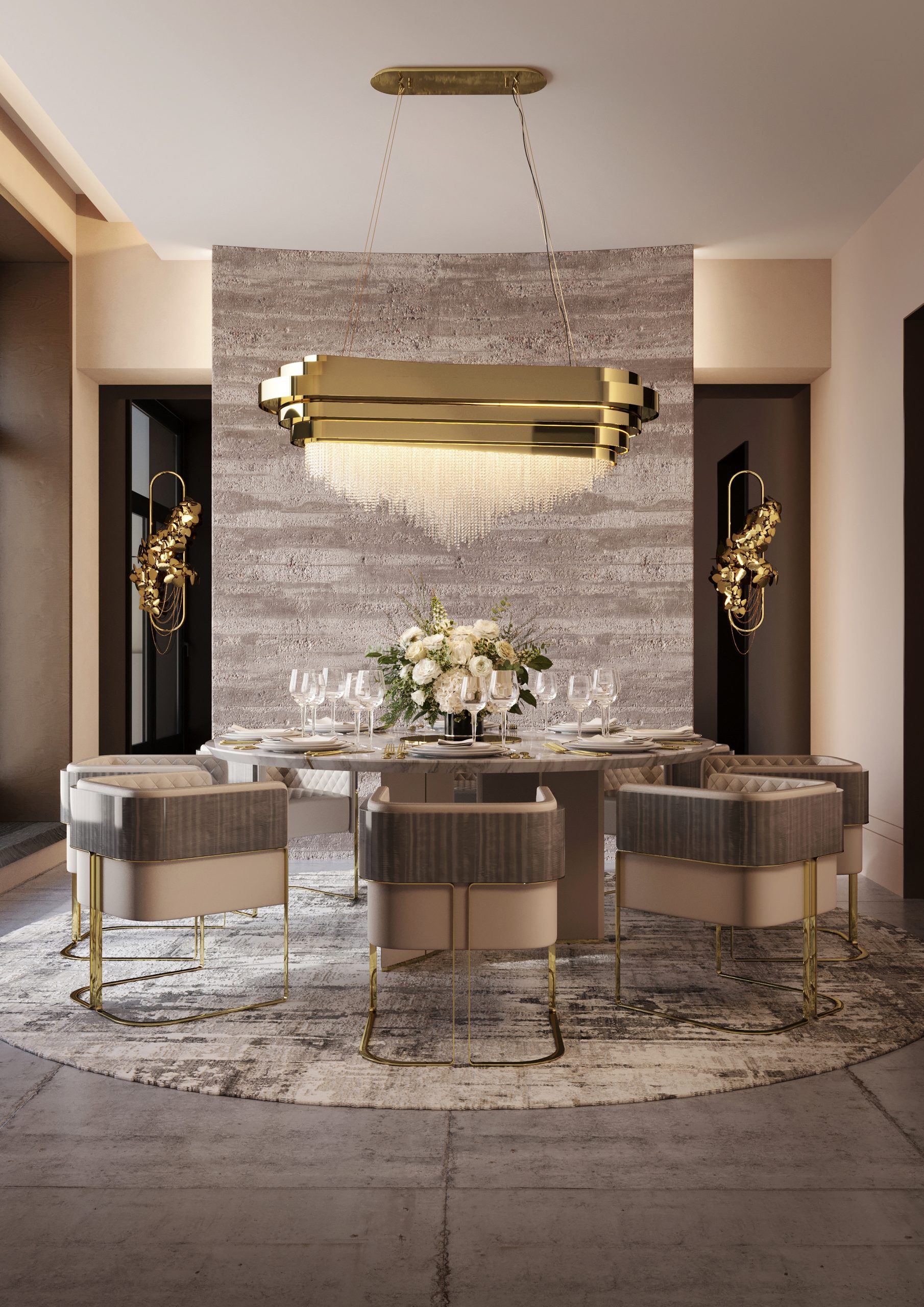 The dining room is the one space in your house where you can truly let your individuality shine when it comes to decorating. Every aspect of the dining room, from the furniture to the lighting, may be changed to represent your individual taste and foster a warm and welcoming ambience.
Get the look: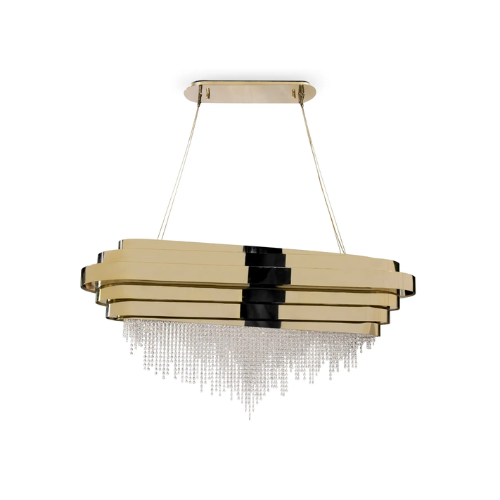 Starting With Furniture And Upholstery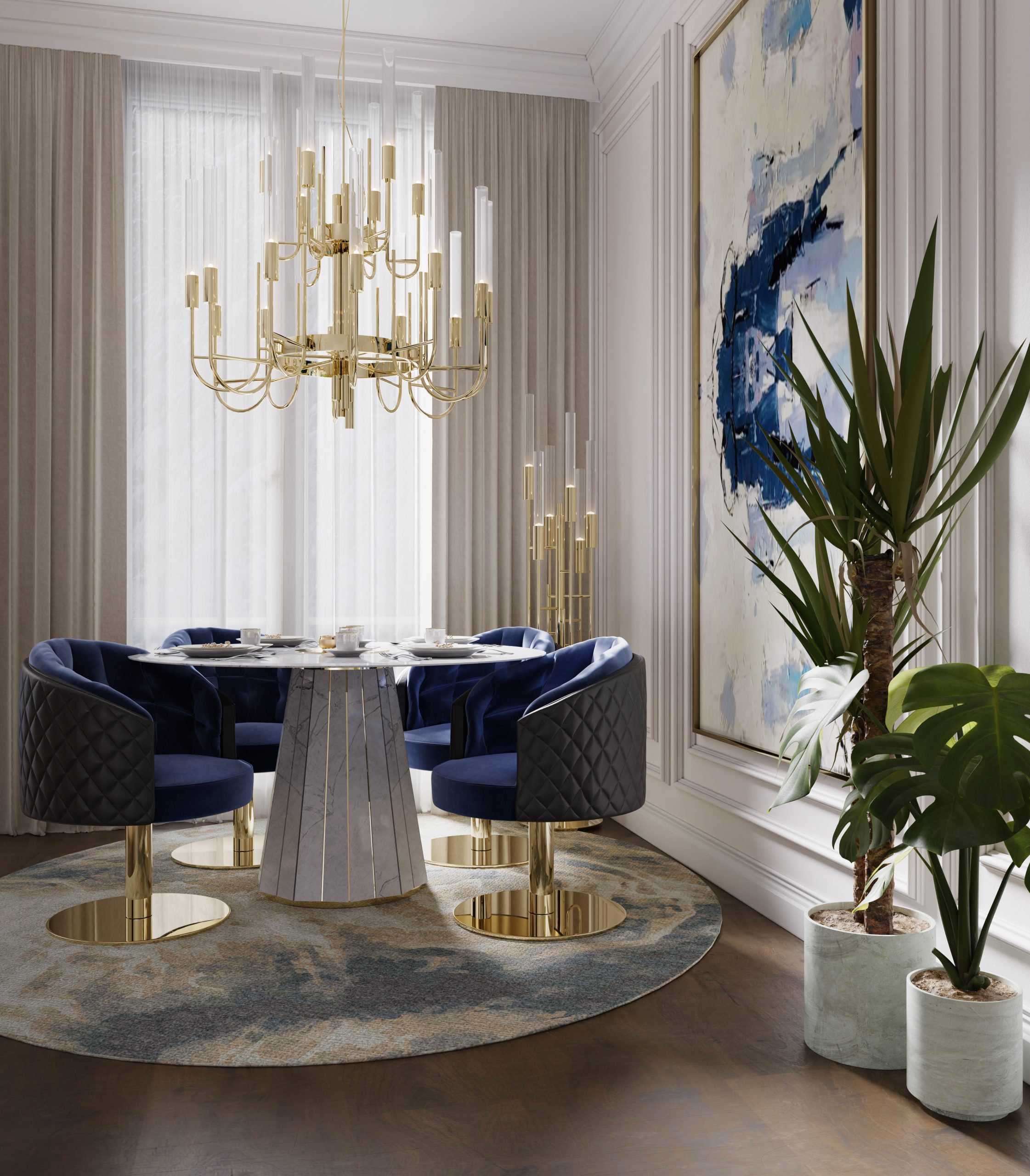 First and foremost, furniture is a crucial component of the dining room's design. It's crucial to select furniture that is both practical and aesthetically beautiful for the dining table and chairs because they set the tone for the entire room. LUXXU provides a selection of furniture alternatives with premium components and tasteful designs. For example, the Darian Dining Table,  a stunning handcrafted round table that is made of round smoked glass placed on top of a wooden structure in black lacquer, can be stylishly paired with the Otto Swivel Dining Chair to create a modern and sophisticated dining area.
Get the look:
Darian Dining Table and Otto Swivel Dining Chair
Another great option when it comes to dining tables and dining chairs comes in the shape of the Algerone Collection. Algerone is an imposing rectangular dining table, inspired by sleek architectural elements. On the other hand, the Algerone dining chair was designed as a neutral element for any sophisticated dining room area, perfect to fit any aesthetic. To complete the look, a sideboard is a great addition to help store your cutlery and tableware.
Get the look:
Algerone Rectangular Dining Table and Nubian Sideboard
---
See also: The Best Cosmopolitan Style
---
Another great storage option is the Darian Sideboard, a furniture piece that draws inspiration from the power of the shield and sphere of protection, as well as the dynamic of its irregular shape. It pairs beautifully with many of LUXXU's products, but the Bellagio Dining Table has proven to be one of the best matches!
Get the look:
Darian Sideboard and Bellagio Dining Table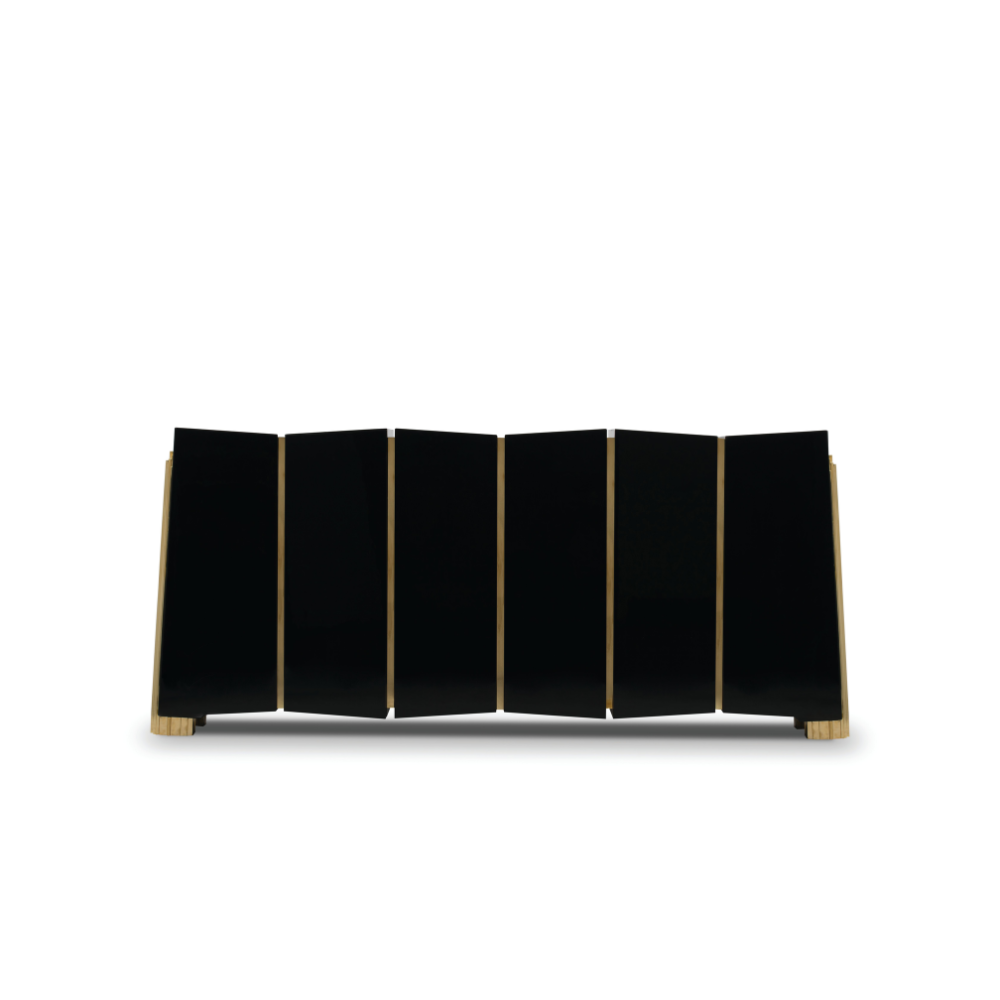 Mirrors may be a wonderful addition to a dining area because they have several uses. First of all, they can reflect light to provide the appearance of a bigger, brighter area, which can be very useful in dining rooms that are small or have little natural light. Second, they can be used as decorative components to enliven and enrich the space. The luxurious Crackle mirror is made of the finest gold-plated brass and smoked black mirror.  Inspired by the opulence of golden nuggets, it can be the perfect component for your room!
Get the look:
Crackle Mirror and Charla Dining Chair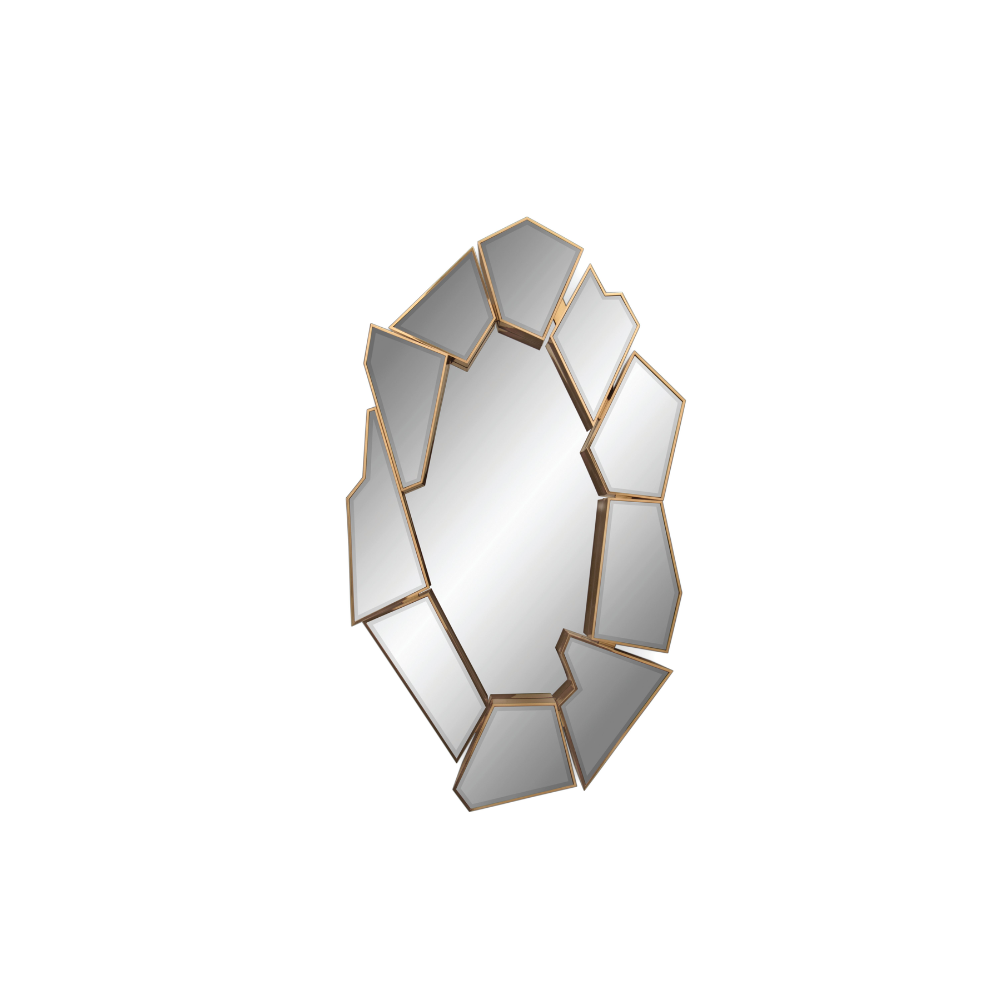 An elegant and useful addition to any dining space is a bar cabinet. Bar cabinets can give a touch of refinement to the area while also providing a place to keep and display your favourite liquors and glassware. With geometric lines and an elegant shape, the Lloyd Bar Cabinet provides not only a classic storage option but an accent piece that will become the focal point of your interiors.
Get the look:
Lloyd Bar Cabinet and Nura Dining Chair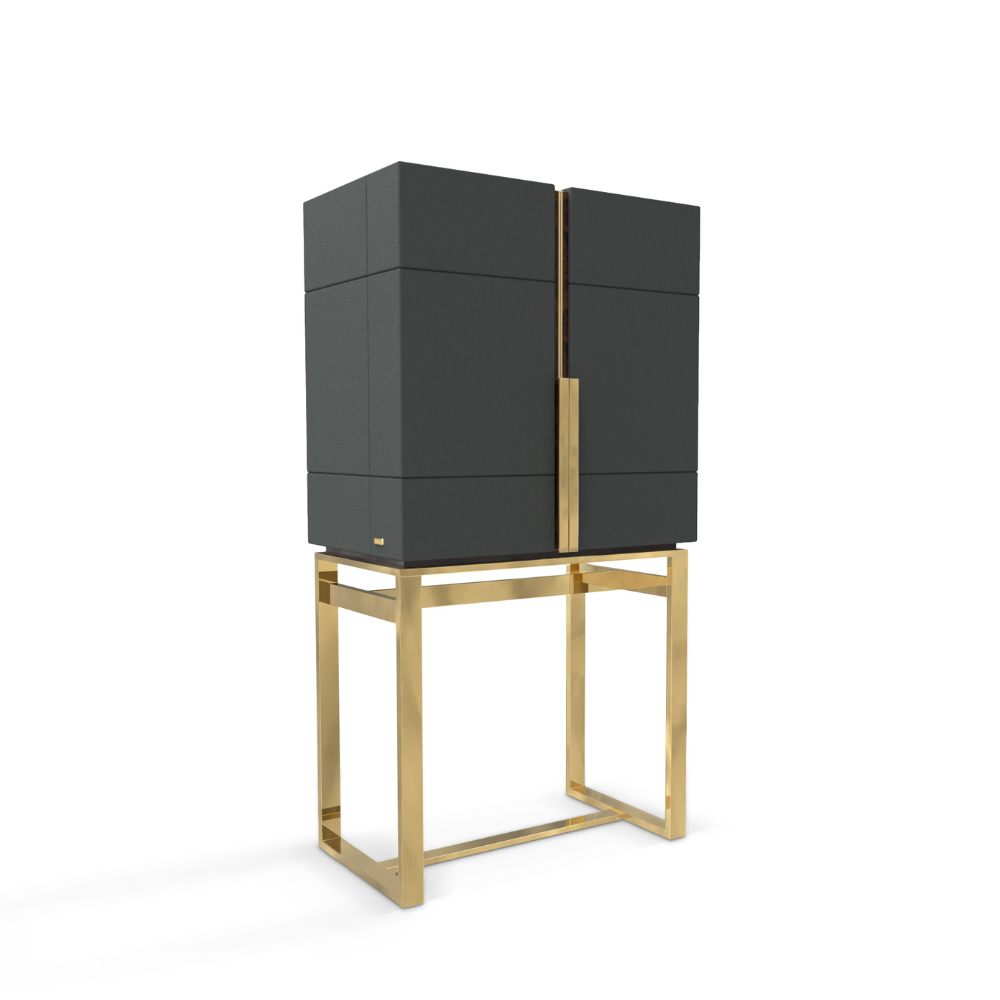 ---
See also: Swivel Chairs: Make A Turn In Your Interior Decor 

---
All Of The Lights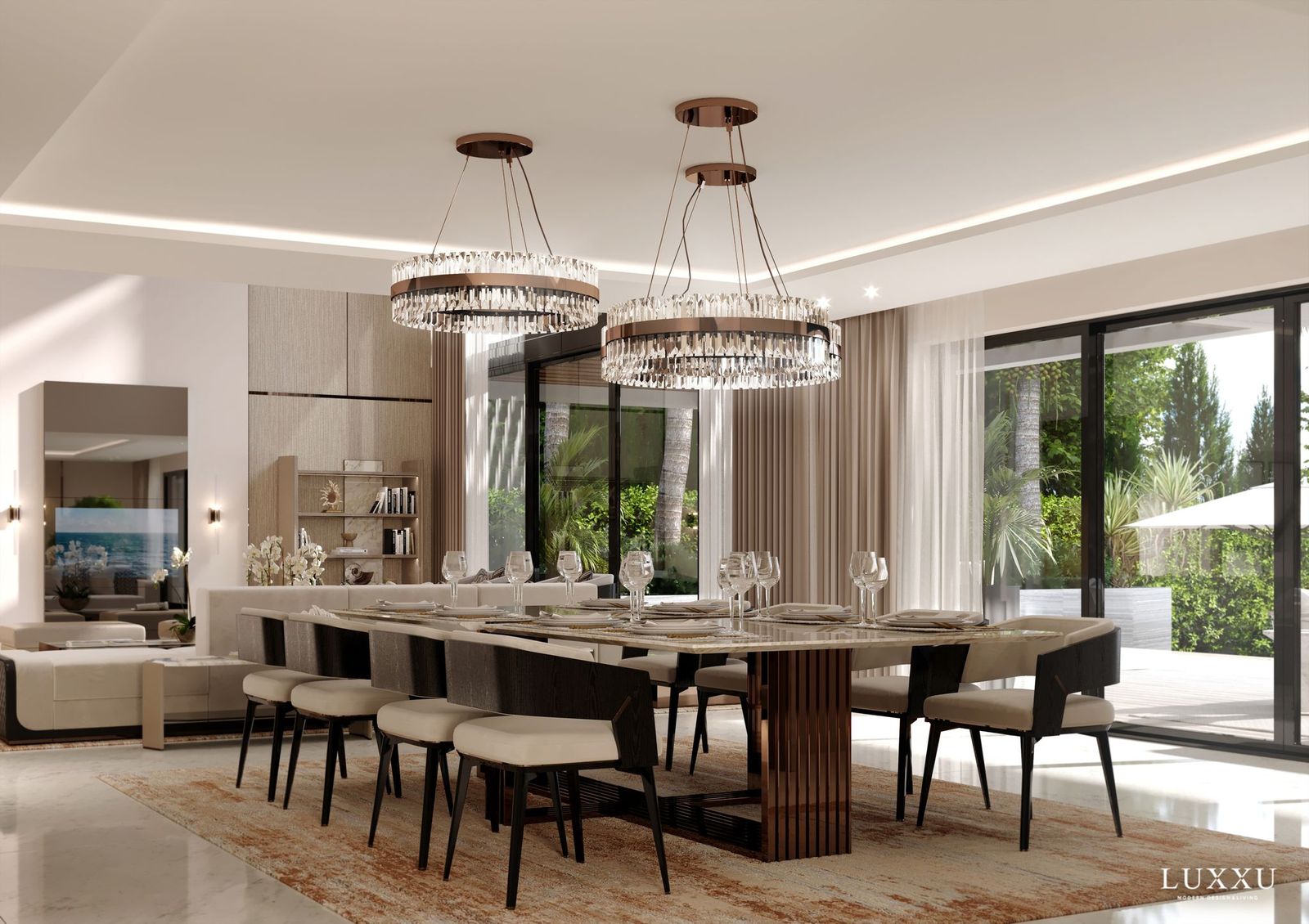 Another essential component of dining room décor is lighting. The right lighting creates a cosy and welcoming environment that helps visitors feel at home. Statement lighting pieces from LUXXU, like chandeliers and pendant lights, can be used as the dining room's focal point and give a touch of glitz to the area.
Get the look:
Liberty Slim Suspension and Galea II Dining Chair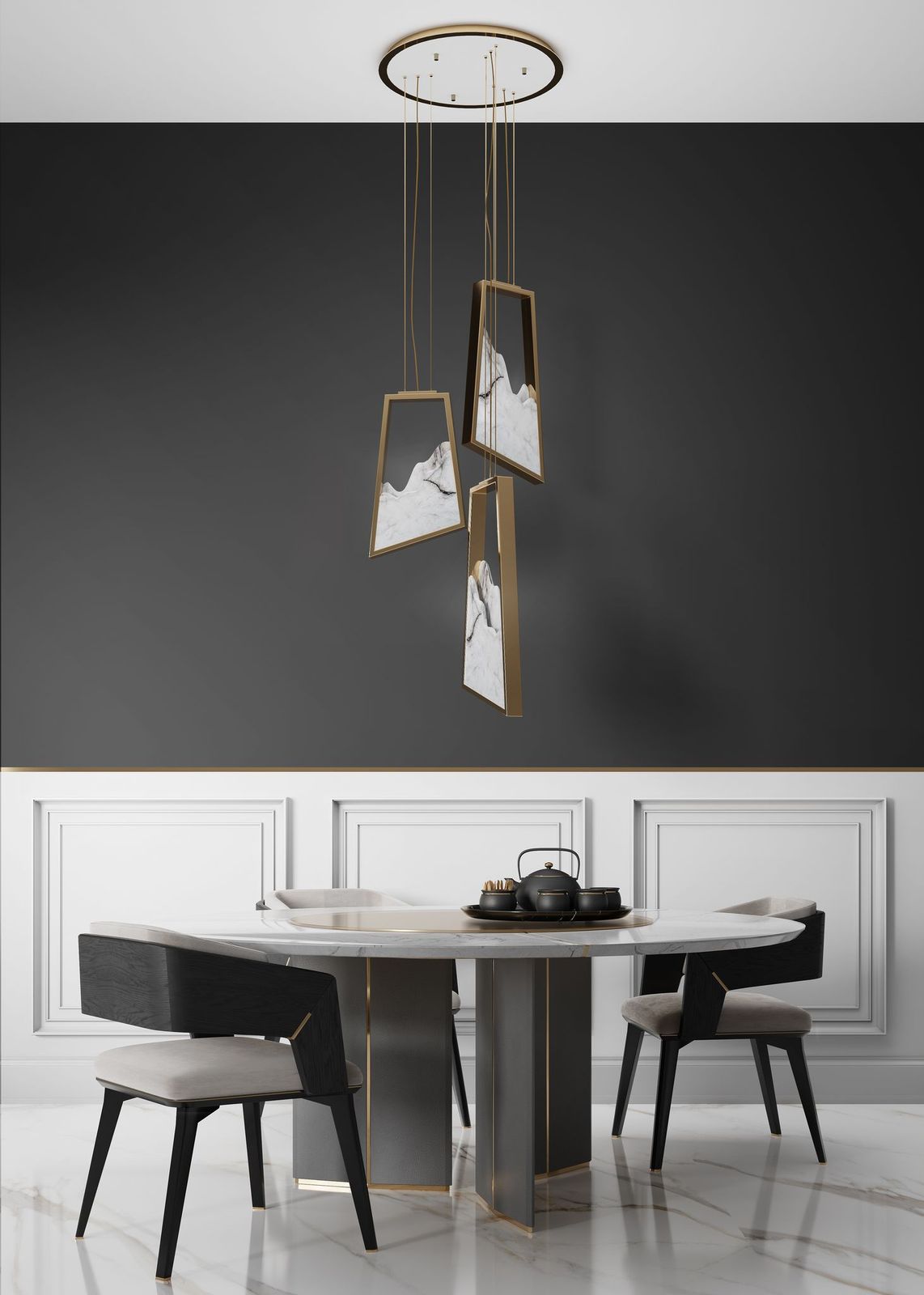 Choosing the right lighting to complement your furniture can be challenging sometimes. If you have an opulent lighting fixture, it's better to opt for furniture with clean lines and neutral colours so both elements don't overwhelm each other. The Magna Suspension is a great option if you want to keep things simple and still have a touch of high-end design in your dining room. Mixing a sleek material like alabaster with glossy outer frames in brass, the result couldn't be any less sophisticated.
Get the look:
Magna Suspension and Algerone Round Dining Table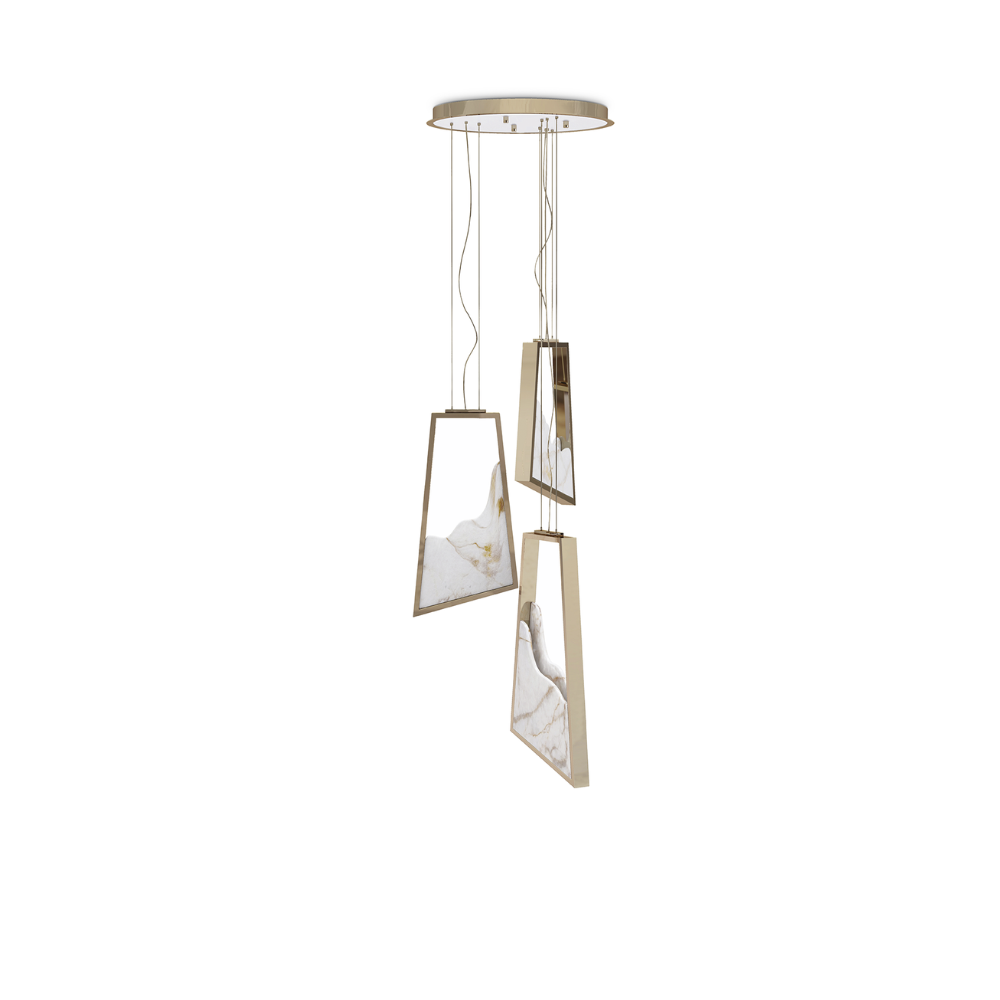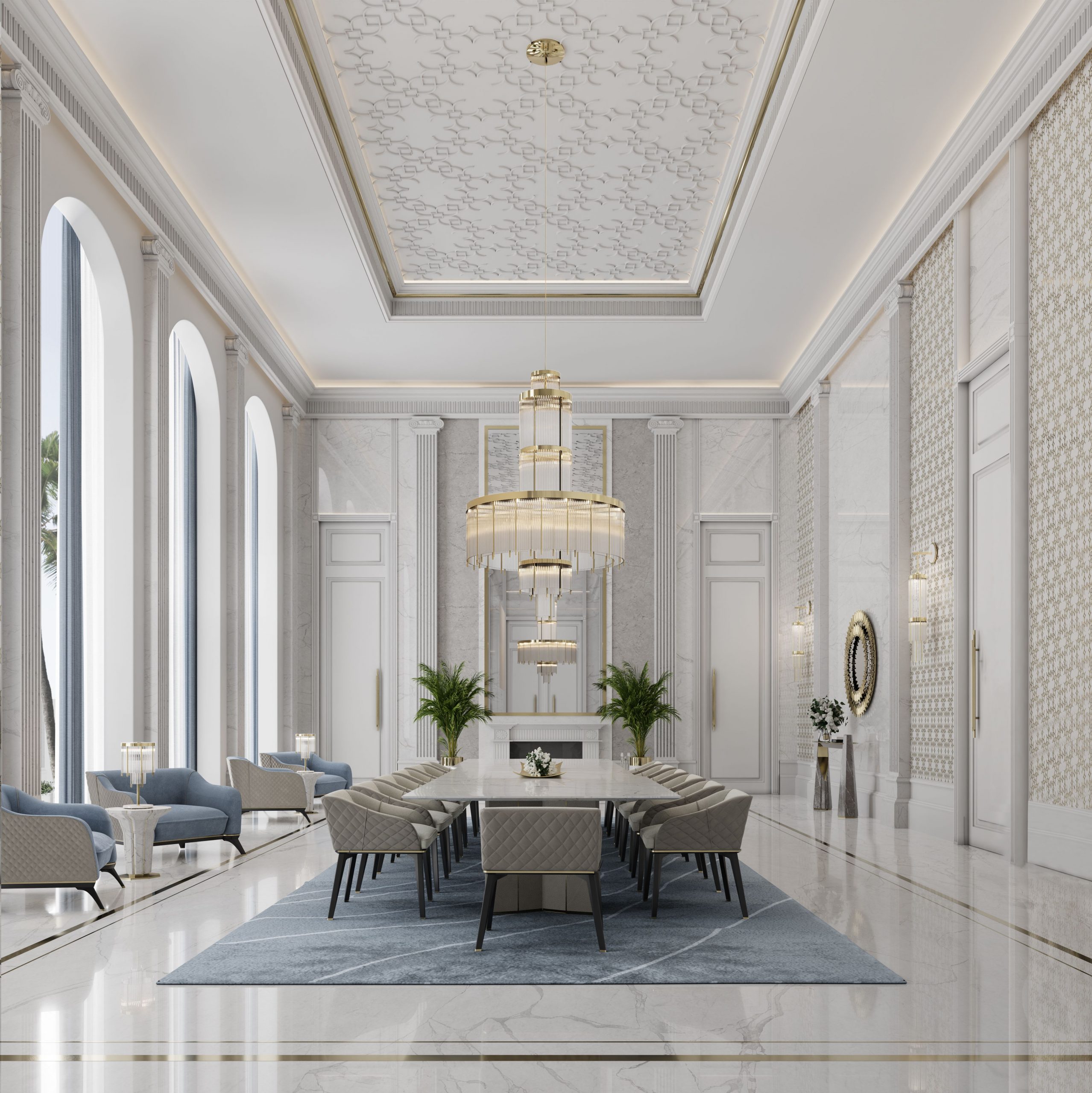 A large chandelier may overpower a small dining room, while a little fixture may look out of place in a larger dining room. It is crucial to take this into account when choosing a lighting fixture. The Pharo Chandelier is the perfect statement piece for a spacious dining room like this one. In addition, you can also opt for table lamps to enhance the glamorous and intimate atmosphere.
Get the look:
Pharo Chandelier and Myllo Console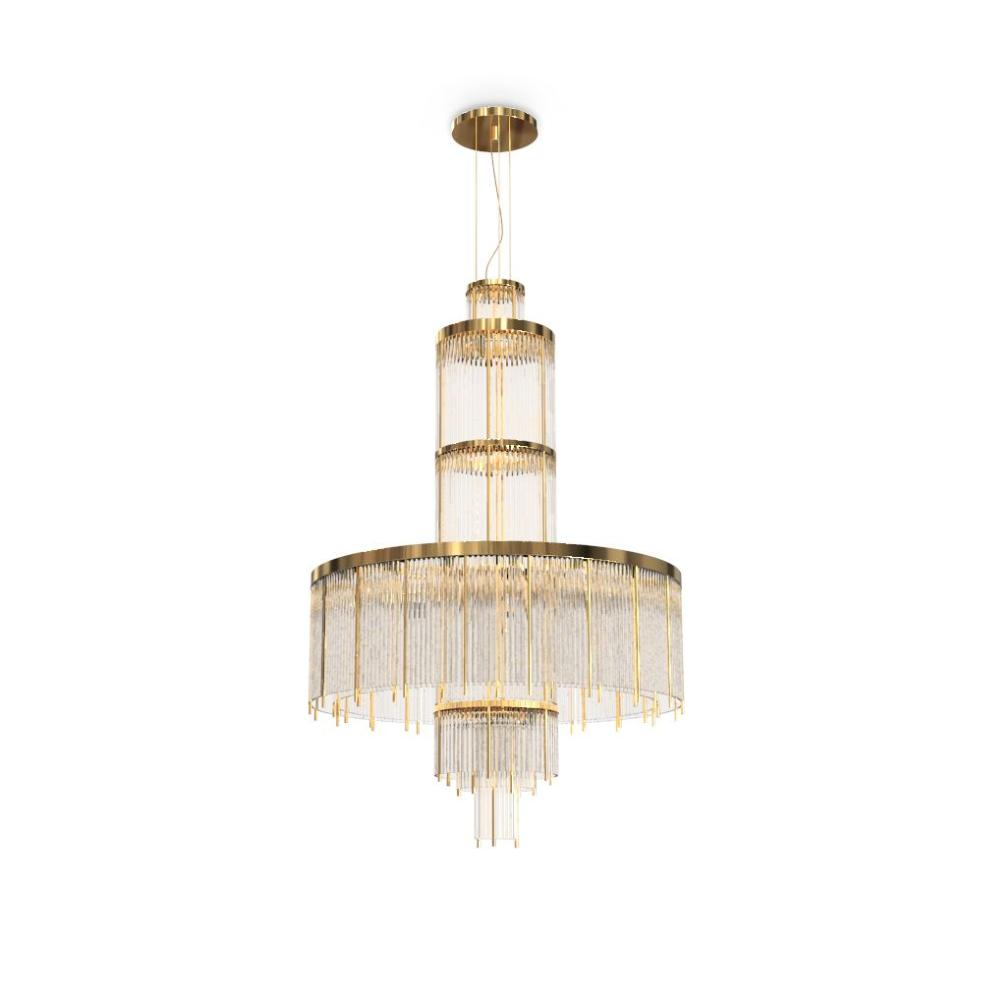 ---
See also: LUXXU Stocklist
---
If you enjoyed this article regarding

Create Your Dream Dining Room With LUXXU

 then make sure to check out our socials to find news, inspirations, and more interior design ideas: Pinterest | Facebook | Instagram.