Consoles – An Accent table that makes the difference⇒ As the famous phrase "importance is in the details", all interior designers look for that finishing touch for any project they are developing. In a luxurious space such as a living room, small areas are open, waiting to be filled with creativity. That's where accent tables come in, be it a console with an extravagant design but that conveys usefulness, or with the sole purpose of bringing glamor to the interior, they are truly the finishing touch of any design. Luxxu selected all of the best Consoles from the entire Collection.
.
The Consoles with the lastest trends in this article
.
.
.
Myllo Console
Starting this collection we have the recent addition to the console family. Inspired by the distinct engineering present in the tallest bridges, Myllo Console functions as a symbol of solitude and innovation. Composed by Marble and Polished Brass it reflects the rawness and perfection of an engineer's masterpiece, fragile as it may appear but solid and firm that promises to hold your breath. It's a statement piece that holds any room's highest expectations.
.
.
Beyond Console
The best handmade techniques find balance in a delicate work in wood softened with touches of brass that reflect warm and golden tones on its polished surface. An impressive display of elegance, Beyond console shows the exquisite capacity to fill a variety of ambiances thanks to its luxury presence.
.
Spear Console
Through the imposing, sharp pen the Spear console was designed. The diversity of its materials from brass, wood, leather, and marble result in a console with straight lines. From Ancient Rome comes its inspiration, bringing a timeless design to this art piece. A symbiosis of toughness and elegance, perfect to bring an environment to its most luxurious ambiance.
"Everything we create, we believe in redesigning your definition of art"
.
Apotheosis Console
A hymn to sophistication and design, the Apotheosis console creates a strong presence that will revolutionize the looks of any project. Its straight lines make for a glorious construction, embodying the spirit of exclusive design.
A daring and elegant balance between marble, lacquer, and brass lines
.
Suspicion Console
The zenith between elegance and balance, the Suspicion console is daringly sculpted in stone and fills any room with lavishing luxury. This console is the epitome of intricate equilibrium, joining marble with fine brass lines.
.
.
Scarp Console
When a rebel meets nature it creates nothing but an uncontrollable force. Scarp Console's insurgent gold plated brass legs and Nero Marquina marble brings out the strongest presence in modern projects.
The powerful strength of this console leaps any room into a deep sense of robustly dynamic.
.
< ?php get_footer(); ?>
.
Vertigo Console
Prove to be impressive through its conspicuous and elegant lines, this prodigious console has a striking dynamic pose. In either modern or classic entrance halls, the shimmering line in gold plated brass merges in any living room decoration in Nero Marquina marble finish. A fascinating and exclusive console that exhales luxury and a cohesive style.
Agra is the modest setting of one of the most famous monuments in the world, Taj Mahal, also known as the marble mausoleum.
Dolmens are ancient stone monuments from the Neolithic period. These unique structures were the inspiration behind the ARDARA Console Table. With a finish in gold leaf with a gloss varnish, this console table will give a unique twist to any interior design.
Linked by a bridge, Bastei is one of the most famous rock formations in Germany. To honour such outstanding beauty, our designers created BASTEI Console Table. With a tabletop in glossy walnut root veneer and a base in glossy gold leaf, this modern console table will steal all the attention in a modern interior design.

This contemporary console is masterfully covered by white and blue Azulejos, the traditional hand-painted tiles, one of the most representative art forms of Portuguese culture. Its organic feature is achieved through the manual fitting of the polished brass sheet, freshly cracked to show a rich golden interior.
Trinity Console Table features remarkable detailing and style. Its beautiful lines make it appropriate in any modern home decor and in any room setting. This console table is versatile and can also be used as a valet or entrance piece. It offers you a distinct style and presence with a luxurious soul, are you ready to embrace it?
A demonstration of both imagination and strong design skills, combined with exceptional craftsmanship, the Monochrome console is a remarkable piece that stands out in any room or setting. It expresses a leading edge outlook though it's distinct shape and color. Available in purple and electric blue, the Monochrome transmits attitude and spine.
Metropolis console raises the level and expands the limits of design with a base of elegant composition and gracious lines. This exquisite table was designed to add a note of distinctive charm to a living room or a wide hall. Its base is handcrafted from mahogany and the top is framed in particleboard, which gives the black high gloss lacquer its texture appearance. There are four drawers with delicate brass handles. Metropolis is a modern console table available in either black or gold.
Defying laws of physics, this futuristic piece of furniture has been designed by taking inspiration from its elder brother – Newton's dining table. Newton Console is a standout piece of international desire that distinguishes itself from all the other designs by its futuristic forms.
Marble Console, Mathieu Lehanneur
This modern furniture piece was specially designed for AD Intérieurs 2017
Console Tambour, Pool

Hammered & coppered metal tube, black lacquered metal.
Thalie Console, Joris Poggioli for Youth Editions

A limited-edition of 12 marble console tables, numbered in the series and signed
Acid Marble Console, Lee Broom
Layer of white Carrara marble, black Nero Marquina marble, and acid yellow tinted glass are sandwiched together to form this modern, sculptural console table.
Roxbury Console, Kelly Wearstler
Cast in solid resin and featuring a hand-troweled plaster finish. This minimal console table creating a beautiful modulation of geometry and color in space.
Collision Console, Lara Bohinc for Lapicida

Inspired by the planets and their orbital movements, a recurrent theme in Lara Bohinc's work. Disc shapes bisect or overlay to create surface patterns and structural elements.
Reaching Console, Brian Thoreen for Galerie Patrick Parrish
Designed by Brian Thoreen, made of bronze glass and cast bronze.
GreenApple Castelo Console Table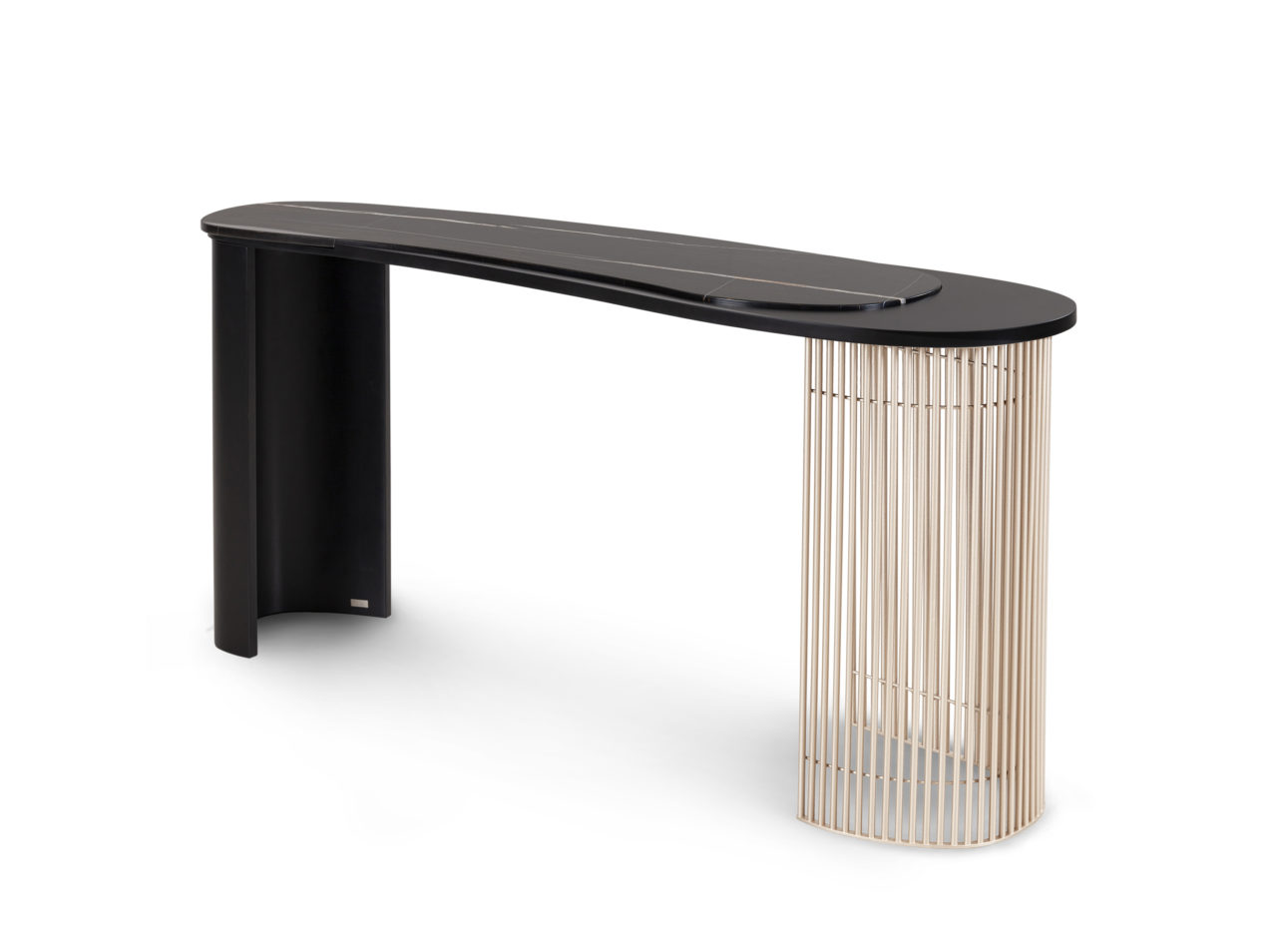 Castelo's console table sinuous and harmonious lines sculpted in Sahara Noir marble bring elegance to any room in which it's placed.
Jonathan Adler
The Torino Console Table features back-painted glass panes treated to bold brass edges for extra shine. 
taylor llorente furniture
A high end differentiated designer geometric console table with top in high gloss 'makore' mahogany and with geometric gold frame base in light gold chrome finished stainless steel.
⇒ Check our article  Empire your Home – Decorate like Royalty⇐
.
If you enjoyed this article regarding Consoles – An Accent table that makes the difference then make sure to check out our socials to find news, inspirations, and more interior design trends and ideas: Pinterest | Facebook | Instagram.