Closet Décor – Dress In Excellence => Dress to impress but in excellence, that is the main goal when you step onto your dressing area. Luxury and style must go hand-in-hand when you are decorating this part of the house and you should leave no table unturned if you wish to look good and feel like a million dollars. For today´s article Luxxu Blog brings you some masterful tips for you to uplift your closet decor, dress in style, and add astonishing luxury to your inspiring interiors.
See also: The Apotheosis Collection – Revolutionize Your Furniture Design

Let Your Closet Take Center Stage
This comes as no surprise, but your closet should be the center of attention and your primary focus when you design your dressing area. Luxury is just as important as functionality when it comes to your closet, and a versatile piece that offers you a multitude of storage solutions is just what you will need in order to make the most out of this space. The Waltz Closet offers you elegance and versatility allowing you different module combinations to better fit into your space.
Get The Look
See also: Prisma Ottoman
Make Your Outfit Shine In Excellence
Every place in the house needs great lighting, but for your dressing area, a powerful and statement lighting piece will do marvelous things. For this space, in particular, high-quality suspension lighting can be your biggest ally, and a sophisticated design will be an extremely appropriate option to bring style as you dress in the most stunning fashion. The Pharo Snooker Suspension is an inspiring and classy piece with gorgeous crystal glass and gold plated brass so nothing but luxury enlightens your interior design.
Look As Good As Your Upholstery
Although it is not absolutely necessary, adding refined upholstery with high-end furnishings is a perfect way to convey luxury and transmit a more holistic style. Combine different types of pieces that can provide you with multiple elements and turn this space into a little more dynamic area. For comfort and appeal the Charla Two Seat Chair is a splendid object of boundless elegance with an opulent touch that can look amazing with the mesmerizing aesthetics of the Prisma Stool to subtlely uplift your ambiance and be on pair with the fabulous outfit you choose.
Get The Look
See also: McQueen Globe Suspension
Never Leave Without Checking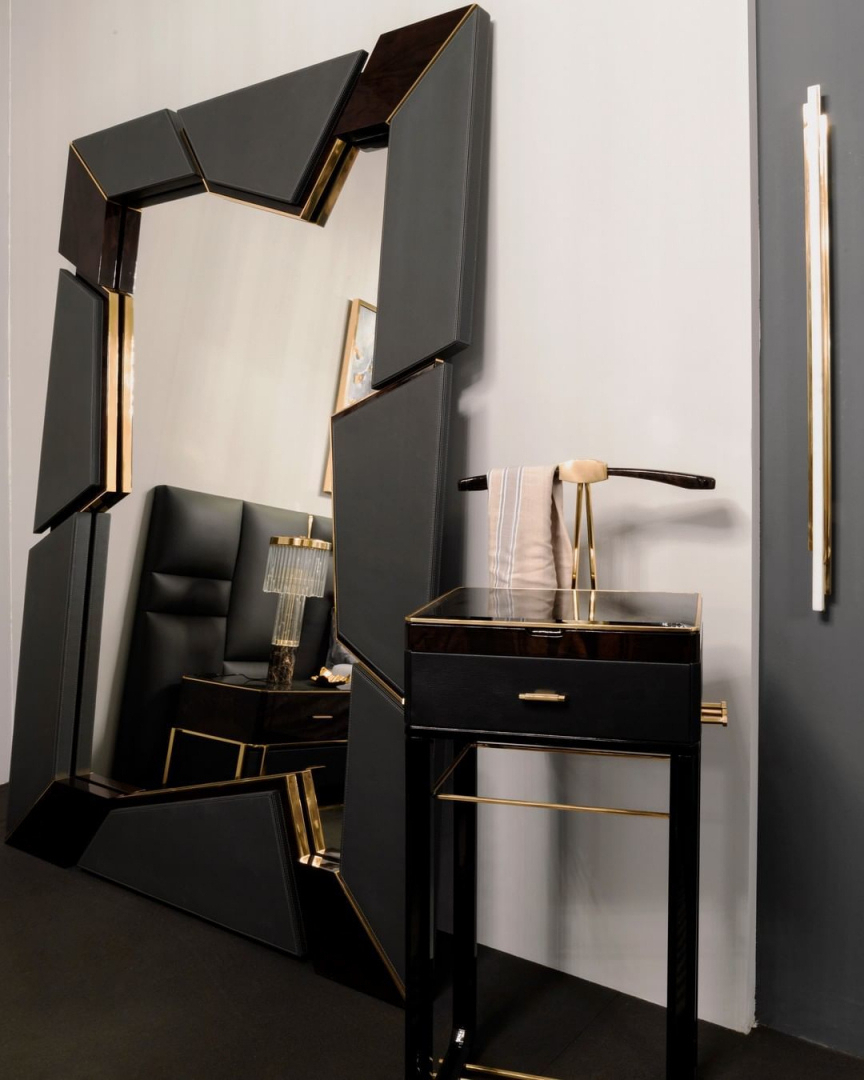 Last but not least, as soon as you try the perfect outfit you will need to check yourself out before you leave. Make sure you are showcasing the most eye-catching style you can possibly display with Luxxu´s Athos Mirror a modern piece beautifully crafted with a leather and brass frame ideal to be placed in your walk-in closet as you walk out in style.
See also: Luxury Interior Design – The Most Exquisite Console Selection
If you enjoyed this article regarding Closet Décor – Dress In Excellence then make sure to check out our socials to find news, inspirations, and more interior design ideas: Pinterest | Facebook | Instagram.