There's a lot to learn from the French, especially when it comes to design. Take a look at these chic interiors in Paris!
Paris is a breath-taking city, a place where each street tells a story, each building, and each café make us dream of a Parisian lifestyle and what is like to live there. And the best part of these dreamy building are the interiors, as the French are known for an exquisite interior design taste.
With one of the main interior design events, Maison et Objet, happening later this month in Paris, we took this opportunity to share with you some inspiring and impossibly chic Parisian interiors we are loving.
This Paris apartment owned by designer Christopher Noto is the perfect example of how well elements from different sources look together and still look chic and classic. In his apartment, Nolo mixed Asian furniture, Louis XV- style furniture and antique paintings.
This library in a Parisian apartment as the living room above is a mix of many elements from different times and cultures and it looks as French as it gets!
Andrew Gn home in Paris is a chic retreat to hide out from the city's busy life. Soothing colors and nature-inspired details ensure that this apartment is very relaxing.
This incredible living room and the rest of the apartment wwas designed by the famous Jean-Louis Deniot. A classic parisian look if you ask us that mixed old with new.
Tips on how to decorate as a French:  Best French Interior Design Rules You Should Follow
A very bold home in Paris of São Paulo based designer. This room and the entire house is a mix of styles and colors with a final result of a glamorous setting.
You can see the Eiffel Tower from the windows of this amazing Paris apartment, and you can catch a glimpse of as if it was in your own yard from the amazing tiled bathroom.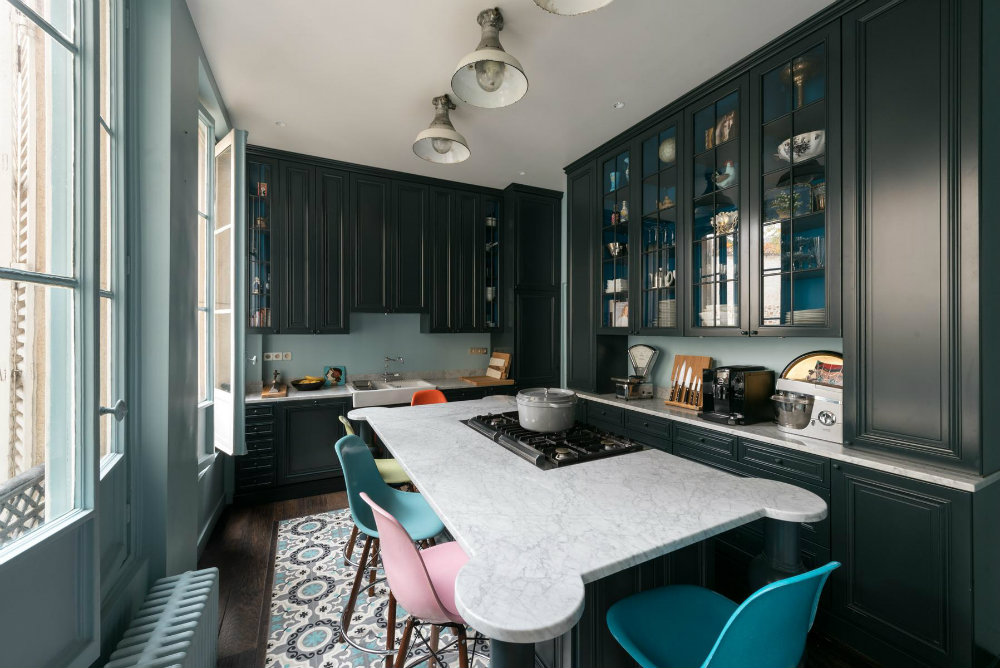 Small kitchens are very common in Paris, however, they can still be chic! Pops of color and unique elements can really make a difference.
source: elledecor.com
You might also like: 5 Parisian Interior Designers You Need To Know