Bedroom Inspirations: Reflect your style and match your home décor⇒ The bedroom is an intimate space that should reflect your style and still match your home décor. In today's article, we have gathered a series of bedroom products that were curated by our modern design brand, LUXXU. Take a look at a series of inspirations that will certainly give you an idea on how you can modernize and upgrade your bedroom decoration, and ultimately create the perfect bedroom design!
An elegant and luxurious bed marks the main point of any bedroom, and even more so if it is comfortable. The Charla XL Bed is perfect, with a stunning combination of soft colors, almost like a kingdom in shades of beige. This magnifique design becomes the focal point of your bedroom design. Made with leather and impeccable craftsmanship, this larger-than-life bed design becomes an impressive statement with luxury details.
Chaise Longues have long been associated with luxury design and opulent master bedrooms. The Charla Chaise Longue takes on the Charla lines and brings a modern twist to these timeless furnishings. Upholstered in leather, the high-end modern chaise longue is the ultimate expression of luxury, comfort and elegance.
See Also : Luxxu's Best Sellers 2020
Honouring a refined and unmistakable character that seduces by the beauty of its contrasts, The Waltz Nightstand was born. Transpiring elegance, sobriety and decisiveness,the high material quality dismisses the ordinary to create exclusive and versatile solutions.
The Waltz Closet is an elegant modular clothing storage solution. Waltz is the ideal closet for a luxury master bedroom offering a full customizable organization system featuring shelves, rods and drawers. The Waltz is a modular piece, allowing different module combinations to better fit into your space.
⇒ Check our article and discover The Best Interior Design Showrooms In St Petersburg⇐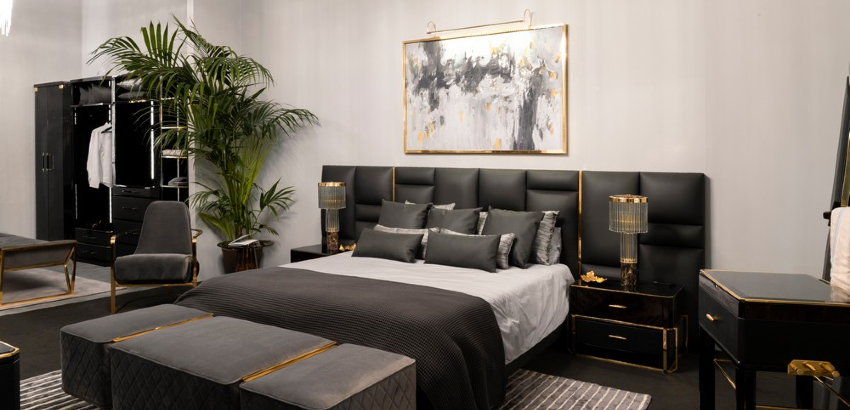 The stately Château bed is undoubtedly a scene-stealer inspired by the walls of French castles, and this is the main reason why it features such a magnificent modern headboard in leather and with gold-plated brass bars.
See Also: Modern Wallpaper Ideas For A Contemporary Bedroom Design
A highly stylish Ottoman with a smooth and elegant shape. Made with grey velvet and with polished brass legs, this upholstered beauty will bring an attractive presence to any room, hotel suite or master bedroom.
See also: 26 Modern Nightstands for a Luxury Bedroom
In this article : " Bedroom Inspirations: Reflect your style and match your home décor " are just a few bedroom design inspirations if you want to see more interior design ideas feel free to follow our socials: Pinterest | Facebook | Instagram