Bedroom Ambiences with Luxury Design Brands => In today's article, we have gathered a series of bedroom ambiance that was curated by some of the best modern design brands, from LUXXU to Boca do Lobo and Brabbu, among others. Covet Group provides everything a designer needs from sumptuous furnishings and upholsteries to exquisite lighting designs, and even home offices. Take a look at a series of inspirations that will certainly give you an idea of how you can modernize and upgrade your bedroom decoration, and ultimately create the perfect bedroom design!
Bedroom Ambiences with Luxury Design Brands
An art nouveau-inspired room with modern luxury furniture, though carefully to become a temple of relaxation. Curated with pieces from delightful and Brabbu, this is truly a trip to another era, with contemporary design.
Sophia bed is without a doubt one of the most amazing pieces in Essential Home's collection, with its structure beautifully upholstered in velvet. The perfect piece for this mid-century bedroom.
A grey-toned bedroom for a sophisticated rest, with Luxxu's chateau bed that blends perfectly with the same-colored rug by rug society. With Small touches of gold for a luxury feel, this room is the ultimate escape from reality.
bedroom ambiences
⇒ Related Article: Bedroom Design – Luxury Bedroom Décor Ideas You Can't-Miss⇐
The IMPERIAL SNAKE Rug by rug society has the magic of the serpent and the touch of the best craftsman and design in the upholstery world!
Organic design with luxury in mind: HUANG Sideboard from Brabbu with Kesya drawer handles by Pullcast, the perfect duo for a rustic vibe.
bedroom ambiences
TEENAGE BEDROOM
to encourage the teen's passion for creativity and art, LUXXU helped curate the room with some modern pieces of art that complement the classic yet modern furniture pieces. The custom Château Bed leads the way of the sleeping area.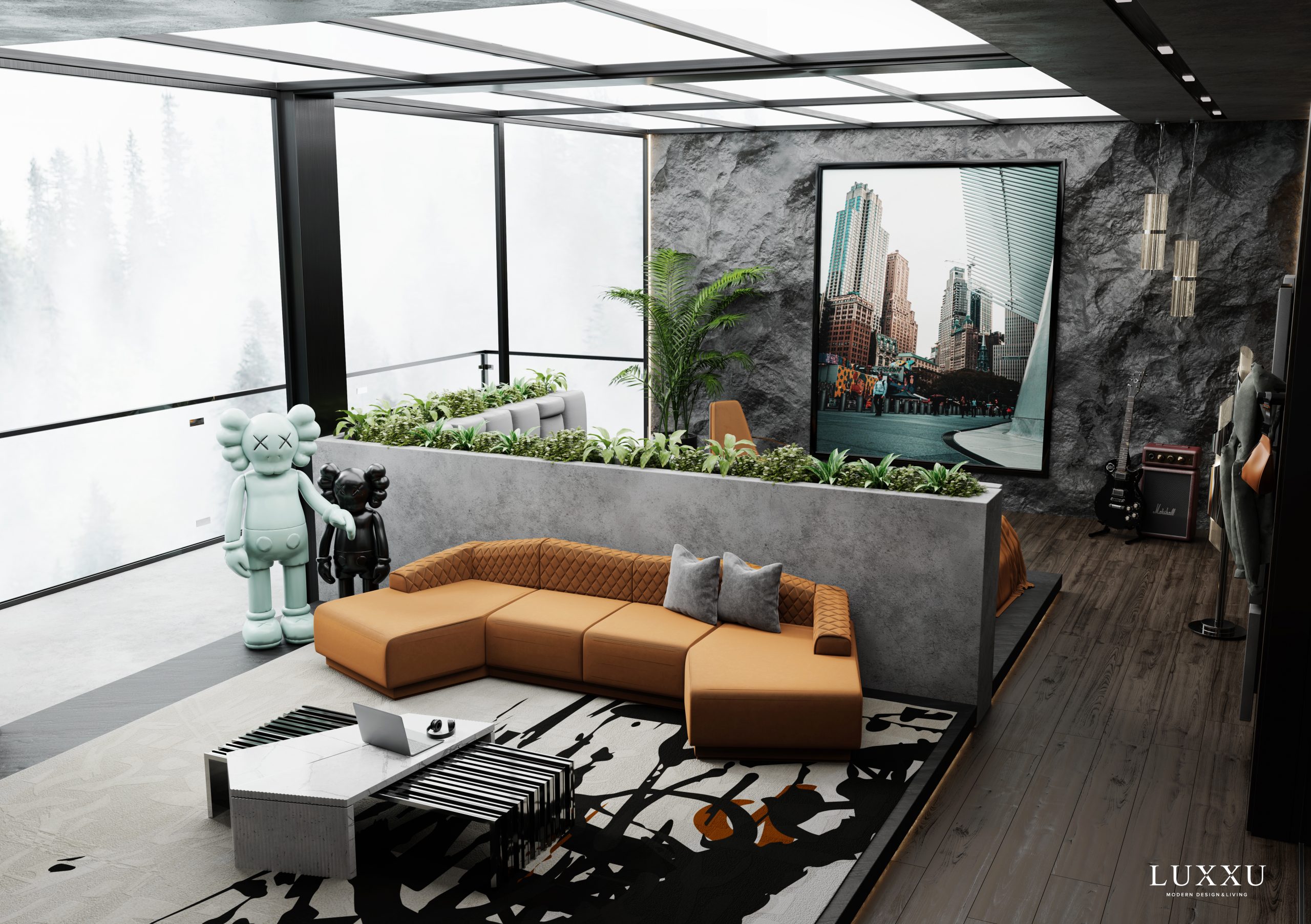 A teenage bedroom with two pop-styled sculptures makes it more playful whereas the Anguis sofa, the Mayer center table, and an ultra-modern graphic rug offer an extra layer of sophistication in a cool fashion. The innovative Darian TV cabinet rounds up this sublime entertainment area.
bedroom ambiences
The Ocadia armchair BY LUXXU, makes this space even more intriguing. Lastly, a guitar and a giant city painting provide a more personal character suitable for the client's taste.
< ?php get_footer(); ?>
KIDS BEDROOM
Add some sweet inspiration and modern design with Circu's adorable BubbleGum Collection!
Inspired by the sweetness and colorful colors of kids' favorite candies this collection will help you to create a wonderland kids' room.
See also: Château Bed
NODO Suspension Chair by Circu will give you the comfort you never thought you needed. With its velvet upholstery and stainless steel, this whimsical hanging chair will add to your home just the right amount of style and elegance.
The Sky One Plane is an airplane-themed kids' bed with a playful design that it's both didactic and fun. An airplane-inspired decoration for kids' rooms is perfect to encourage the little explorers to develop their creativity.
Inspired by Alice in Wonderland each corner of this room was designed to create a unique environment where children can live all the time in a world full of wonders where everything is possible and imagination is the key.
bedroom ambiences
OFFICE INSPIRATION
.
Now more than ever, master bedrooms often come with offices and walk-in closets! Decorate your office with the most stunning elements possible. Kerma is an authentic and stunning choice, made by Pullcast! Inspired in the wisdom, longevity, and persistence reflected in Kermandie Queen, the tallest tree in Australia. This middle size door pull is authentic in its forms and presents a unique character in its textures.
LUXURY BATHROOM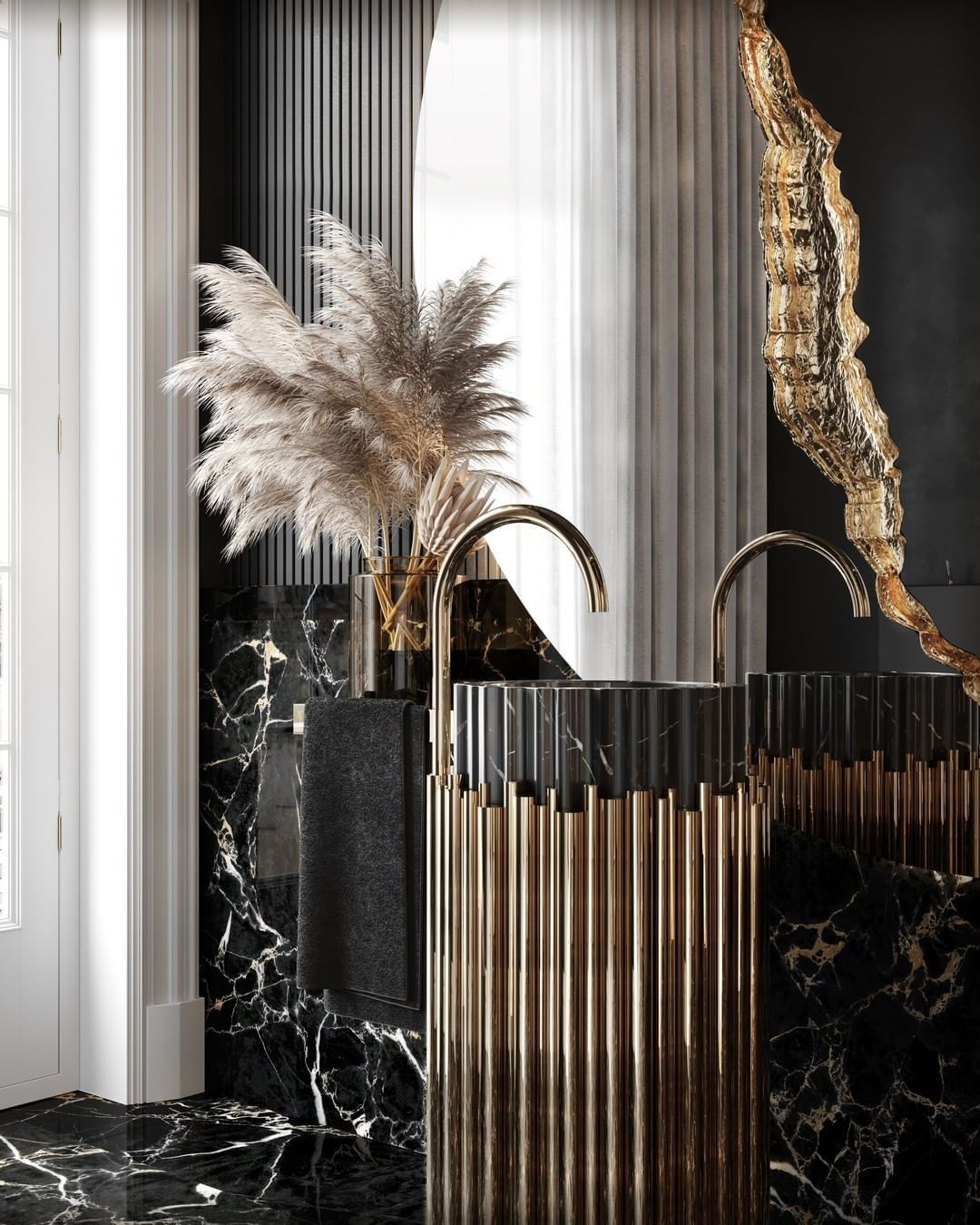 The combination of gold and black looks remarkable in any bathroom. Dark interiors not only look sophisticated, but they also distance themselves from the outside world, creating a sense of retreat and hideaway. Discover more ambiances like this with Maison Valentina, Perfect to relax!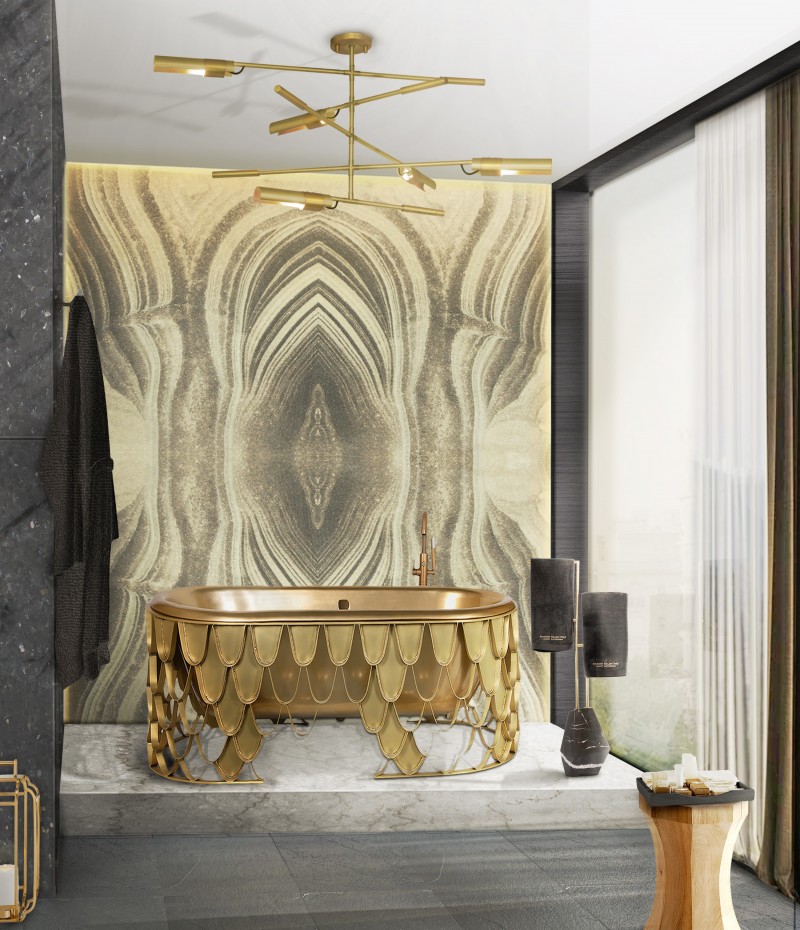 Koi Bathtub features an aged brushed brass base resembling the scales pattern of the Japanese Koi fish. It has an oval shape and a curved lip that's the perfect resting spot for your head!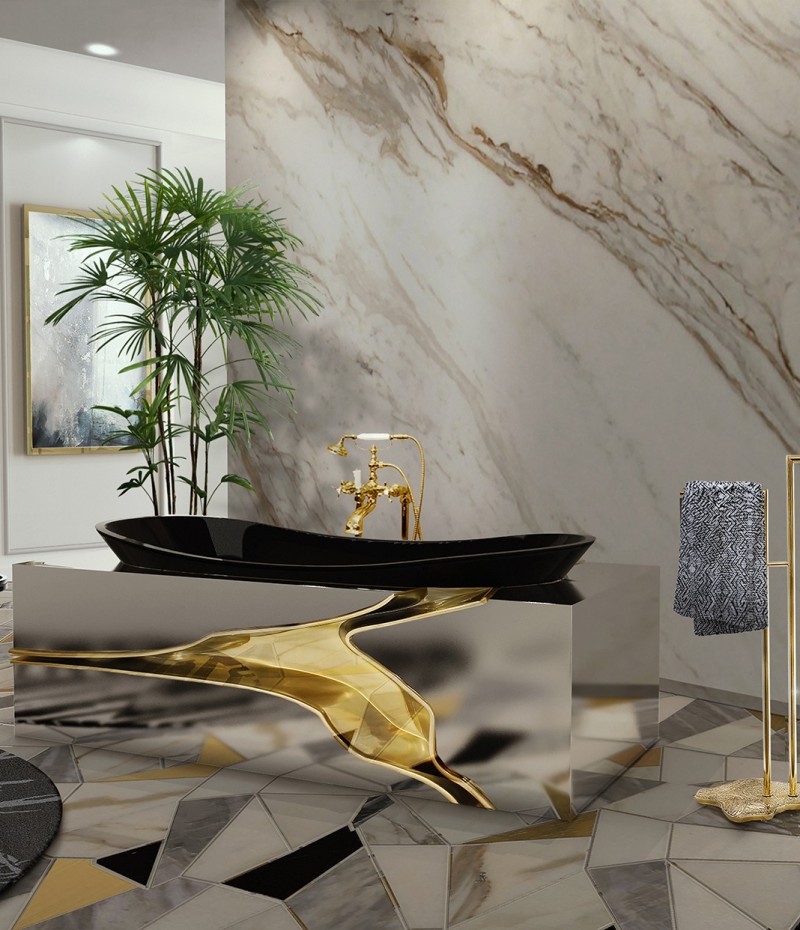 An upscale look with Lapiaz Bathtub to let your furniture pieces reflect your personality. A bathtub is full of glam, for a well-deserved spa time. Discover more with Maison Valentina.
Featuring the Symphony Freestanding by Maison Valentina, this bathroom is the ultimate chic interior design project! And looks wonderful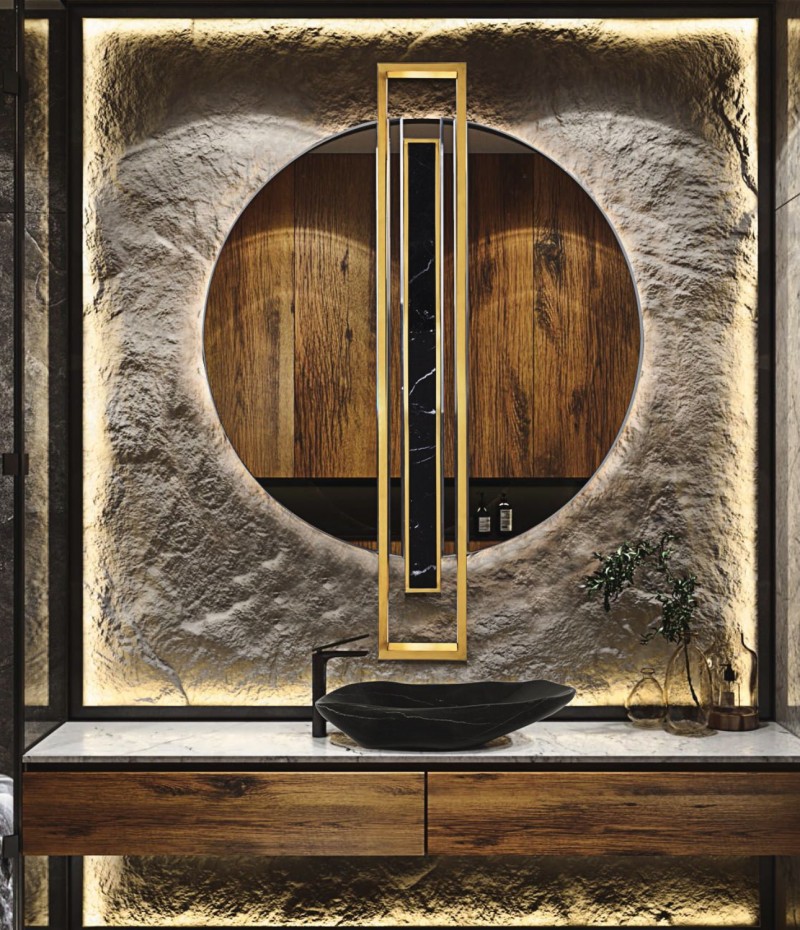 The Lapiaz Marble Vessel Sink is the subtle highlight of this interior with its irregular shape and soft veins. Shield is a round mirror made entirely from the mirror, polished brass, and a Nero Marquina marble bar. The perfect combo, by Maison Valentina.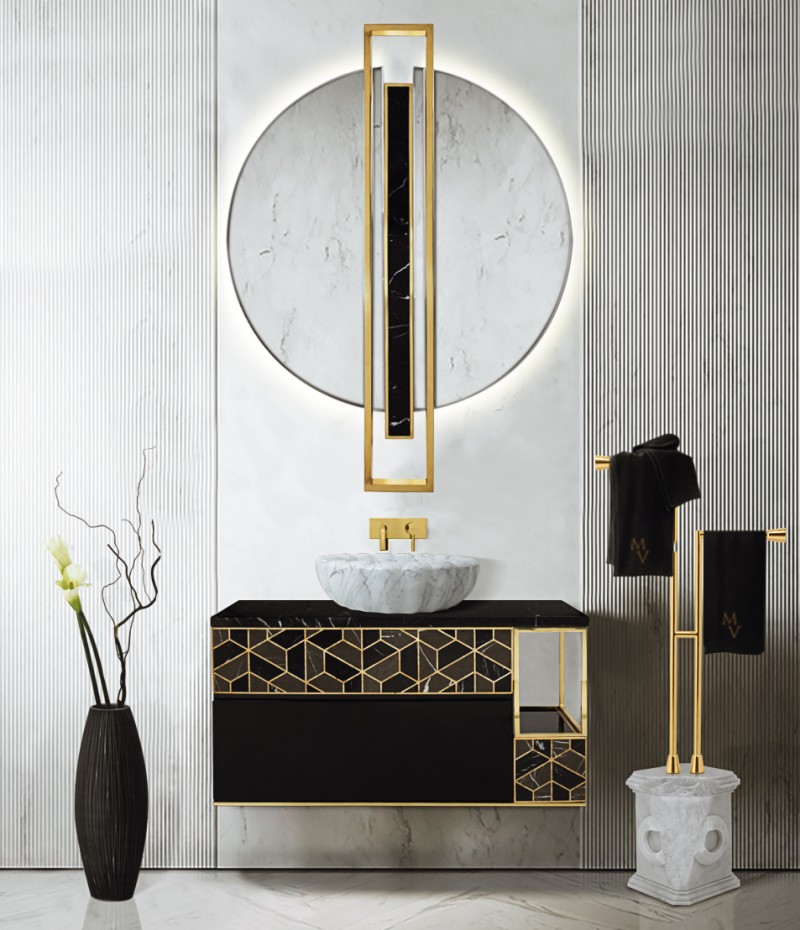 The tortoise suspension cabinet and the shield mirror make this a dream bathroom. Black, grey and golden colors show a marvelous piece, contrasting with the golden tap and sink and black legs. Highly functional, but yet beautifully designed.
See also: Amazing Hospitality Interior Design Inspiration
If you enjoyed this article regarding Bedroom Ambiences with Luxury Design Brands Décor then make sure to check out our socials to find news, inspirations, and more interior design ideas: Pinterest | Facebook | Instagram.
Bedroom Ambiences