Antonovich Design: Luxury Kids' Designs That Conquer Hearts! – Thanks to a group of highly qualified and experienced Architects, Engineers, and Project Managers, Luxury Antonovich Design has evolved into a fully integrated practice providing Structural, Architectural, Interior Design, Value Engineering, Fit-out, and Project Management services on a wide variety of prestigious construction projects. Check out some of Antonovich Designs' most recent projects for kids in today's article from LUXXU Blog!
---
See also: New Arrivals 2022 – Premium Designs That Arrive To Strive By LUXXU
---
Look How Adorable These Antonovich Design Works Are!
The interior design concept of this contemporary bedroom interior design is unique. It is decorated in the most beautiful and classical manner, making it really pleasant and appealing. Because the Luxury Antonovich Design team chose the most exquisite and expensive furniture set for this design, this princess bedroom has the most gentle and peaceful mood.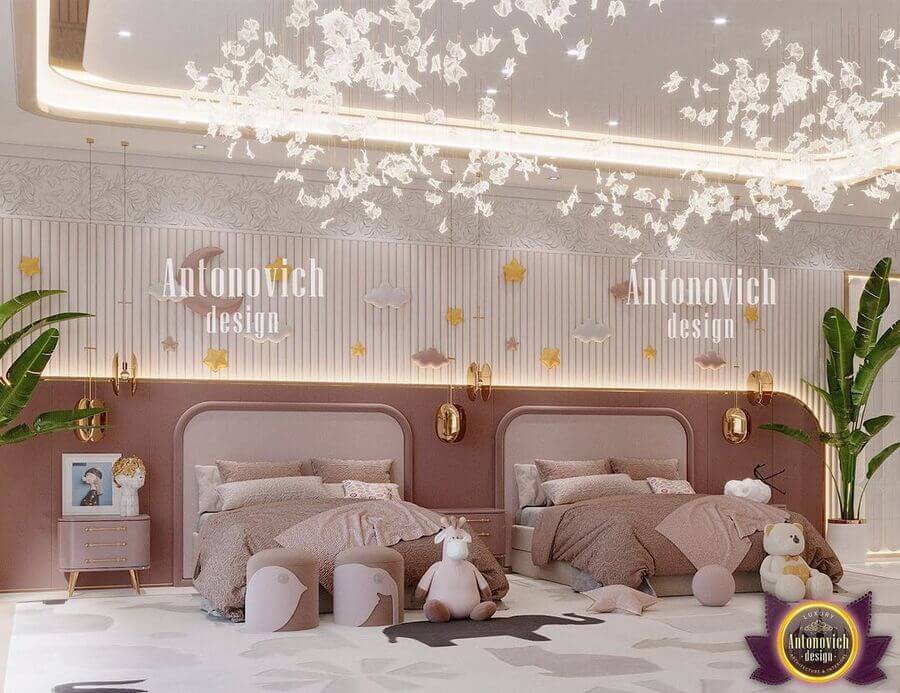 Every child's hope and ambition is to have a space that is specifically tailored to match his or her requirements, desires, and interests. This inviting and practical space should incorporate the child's preferred colors and other appealing characteristics.
The Luxury Antonovich corporate group is a collection of enterprises dedicated to offering comprehensive interior, architecture, and design services to residential and commercial clients. The Luxury Antonovich Group, which includes Luxury Antonovich Design in Dubai, Luxury Antonovich Design in Miami, and Luxury Antonovich Home KA Showroom in Dubai, offers bespoke design services in the UAE, the United States, Europe, and Africa.
---
---
Do You Want One Of These Antonovich Design Works For Yourself?
Every client's requirements and preferences are handled on an individual basis by an outstanding team of creative, skilled, and devoted individuals, resulting in highly successful project solutions. A new office was opened in London due to sustained business growth over the last few years. Professional interior design services, comprehensive house furnishing, decoration, and interior lighting are all provided by the new company in London.
Luxury Antonovich Design is a leading interior and exterior fit-out company that can provide a wide range of design and fit-out solutions, as well as original creative design and architectural ideas and approaches for the development of your design project for your home, apartment, office, or any industrial giant, as well as a full range of services for its implementation.
Luxury Antonovich Design creates magnificent interior and outdoor fit-out projects for the world's most prestigious brands, blending sleek and fine style with superb filling. The firm's professionals operate in a number of fields, including high-end residential (villas, country residences), offices, boutique hotels, restaurants, and clinics, among others.
---
See also: A New Era Set In Stone – LUXXU's Groundbreaking New Collections!
---
If you enjoyed this article regarding Antonovich Design: Luxury Kids' Designs That Conquer Hearts! then make sure to check out our socials to find news, inspirations, and more interior design ideas: Pinterest | Facebook | Instagram.