Amazing Design Projects in Moscow => Considered by many as the Design Capital of Eastern Europe, Moscow is indeed a beacon of quality and promise of today's Design Industry. Today, Moscow is, in fact, one of the best places to find the most spectacular design projects! Join Luxxu Blog and discover 20 amazing design projects in Moscow.
ARCHITECTURAL BUREAU PH.D
EXPERIMENTAL RESIDENTIAL PROJECT ZHUKOVKA 49
Zhukovka 49 was an experimental project by Russian Architectural bureau PH.D founded in 2003 by Lana Grineva in Moscow. The requirements for the project, which often tend to happen, challenged, even more, the design team. New colors, combinations, textures, and materials had to be selected. It was in this context that BRABBU and DeligthFULL's designs were selected to be part of this residential project by PH.D.
BALCON 
COUNTRY HOUSE 
This family house located in Moscow is cozy and airy at the same time, despite the large area of ​​the house. It features a spa area and a beauty salon. Designer lighting and light installations, large-scale mirrors that accentuate the height of the ceilings.
BALCON 
LCD NOVOYASENEVSKY 
This luxury apartment is an elegant interior in light colors with trendy design pieces, reminiscent of a penthouse in New York. The apartment features a balcony with black marble on the floor and living plants, which serves as a small conservatory, and a stylish black and white bathroom with a large mirror.
BODES STUDIO 
LUXURY APARTMENT 
Bodes Studio is a team of young and ambitious designers who are in love with their work. Each project is special for the top interior designers because there are no identical wishes of customers and ideas about the ideal home. Therefore, they have an individual approach to everyone. In interiors, they value not only the innovation of details and a beautiful picture but also the comfort that gives the feeling of home.
SEE ALSO: THE BEST DESIGN PROJECTS IN SAN FRANCISCO
BOROSA GROUP
LUXURY APARTMENT 
Located in Moscow, this unique apartment project by Borosa Group with a total area of 140 sq.m. features incredible color combinations combined with great accessories, and of course, bespoke furniture designs. The central place in the apartment is occupied by a specially created reading room, essentially a second living room interior design.
CILIEGIO INTERIOR 
LUXURIOUS ROOFTOP PENTHOUSE
Located in the last two stories of a building in the South region of Moscow and with views over the beautiful Vorontsovsky Park, provided by the panoramic windows, this rooftop penthouse really is what dreams are made of.
DOM-A-CASA RICCA 
LUXURY APARTMENT 
In this project, Dom-A-Casa instead of placing one rectangular suspension lamp, like other projects, they produced a sophisticated ambiance by placing two Empire Suspension by Luxxu above the dinner table. This exclusive fixture is made with one elegant layer of brass and crystal glass.
DOMOFF INTERIORS
RAZDORY HOUSE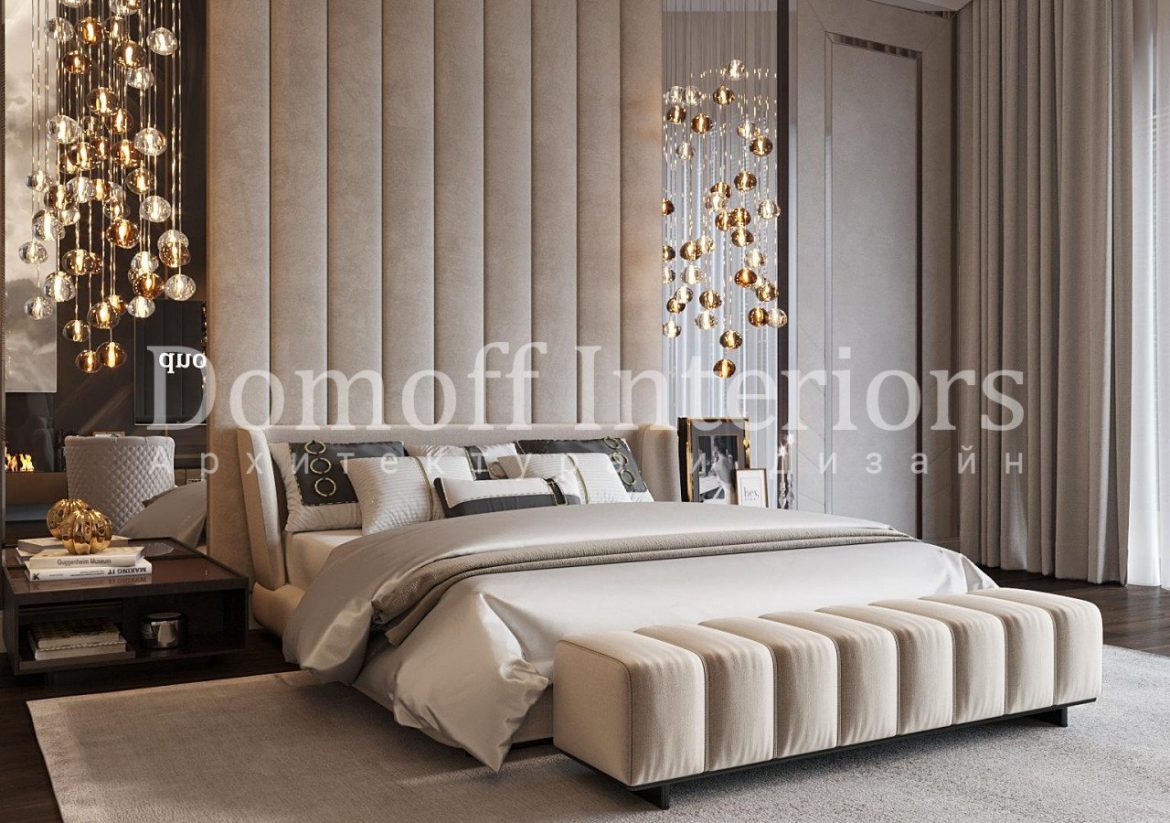 Domoff Interiors is a design studio specializing in exclusive, one-piece projects. The top interior designers create designs for residential interiors, this is a special and important page of their portfolio. Razdory House is a contemporary and modern design project located in Moscow.
EKATERINA LASHMANOVA 
WARM TWIST
Decorated by Ekaterina Lashmanova, a Russian architect and designer, this condo is the perfect inspiration for you. From the living room to the bathroom, it has a very modern architecture to itself, the combination with the luxurious furniture is the final touch it needed to be the most modern apartment of all times.
EKATERINA ZABEGINA
FAIRYTALE DESIGN PROJECT
Designed by Ekaterina Zabegina from A3 Studio Design, this luxury project tells a story about a little boy who dreamed about the sky. Wanting to pass on the wandering spirit to their boy, who's extremely curious about the sky, the designer created a storytale, where the Fantasy Air Balloon takes the main role and Circu's Cloud Lamps the secondary role.
ELENA KLYLOVA
GOLDEN GLEAM LUXURY PROJECT
Located in a villa near Moscow, this 3D rendering project reflects how shining and classic a kitchen can be. Design Studio by Elena Klylova is the mastermind behind this interior design project who aims to do a harmonious continuation of the soul project and not a banal set of stylish furniture and accessories. Giving the aesthetics of this kitchen, Boca do Lobo had to be present with the incomparable statement and powerful furniture.
MARIA BOROVSKAYA
EXCLUSIVE PROJECT 
Living Room in neutral and golden tones, an exclusive project with a great sense of luxury by Maria Borovskaya. In a palette of neutral tones and golden details this dazzling project is born, with a comfortable atmosphere, this Living Room manages to maintain the luxury of a timeless design. The golden details are a timeless icon that never fades away!
OKSANA SALBERG 
COLORFUL DESIGN PROJECT
Created by Oksana Salberg – Vachnadze, the founder of the O2 Design Moscow studio, this modern design project enhances the French-style apartment and it's all about bright colors and balanced contrasts! This interior design project is located on a modern building in the central district of Moscow city. The 160,7 m2 apartment has a bright color palette and bold pattern choices, which highlight the lines of the lighting and furniture design in every room.
QUADRO ROOM
RED SIDE
In the list of priorities in the first place was comfort, including for the eye. Therefore, Quadro Room used beige and light green shades. It is important for them to understand a person, to feel what he wants to see in his apartment, and, importantly, to meet the budget.
RED ROBOT DESIGN
BARRIN HOUSE
Red Robot Design has designed, renovated, and decorated 49 apartments, fully furnished 2 large country houses, developed 12 interiors for residential complexes. This 4-room apartment in Moscow is all about art deco interior design.
RED ROBOT DESIGN
NEVA TOWNS
Red Robot Design has designed, renovated, and decorated 49 apartments, fully furnished 2 large country houses, developed 12 interiors for residential complexes. This 2-room apartment in Moscow is all about modern interior design.
< ?php get_footer(); ?>
ROMAN PLYUS
CAMEO DESIGN PROJECT
Cameo is the latest private villa located in the heart of Moscow. The unique architecture of Cameo Moscow Villas is an oasis of country life in the center of one of the most densely populated cities in the world. High 4 meter ceilings and impressive gold arched windows combined with collectible items of legendary designers XX century allowed us to create a dream space.
SEE ALSO: Stunning Interior Design Project In Moscow
STUDIA 54 
NEOCLASSICAL APARTMENT 
Neoclassicism is all about luxury with over-the-top finishing touches. The details that Studia 54 chose are the key elements of this neoclassical apartment in Moscow. Bu more than details, the vibe that you get from this apartment is very luxurious, yet very comfortable.
STUDIA 54 
EARTH TONES LUXURY APARTMENT 
Studia-54 is a force to be reckoned with in the interior design world, and particularly in the Russian design scene. Completely decorated with exquisite materials and designer furniture, this Moscow apartment meets its owner's every desire of comfort and luxury. The standout pieces from this Moscow apartment are a luxury chandelier by Ugolino Lollie Memolliand the Empire Coffee Table by Boca do Lobo.
TATYANA MYRONOVA 
FLAMING DESIGN PROJECT 
Tatyana Myronova, the designer of this eccentric and enchanting design project, is famous for her exquisite luxury interiors in the American Neoclassical style. The apartment is designed to receive guests and partners from show business and it is intended to be a party and public arena. The interiors are passionate and exotic with the selection of equally exotic furniture and accessories such as Boca do Lobo, Koket, A Modern Grand Tour, Eichholtz, and Versace.
SEE ALSO: Interior Design Project: A.T.O Studio, Moscow Apartment
DISCOVER MORE DESIGN PROJECTS IN RUSSIA:
COVET HOUSE
MODERN CLASSIC VILLA 
With 9 different rooms, the secluded villa is the first of a series of luxury houses created by the luxury brand with the purpose of inspiring professionals and design lovers to new rights in this era. The 8.5 Million mansion in the Russian city presents elegant bespoke interiors with a modern classic touch, and a perfect balance between statement handcrafted pieces and more neutral, functional elements.
SEE ALSO: THE BEST DESIGN PROJECTS IN MIAMI!
If you enjoyed this article about Amazing Design Projects in Moscow, then make sure to check out our socials to find more design inspiration and ideas: Pinterest | Facebook | Instagram