Timeless design trends for your next project⇒ Some trends are born to fade, others enter the interiors canon and will remain fixed there until the end of time, and these are the classics you want to hone in on. These timeless design trends deserve your attention and while they may feel like fleeting fads now, you can trust that in time they won't have soured.
LUXXU gathered the best 5 timeless design trends for your next project, be it a living room, entryway, or even dining room.
.
The Double Combo
In a luxurious living room, the sofa tends to grab all the attention, and it definitely has its purpose. It isn't a trend to get a sofa or multiple ones in your living room, but combining 2 center table is a timeless trend that throughout the years have always come back. In this interior, the double Thor Center Table gives a feeling of luxury and finesse to an already beautiful and well-designed environment. Its dark and gold finishes also bring the suspensions lights and the fireplace together in a harmonious and luxurious design.
.
Bold Consoles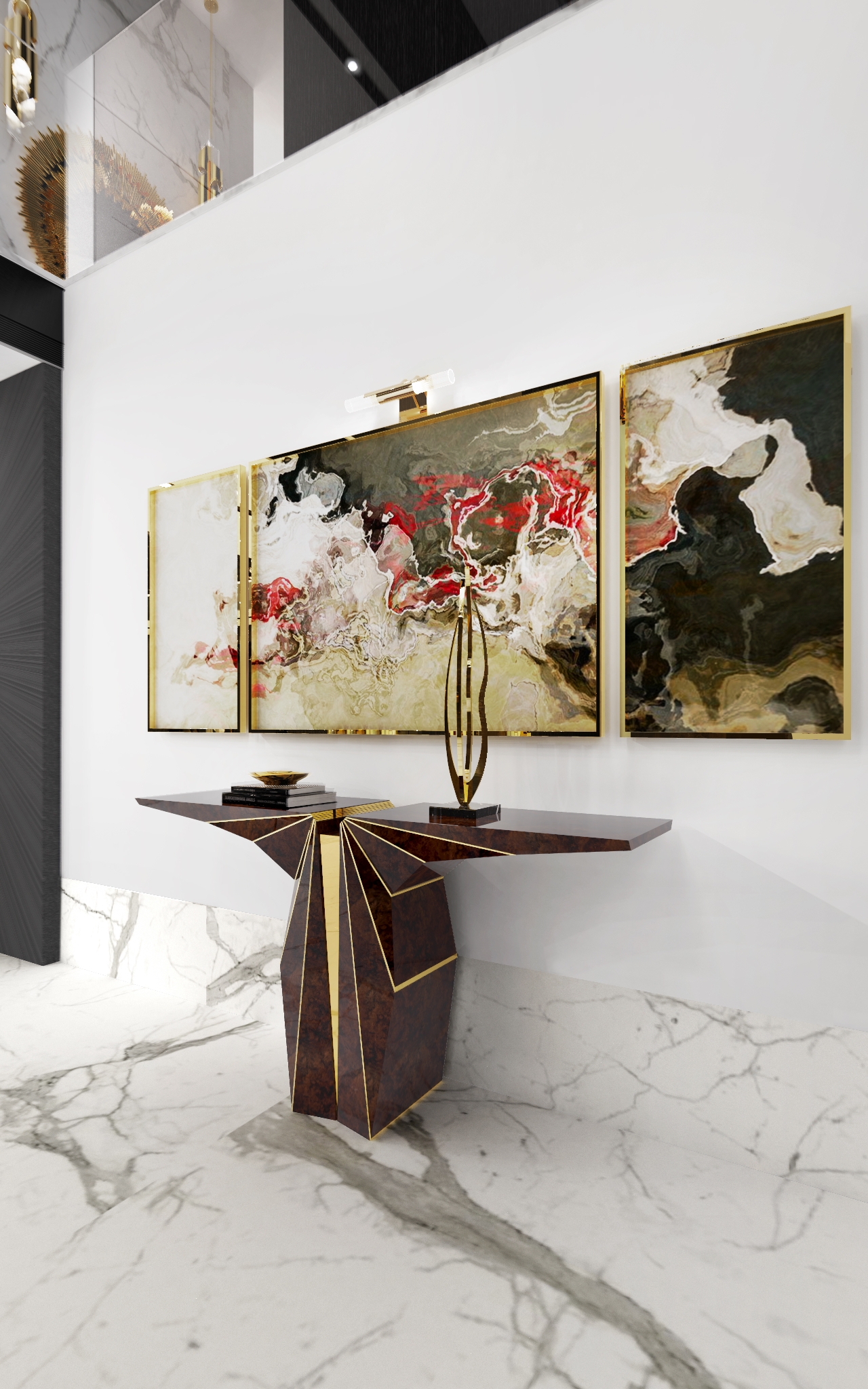 Consoles are timeless, they are always present in luxurious living rooms or even in entryways. Usually, they are a supplement to an already well-designed space but an ongoing timeless trend even more used nowadays is the Bold design and luxurious console has a form of a statement in your room. One empty space with a console can quickly become one source of beauty in your design. The Suspicion Console is the zenith between elegance and balance, is daringly sculpted in stone, and fills any room with lavishing luxury. This console is the epitome of intricate equilibrium, joining marble with fine brass lines.
Dark Cabinetry
Cabinetry and hardware can date rather quickly, but a dark colorway—navy, forest green, black, even—will serve you well and age nicely. Moodier hues will also provide a striking contrast to marble pieces, striking backsplashes, and even appliances. A timeless yet surprising choice, dark cabinetry will not dim over time, especially our Apotheosis Cabinet
Gold Accents
Gold has a way of complementing and bringing out the best in every color of the spectrum, so much so that it's almost a neutral. Golden tapware, hardware and even shelving can inject warmth and color into a space without becoming jarring. Gold, while it should be used sparingly, will never steer one off course and will remain faithful until the very end.
.
⇒ Check our article regarding –  Top Interior Designers in NYC – 5 unique designers of New York City⇐
.
Big Suspensions
Every luxurious place, be it a living room, or a dining room, even a bedroom needs a properly designed lighting fixture to function as the masterpiece of the design project. The Empire Suspension is an exclusive fixture that is made with one luxurious layer of brass and crystal glass that will fit perfectly in any space.
.

.
.
⇒ Check our article  Empire your Home – Decorate like Royalty⇐
.
If you enjoyed this article regarding 5 Timeless Design Trends then make sure to check out our socials to find news, inspirations, and more interior design trends and ideas: Pinterest | Facebook | Instagram.
.